Old-world French classics, local diner flair.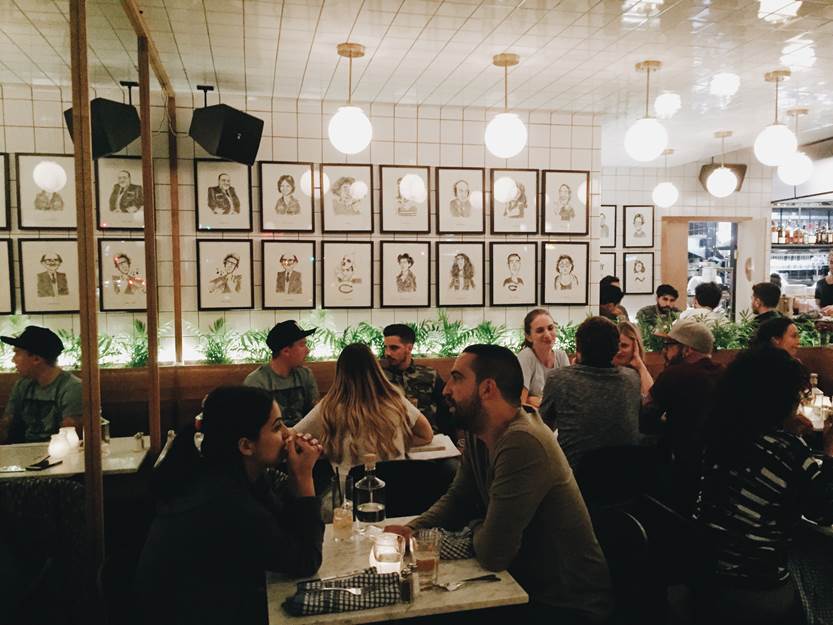 Down the hill from the Montreal's affluent Westmount neighbourhood, the corner of Atwater and Notre Dame West is a bit of a grey area; a gentrifying though not completely transformed enclave of Griffintown, where factories are becoming condos and restaurateurs are seeing opportunities to get ahead of the rent spike.
Foiegwa—owned by the group behind Vieux Port mainstays Barroco and Bocata and located a few block west of local favourites Joe Beef, Burgundy Lion, and Vin Papillon—is one such pioneer. From the outside, Foiegwa recalls a midcentury American diner, its plated metal gleaming as the sun sets behind the Atwater Market tower across the street. Named for a slang misspelling of "foie gras"—the fatty indulgence Quebec has become famous for producing—Foiegwa juxtaposes luxury with accessibility, its menu a high-low mix of traditional French and casual American cuisines. Says co-owner and executive chef Jeremie Falissard, "We're trying to throw in all the big French classics, and serve them with a more of a diner vibe. More casual. More accessible. More friendly."
While he may have been trained in France, Falissard's loyalties are local, with meat and produce sourced fresh from Atwater Market, Quebecois foie gras, and Oceanwise-certified Canadian seafood.
Entering the restaurant feels like walking into a provincial Quebec diner—albeit one that has gone up the hill to Westmount for a facelift. There are lace window coverings and spherical ceiling lights, and, on the walls, caricature portraits of provincial dignitaries (a cheeky nod to an old-school deli cliché). The finishing touches are modern, however. White marble tables are Pinterest-worthy, and a lively bar dials the atmosphere to casual, youthful, and sophisticated.
We start with orders of the soft boiled egg duo and salmon rillette. Classic regional dishes, they have been elevated with refined touches, like shaved, house-dried herring on the eggs and savoury roe in the rillette.
For mains, maitre d' Gabriel Boies directs us towards the beef tartare and a cheeseburger with foie gras—the restaurant's signature dish. The tartare is prepared Paris-style: spicy, light, and refreshing. The burger, made with local beef, comes served on a plate of glistening demi-glace. Soaked-in-sauce sumptuous, it perfectly embodies Foiegwa's raison d'être.
Dessert comes in the form of a mille-feuille and a Paris-Brest doughnut. Both layered in a viscose vanilla sauce, they were a rich finish to flavourful meal.
Foiegwa has responding deftly to the delicate challenge of setting the tone for Montreal's next hip neighbourhood, providing charm in keeping with the city's distinct character, and upholding its reputation as a hotspot for inventive and unpretentious cuisine. After all, what could be more irresistibly high-low than a plated cheeseburger on a white marble table, promising to drip rich rivulets of liquid foie gras down your fingers and chin as your take your first decadent bite?
Foiegwa, 3001 Rue Notre-Dame O, Montreal, (438) 387-4252, foiegwa.com