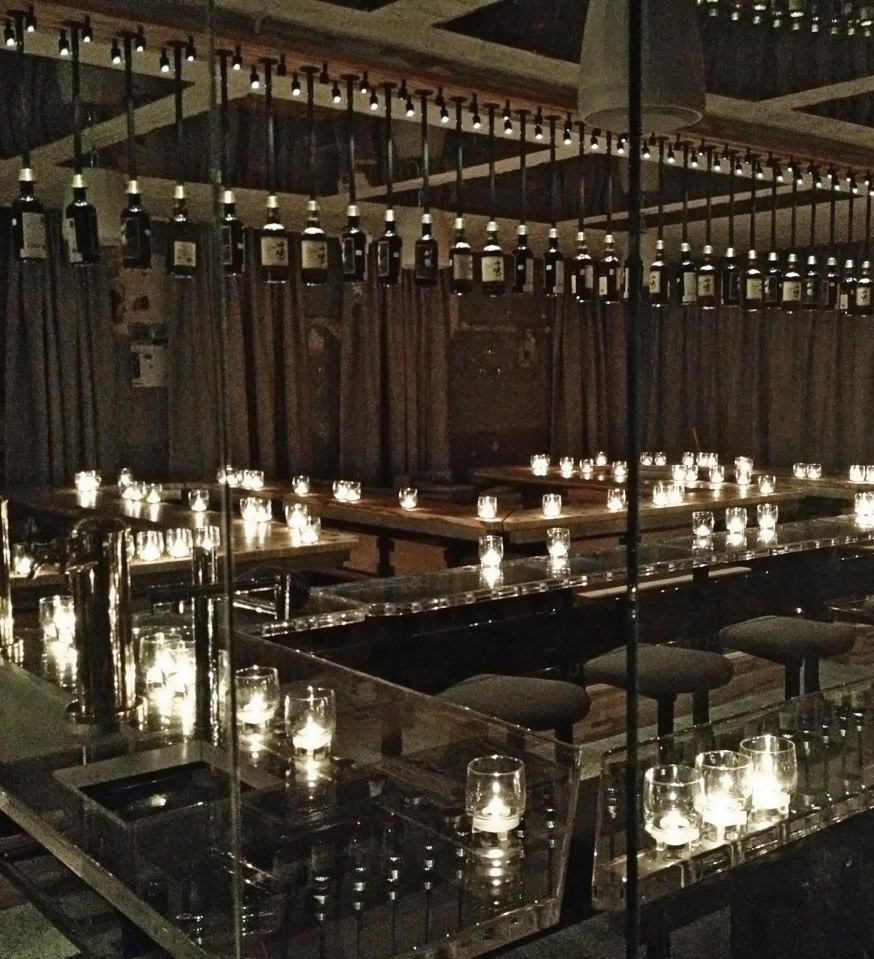 Where do urbanites escape to irrigate their thirsty souls? These days, it's in a hidden nook, behind drawn curtains and awash in candlelight. Such is the allure of the Big in Japan bar in Montreal.
A sister establishment to foodie-approved Big in Japan brasserie just down the street, the swank watering hole shares zero design details with her predecessor's Hello Kitty pop sensibility—save the Japanese connection.
In keeping with the bar's down-low vibe, there is no obvious signage except for two small kanji characters painted in gold on the red door that represent "alcohol" and "place". Upon entering, a brief pitch-black welcome ensues. Candlelight cuts through a narrow split in the curtained entrance ahead.
Inside, designer Bruno Braën crafted a snaking countertop in Lucite and plywood. The boxlike space is gift-wrapped in dull grey floor-to-ceiling curtains, but is otherwise devoid of decorative objects. Down the ceiling's spine hangs a whisky parade of 12-year Suntory Yamazaki single malt or Nikka Taketsuru pure malt bottles, purchased by tipple-happy patrons and waiting to be sampled again on their next visit.
Inspired by the 1930s essay In Praise of Shadows by Jun'ichirō Tanizaki, which explores Eastern versus Western aesthetics, Braën was moved by the author's perspective on lighting—or lack thereof. The intimate air of Big in Japan bar owes its charm largely to more than 250 tiny tea lights, which emit a yellow glow, like street lamps along a deserted thoroughfare. "Tanizaki saw the value of a table object grow when the light of a candle was reflected in it," says Braën. "This is what I tried to do—create shadows and showcase the bottles." A veritable shot in the dark.