A holiday bar recipe from chef David Robertson.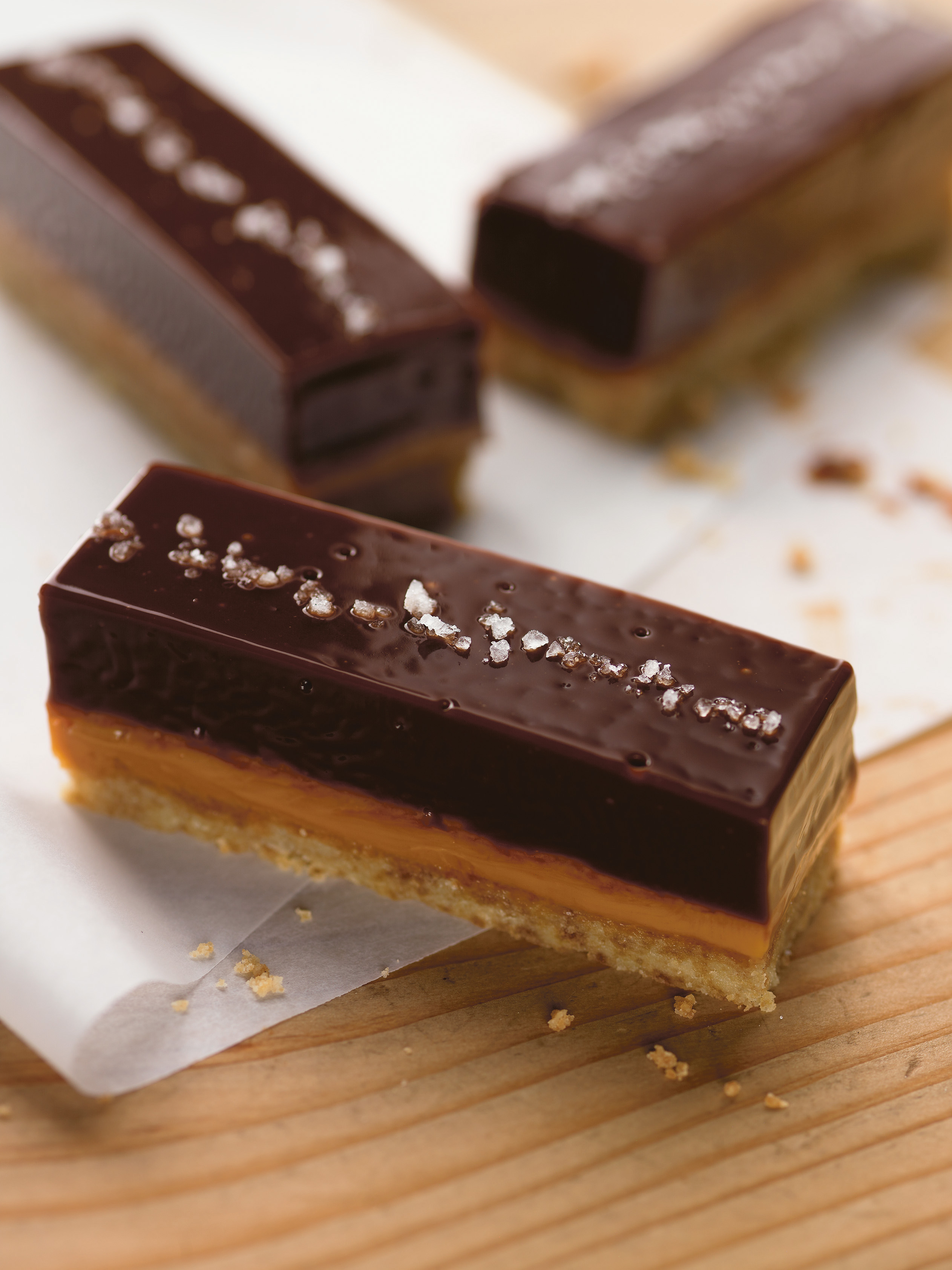 This dessert is a hybrid of my two favourite chocolate bars, Twix and Skor. These are sinfully rich bars that showcase our shortbread, a dulce de leche centre and salted caramel ganache. Make sure to sprinkle a thin line of fleur de sel on top to make this an extra-special indulgence. This recipe makes a lot of bars. You can either halve the recipe and cook the Dirty Twixters in a 9- × 13-inch pan or cut them into squares, seal into an airtight container or plastic bags, and refrigerate for up to one week. Yields 36 bars.
Ingredients
Brown sugar shortbread base
1 c brown sugar
3 1⁄2 c all-purpose flour
1 tbsp vanilla paste
2 c unsalted butter, in small cubes
Dulce de leche filling
2 cans (each 12 oz) sweetened condensed milk
1 tsp fleur de sel
Salted caramel ganache
9 oz bittersweet chocolate, roughly chopped
1 lb 21⁄2 oz milk chocolate, roughly chopped
1 c unsalted butter
2 1⁄4 c whipping cream
2 1⁄2 c granulated sugar
2⁄3 c water
2 1⁄2 tsp fleur de sel
2 tsp vanilla paste
Method
Brown sugar shortbread base
Preheat the oven to 350°F. Line a 12- x 16-inch half sheet pan that has a 1-inch rim with aluminum foil. Spray the pan with nonstick cooking spray and line it with parchment paper. Set aside. In the bowl of a stand mixer fitted with a paddle attachment, mix the brown sugar and flour until combined. Add the vanilla and beat until well mixed. Slowly add the butter, one cube at a time, and beat at medium-low until the dough is just combined. Press the shortbread dough evenly into the prepared pan, then prick it all over with a fork. Bake for about 25 minutes, or until set and lightly golden. Remove from the oven and allow to cool.
Dulce de leche filling
Place the cans in a pot large enough to cover them with four inches of water. Add the water, bring to a boil on high heat and cook, uncovered, for four hours, checking occasionally to be sure the water is still covering the cans. (Add more water, if necessary, to be sure the cans are constantly covered with water.)
Turn off the heat and set aside, leaving the cans in the water until everything comes to room temperature. Open the cans and spoon the sticky brown dulce de leche into a bowl. Using a spoon, stir until the mixture is smooth, then spread it over the shortbread base. Sprinkle evenly with fleur de sel. Set aside.
Salted caramel ganache
Place the dark and milk chocolates in a large heatproof bowl and set aside. Combine the butter and cream in a small pot over low heat and cook until warm to the touch. Remove from the heat and set aside. Heat the sugar and water in a large pot over high heat and boil the mixture, without stirring, until it reaches 250°F. (Use a candy thermometer to test the temperature.) Slowly pour the cream mixture into this syrup to make a caramel. Stir in the fleur de sel and vanilla, then pour the salted caramel over the combined chocolates and allow to sit for 5 minutes. Using a handheld blender, emulsify the mixture to make a ganache. Avoid making large bubbles. Pour this ganache over the dulce de leche and refrigerate the bars overnight. Cut into individual bars before serving.
See more of NUVO's recipes, here.