Championing Canadian cuisine.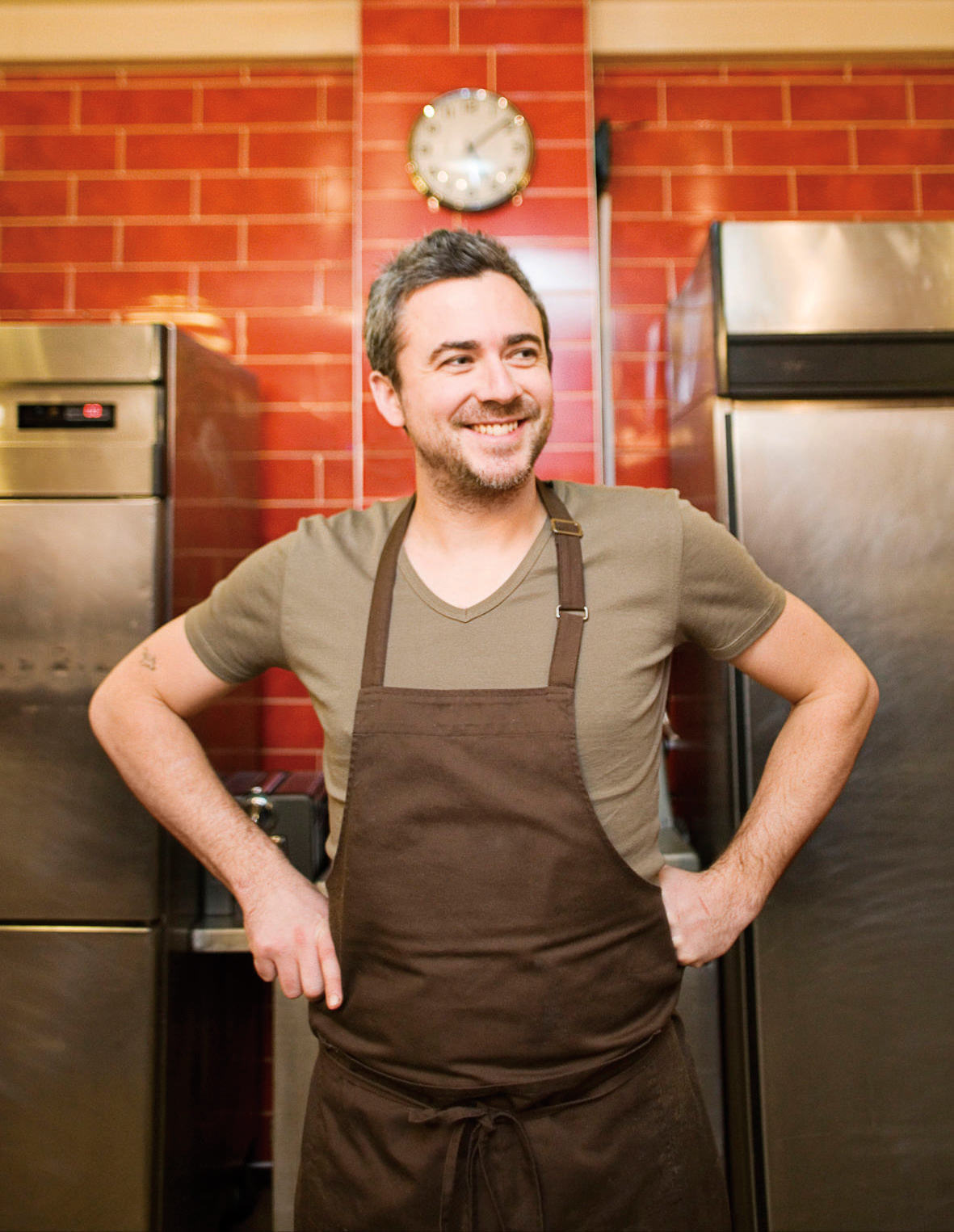 Montreal is known for its exciting restaurant scene, yet even the keenest Canadian foodies might not be able to name all the city's star chefs. Chances are they know Toqué!'s Normand Laprise, Au Pied de Cochon's Martin Picard, and the dynamic duo behind Joe Beef, David McMillan and Fred Morin. But beyond that is a flurry of young chefs behind numerous bistro-style restaurants, some chefs with double-barrelled names, others with the occasional tattoo, and most with some pretty spiffy knife techniques.
Although Montreal's most successful chefs may have popular restaurants and bestselling cookbooks, they may soon have to make way for the dozens of young Québécois cuistots slowly but surely working their way to the top. The talent pool is deep in the province, and the number of successful chef-restaurateurs continues to grow. One of the chefs widely marked for stardom is Martin Juneau. At 35, Juneau has already owned four restaurants, won the 2011 title in Canada's prestigious Gold Medal Plates competition, and has now opened a new restaurant, Pastaga, named by enRoute as one of Canada's best new restaurants of 2012. And if that weren't exciting enough, he also welcomed his second daughter, Léonie (sister of Simone), last fall.
Having worked his way up the chef's ladder since he began cooking some 17 years ago, Juneau is no overnight sensation. And he's had a tough go of it. "None of the restaurants I've worked at are still open," says an off-duty Juneau, laughing between sips of a particularly fine Marcel Deiss pinot blanc. "No wait," he says, holding up his index finger, "there's one!"
That would make two, actually, counting the place where Juneau got his start: a hospital. "My getting into cooking was a complete coincidence," he says. "I took a sabbatical from my studies and worked as a dishwasher in a hospital where my mother was a nurse. I liked the ambience in the kitchen. It was a psychiatric hospital, so it was quite small, and we used fresh vegetables and good ingredients. I made my first ratatouille in the hospital kitchen."
From the hospital kitchen Juneau made a beeline to cooking school, Montreal's l'Institut de tourisme et d'hôtellerie du Québec. But instead of heading to the city's big-gun restaurants afterward, Juneau jumped onto the bistro bandwagon. "My first restaurant job was at a bistro called Le Pistou," he says. "That place was running on all cylinders. By the time I turned 20, I was responsible for the service. I learned what it meant to be in the juice."
For his next post, Juneau travelled to Vancouver at Rob Feenie's Lumière. "I have a great deal of respect for Rob, and his cooking is still part of my influences," he says.
Yet despite his love of West Coast cooking, Juneau felt his technique lacked finesse—so back to Quebec, back to cooking school, and then four months in Burgundy alongside chef David Zuddas at the Auberge de la Charme. "I loved that chef's rigour," says Juneau. "Every day when I got to work, he was there making the bread. Zuddas was so talented. His style was French, but he incorporated North African influences and lots of spices."
Back home from France, Juneau spent the next few years as a line cook (commis), chopping, steaming, and sautéing alongside equally young and talented chefs in many of the hot restaurants of the day, including Le Club des Pins, La Bastide, Les Caprices de Nicolas, and Derrière les Fagots. Then one day he received a call to take over as chef at a struggling 24-seat restaurant called La Montée de Lait.
It was about this time, in 2005, that the no-tablecloth trend was seriously picking up momentum in Montreal. Paper napkins replaced cloth, background tunes came via chefs' personal iPods, and tuxedoed waiters were replaced by cool cats with serious wine smarts. Prices dropped as quickly as fancy dress codes, yet the wine lists were now interesting instead of elitist, and the food went from fussy to streamlined. Fine dining didn't disappear, it just took a breather.
Juneau's restaurant also embraced the small-plate dining style. Working from the city's tiniest kitchen, Juneau made plates with explosive flavours using the most up-to-date cooking techniques. Success was immediate. Says Juneau, "When I got there it was empty, and they had this strange cheese-influenced menu. But one month after I started, the restaurant was packed."
Desiring larger digs, Juneau and partner Hugo Duchesne eventually moved downtown to open a more formal version of their restaurant called La Montée. Though the rave reviews continued for a good two years, the move turned out to be a misfire. "The summer that Montreal lost the Grand Prix killed us," says Juneau of the year 2009. "There was no one in the city centre. It was hard times."
The duo tried to revive La Montée de Lait in a different neighbourhood, but to no avail. Juneau eventually settled on the chef's job at Newtown, a popular downtown restaurant, and La Montée de Lait closed soon after. Despite the victory of bringing home the Gold Medal Plates title, Juneau no longer had a restaurant to call his own. "At the time, everyone in Montreal seemed to be doing the same thing," he said. "I was thinking of going to Quebec City. I was exploring my options."
Yet word came that Juneau was working on a new project, and with partner Louis-Philippe Breton, he opened Pastaga. Located in Little Italy, their new 75-seat restaurant—named after a Marseillaise slang word for "pastis"—featured not only Juneau's upscale/casual small-plate cuisine, but also the natural (sulphur-free) wines selected by baseball cap–sporting sommelier David Ward. Pastaga's wine list, filled with interesting, well-priced, and primarily organic wines, could rival that of most any high-end restaurant in the city. "I have a big love for wine," says Juneau, "and once I started drinking natural wines, I couldn't drink anything else."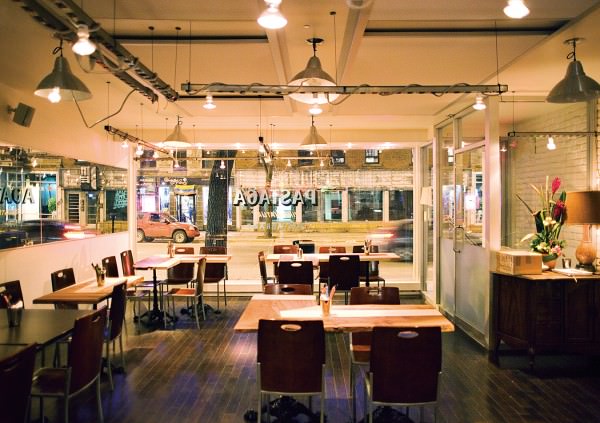 As for the food, Pastaga favourites include a novel version of the Montreal smoked-meat sandwich, made with thinly sliced smoked bison, mustard-slathered slices of rye bread, and dill-marinated cucumbers. Pork belly is served lacquered with brown sugar, set on a pancake made with parsnips, and topped with slices of braised white turnip. Many chefs are playing with the vitello tonnato theme right now, but none has more fun with it than Juneau. His includes a thick slice of veal loin, marinated onions, a quenelle of tuna tartare, and an unctuous yaki sauce.
Today, with a successful restaurant and a strong team at his side, Juneau is investigating other projects. For two years, he co-starred on the reality cooking show Et que ça saute!, but lately his focus has turned to Canada, or more specifically, Canadian chefs.
"I am clearly a Canadian chef," says Juneau. "I would like to help develop a Canadian gastronomy. I would also like to help Montreal chefs reach out to the rest of Canada and be less egocentric. I find there's a lack of openness and interest here in Quebec."
To share the talents of some of his favourite Canadian chefs with Montrealers, Juneau has started a series of dinners called Royal Canadian Mondays, where chefs like Marc Lepine of Atelier in Ottawa, John Horne of Toronto's Canoe, and Quang Dang of West in Vancouver serve a tasting menu in their style at Pastaga. In a province used to looking inward rather than outward, Juneau's championing of Canadian cuisine is definitely unique.
After meeting the immensely appealing chef, one walks away with an impression—extremely rare in the realm of professional cooking—of humility. Says Juneau, "My cooking is simple—not technical—more emotional. I like to feel the seasons in my cuisine, but I'm not necessarily the best technician. I'd say I'm good at many things."
Is cooking his focus, his world? "There is a false glory to chefs who brag about spending 60 hours in the kitchen every week," says Juneau. "I want to live my life with my kids. That's my priority. But sometimes, at home, I have to force myself not to go to the restaurant."
Photos by Gabrielle Sykes.