Distinctly Chilean cuisine.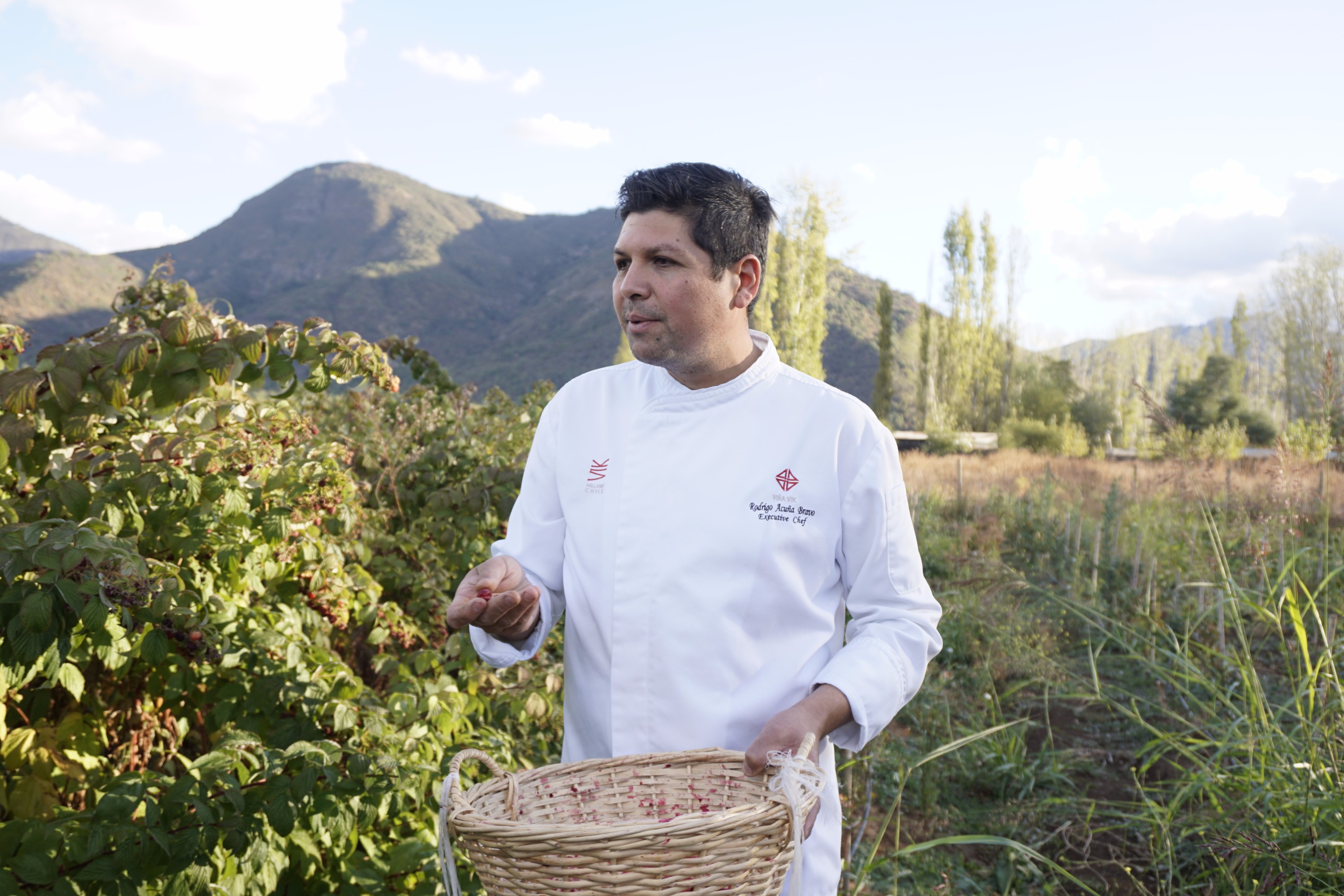 Milla Milla is among the finest restaurants in Chile, and its location at Viña Vik in Millahue makes it one of the most unique experiences as well. Rodrigo Acuña Bravo, the restaurant's executive chef, believes that the influence of "terroir" is present in all foods, not just the grapes in Viña Vik's vineyard, which is why he only uses organic, locally-sourced ingredients in his kitchen.
The menu at Milla Milla is what Bravo calls "honest" cuisine, made from "pure" seasonal produce from the property's two-acre culinary garden. And yet what makes the food extra special is Bravo's support for the community, buying additional ingredients from the property's staff and from other nearby communities where locals have their own vegetable gardens and fruit trees. As a result, every meal at Milla Milla is distinctly Chilean, and the local flavours are literally baked in.
"Our philosophy comes from working with locals," states Bravo. "When I saw how pure and clean their produce was, cultivated with passion and love, I asked them to start selling to me. They grow produce without pesticides. The families respect nature and the ingredients themselves."
Bravo is also known for cooking with Vik's holistic red wine blends. "Wine improves the flavour in many dishes," states Bravo. "Not only fish and meat, but pastries too." His Braised Short Ribs with Vik Wine Demi-Glace is a favourite. "In this particular recipe the wine adds acidity (balanced with honey), as well as woody spice flavors such as oak and vanilla, and it gives, as a result, an elegant sauce."
Although tasting the authentic Chilean "terroir" requires an excursion to Viña Vik, the culinary experience can be enjoyed at home with Bravo's recipe:
Braised Short Ribs with Vik Wine Demi-Glace
Makes four servings.
Ingredients
1 tsp olive oil
400 g short ribs
1 apple, peeled
1 carrot, peeled
½ celery stalk
1 small onion
500 ml VIK red wine (blend of Carmenère, Cabernet Sauvignon, Cabernet Franc, Merlot, and Syrah)
800 ml brown (meat or chicken) stock
1 tsp honey
40g smoked bacon
1 star anise
1 bay leaf
1 tbsp thyme
1 clove garlic
10g sea salt
2g pepper
Method
1. Heat medium size pan and add olive oil.
2. Sear short ribs and set aside in small iron pot.
3. Cut onion, carrot, celery, apple and bacon into small cubes and sauté in pan until light brown, then pour over short ribs.
4. Deglaze pan by adding the VIK wine and reduce by half, cooking on medium heat.
5. Add brown sauce, honey, bay leaf, thyme, garlic, star anise, sea salt and pepper to pan and bring to a boil.
6. Pre-heat oven to 140ºC (284°F).
7. Add boiling stock into the iron pot, cover with parchment paper, then lid, and bake four hours.
8. Pull ribs out of pot and set aside, then strain the stock, discarding the fat.
9. Pour stock back in pot and cook on medium heat, reducing it by 60 per cent until nice and thick.
10. Add the short ribs into the VIK wine sauce and enjoy.
_________
Never miss a story. Sign up for NUVO's weekly newsletter.