The Penfolds Ampoule Project
Penfolds' priciest offering yet.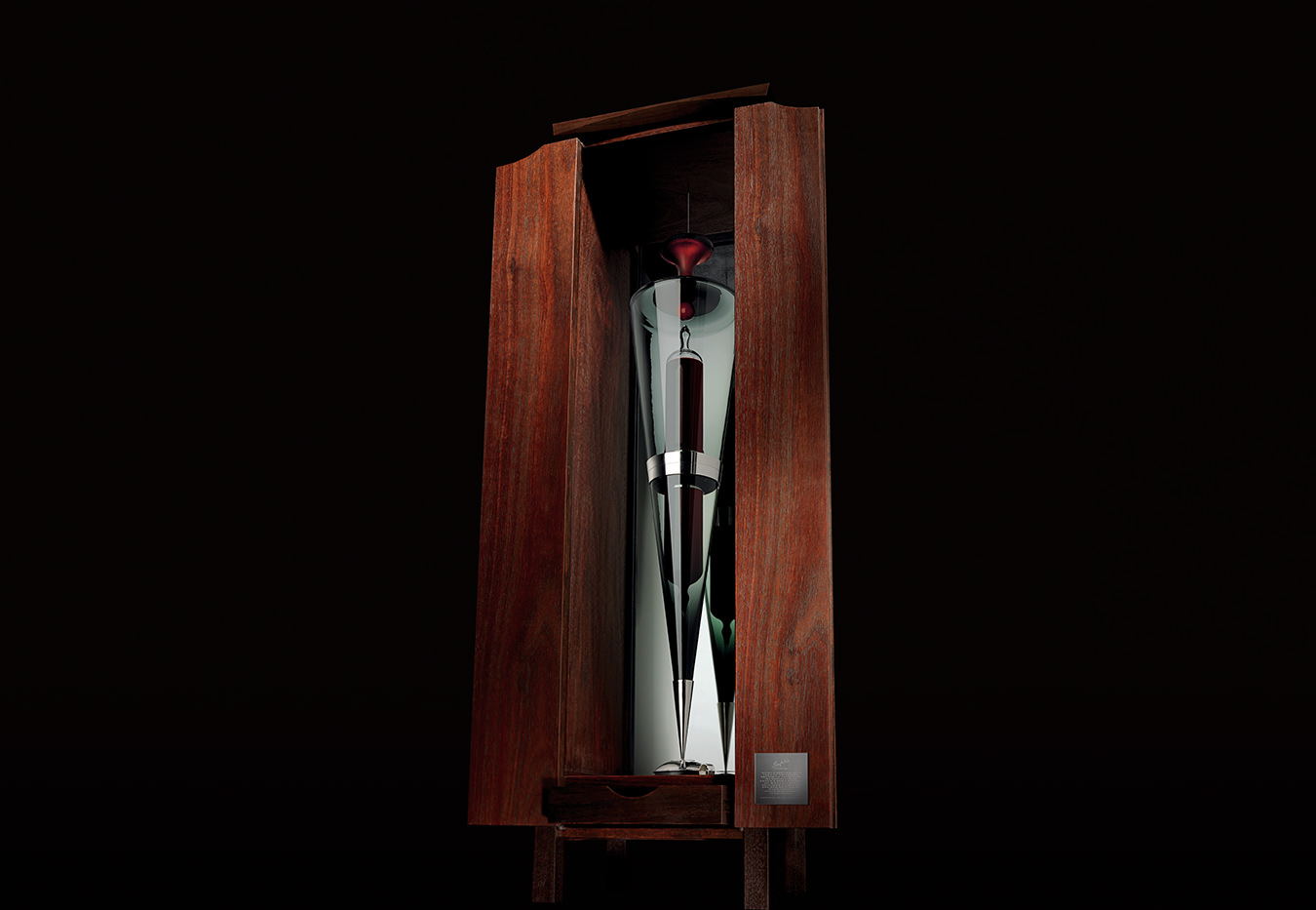 The world's most expensive bottle of wine isn't in a bottle. It's aging in an elongated ampoule, within a hand-blown glass vessel called a vestibule. The shape of the vestibule is a stylized form of an amphora, the pottery jar—wide at the top and tapering to a point—that was used for centuries to store and ship wine in the ancient world. The wine in the ampoule (there's 750 millilitres of it, the volume of a standard wine bottle) is Penfolds Block 42 Kalimna Cabernet Sauvignon 2004.
Twelve of these ampoules were made and filled with the wine (released this past June); one was reserved for the Penfolds museum in Australia, while 11 were available for purchase. The price: $168,000 (Australian) each, which is about the same in Canadian dollars. (The price was set to reflect the 168 years that Penfolds has been producing wine.) If you had been able to buy all the ampoules, the 12-bottle case of cabernet sauvignon would have cost you a cool (or room-temperature) $2-million.
That makes the Penfolds ampoule the world's most expensive bottle of wine at the time of its release by a winery. Although there are examples of higher prices being paid for wine, they are usually bought in lots of more than one bottle. In the late 1980s, American billionaire art and wine collector William Koch paid $300,000 (U.S.) for four bottles of wine (Châteaux Lafite, d'Yquem, Mouton Rothschild, and Margaux) that were said to have belonged to Thomas Jefferson at the end of the 1700s.
Technically, too, the $168,000 price tag of the Penfolds ampoule pales against the $500,000 (U.S.) paid at a 2000 Napa Valley auction for a bottle of 1992 cabernet sauvignon produced by California's iconic Screaming Eagle winery. But that was an imperial bottle, equivalent to six standard bottles, so the price per bottle was a mere $83,000, half the price of the ampoule.
The Penfolds Ampoule Project is the most ambitious venture yet for a winery that produces not only Australia's most prestigious wine but many of its best.
The ampoule is costly, then, but there's added value to the price: when the purchaser decides to drink the wine, a Penfolds winemaker will travel anywhere in the world to open the ampoule using a specially designed, tungsten-tipped, sterling silver "scribe-snap". Penfolds' chief winemaker, Peter Gago, is ready for the challenge: "If they want me to open an ampoule on the top of Mount Kilimanjaro, that's where I'll go."
That sort of service, on top of the quality of the ampoule and its rarity value, goes some way to explaining the price. But the wine itself adds to the value. Penfolds Block 42 Kalimna Cabernet Sauvignon is made from grapes growing in the world's oldest continuously producing cabernet sauvignon vineyard, Block 42, which is located at the northern end of the Barossa Valley in South Australia. Although there are cabernet sauvignon vineyards that were established earlier, Block 42 is the only one that is still entirely serviced by the vines that were originally planted—in this case, in the 1880s. The trunks of these 130-year-old vines are thick and gnarled, and they produce very small yields of intensely flavoured grapes.
The 2004 vintage was exceptionally good, and the grapes produced far more than the dozen bottles that are in the ampoules. The rest is available in secondary markets in regular bottles (with either cork or screw cap seal), and they currently retail for about $750 each, although a six-litre bottle (equivalent to eight standard bottles) sold for $18,000 NZD (approximately $13,200 Canadian) in 2007.
At those prices, you would hope for good reviews, and they are not in short supply; Block 42 Kalimna Cabernet Sauvignon has been acclaimed by wine critics, who consistently score it above 90 points. Harvey Steiman, an editor of Wine Spectator, wrote that "the beauty of 2004 is apparent in the Block 42, which I expect to be among the greatest wines of the vintage, and in my book, the best straight cabernet Australia has ever made." In most other vintages, grapes from Block 42 have been used for Penfolds Bin 707 Cabernet Sauvignon, and sometimes as components of Penfolds luxury blends, including the company's iconic Grange, a shiraz with a very small percentage of cabernet sauvignon.
The ampoule containing Block 42 cabernet sauvignon is hermetically sealed, meaning the wine inside it will age more like wine in an airtight, screw cap–sealed bottle than wine in a bottle sealed with cork, which allows minute volumes of air to get to the wine. "The wine is sealed in an inert environment," says Gago. "A reduction of oxygen ingress is expected to retain primary fruit and delicate aromas for a longer period. Anaerobic wine aging will naturally still occur over time."
To those who raise their eyebrows at paying $168,000 for a wine that will age the same way as one in a screw cap–sealed bottle, Gago points out the ampoule is 100 per cent glass—what he calls "a continuum"—so that "there is no need to worry about closure degradation over time. In effect, a 750-millilitre time capsule has been created." The ampoule—which is transparent, laboratory-grade, and chemical- and heat-resistant borosilicate glass—was hand-blown by Ray Leake, a glass-blower with more than 40 years' experience making customized scientific glassware. His challenge was to blow 12 glass ampoules with exactly the same specifications. "This was a job with an unusual twist," Leake says, "A bit different from my usual line of work."
Peter Gago expects Bin 42 cabernet sauvignon to last at least 60 years when sealed with a cork, and "we'd expect much longer than 60 years" in the ampoule. Penfolds is well known for its attention to closures and conservation, and holds recorking clinics all over the world for Penfolds wines that are more than 15 years old, so as to extend the life in the bottle. The ampoules will not need any care of that kind, and their owners can let them age gracefully for decades, without interruption.
The 11 ampoules available for sale were allotted to Penfolds' main markets: the Americas, Europe, Australasia, and Asia, and so they are distributed around the world. Significantly—and a sign that markets for high-end wine are changing—the ampoule was first unveiled at a Penfolds 100 Point Dinner in the Cristal Room Baccarat in Moscow.
Guests at the dinner were treated to a meal accompanied by Penfolds wines that had been scored 100 points by a series of reputable wine critics. These included Penfolds Grange from 1953, 1971, and 1976, and Bin 60A 1962, which was the only non-French wine in the top 10 of Decanter's list of "100 Wines to Try before you Die". And, of course, the wines at the Moscow dinner included Block 42 Kalimna Cabernet Sauvignon, the wine in the ampoule. At the end of the meal, a jarrah-wood box containing one of the ampoules was ceremoniously opened for its first viewing by people other than those who worked on the Ampoule Project.
Of the 11 numbered ampoules available for sale, some were bought by private collectors, one is in an Australian casino, and another is for sale in the duty-free store at Singapore's Changi Airport—even though it can't be taken on a plane as cabin baggage. One ampoule (number five) is on display in Hedonism, the new upscale wine boutique in London.
The private buyers generally wish to remain anonymous, but one who is happy to share his motivation for purchasing an ampoule is Wong Wing Chee, owner of Dragon Seal Restaurant in Hong Kong. Chee says he has been a fan of Penfolds since he migrated to Australia in 1989: "The first bottle of Bin 389 I drank after a tiring Sunday's kitchen work was the best wine of my life. I started collecting Penfolds' different vintages and series since then, and I always keep checking their website for new releases and new products. When I found out about the Ampoule [Project], I thought I must have one for my collection." He thinks he might not drink the wine and will keep the ampoule intact.
The Penfolds Ampoule Project is the most ambitious venture yet for a winery that produces not only Australia's most prestigious wine but many of its best. It will be interesting to see what happens to the 11 ampoules—whether they begin to appear in auctions, how much they appreciate in value, and, of course, whether any purchaser decides to invite a Penfolds winemaker to open one. At the current price of the ampoule, the cabernet sauvignon would cost about $7,000 a sip. Even so, Peter Gago thinks that one of the ampoules will be opened "in the not-too-distant future—if only for a particular person to become the first person to do so."