In the courtyard outside Moët & Chandon's imposing premises in Épernay stands a statue of Dom Pérignon, the Benedictine monk often credited with having created champagne in the 1670s. The statue is popular with the tourists who throng Moët's tasting room and retail store, and they stand on Dom Pérignon's plinth to have their photographs snapped with him, as if he were a Disney character. Perhaps this is why his expression is a little less cheerful than one might expect of someone whose creation has produced so much happiness.
In fact, the legend of Dom Pérignon as the founding father of fizz is full of as many holes as there are bubbles in a glass of Moët & Chandon Grand Vintage Champagne (an estimated 10 million). But the image of the marvellous monk working alone in the dim cellar of the Abbey of Hautvillers, not far from Épernay, creating the world's favourite festive drink, is so compelling that Moët & Chandon has fully embraced it. Claude Moët founded the house in 1743, nearly 30 years after Dom Pérignon died. Upon Claude Moët's death in 1792, grandson Jean-Remy Moët assumed control and expanded the business; son-in-law Pierre-Gabriel Chandon bought the Abbey of Hautvillers and its vineyards in 1823, and, 10 years later, when Jean-Remy retired, the company was left to his son, Victor Moët, and son-in-law. From 1921, the house adopted Dom Pérignon as the name of its top-tier champagne.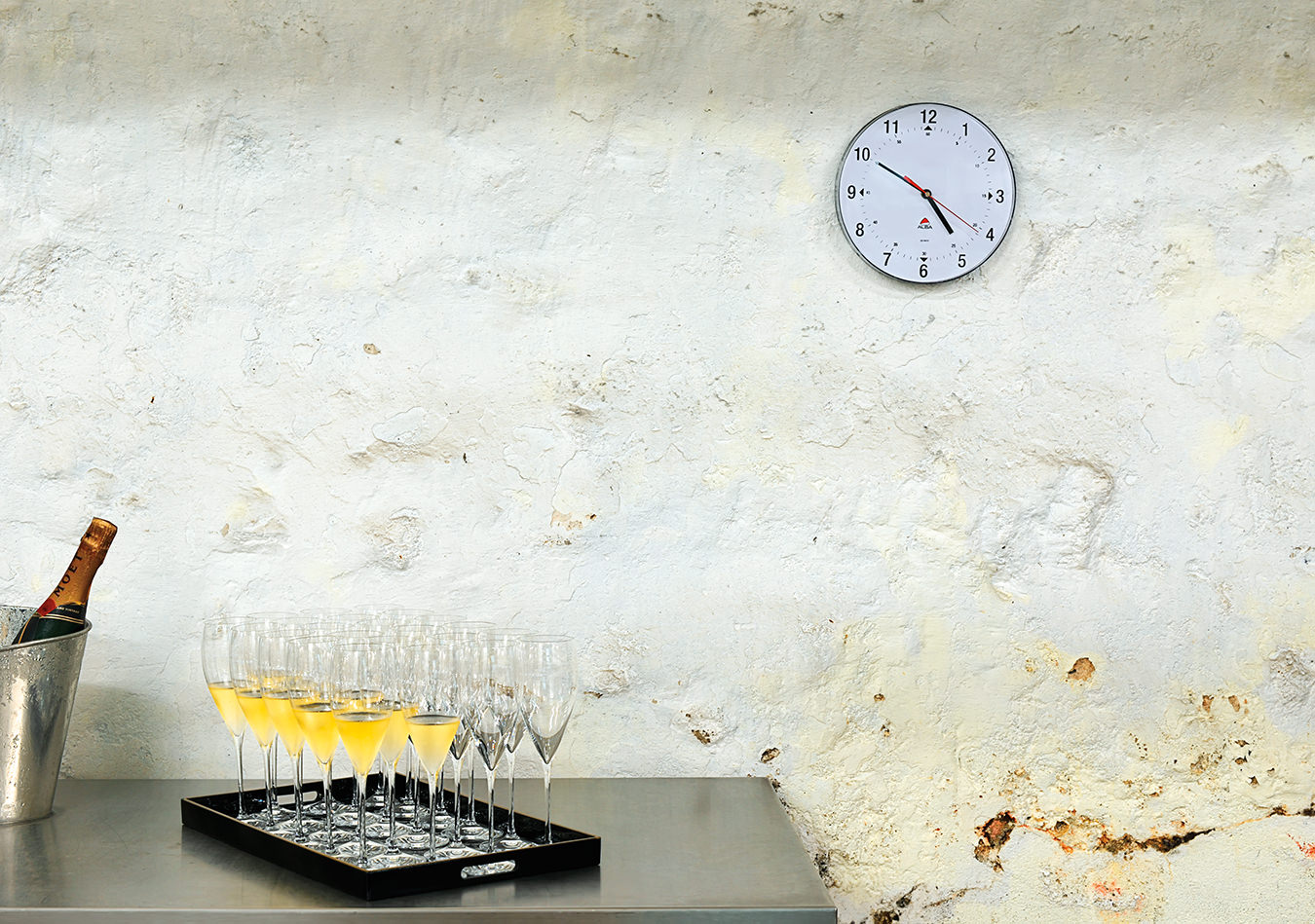 With total annual sales of approximately 26 million bottles in 2011—almost enough for one cork to be popped every second—Moët & Chandon is the largest producer of champagne in the world and clearly makes more than the limited-production Dom Pérignon. (Although the number of bottles made each year is never disclosed, some estimates put it at more than two million.) "Dom", as it is known to its regular consumers (and those who would like to be), is made only from vintages judged good enough to wear the name, and rarely are three vintages in a row produced (this has only occurred in 1969, 1970, and 1971; 1998, 1999, and 2000; and 2002, 2003, and 2004). It has the sort of cachet that led to its being served at the wedding of Lady Diana and Prince Charles in 1981.
For all that, Moët & Chandon's other champagnes more than hold their own in any company, and each has its own story. The prestigious Grand Vintage Collection champagnes are conserved in the Grand Vintage Reserve cellar, a section of the 28 kilometres of cool, dark passageways carved into the chalk beneath Épernay. The bottles, dating back as far as the 1892 vintage, rest upside down, and still contain their lees, the dead yeast cells left by the fermentation in the bottle that produces the bubbles. The lees protect the champagne and preserve its freshness over years and decades, and their removal, known as disgorgement, is one of the final stages in the Champagne Method.
With total annual sales of approximately 26 million bottles in 2011—almost enough for one cork to be popped every second—Moët & Chandon is the largest producer of champagne in the world.
Moët & Chandon holds some of the Grand Vintage Collection champagnes on their lees for many decades before disgorgement. As chef de cave, cellar master, Benoît Gouez says, "The more time the wine spends on its lees, the more complexity and the more aging potential it will get." Occasionally he has the opportunity to taste remarkably old vintages, like the 1911 he tasted in 2011. It was, he says, "absolutely stunning champagne—une inspiration!" A hundred years old, it still "overflowed with vitality and energy, plus the charm of discreet bubbles. It was a wonderfully complex wine with both impressive depth and amazing freshness."
More-recent vintages are no less impressive. The Grand Vintage Collection 1992, tasted in 2012, (20 years after the grapes were harvested), shows startling freshness and vibrancy, coupled with focused and layered fruit and a hint of brioche, with a round, almost creamy texture. Beads of tiny bubbles gather to form a fine, soft mousse.
While the Grand Vintage Collection wines are made irregularly and in small quantities, vintage-dated Grand Vintage (without "Collection" in the name) champagnes are produced in larger volumes; combined, they represent less than 10 per cent of Moët & Chandon's production. Grand Vintage champagnes are made only in superior years—only 70 vintages made the cut between 1842 and 2004—and they are usually released for sale seven years later, much longer than the minimum three-year wait stipulated by law. The extra aging contributes more complexity and maturity in the aromas and flavours, qualities that set them off from younger non-vintage champagnes. The latest Grand Vintage, from 2004, was released in September 2012.
Grand Vintage champagnes are sometimes released out of sequence; the 2003 vintage was released before the 2002, as a result of what Gouez calls "listening" to the wine. The 2003 Grand Vintage was the product of an extraordinary growing season, not only the hottest on record, but it also had the most severe frosts since 1957, the earliest blossoming since 1971, and the lowest yield since 1985. The harvest began on August 18, the earliest since 1822. At the time, the hot conditions gave rise to widespread concern about the quality of the vintage, but Gouez is almost poetic about his grapes that year: "The pinot meuniers were … the high point of the year. They were seductive, fleshy, pulpy, juicy. The chardonnays, though limited in quantity, were rich, generous, lightly buttery, slightly vegetal—typically Burgundian. The pinot noirs were the wines most affected by the heat: they were full bodied, with enormous, though varied, character."
Reflecting this assessment, the early-maturing 2003 vintage was predominantly pinot meunier. In contrast, the 2002 Grand Vintage, which is still widely available, is precisely 51 per cent chardonnay, 26 per cent pinot noir, and 23 per cent pinot meunier. It shows rich and layered fruit that is almost pungent in its concentration and fairly taut in structure, and follows through with a firmly gentle and fine mousse.
Instead of seeing 2003's heat as a problem, then, Gouez saw it as an opportunity. "Exceptional conditions are the opportunity to create an equally exceptional Grand Vintage, a unique champagne with a complex, mature, assertive personality," he says. It's a smart way to look at things, when you think that climate change is likely to produce a lot of instability in vintages in the forthcoming decades.
Most of Moët & Chandon's production is Moët Impérial, non-vintage white and rosé champagnes that blend three or four vintages. Unlike the vintage-dated champagnes, which display the variations in each year's growing conditions, as well as the effects of longer aging, Impérial is carefully made to achieve consistency from one batch to another. What consumers look for in every bottle is Impérial's bright fruitiness, clean and vibrant acidity, full and round mouth feel, and a degree of elegance that is remarkable for a champagne produced in such volume.
Impérial is named for Napoleon Bonaparte, the emperor of France from 1804 to 1815, and it has been made under that name since 1869. The Moët & Chandon link to Napoleon was through Jean-Remy Moët, who formed a friendship with the emperor and was Napoleon's host in Épernay several times. The house owns the last of Napoleon's signature bicorn hats, as well as his Officer's Cross of the Legion of Honour, a gift from the emperor to Jean-Remy Moët.
Napoleon is not the only historical celebrity to have an association with Moët & Chandon. One of Claude Moët's first customers was Madame de Pompadour, the mistress of King Louis XV, who supplied the royal court with his champagne. In the 19th century, when the European nobility had a chronic and insatiable thirst for champagne, Moët & Chandon's production soared above two million bottles a year, and was sold to royal and imperial courts as distant as St. Petersburg, Vienna, and London. In those days, champagne houses adjusted their style to national preferences: the Russians liked their champagne sweet; the British preferred it dry.
Moët & Chandon's guest house, Château de Saran, is a short drive from Épernay. The terrace looks out over sloping, tree-studded lawns to views of the vineyards in the distance.
Moët & Chandon's guest house, Château de Saran, is another expression of the house's historical links. The estate, a short drive through the vineyards from Épernay, was purchased in 1801 by Jean-Remy Moët, who used it for hunting parties. The château itself, constructed on a rise so that the terrace looks out over sloping, tree-studded lawns to views of the vineyards in the distance, was built in 1846. Originally one of the Moët family's residences, it is now used by Moët & Chandon's guests. The rooms are opulently and comfortably furnished, and visitors enjoy champagne on the terrace and meals in the formal dining room. Guests are requested not to take photographs of the rooms so that those who follow them will be able to experience the château with fresh eyes.
For all that tradition and history have infused its vineyards, cellars, and buildings, Moët & Chandon is attuned to what today's clients want. A recent concern among champagne aficionados is the lack of information on disgorgement dates, when the lees are removed from the wine and it is sealed with a cork. Instead of all the bottles of a single vintage's champagne being disgorged at the same time, they are often disgorged in batches on days that can be many months apart. This means that some bottles of the same vintage spend more time on lees than others, and therefore taste subtly or markedly different—which can be a problem when consumers buy a second bottle of champagne because they enjoyed the first and discover that it is quite different. Some prominent wine writers refuse to review champagne that does not show a date of disgorgement they can cite, for fear that their readers will buy a bottle disgorged at a different date.
Moët & Chandon responded to the concerns. Disgorgement dates have been shown on Moët's Grand Vintage Collection champagnes for some time, and now, starting with the current 2004 vintage, they are on the Grand Vintage champagnes. But there are no plans to extend it to Moët & Chandon's non-vintage champagnes, like Impérial. Gouez says, "We disgorge Moët Impérial several times during the year in order to ensure perfect consistency in our non-vintage." It's a fair point. If the problem is inconsistency, and Impérial champagnes are made to a consistent style and flavour, the date of disgorgement is irrelevant, as the blending overrides any differences resulting from varying times on lees.
Responding to consumers is important in a champagne world where tastes and preferences are constantly changing. Some champagne enthusiasts have begun to spurn the larger champagne houses in favour of grower-producers, who turn out far smaller volumes of champagne. The recent economic crisis hit champagne sales hard, as consumers looked for less-expensive sparkling wines. In 2011, for the first time ever, more non-champagne sparkling wine than champagne was sold on the important British market.
Champagne is hardly likely to experience the steep decline in sales that has afflicted, say, sherry and port, but houses like Moët & Chandon clearly take nothing for granted. Moët participates in luxury sports events such as the US Open and Roland Garros (French Open) in tennis, and the America's Cup and Louis Vuitton Cup in sailing. There are new products, like Moët & Chandon Ice Impérial, launched in 2010; this fresh and fruity champagne is the first designed to be served on the rocks. Just as Moët adjusted sweetness to the tastes of the English or the Russians, and branded its top champagne in the image of the ever-popular Napoleon, it continues to adapt to shifts in lifestyle.
November 18, 2012
Updated: December 30. 2014