Quebec's Bean-to-Bar Chocolate Community Turns the Industry Inside-Out by Thinking Fresh & Local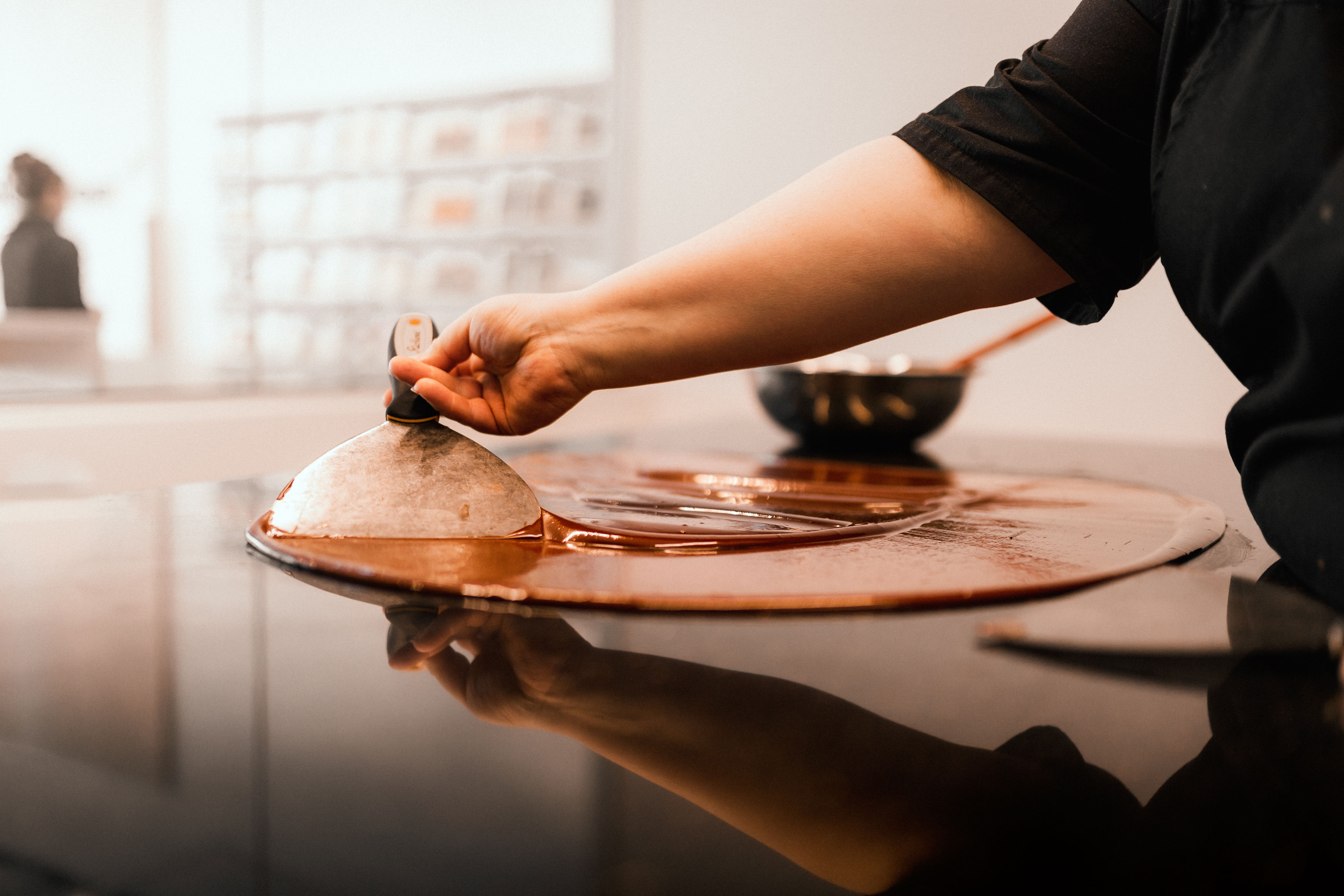 White-walled, breezy, and minimalist, État de Choc, on Montreal's St. Laurent Boulevard near Little Italy, is a "metaphorical adoptive country for everyone who loves chocolate." This homey phrase is the vision behind État de Choc, a bean-to-bar chocolate maker/purveyor that opened its doors in 2018. Here, sustainable and locally-sourced chocolate is having a moment.
It's where a quiet, chocolatey revolution of sorts has been gaining momentum since owner Maud Gaudreau's revelation. She decided to use 90%-95% locally made bean-to-bar chocolate in her creations, sourced from Quebec-based producers. She set out to change the way people think about chocolate—and it seems she may be succeeding.
Gaudreau has a smile in her voice when she says that her shop and employees are "shaking up the industry" in Montreal and beyond. When she first opened, many thought fine chocolate was made using cocoa powder. Her shop is amongst a few who are offering hands-on workshops, tastings, and chocolate 101 classes to dispel those cocoa powder myths and, well, the proof is in the pudding.
At chocolate shops across the city and across the province, people are starting to ask one key question: "Where does your chocolate come from?" It's that transformative phrase that has begun to shape an industry slowly gaining an educational aspect and recognition associated with coffee, craft beer, or wine." We didn't used to see that before. I think in three to four years, there will be an even bigger shift, where people expect a certain quality of chocolate," says Gaudreau.
Commercial chocolate producers with big budgets and slick marketing campaigns succeeded in convincing many that their chocolates were premium, made with the "finest ingredients." Consumers are beginning to see past this gloss, and are starting to ask about the provenance of the cacao beans used to make what is, without a doubt, a product that should be pleasure-giving and delicious. Mass-produced commodity chocolate doesn't come close to the taste that well grown and produced cacao beans can achieve.
At this year's Canadian leg of the International Chocolate Awards, held every year in Toronto, État de Choc entered various bars and lingots (mini rectangular bon bons) and won a spate of awards in a series of blind-tasting, judged rounds.
In the dark bars with inclusions or pieces category, their Mini-Tablette Maïs Piment, the Mini-Tablette Sapin Érable and ode to their city, the Carte Montreal, took home a gold and two silvers respectively. The latter uses Chocolats Monarque's 65% maple chocolate, crafted by former IT consultant, Daniel Haran in his super "MacGyver'ed" Plateau factory. "It's a sweet chocolate with 35% dark maple sugar from Domaine des 15 lots, with 10% cacao butter and 55% cacao from Maya Mountain," he explains proudly.
In the Mini-Tablette Sapin Érable, Haran explains that the fruity, earthy, woody and grassy notes of the 80% Ucayali cacao play off the balsam fir and maple flakes added by État de Choc's talented chocolatier, Stéphanie Bélanger. "Ucayali River Cacao has some of the world's best fermented cacao, resulting in a rich, flavourful bar that's not too bitter, even at 80%. I give it a delicate roast, add 20% sugar and let the chocolatiers add their touch," he adds.
And because a rising tide floats all boats, apart from Chocolats Monarque, you'll find Palette de Bine, Qantu Chocolat, Avanaa craft chocolate, Chaleur B and the nut pralines from Allo Simonne amongst the bean-to-bar producers in various État de Chocs creations. Allo Simonne also won a gold, two silvers, and a bronze for its dark chocolate luxurious spreads this year.
'Keep building your community' is a motto these chocolate makers live by. They all stop by each other's factories or shops to talk chocolate, test new recipes out, and collaborate. And the awards they're winning prove people are getting serious enough about chocolate to one day ask for single estate varietals, as you might for a good cup of coffee. For cacao farmers looking to make above-commodity prices, for chocolatiers looking to create exquisite bars and bonbons, and for consumers looking to support both, this is a very good thing.
_________
Never miss a story. Sign up for NUVO's weekly newsletter, here.