Every one of Canada's roads and highways, mapped.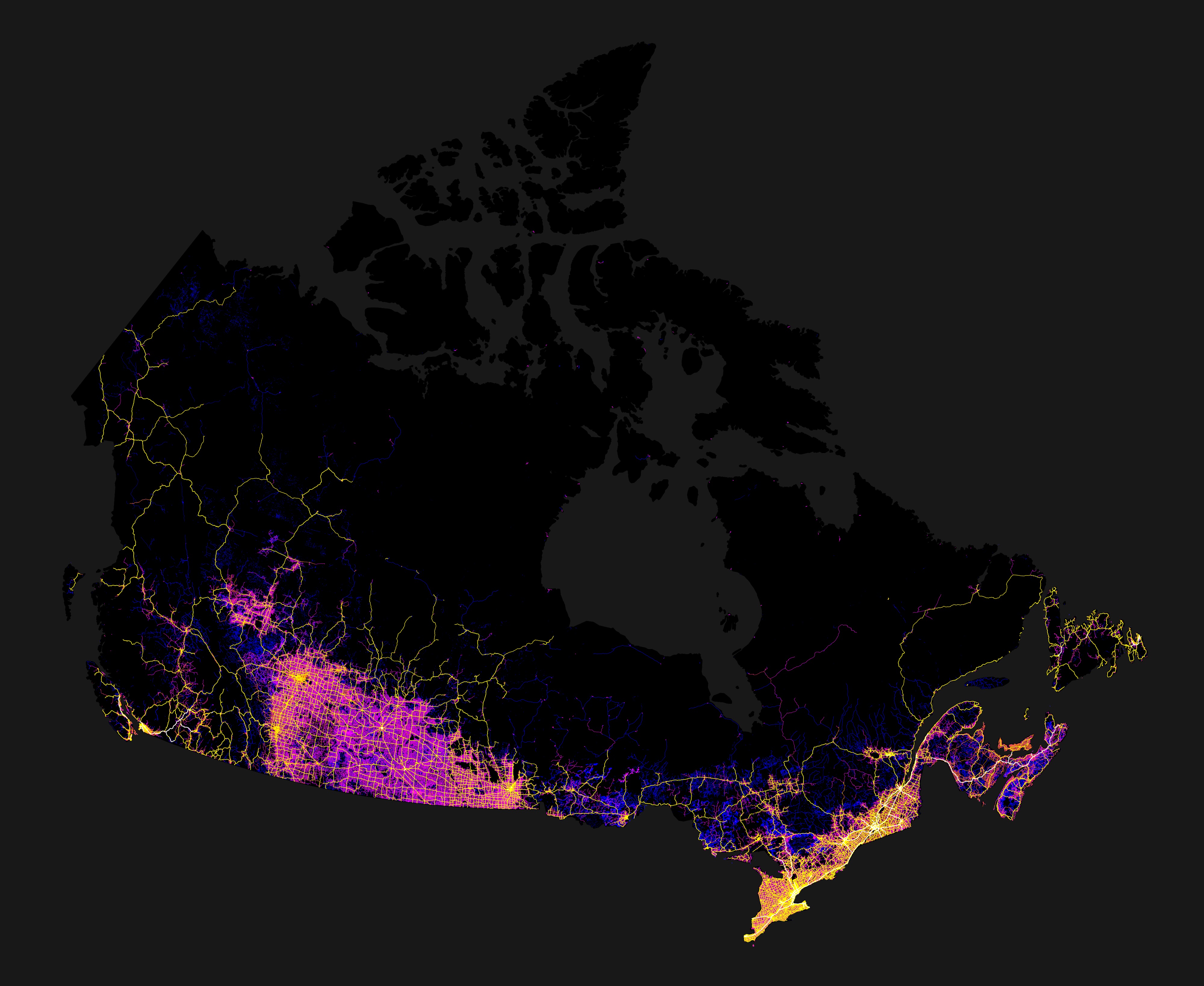 When Robbi Bishop-Taylor, a PhD student in geospatial science from Sydney, Australia began working with geographic datasets daily, he found himself becoming increasingly captivated by the patterns and formations that cover the earth's surface.
In an effort to share his particular aerial perspective with others, Bishop-Taylor began creating and selling map prints of riverbeds and roads that are both visually compelling and, as the Wall Street Journal noted, useful tools able to help scientists study environmental changes over time.
In addition to the U.S., Europe, and Australia, Bishop-Taylor has applied his practice to Canada. Using data from Natural Resources Canada's CanVec National Road network database, he weighted and coloured Canadian road data by size, from small, unsealed trails in blue, to freeways in bright yellow. His work vividly illustrates the fact that the majority of Canada's roads cling to the U.S. border—with 200 kilometres more from the States than in the remaining 3,800 kilometres of Canada to the north. The map is highly correlated with population density and agriculture: "Some of the most road-dense areas, like the Canadian Prairies, are also some of Canada's most intensive agricultural regions with a huge number of unsealed and sealed minor rural roads," Bishop-Taylor comments. The map also emphasizes the fragility of the connection between western and eastern Canada (with a single road, the Nipigon River Bridge in Ontario, joining the two) as well as the isolation of towns in Nunavut and the Northwest Territories, where most roads are secluded from larger transportation networks.
Fascinating and informative, they are a Canadian cartography-lover's delight.
Photo via Robbi Bishop-Taylor.