Sister City, New York: Hospitality Gets a True Update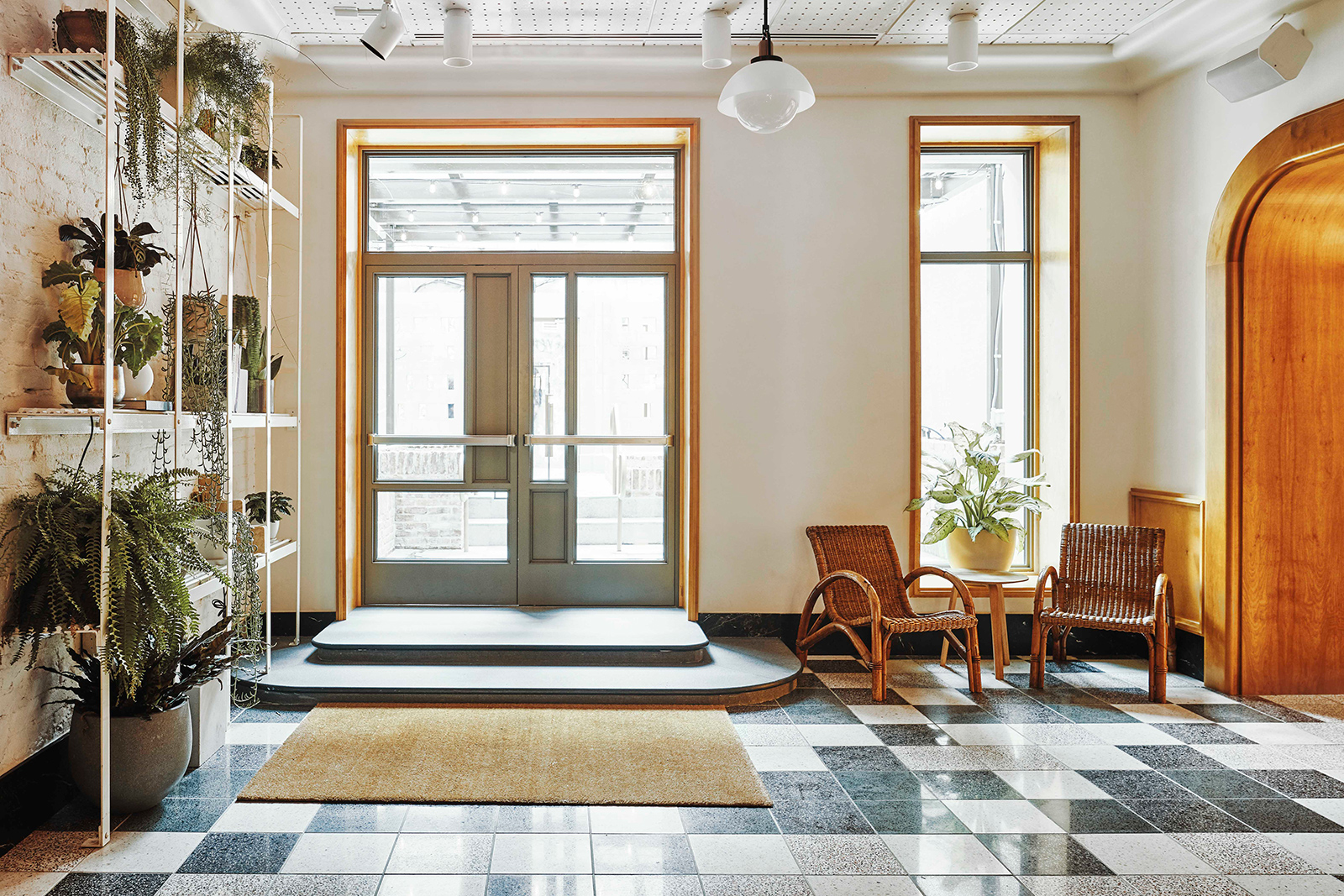 Atelier Ace, the team behind Ace Hotel, is getting behind a new brand of R&R at Sister City—here, guests rest and recharge.
Inside a former Salvation Army building in NYC's Lower East Side, the hotel's spaces are all oriented towards wellness yet optimized technologically; its 200 guest rooms and 14 floors function like any modern hotel, and are designed to make the clamour of NYC fade into the background.
To that note, the buzzing lobby scenes for which the Ace Hotel brand is known are nowhere to be found. Instead, Sister City's ground floor resounds with Atelier Ace's high-craft touch (in this case, Scandinavian-style architecture nods to Finnish spas and Japanese minimalism) whilst blanketing each guest's arrival in a soothing score arranged by Julianna Barwick and Microsoft: fixed to the rooftop and aimed at the clouds, a camera records the sky and dictates music that reflects the weather.
From the onset, Sister City presents a different approach to check-in; beside the entrance, a wood-lined hallway pockets digital screens for self-check-in. With everything at their fingertips, guests collect key cards at the touch of a button (attendants are always near to lend a hand). For those feeling extra, they can browse adjacent nooks with curated goods and necessities (think bespoke toothbrushes and toothpaste, bars of Brooklyn's Raaka Chocolate, and bottles of gender neutral fragrances by LA's Sigil), or simply request an extra pillow straight through an iPad.
Keeping with minimalism, Atelier Ace designed each aspect of the hotel using basic geometry. Black-and-white terrazzo tiles tessellate along the ground floor as their pattern fluctuates and travels throughout the building. The remainder of the public space after check-in is thought-provoking, with just a handful of vintage chairs and sparsely stocked bookshelves (curated by Sister City's neighbor, New Museum, the same as the artwork) where leafy, trailing plants reference the ambience of a Japanese garden. It's safe to say that the ground floor is a soft, tech-savvy landing that channels tranquility.
Without skipping a beat, the vibe continues throughout Sister City's guest rooms (some with private terraces, some with bunks), each trimmed down to the essentials with bespoke, built-in cherry wood furniture. Voiding all clutter, television screens are set behind wooden frames that fold out into desks, built-in valets function like wardrobes without the bulk, and even platform beds are designed with plenty of storage underneath; the design is entirely custom-fit, with every inch and corner considered, complete with everything you need and nothing you don't (you might call that just right).
And while Sister City eliminates the extras, it leaves room for plenty of concessions. Its new ground-floor restaurant, Floret, serves a veggie-forward and clean-plate menu by Joe Ogrodnek, one of Brooklyn's cult-favorite chefs. On the eleventh floor, tucked away from the debauchery at its doorstep, Last Light is a beacon for guests; unlike other hotel bars (where out of towners behave like out of towners), the bar is laid-back with twill banquettes, a generous terrace overlooking the city, light fare, and a refreshing cocktail menu where gin and coconut get along breezily.
If most modern hotels make the choice between analog and digital, Sister City is resolute to blur the line—it's hospitality optimized for introspection and comfort.
_________
Never miss a story. Sign up for NUVO's weekly newsletter, here.