Inside Projet Pilote's Circular Food and Drink Ecosystem
A hybrid space combining a distillery, brewery, bar, and restaurant together with a rooftop garden.
The importance of local supply chains and DIY solutions in restaurant culture is growing, but not every restaurant is fortunate enough to have its own garden—and not all bars can boast having their own distilleries to provide spirits and breweries for beer.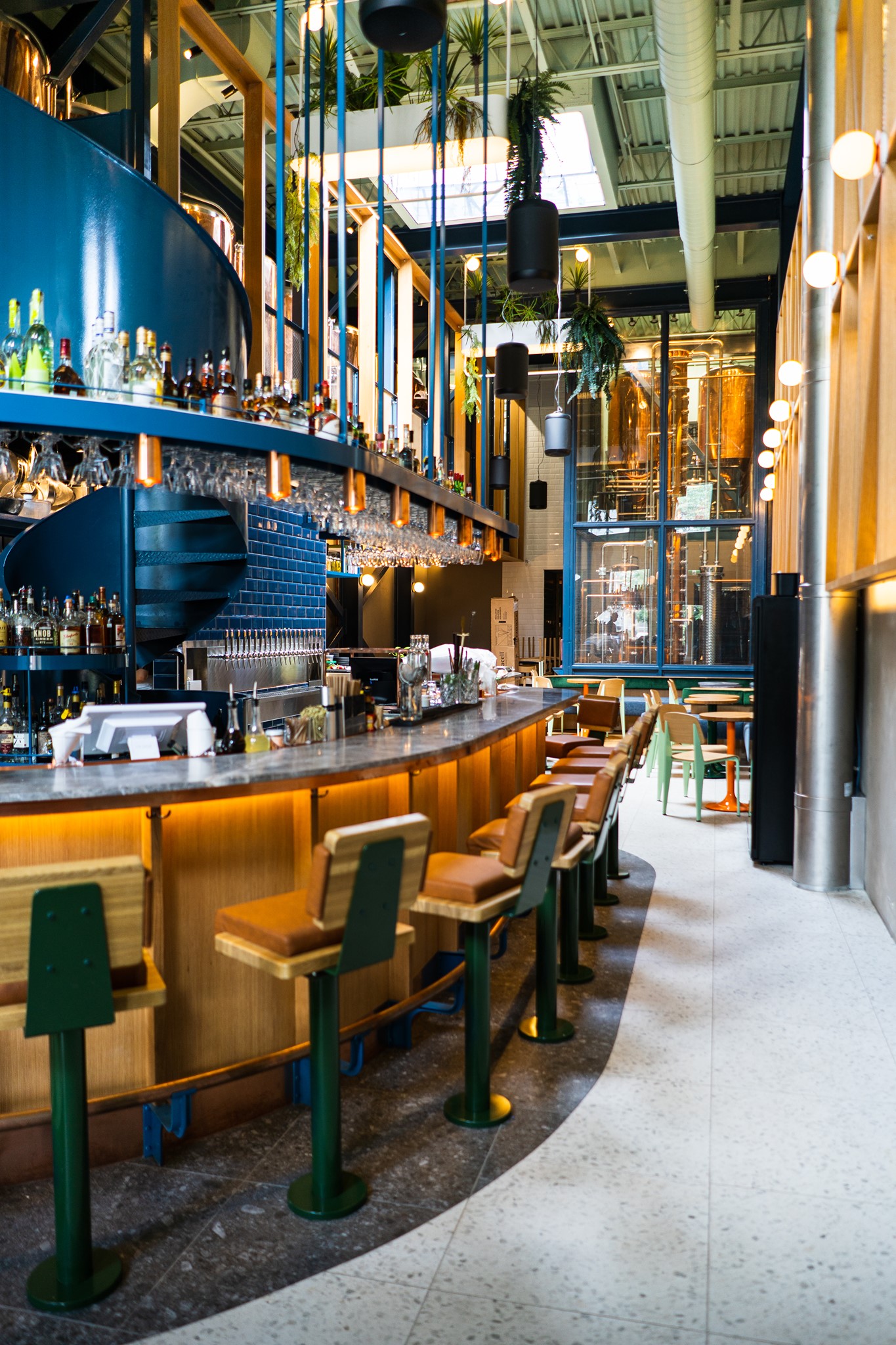 Montreal's Projet Pilote, on the other hand, has it all: A 30-foot-tall copper still for small batches of gins and eaux-de-vie towers over the restaurant and bar. Nearby are beer tanks focused on producing light and thirst-quenching pints of ales, lagers, and pilsners. What's more, each drop and bite developed here is informed in part by a 700-square-foot rooftop garden, producing everything from garnishes and mains for the kitchen—fresh in the summer and fermented in the winter—to Cascade hops destined for the taps.
The garden, however, isn't the centrepiece here, and nor is the main 120-seat space (however beautiful) designed by the Montreal firm Act Architecture Design; it's the collaborative ecosystem itself. Every part of Projet Pilote speaks to the next, whether it's through sharing equipment, flavours, or knowledge.
Sommelier Jean-Patrick Sturgeon and brewmaster Martin Allaire communicate with chef Léon Buser-Rivet to choose wines and develop a beer to pair with incoming sharing-plate menu items. In the course of making a dish with citrus for example, the kitchen then hands the rinds over to owner and distiller Guillaume Drapeau to infuse into a gin or other spirit, which is then used in the cocktails developed by mixologist Justin Presseau. Drapeau also hands spirits to Buser-Rivet to make vanilla extract, who in turn uses it with grown lime leaf for both desserts and with beer with Allaire. The list goes on, and the prospects are many.
"This is a place to experiment, a laboratory to explore, and to try and fail," Drapeau says. The name, he explains, refers to how the space serves research and development in more ways than one. While the beer and spirits developed here can eventually lead to larger-scale batch production at industrial satellites in Sutton, Quebec, Drapeau says Projet Pilote thrives on the immediate reactions of its clients.
"If there's something off in one recipe, we can correct it immediately," he says. "To have this feedback instantaneously from customers, as well as from one another? It's precious."
It may have only just taken flight in Montreal's Plateau neighbourhood, but Projet Pilote has been six years in the making. Now that it's come to fruition, it's far from a prototype: it is a fully fledged creative and material economy where community is built in real time. With the familiar ambience of the high-design Montreal bar, the model is suited to be integrated into the city's flourishing food scene.