The Bürgenstock Luxury Resort Wants You to Bathe in Wine for Wellness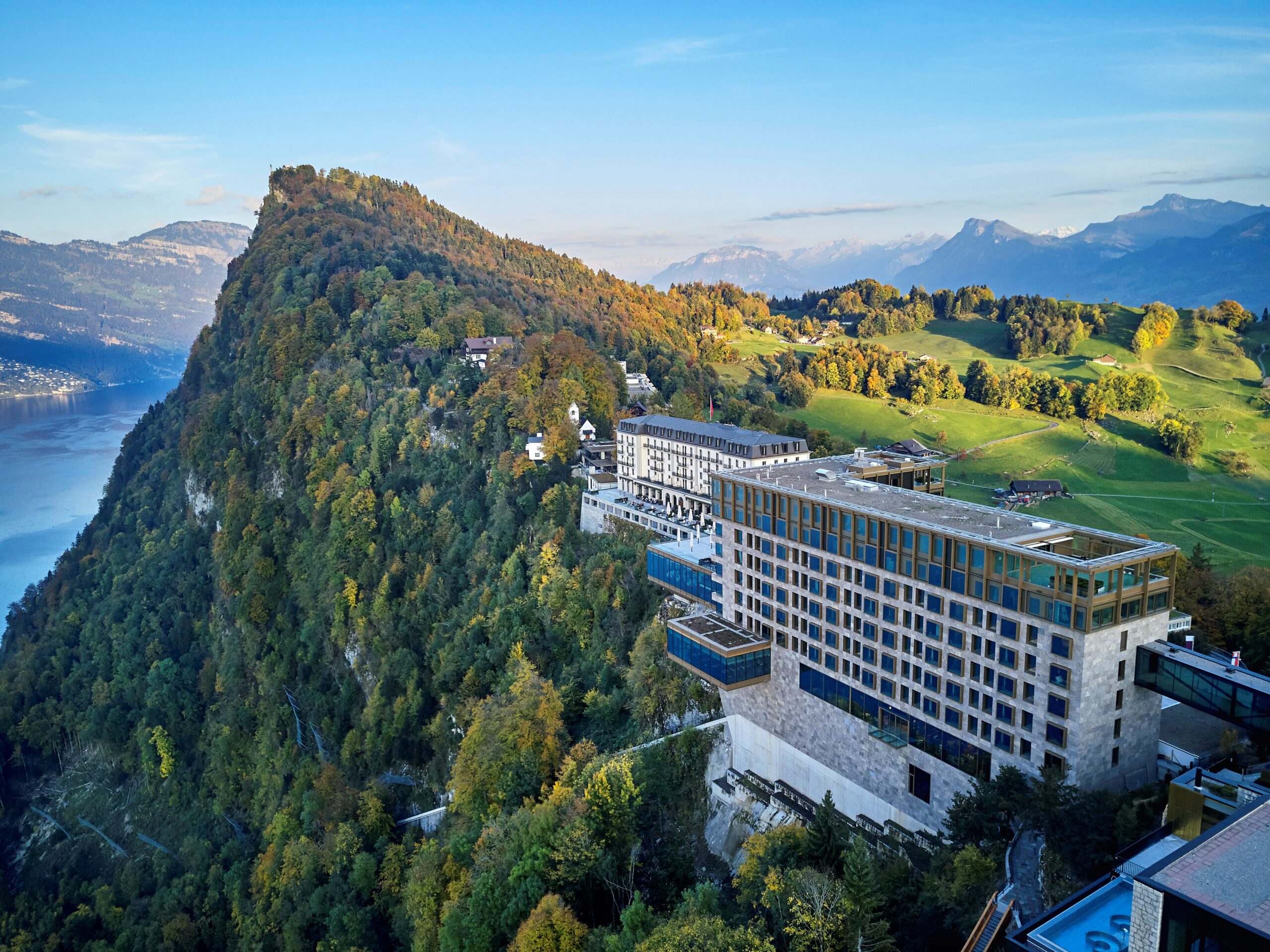 Rumour has it that Swiss wine is so good that the locals don't want you to know about it. Neighbours in Burgundy, Novara, and Baden have something to say about that, but when it comes to wine, the Swiss have some tantalizing vintages waiting to be discovered—you just have to know the right people.
Finding top-quality Swiss wine takes more than drop-ins. It's Switzerland, after all, where great things are often kept secret. Rather than going on a self-guided wine tour of Switzerland and returning unamused, we recommend you visit the cellar of a luxury hotel. Bürgenstock Hotels & Resort is a perennial starting point for oenophiles looking for great wine and luxury in Switzerland.
It is also a popular destination for its location perched on a mountain side, many restaurants, and celebrities and luxury travellers. When the world went into its first lockdown last year, Asia's richest family booked both the Royal and Presidential suites. Sophia Loren and Audrey Hepburn are among the residents of this historic property, which received a rumoured $560 million (U.S.) revamp in 2007. Each room in the Bürgenstock Hotels & Resort has a bathtub overlooking Lake Lucerne.
But wine is the true star at the Bürgenstock. A barrel of Meursault-Genevrières Premier Cru Cuvée Baudot 2017 is available if you missed out on bidding for it a few years ago, or you could try Bâtard-Montrachet Grand Cru 1994 for a mere 1,550 Swiss francs. However, local wines are hard to beat, and what better way to enjoy it than on a Fly and Wine day trip, when guests jump into a helicopter and fly over Lake Lucerne to the award-winning vineyards of the Bündner Herrschaft region.
But if you thought wine was only for drinking, think again. Not only does the resort have its own wall of grapes growing on the south side, the renowned wellness spa also suggests that wine is great for detoxifying the body in the Vinoble Body Treatment. The spa treatment uses vinoble salt and a grape seed scrub in combination with pure grape seed oil to cleanse and nourish the skin. Dark chocolate, said to be an aphrodisiac and have antioxidant health benefits, is provided with local red wine to round off the wellness experience that gourmets surely cannot refuse.
If you happen to find yourself ready for a detox at the end of your trip, the resort also has a sister hotel on-site, Waldhotel Health and Medical Excellence. If was good enough for Sophia and Audrey, it is certainly good enough for me.