Montreal's Speakeasies, Hidden Bars, and Secret Cocktail Lounges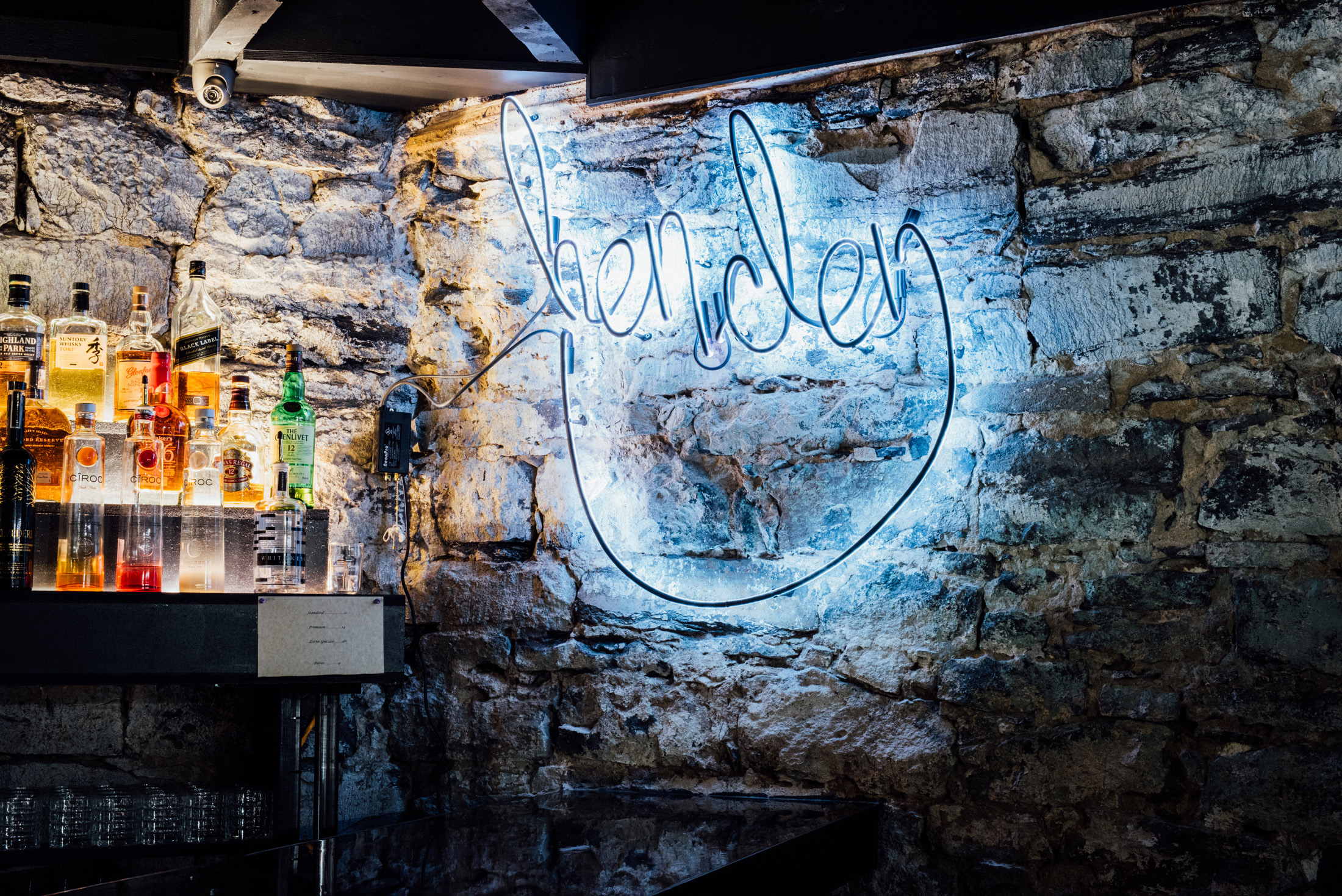 All publicity is good publicity—or so the saying goes. However, when it comes to Montreal's dining scene, it seems the opposite is true: the city's speakeasy-style bars are thriving by being as discrete as possible. Far less secretive than actual Prohibition-era bars, these spots are not so much illicit operations, but instead, ones that offer exclusivity via mystery.
Montreal's selection of speakeasies ranges pretty widely when it comes to the execution of the concept. There are bars within bars, alleyway entrances with peep-hole doors, or ambiguous street-facing entrances with little more than a doorbell. And yet, while there's no overt signage, there may be a website or Instagram page—both secluded hideaways and hotspots for geotagged selfies. So why engage in all of the smoke and mirrors in the first place?
"A lot of people like the hunt," says Kevin Demers, owner of the Coldroom, a bar located in a former industrial refrigerated basement. "[They like] to find this spot that everyone's talking about, yet nobody really knows where it is. Once you find these spots, it truly feels like it's yours. And it's really part of the full experience." That aspect of hunting is shared by many bars of the Coldroom's ilk, such as the underground mezcal bar Clandestino. It's only accessible by request via a door in its sister bar, Boho. Owner Julien Betancourt says he wanted to give a sense of play to the hunt. "I always compared Clandestino to when we were children playing under the staircase," he explains. "[People] want something that they haven't seen before… something that they can keep for themselves."
In a world where so much of our private lives is posted, tweeted, and shared with the public, the idea of a secret bar is especially enticing—and not just to Montrealers. "Even after two years, people from all over the world are still looking for our door and I think that's amazing," says Atwater Cocktail Club owner Christophe Beaudoin Vallières.
At face-value, it's a smart move when considering its composite parts: treating your own business like it's the city's best-kept secret means that anyone who drinks there is in on the secret. Any clientele who manages to find their way in and abide by the occasional list of rules is deemed cool enough to be there, and anyone they bring thereafter is cool by proxy. Once you enter, there's typically a selection of drinks that are more highfalutin mixology than run-of-the-mill cocktails, so there's a mandate of quality to cement a patron's desire to keep it to themselves. Facets like this, and more, amount to an environment that's far more controlled, and that control instils a sense of privilege and discovery in patrons. Congratulations: you're in the club—that is, if you can find it.
Here are seven of Montreal's best speakeasies, hidden bars, and secret cocktail lounges:
Clandestino
This underground tequila and mezcal bar in Old Montreal serves strong but smooth cocktails with tropical flair and 15 distinct types of salt to accompany them. The secret to finding this moody mezcal haven? Enter through its sister bar Boho and ask a bartender for the bar by name to be escorted. They'll take you through a discrete padlocked door to descend a spiral wooden staircase.
Atwater Cocktail Club
This French disco-inspired cocktail bar makes a point of having hundreds of bottles of flavours to work with, and an equally elaborate array of cocktail recipes. With a front door located through an alleyway, around the corner from its sister restaurant Foiegwa—a portion of the restaurant's menu is available at Atwater—the only way you'd know it was there would be the line-up on a Friday or Saturday night.
King Crab
While originally intended to be an after-dinner spot for the slick seafood restaurant Makro, King Crab is open to the public—if you can find it. Going down a staircase to the left of the restaurant's front door takes you through a series of floor-to-ceiling mirrored hallways and into a velour lounge. Grab a cocktail from their curated list or stick to the basics as you order from the by-the-slice pizza oven.
The Coldroom
Blink and you might miss the nondescript black door to the Coldroom in Old Montreal. Ringing the doorbell summons a member of staff to personally greet and lead you into an industrial but cozy basement space. Provided you abide by rules (don't yell and do be patient with the bartender), you'll be treated to a masterfully curated experience in mixology.
Le 4e Mur
Don't bother looking for Le 4e Mur (French for the fourth wall) by name in the Quartier Latin—instead, keep an eye out for the door that reads "Detective Agency". You'll be greeted by a brick wall; press on the right one to "break" the fourth wall and gain access to a cocktail experience that plays the most with Prohibition-era vibes. It's one of the most difficult bars to find in the city; visit their website for more info.
Henden
Inspired by speakeasies found in New York City, this bar is hidden by a mirrored wall covered in plant life below the Griffintown restaurant Bird Bar. A push is all that's needed to realize it's a two-way mirror, and the door into Henden. The interior here is plush and inviting, invoking Morrocco circa 1970, and a great spot to grab a signature drink while snacking from the upstairs kitchen's menu.
The Cloakroom
Located within the closet of a men's bespoke and barber shop, this bar exudes exclusivity that stems from the minimal seating it sports. Size isn't everything, however—the cocktail program here is on point, employing a "tailored" experience that offers a lot of flair and flavour. The concept here has garnered enough popularity that a new location can be found in Brisbane as well.
_______
Never miss a story. Sign up for NUVO's weekly newsletter, here.