Eat This Salad for a Prosperous New Year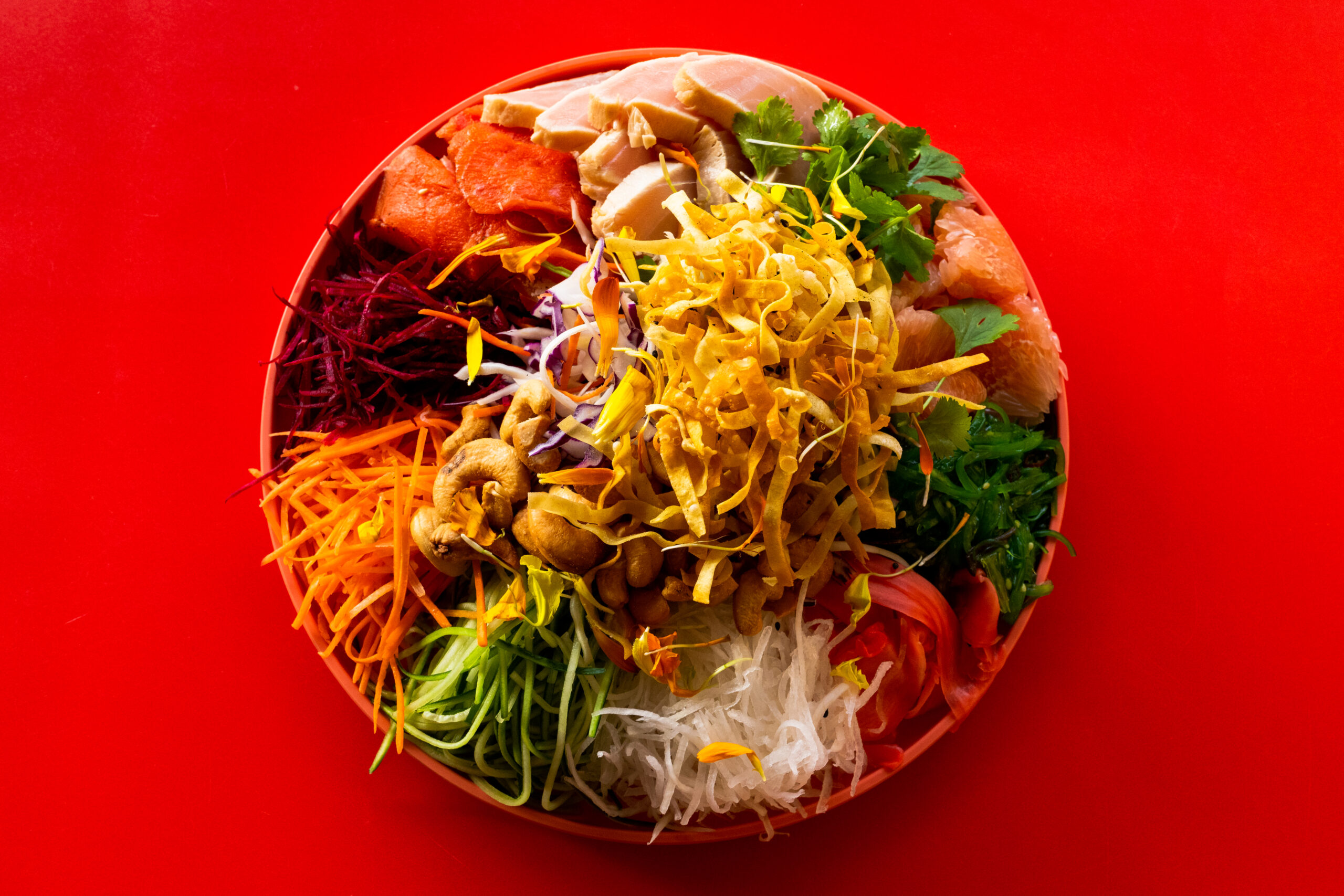 "We start our Lunar New Year dinner with yee sang, also called the prosperity toss. Using chopsticks, we open up the new year by tossing the food high up for good luck," says Justin Cheung, chef/co-owner of Vancouver's Potluck Hawker Eatery. Cheung's recipe for yee sang, a simple Cantonese raw fish salad traditionally enjoyed throughout Malaysia and Singapore, promises prosperity and guarantees deliciousness. Just don't spill when you toss it—you won't want to miss a bite.
Serves 6
Ingredients
For the dressing:
1 cup plum sauce
1 tablespoon sesame oil
1 tablespoon tamarind paste
1 tablespoon water
1 tablespoon golden mountain sauce or soy sauce
For the salad:
Oil for frying
10 wonton wrappers cut into ½-inch strips
¼ cup cashews or peanuts
1 tablespoon sesame seeds
½ cup segmented and cut into small pieces pomelo
1 cup julienne carrot
1 cup julienne cucumber
1 cup julienne daikon
1 cup julienne beets
1 cup thinly sliced purple cabbage
1 cup thinly sliced green cabbage
1/4 cup pickled ginger
1/4 cup wakame (seasoned seaweed salad)
½ bunch cilantro
100 grams smoked salmon
100 grams sushi-grade tuna
Method
For the dressing:
Whisk all ingredients together in a mixing bowl. You can also double the recipe and reserve the extra for future salads.
For the salad:
In a small pan, heat oil and fry wonton strips for a few seconds until golden brown. Transfer to a plate lined with paper towel.
Arrange prepared fruit and vegetables on a circular plate with the wonton strips, nuts, and sesame seeds.
Slice seafood and arrange in the middle of the plate.
To serve, pour 4–6 tablespoons of dressing over top.
Using chopsticks, all participating guests lift the ingredients high in the air to "toss" and "mix" for good luck.
Once the salad is mixed thoroughly, it is ready to consume.