The Many Styles of Canadian Pinot Noir
Pinor noir is known as the heartbreak grape, but when in the right hands, the rewards are fabulous, glass after glass.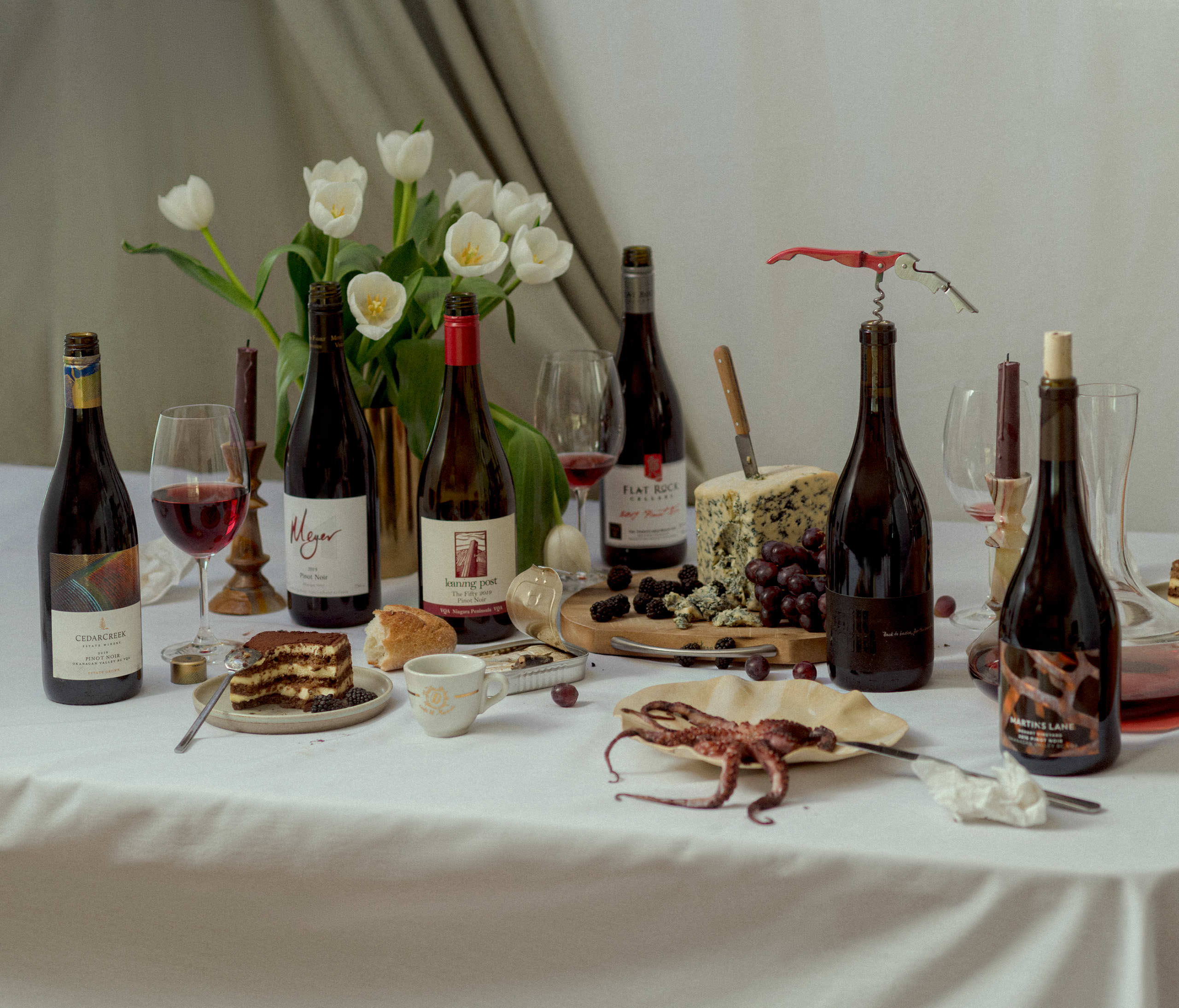 Summer romance is widely celebrated in popular culture. But when the heat of passion cools with late summer days or the end of the summer vacation forces lovers apart, romance gives way to heartbreak. Pinot noir is known as the heartbreak grape because of the trouble it gives in the vineyard and the cellar. It's a fickle, thin-skinned variety vulnerable to rot and disease. It rewards the viticulturist's care with lower yields than most other varieties. In the winery, it demands kid-glove treatment and the most gentle winemaking processes.
But get it all right, and the rewards are fabulous, glass after glass.
The heartland of pinot noir is Burgundy, where almost all red wines are made from it. The greatest expressions are translucent wines that deliver vibrant, layered flavours, fresh acidity, and a silkiness of texture that's rarely found in wines made from other varieties.
The drive to make a success of this most sensual of wines has kept Burgundy's winemakers risking a broken heart every vintage for centuries. And it's what inspires producers outside Burgundy—many explicitly trying to make their wine in a Burgundian style—to plant pinot noir. Regions notable for outstanding pinot noirs include Oregon and cooler parts of California, Central Otago in New Zealand, and Tasmania and the Yarra Valley in Australia, but pinot noir is planted all over the world with greater or lesser success.
In Canada, the main pinot noir regions are Niagara Peninsula and Prince Edward County in Ontario and Okanagan Valley in British Columbia, but there are plantings elsewhere in those provinces as well as in Nova Scotia and Quebec. The varied growing conditions across Canada, together with each winemaker's approach to winemaking, ensure that there are many styles of Canadian pinot noir, many of them not even close to the Burgundy style—wines with 12.5 or 13 per cent alcohol, a translucent brick red colour, and flavours in the cherry and red fruit range. Others are deeper in colour, denser in texture, fuller in body, more concentrated in flavour, and higher in alcohol, with some falling between these styles. But even though many winemakers strive for the Burgundian benchmark, there is no right style of pinot noir, any more than there is of wines made from merlot, riesling, or chardonnay.
As a rule, Ontario pinot noirs are on the lighter, lower-alcohol end of the spectrum thanks to the cool growing conditions in Niagara Peninsula and Prince Edward County. In the 1990s, many people thought pinot noir might become the signature red wine of Ontario, the red partner to riesling. Some single-vineyard and estate pinot noirs of that time were exceptional, and wineries such as Vineland Estates, Château des Charmes, Henry of Pelham, and Inniskillin (especially Montague Vineyard) stood out. But pinot noir faltered, and at the moment it looks as if cabernet franc has emerged as Ontario's emblematic grape.
Newer wineries are breathing hope into pinot noir again. In addition to the early leaders, notable pinot noir producers include Domaine Queylus, Leaning Post, Tawse, Flat Rock Cellars, Megalomaniac, and Le Clos Jordanne in Niagara Peninsula, together with Closson Chase and Rosehall Run in Prince Edward County.
Pinot noir has a shorter history in British Columbia, where more robust red wines made from cabernet sauvignon, merlot, and syrah first attracted attention and won support from consumers. But pinot noir has been coming on, especially in the cooler north of Okanagan Valley, with some promise from the new wine regions on Vancouver Island. Styles are more varied in British Columbia and range from light to heavier.
There is still an expectation among some producers and commentators that pinot noir might become B.C.'s signature grape despite the current success of syrah. High-quality pinot noirs are made by wineries such as Meyer Family Vineyards, Martin's Lane, Quails' Gate, Cedar Creek, Tantalus, and Moraine, all in Okanagan Valley. A small producer to watch is 1 Mill Road Vineyard on the Naramata Bench, which makes only pinot noir. But really successful examples are still too few, and quality pinot noir is far from the critical mass needed to be a signature variety for British Columbia.
Canadian pinot noir is a work in progress, and the wines are well worth seeking out and trying. The trend in quality is consistently upward. For all that, pinot noir is perfect for warm summer days and evenings—the lighter styles, especially, can be served slightly cool. And pinot noir needn't be a seasonal pleasure; it has the character to keep you engaged in warm, cool, and cold weather alike.
Heartbreak is intrinsic to romance, and pinot noir manages to hold these apparent opposites in a fine tension. No matter where your heart finds itself today, pinot noir will give added lift to winemakers and wine lovers alike.