Gus Stieffenhofer-Brandson of Published on Main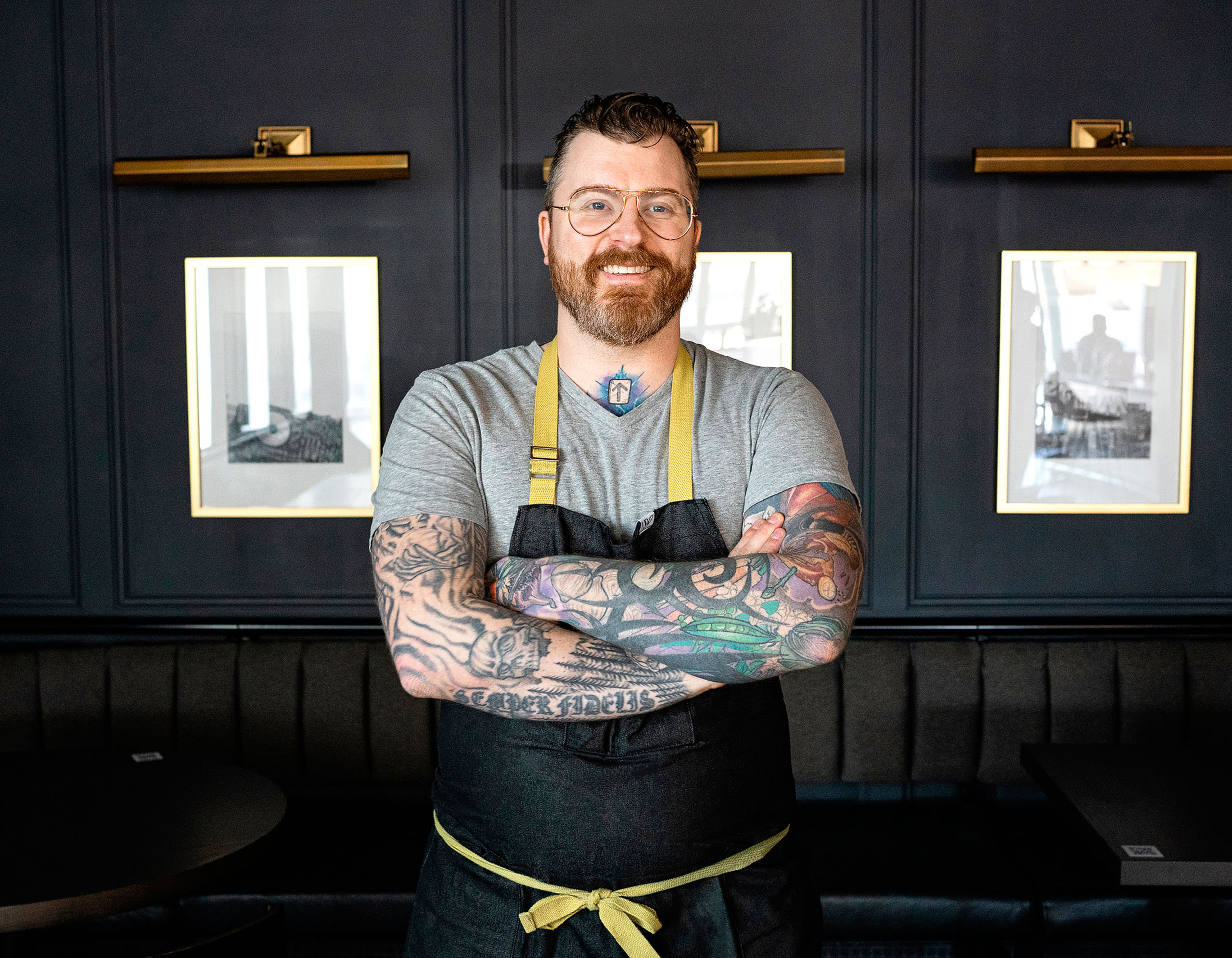 When executive chef Gus Stieffenhofer-Brandson begins conceptualizing a new menu item at Vancouver's Published on Main, he turns to his flavour library for the building blocks. Stored in the restaurant's sizeable pantry, his meticulously labelled series of 90 to 100 square plastic tubs organizes a panoply of ingredients by category. It encompasses an array of fresh and dried seasonal components, syrups, and oils along with pickles and ferments—everything from roasted-quail garum to chanterelle vinegar, hay syrup to rose kombucha and fermented rutabaga is made in house. Stieffenhofer-Brandson draws upon these elements to establish the foundation for his inventive dishes, breathing life into his reinterpretation of deeply resonant taste memories.
Fresh out of culinary school at Winnipeg's Red River College in 2008, the budding line cook accepted a practicum at the Atrium Hotel Mainz. He spent the better part of a year in Germany, working and staging at one-Michelin-star restaurant ENTE. It was a crash course in high-end kitchen-brigade life, and Stieffenhofer-Brandson reflects that "Germany was a real liftoff point for me. I was constantly bombarded with new mise en place, and I swear I added one million things to my repertoire." And ironically, it was thousands of miles from home where he first met Canadian culinary icon Scott Jaeger, watching the chef/restaurateur win gold with Team Canada at the IKA Culinary Olympics.
Fast forward to 2009. Having returned home to Manitoba, Stieffenhofer-Brandson flooded Vancouver with resumés, but Jaeger was the only chef who replied. "I had $800 cash in my pocket, no money in the bank, and nothing to lose. So I threw all my stuff in my beat-up Honda Civic and drove to Vancouver in -51°C weather." Grinning, he recalls, "I almost died so many times on the drive. But I made it to the door of the Pear Tree Restaurant in one piece, worked for free for two weeks, and got a job. It was pretty much starting from scratch."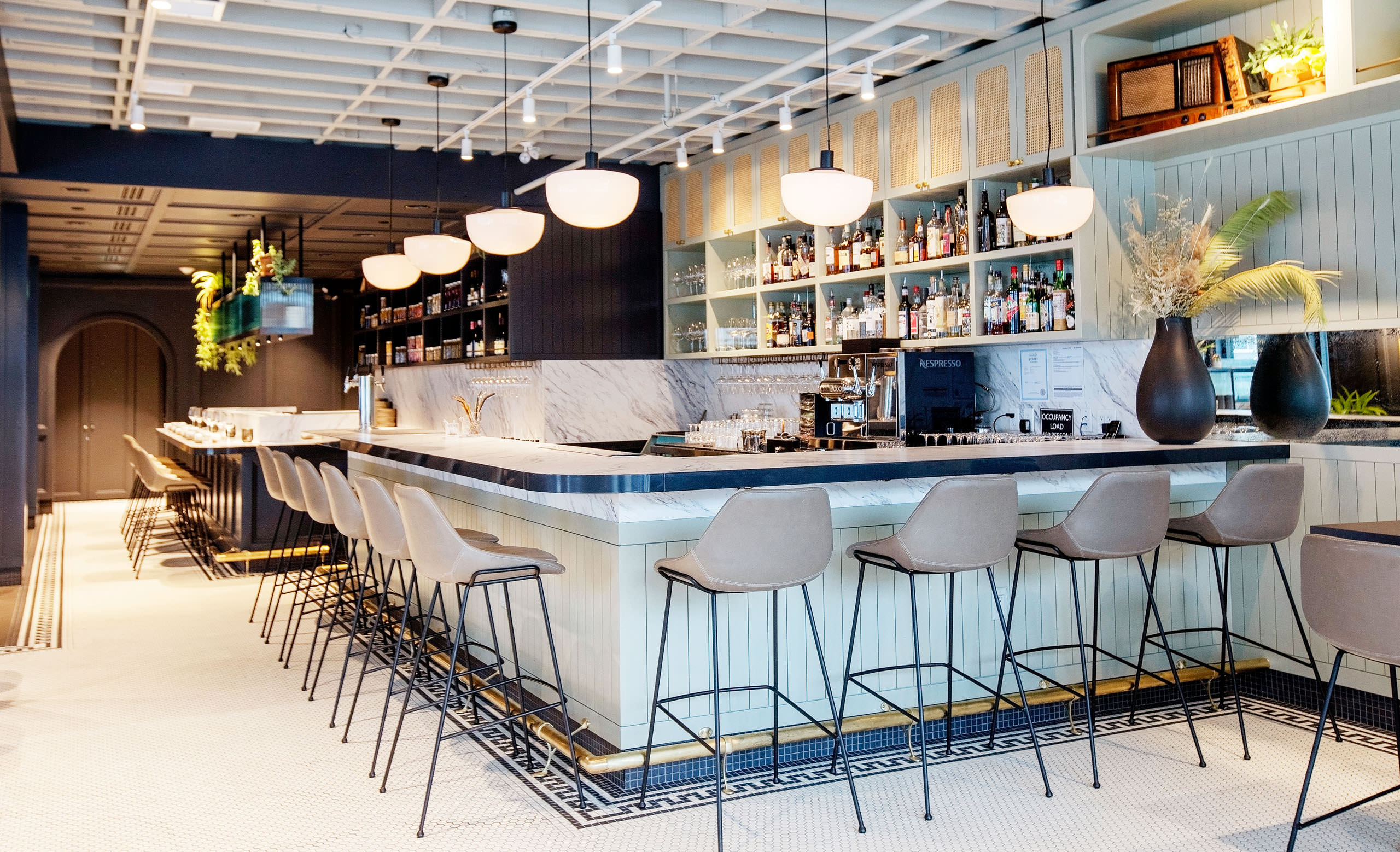 The young upstart was given his comeuppance right out of the gate. "Scott started me at garde manger, but I didn't have the finesse and the gentle touch needed to execute his precise, elegant dishes. So he was all over me, breathing down my neck." Stieffenhofer-Brandson put his head down and paid his dues, earning his stripes (literally, his apron, in Pear Tree tradition)within the first two to three months and became one of the crew. The next five and a half years were formative as he rose through the ranks, working every kitchen station and eventually becoming sous chef.
His diligent work ethic cemented Jaeger's trust. In turn, the number one lesson Stieffenhofer-Brandson learned from his mentor was a mantra on how to succeed in every aspect of life, not just at the restaurant. "The biggest takeaway from my time at the Pear Tree is to have a clear vision of where you want to go, make the steps to set yourself up for success, and follow the line to get there." He explains that "it's not just setting goals, not just setting up your station. It's the sum total of every single little thing—beyond how we cook a veg or make a sauce or cook a piece of meat or fish, [it's] how we put things away, how we keep our space. And this constant thought process has helped me to learn from so many different chefs over my career, enabling me to figure things out on my own."
When food writer Joe Ray dined at the Pear Tree in 2011, a serendipitous conversation with him led Stieffenhofer-Brandson to the Willows Inn on Lummi Island, where Blaine Wetzel was standing the American culinary scene on its ear. What impressed him most was how grounded Wetzel's food was in ingredients of place. "Cooks were picking blackberries and pine shoots before service. And the meals they created really dove into what's here in the Pacific Northwest, highlighting ingredients I was so unfamiliar with like elderberry capers, Nootka rose, and elderflower."
Staging at world-renowned Noma in summer 2016 reinforced this terroir-based gastronomic approach. Time spent harvesting Denmark's wild bounty was especially meaningful. "In two weeks, my crew picked 800 kilograms of elderflower and 200 kilograms of rose petals as well as 30 litres of wood sorrel and 30 litres of nettle tips each day. Foraging in Copenhagen had a huge impact on how fired up I am now to get out in the woods and pick things. I always come back so invigorated and am at my best creatively."
In reflecting on his former protegé who has since become a friend, Jaeger affirms that "Gus is an incredibly talented cook who has had a drive and a passion for the kitchen from the first day I met him. He has harnessed the lessons and experiences from the kitchens he has spent time in to carve out his own style." Stieffenhofer-Brandson is, indeed, authoring his own culinary narrative as executive chef at Published on Main, which he opened in December 2019. "Some people say our food is Nordic or Eastern European or prairie—I don't think so. By saying we're this or that, we'd really pigeonhole ourselves into a space where we can't have the fun that we do."
Stieffenhofer-Brandson's dishes are largely inspired by ingredients or a place of nostalgia. With up to 40 different items on his à la carte menu and 15 to 20 on his tasting menu, he definitely swings for the fences: "If you're not pushing, you're dying." Yet he says that overwhelming is not what he's looking for. "I knew I wanted it to be copious, and I think it comes a lot from potluck dinners at big family get-togethers and even the big midday meals while working at my grandparents' farm during the summer. The table would be groaning with food from their garden—it was so wild. Grandma could have 10 different vegetables prepared in different ways, and that's not even counting the salads."
Whether harvested from an organic Fraser Valley farm field or foraged from British Columbia's forests, the fruits of the land continue to be chef Stieffenhofer-Brandson's touchstone. "It all comes from a place of bounty. And I'm excited to keep trying a million different things and share it with a spirit of abundance."
Photos courtesy of Sarah Annand of Boxset Design.