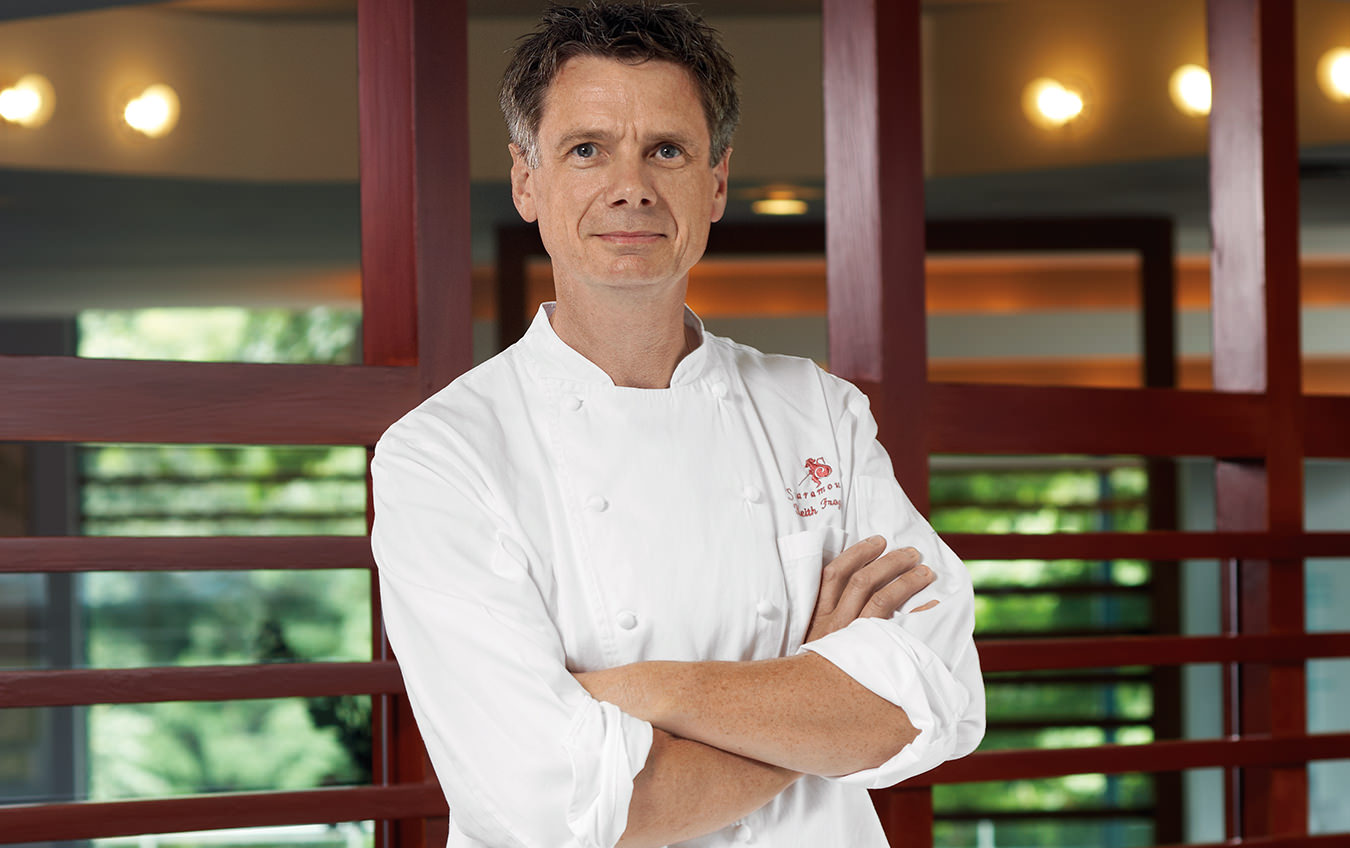 I first met chef Keith Froggett in a forest. He was taking part in a fundraising event at Michael Stadtländer's Eigensinn Farm, and what stood out for me, apart from the excellence of the roasted quail on a potato galette that he'd cooked over an open fire, was that he'd gone to the trouble of setting up a small stereo and was listening to the Dave Brubeck Quartet's "Take Five". I knew right away he was my kind of chef.
That was 10 years ago, and although I've eaten at his restaurant, Scaramouche, a number of times since then, I did not meet the chef in person again until recently. The 50-year-old father of three is considered something of an enigma, avoiding the spotlight and preferring to let the quality of his food take centre stage. In this age of celebrity chefs hawking everything from toothpaste to bouillon, his discretion is refreshing.
That's not to say chef Froggett is a recluse, and he does support a number of causes, even when doing so takes him out of his comfort zone. His participation in the Gold Medal Plates fundraiser is a prime example. "The first time we did it, we won the bronze," he recalls, "and that was fine, but the second time we participated, we won gold, and I didn't realize as the winner you had to go to all of these places around the country and compete again." Rather than endure that particular honour, he decided to step down and let the year's second-place winner (Mark McEwan) take the top prize.
Scaramouche is now in its 30th year, an eternity in restaurant life, but it still feels fresh. The sleek grey, dining room with raised banquettes commands a powerful view of downtown Toronto. The more casual pasta bar and grill attracts regulars who visit two or three times a week.
Froggett's approach to building a menu is simple. "We buy quality ingredients and try to treat them with integrity," he explains. When I ask him about the dish that best sums up his approach, he thinks for a minute before responding. "I guess I'd say the foie gras terrine. It appears to be really simple, but it's very hard to execute. You have to get it just right."
Chef Keith Froggett is considered something of an enigma, avoiding the spotlight and preferring to let the quality of his food take centre stage.
On any given night at Scaramouche, the dining room is filled with a well-heeled and celebratory clientele. But that doesn't mean there aren't outrageous moments. "One night there was a woman sitting at this table and, I kid you not, there was a live duck in her coat," the chef says. "When we asked her about it, she said that it was her pet, but it kept honking and we eventually had to ask her to leave." On another night, when a woman complained that her tuna was undercooked, the server gently pointed out that it did say on the menu, in capital letters no less, that the tuna was RARE. She replied, "I thought that meant there wasn't much of it!"
While Froggett is today considered one of the country's finest chefs, as a young man growing up in England, he was unsure that he would pursue cooking professionally. "I always knew I was going to do something with my hands," he says, "and it was either going to be cooking or carpentry. To this day I regret that I didn't choose carpentry." He's only half-joking. He remains an avid woodworker, and he personally makes all of the cheeseboards used at the restaurant. Unlike cooking, which requires constant care and attention, Froggett explains, "What I like about working with wood is that you can leave it and go away and when you come back nothing's changed."
Fortunately for Toronto's gourmets, a catering college was built about 30 kilometres from where he lived in the south of England right around the time he had to make the decision about which path to pursue. "The school was brand new," he recalls, "and from the third floor on a clear day you could see the coast of France." That settled it. Froggett flourished in the environment, and upon graduation, job offers came in from some of the top hotels in London: the Berkeley, the Savoy, and Claridge's, where he eventually ended up accepting a position.
After the relatively sedate and modern environment of the catering college, the rough-and-tumble world of British hotel kitchens of the 1970s was a bit of a shock. "That was a hard-ass kitchen," he says. "Some cooks get really screwed up in that kind of an environment." One event in particular stands out. "I remember this one chef who made a noose one day out of rope, and when one of the assistant chefs screwed up, he tied that noose around the poor guy's neck and made him stand on a pile of flour bags and then took one bag away, and the guy had to stand there all service on tiptoe. You grow up pretty quick in those kitchens and learn fast who to avoid."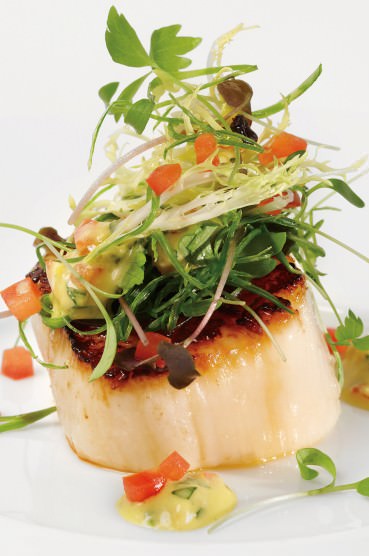 Such incidents had a profound effect on the young chef. "Marco Pierre White must have been floating around at that time," he says, referring to the notoriously bad-tempered British chef (he once made Gordon Ramsay cry). "And I can totally see why he turned out the way he did, but it turned me the opposite way. I've never understood how you can expect people to work to their potential if they're scared."
Under such circumstances, it's no surprise that he jumped at an opportunity to work in Canada. He started at the Sutton Place Hotel in Toronto before moving to Truffles at the Four Seasons Hotel. "That was probably the most French kitchen I've ever worked in," says Froggett. "There was one point where I was the only English speaker in the place." From there it was a natural transition to Scaramouche, where he accepted the position of saucier.
For three years Froggett worked alongside Russell Cotton, the executive chef and also his friend, before returning with his wife to the south of England. He would have stayed comfortable working in Bath but for a tragedy that occurred in 1985. "I got a phone call one day," he says, "telling me that Russell had been killed in a motorcycle accident. I came over on the next flight. It was pretty tough and emotional. That's when they [Scaramouche] asked me to come back, and so I did."
In the 25 years since, Froggett's kitchen has become something of an incubator for young chefs, many of whom stay with him for years. When they do leave, it's usually to open their own places or head up significant kitchens. Chefs have included the likes of Tawfik Shehata at the Ballroom (previously of Vertical), Cory Vitiello at the Harbord Room, and Georgina Mitropoulos and Frasier Macfarlane, who recently opened the much-lauded Quatrefoil restaurant in Dundas, Ontario; the couple met while working at Scaramouche and later married—a situation that's not unique in the restaurant. "Since I've been here, six or seven couples have met and got married," Froggett says.
When asked what the secret is to running a harmonious kitchen, Froggett replies, "There is not one person in the kitchen I don't enjoy working with. Some of them might be frustrating sometimes, but there's always something about them that makes it enjoyable."