Sunseeker's 75 Sport Yacht Blends Opulent Luxury with Sporty Performance
A wolf in wolf's clothing.
Plenty of luxury yachts come wrapped in a sporty exterior styling suggesting a muscular foundation capable of performance to match their bold look. But not all deliver on that promise. After all, it's no easy task getting 40 or 50 tons of boat to soar like a racer and slalom like an Olympic champ.
Yet that's exactly what fabled British yacht builder Sunseeker has achieved with its remarkable new 75 Sport Yacht, a spacious, luxurious, and elegant delight that offers an exceedingly comfortable ride and can reach top speeds of 40 knots.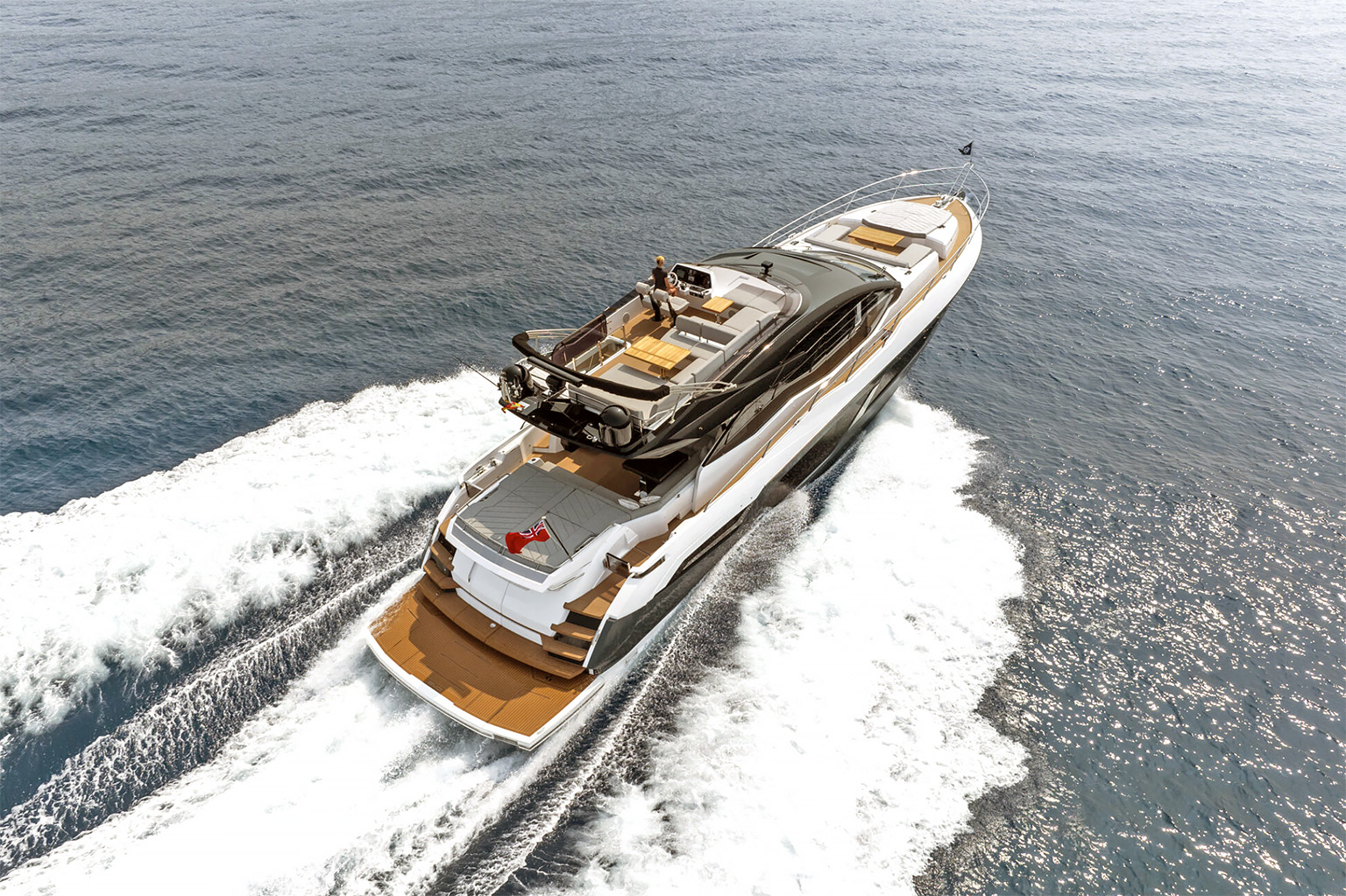 Looking at the 75 Sport Yacht from the water, the first word that leaps to mind is athleticism. One frequently hears the terms "sleek" and "elegant" used to describe sport yachts, but the Sunseeker 75 looks more like a cat crouched low and ready to pounce. A big part of that is its iconic sports bridge, steeply raked vertical surfaces, and distinctive glazing treatments, but there's more at play here.
Boarding at the sprawling, hydraulically actuated swim platform that yields direct water access, four steps to either side lead up and forward into the cockpit. Between them, the first step extends the full width of the stern to provide a handy spot for donning swim fins or towelling off after a dip. The starboard side opens to reveal a substantial tender garage, large enough to conceal a Williams 395 and fitted with an integrated tender recovery roller system for effortless launch and recovery. Look more closely, and you'll spot the neatly integrated deck lighting that adds a warm ambiance and striking appearance.
Step up into the cockpit, and you'll want to get comfy on the 75 Sport Yacht's inviting U-shaped settee, which is served by a folding, height-adjustable table with a pleasant carbon fibre finish. A massive aft sun pad is the ideal space to work on a tan and provides convenient storage for a pair of Seabobs beneath.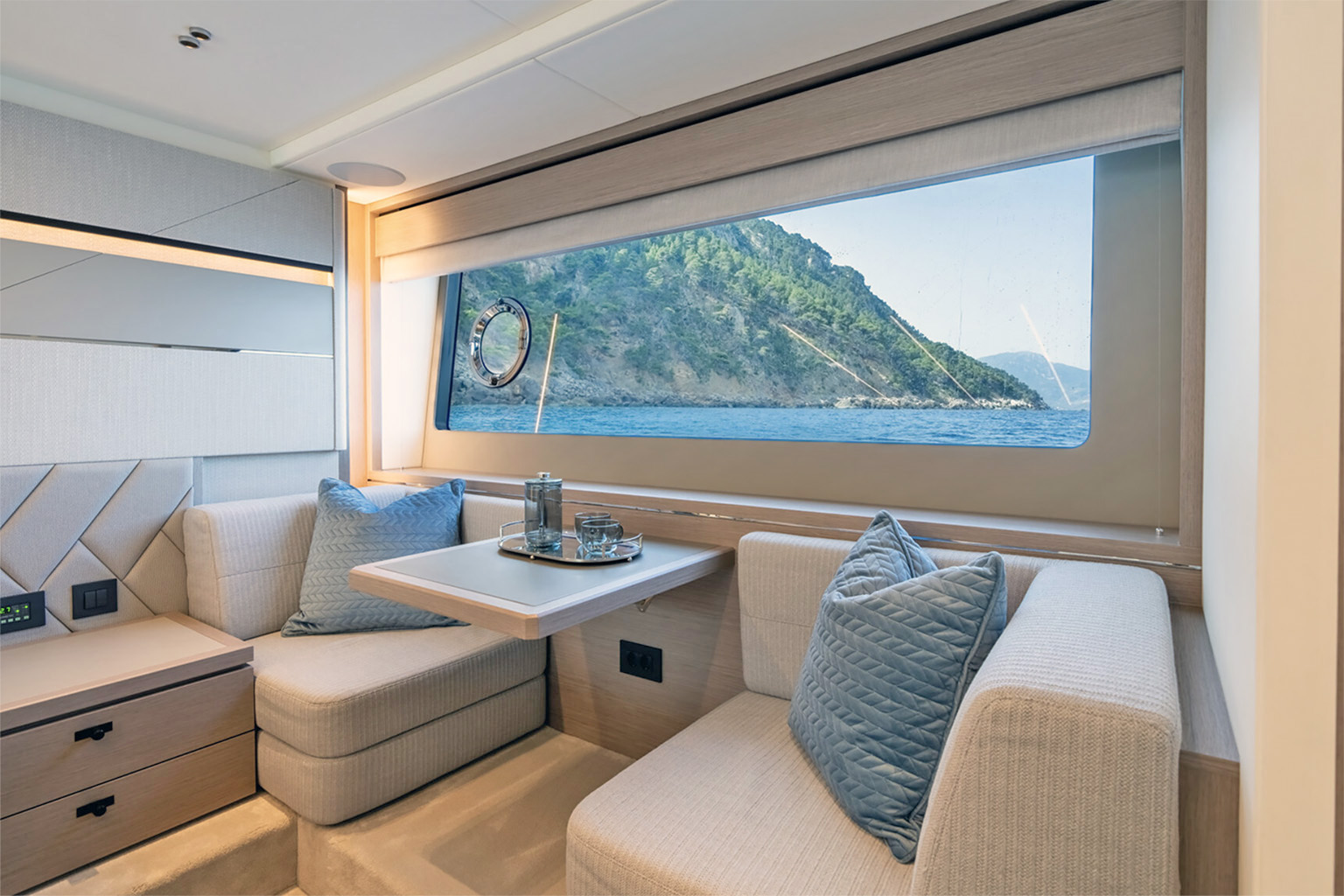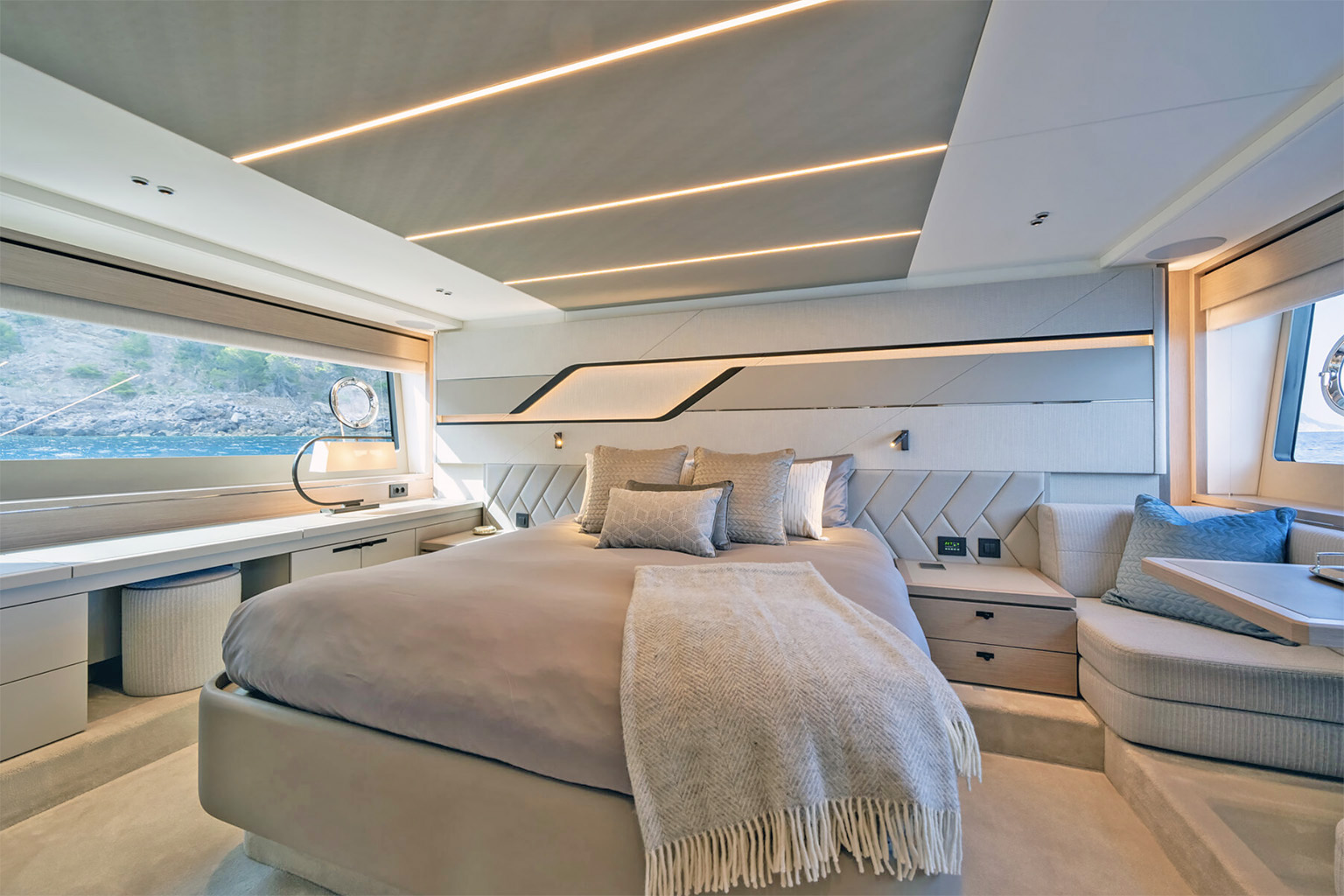 The design of the 75 Sport Yacht neatly blends outdoor and indoor spaces into a single, continuous entertaining area thanks in part to its innovative cockpit door design. The door slides to starboard then lowers beneath the cockpit decking to disappear when not needed. A wide promenade leads forward to the foredeck, with its expansive U-shaped, forward-facing seating area and a second sun pad.
The port side of the cockpit provides access to the 75 Sport Yacht's fantastic sports bridge. On the upper deck, there is a variety of appealing seating options, a wet bar with water, a refrigerator, and an available barbecue grill and ice maker. Four Fusion Audio speakers provide concert hall sound to create exactly the right atmosphere whether underway or on the hook.
Inside, the main deck salon features a fold-out table to starboard, a large HDTV to port, and flexible seating throughout. Being a Sunseeker, the fittings, upholstery, and overall fit and finish of the yacht are, as always, in a class of their own. Expansive glazing and a panoramic, sliding sunroof overhead flood the space with both natural sunlight and fresh air.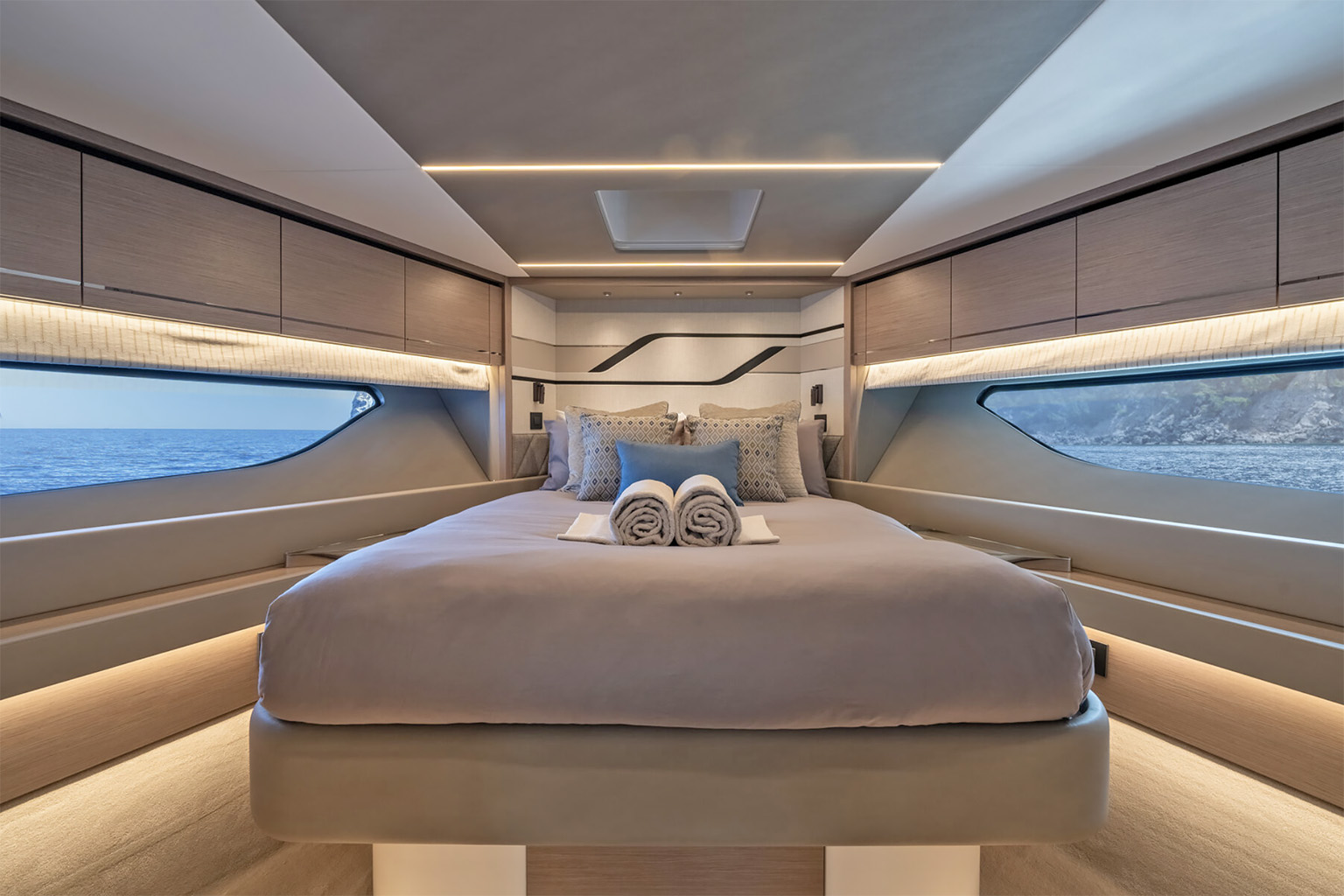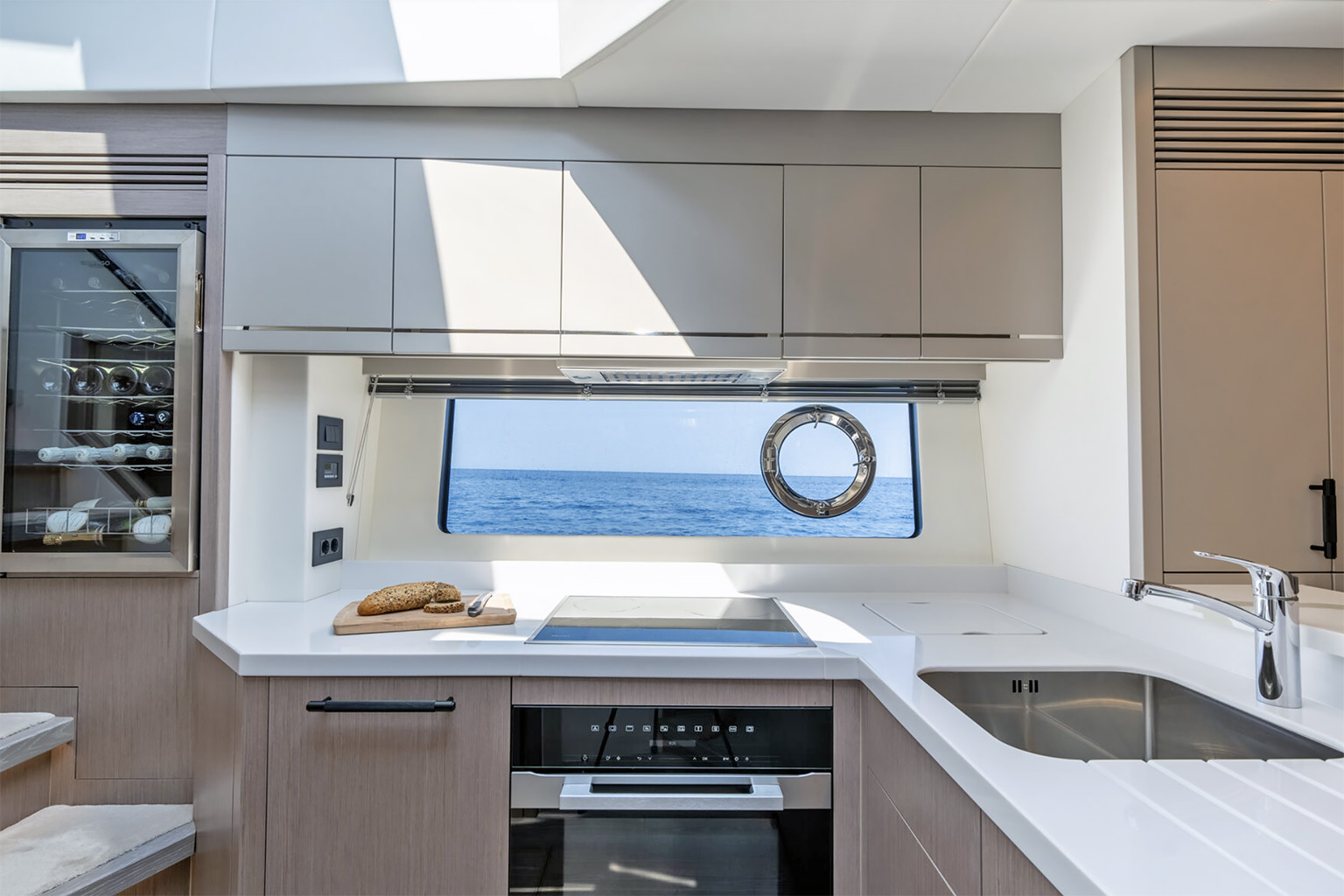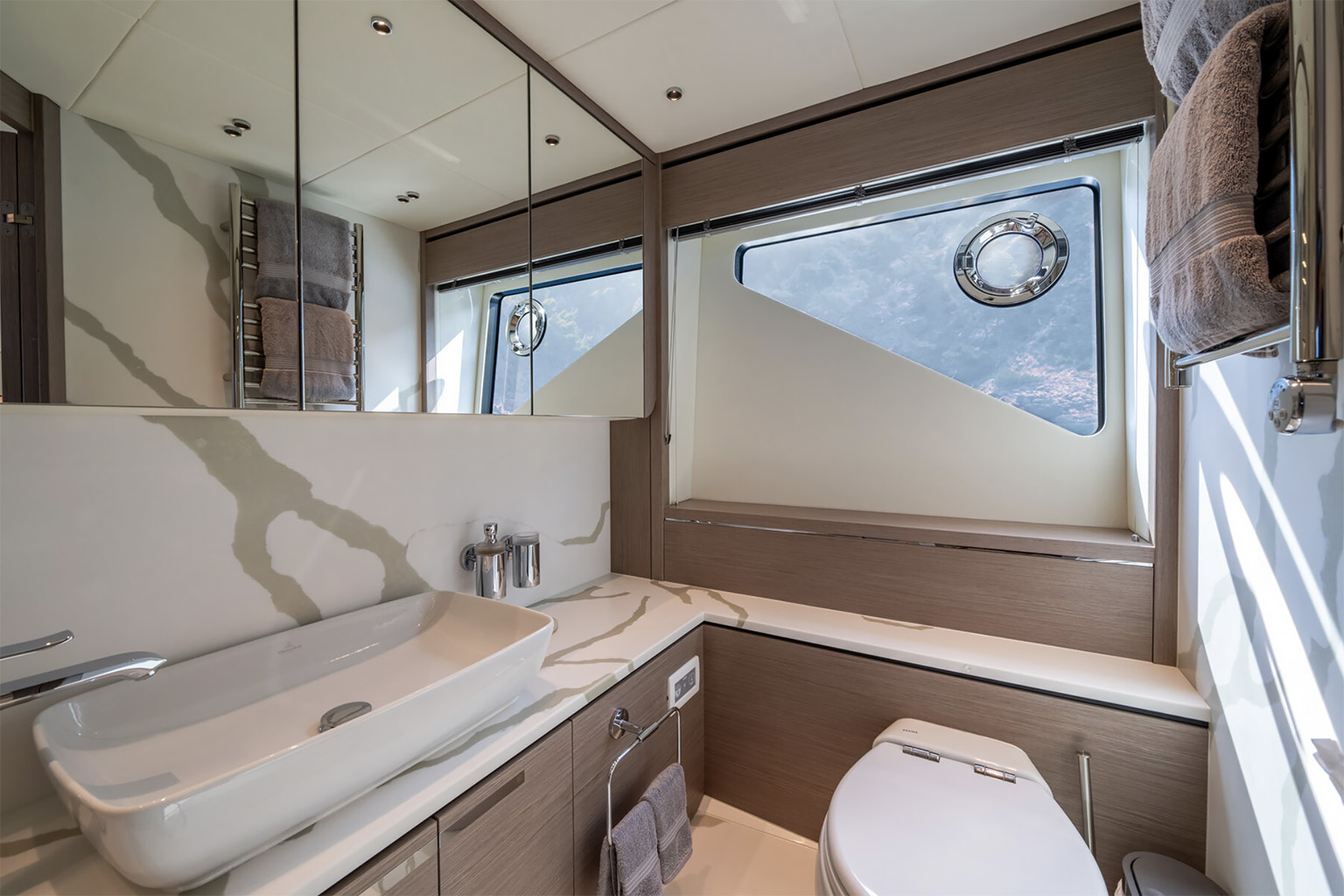 The standard belowdecks arrangement is a three-stateroom arrangement with a full-beam owner's suite, a huge VIP stateroom in the bow, and a roomy twin stateroom amidships. Owners can also choose a four-stateroom layout, if desired.
The galley space features high-end Miele appliances, including a fridge-freezer, plus dedicated cabinetry for crockery, cutlery, and glassware and an available 20-bottle wine cooler. The lower deck also includes a roomy saloon for early morning or after-hours relaxation in greater privacy.
The 75 Sport Yacht clearly checks all the boxes when it comes to opulent luxury. But what about performance? That's a term that Sunseeker takes seriously, particularly in view of the marque's legendary heritage. With twin MAN 1150 V12 diesels, upgradable to twin 1900s, the 75 Sport Yacht will achieve top speeds up to a bona fide 40 knots. That's about 75 kilometres an hour or 50 miles per hour, essentially highway speed in a car. What's more, the 75 Sport Yacht hits that 40 knot figure while maintaining the responsive, snappy handling and fingertip control Sunseekers are known for.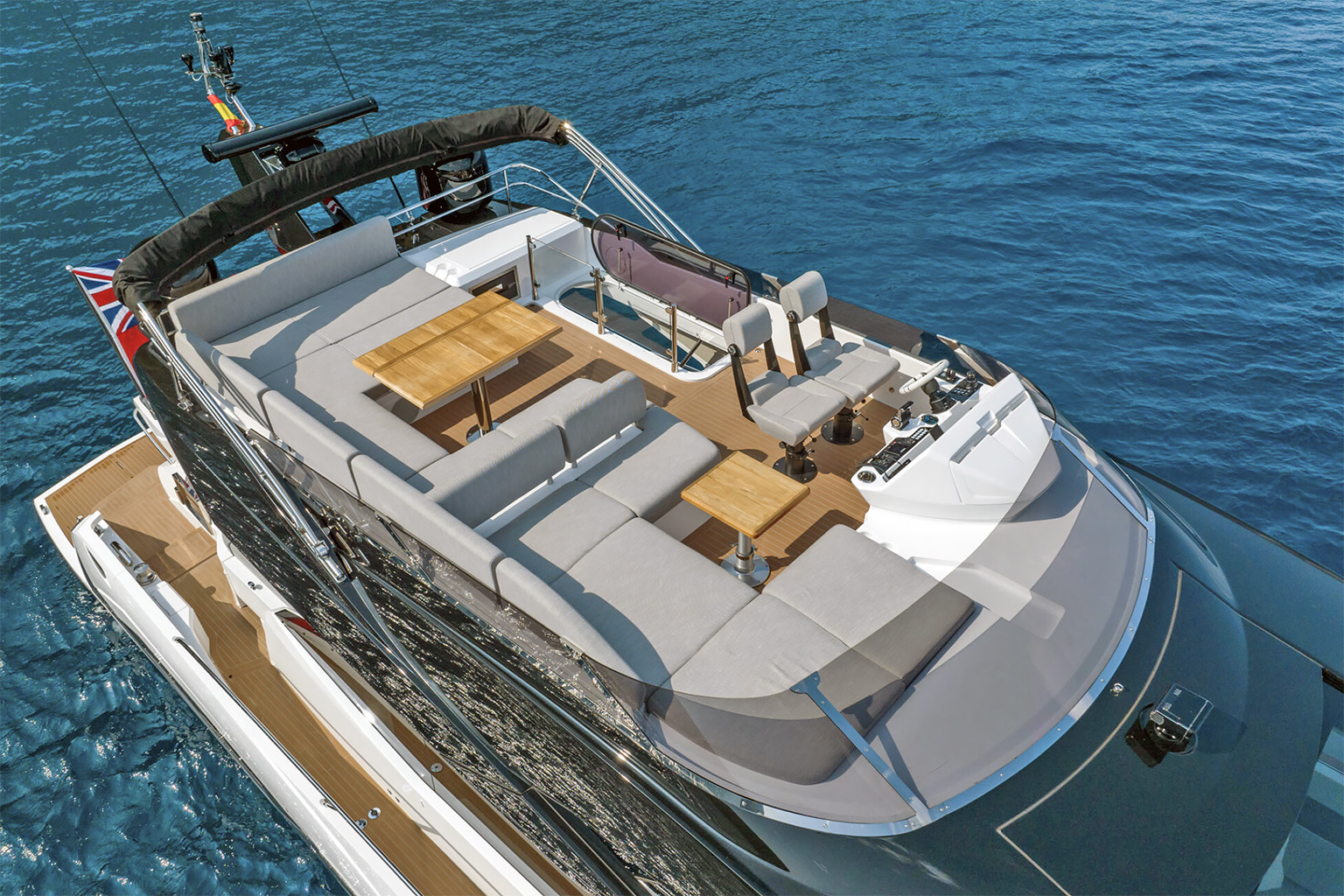 There's a lot more to Sunseeker's magnificent 75 Sport Yacht. The feel of the yacht, the thoughtful design, and the exhilarating performance must be experienced first-hand to appreciate the sophisticated engineering and over-the-top craftsmanship that it brings to life. Sunseeker plans to show the 75 Sport Yacht in September at the Cannes Yachting Festival, where it is expected to make a real splash. Anyone in the hunt for a brilliant sport yacht in this size class would be wise to move before that show, however, especially if they want to beat the rush for what promises to be another bestseller for the legendary British yacht builder.