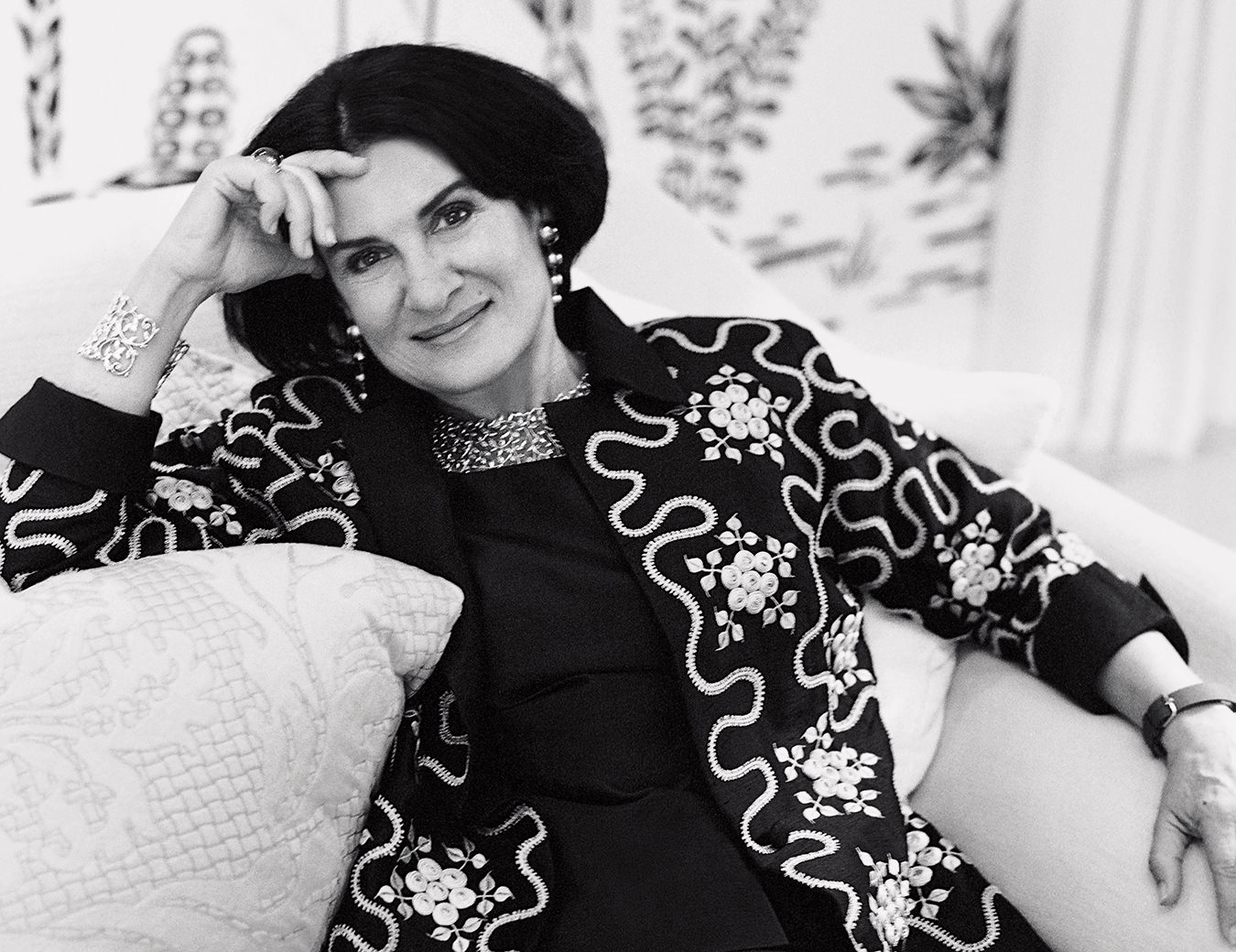 Years ago, Paloma Picasso was enjoying lunch with a friend in a New York restaurant when she noticed a woman winking her way. Puzzled, but feeling certain that the woman was not directing the flirty motion toward her, the jewellery designer continued with her conversation. The woman then gave another knowing, conspiratorial wink. "I look at her and realize she's wearing some earrings of mine, and she wants to tell me that we're connected," Picasso says, recalling the tale with a lilting yet robust laugh.
For 33 years, Picasso, the youngest child of Spanish painter Pablo Picasso and French artist Françoise Gilot, has inspired such devotion among women. Picasso's bold, sensual designs and her use of coloured gemstones have resulted in some of Tiffany & Co.'s acclaimed showpieces.
Picasso, 63, exudes an easy grace and elegance. She laughs frequently, most often when sharing a story that highlights her own foibles. She is, appropriately enough, accessorized with her namesake jewellery. Her English is fluent, but it carries a mellifluous, soft French accent. She defaults to her native tongue in the rare instances when her English deserts her.
Picasso is in a tony Los Angeles hotel suite to showcase Olive Leaf, her 2013 collection for Tiffany & Co. Her offerings were inspired by the olive groves surrounding her home in Marrakesh, and incorporate colourful gemstones such as rubellite, green peridot, and blue topaz. When she looks at the bold design, she still marvels at nature's handiwork. "To think that the Earth gives us these precious gifts is incredible," she says.
Picasso built many of the gold and silver designs around the elegant tapered leaves and oval budding olives featured on each branch. She took a few artistic liberties, including eliminating the vein that runs down the centre of the leaf. "I wanted the lines to come through the branches and to wrap up naturally and flow," she says. "They catch the light in a different way than if they had the little line in the middle. The line actually is the branch that makes it come alive."
Growing up in Paris, Picasso was fascinated with jewellery from an early age, especially when she realized its power to serve as a surrogate for unspoken emotions. Her maternal grandfather gave her the first piece she remembers receiving. She was seven. "He was a very stern man. I was kind of afraid of him because he was very much more bourgeois than my father, [who] was much more free and playful. My grandfather had a little mustache and everything was more serious," she says. "He went to Venice one summer and he brought back earrings that are little flowers in white Murano glass and I loved them."
Soon after, Picasso was threading her way through the maze of stalls at Paris's flea markets, rifling through bin after bin, searching out her own materials. "There was one place that sold beads—I mean, thousands of beads and rhinestones. Beads that could be made out of wood, out of glass, a million different things. And I would make some little things for myself."
Although she was a self-proclaimed tomboy, the jewellery gave her an inner confidence and a secret joy. "I remember going to school—you were not supposed to wear jewellery," she says, her voice dropping to a confessional whisper. "But I would accessorize myself discreetly. I would create little necklaces that I wore under my clothes that nobody saw, but would be matching my shoes or matching this or matching that, just for my own pleasure." The jewellery provided an emotional connection "that was important to me," Picasso recalls.
As the daughter of one of the world's most famous artists, Picasso didn't want to be a professional painter, and also felt that following in her father's footsteps would only lead to inevitably endless comparisons. Something her mother offhandedly said when asked about young Paloma's artistic path also stuck in her head, and led to a stasis. "My mother would say, 'Well, all children draw, but only people who are going to become artists keep drawing after 14.' So somehow this stayed some place in my mind," she says. "I actually kind of froze when I got to be 14 or 15 years old." The stoppage was total. She even ceased doodling on her homework.
"I've always viewed my work as artistic because I'm doing an artistic endeavour, but I'm not what you would call purely an artist. I'm doing applied art."
Picasso knew from watching her parents that being an artist could be very demanding, especially when there were no limits to what they could create. She chose to go into a line of design that felt less isolating to her, and one that had some built-in boundaries. "If I do a piece of jewellery, not only does it have to please me, but, hopefully, please another woman somewhere out there who's going to buy and wear it," she says. "That kind of helped me to choose that over being a pure artist or painter or sculptor, because it removes some of the tension of being the daughter of Picasso. I've always viewed my work as artistic because I'm doing an artistic endeavour, but I'm not what you would call purely an artist. I'm doing applied art."
At 16, Picasso experienced the event that would change her life and, more than a decade later, the fortunes of Tiffany & Co.: she met future Tiffany design director John Loring in Venice at Peggy Guggenheim's house. Not that she made much of an impression on him. "He actually spoke to my mother. I always tell him, 'You didn't pay that much attention to me,' " she says of the now longtime friend and design director emeritus of the company.
Picasso, who is primarily self-taught, studied jewellery making for one year "to learn the basics so I could make my samples." She then designed jewellery for both Yves Saint Laurent and Zolotas. Following her father's 1973 death, she put her career on hold to help her family open Musée Picasso, the museum dedicated to his works in Paris. Once again, with her father's intimidating legacy at arm's reach, she stopped designing. "If you look at Picassos all day long, you don't go back home and draw. No, you can't."
Loring came calling in the late seventies. Tiffany & Co. had approached him about the design director job; shortly after he took the position, he asked the young Picasso to join Tiffany's elite group of name designers, which already included Jean Schlumberger and Elsa Peretti. Her first collection debuted in 1980.
Among the early celebrated pieces Picasso designed for Tiffany & Co. were the X earrings, the universal sign for a kiss, hammered of silver and gold. She picked the letter because she thought hearts were "too cute. I thought that's a more modern, tougher way of saying, 'I love you,' " she says. But it wasn't long before her sense of romance took over and she began incorporating hearts, and even writing the word love in her own penmanship into her designs. "I think it has to do with the fact that I was named Paloma, which means 'dove' [in Spanish]. I'm a peaceful person."
Her designs, while strong, often have a sense of whimsy and lightness to them. Though sometimes intricate, they retain an airy, uncluttered look. She prefers to work with "vivid" stones of a "certain magnitude," she says. "The importance of jewellery is that it has to feel good on the body. Very often, I use chains, because they move when you move. If you have a clasp, the sound that it makes when it closes or when it opens is very important. [Jewellery] is an extension of our personality and who we are, so it has to be friendly to us."
Picasso had worked primarily in silver and gold, but she expanded her repertoire the day she walked into the boardroom early in her Tiffany & Co. tenure and achieved her own personal gemstone nirvana. The boutique had opened its vault of gems for her perusal. "It's a beautiful and true story," she practically coos. Stones of all colours and shapes blanketed every surface of the boardroom table, all hers for the picking. Inspiration hit immediately as she began handling the gems. "I started taking stones—I would put them between my fingers. I would think, these look great, these two stones. It must have been a blue topaz and a rubellite. Another one was a green tourmaline and amethyst, which is a ring I then gave to my mother, one of the first ones."
In their 33-year history (which includes Tiffany & Co.'s just-celebrated 175th anniversary in 2012), Picasso has created a total of 46 collections for Tiffany & Co., including the likes of Graffiti, with heartfelt words garnishing rings, bracelets, and necklaces; Villa Paloma, a collection brimming with leaf-like latticework and inspired by gardens of the world; and Zellige, with its statement pieces taking cues from Moroccan tiles and age-old mosaic techniques.
In their 33-year history (which includes Tiffany & Co.'s just-celebrated 175th anniversary in 2012), Picasso has created a total of 46 collections for Tiffany & Co.
When asked if her tendency toward coloured stones has anything to do with her father's love of colour, she shakes her head no. "I've always tried to separate my work from his work. I thought it was the right thing to do. Already people associate me with him all the time, and I thought that whatever I do, it really has to be my own world and not be affected by his work. I respect it—I don't want to piggyback on it."
Picasso's husband, Eric Thévenet, is a doctor of osteopathic medicine by training, but he now runs the business side of her enterprises. (She was previously married to Rafael Lopez-Cambil.) Thévenet helped streamline the operation to Picasso's jewellery and her eponymous perfume for L'Oréal, dropping the other lines, which included sunglasses, accessories, china and crystal for Villeroy & Boch, wallpaper, and home fabrics.
Thévenet also encouraged her to develop a line of men's jewellery for Tiffany & Co. The curves and lines of vintage automobiles provide inspiration. "My father had this old Hispano-Suiza—a beautiful car," she says. "So the aesthetic of cars was always very much part of me."
Thévenet travels with her, and they've made up a little game to distinguish the journeys: each trip has a theme song. On this month-long outing to America, they had yet to discover their theme, so they trekked to Amoeba Music in Hollywood, one of the last great independent record stores. "Sometimes we leave home with a song, but most of the time, you're packing and forgetting," she says. At Amoeba, "We bought, like, 12 records, but we haven't figured which one is the record of the trip." Among the purchases were CDs from Tulsa singer-songwriter JJ Cale and seventies glam band T. Rex, but her tastes also run to the more modern and esoteric. Air'sMoon Safari is a particular favourite.
The pair maintain homes in Lausanne, Switzerland; on Lake Geneva; and in Morocco. Marrakesh and Venice have inspired two of Picasso's collections, but she's declared an end to lines named after specific locales. "Otherwise, I'm going to get calls from New York going, 'Why? You did this city and didn't do New York?' So I thought, uh oh, this could be dangerous," she says with a smile.
Though she's still recognized, Picasso doesn't miss the days when her face, with her dramatic eye makeup and fierce red lips, peered out of every magazine and bus stop in the advertisements for her tremendously popular perfume, Paloma Picasso, which she introduced in 1984.
Long before her red pout inspired her own lipstick line, Mon Rouge, she wore the harsh colour to keep people away. "I used to be extremely shy, and I thought if I put on the red lipstick and the very dark eyes and all of that, maybe people would be afraid of me and they wouldn't get close enough to realize I was afraid of them," she says. The red lipstick became such a part of her that she wouldn't leave home without it. "Basically, for 20 years—God knows how long—every morning, I got up and put on my red lipstick." One day in the nineties, she ventured out without her red armour. She heard people whisper in the streets that they thought it was her, but they couldn't be sure because her lips weren't red. "I went, 'Aha! Interesting.' Little by little, I stopped wearing it."
These days, Paloma Picasso seems content to let her designs represent her, inspired as always by the movement of the jewellery and how her pieces work in harmony with the wearer, never in opposition. No detail is too small.
Feb 25, 2013
Updated: May 03, 2015