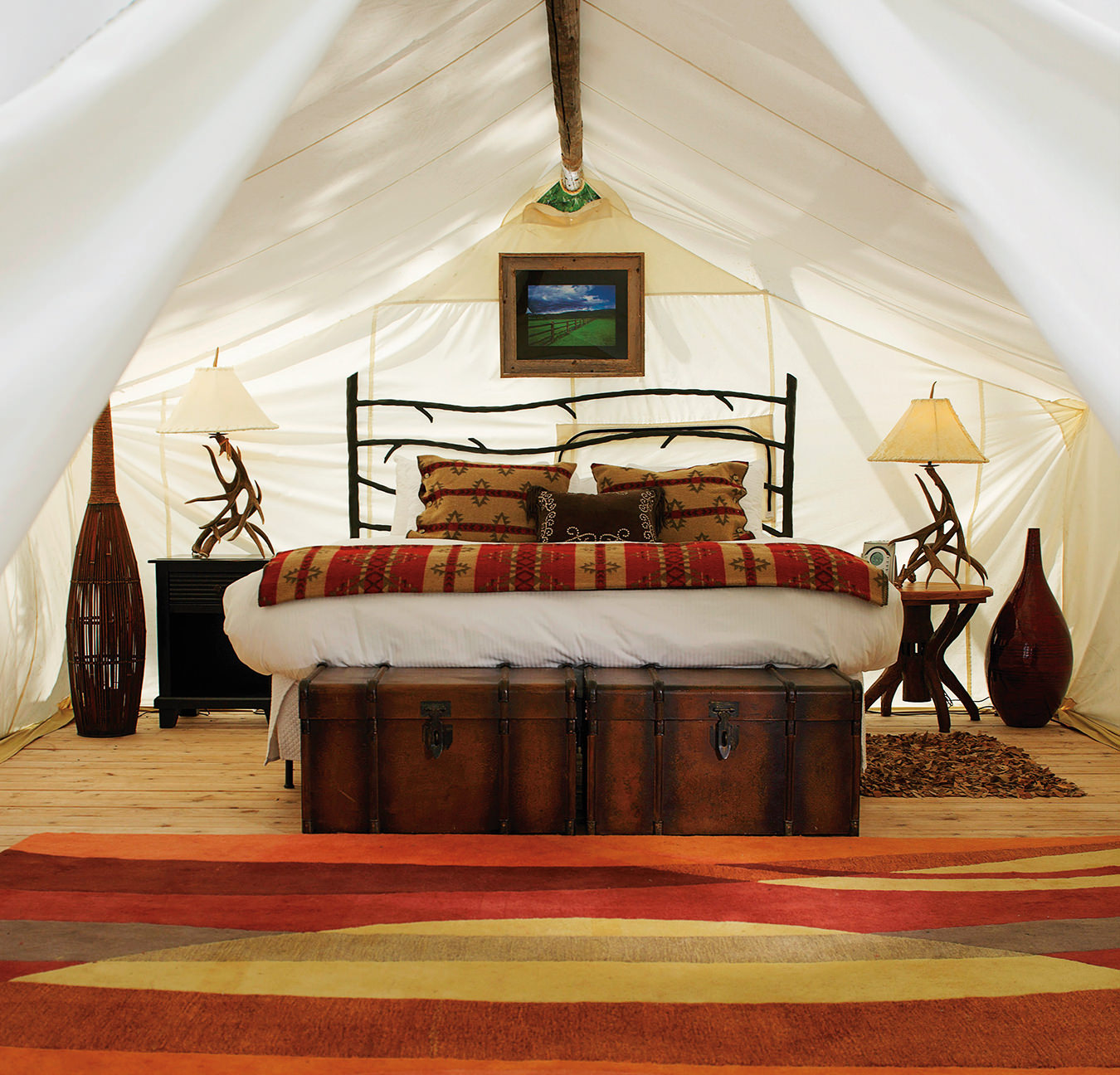 There are no room numbers or hallways. No elevators or stairways. Instead, timber homes in a forest of ponderosas overlook a meadow, and tent-suite camps are nestled at the foot of towering pines on the banks of Montana's Elk Creek and the Blackfoot River. This is Paws Up, a luxury ranch found on 37,000 acres of unspoiled wilderness, filled with grazing cattle, spunky elk, a barn or two, rolling hills of prairie grass, and expansive blue sky.
The 45-minute drive from Missoula to Paws Up in Greenough is a visceral journey through the Old West, a rugged life of decades gone by. The route passes derelict ranches, and a boarded up building that was a "Sears catalogue home that never sold," says the Paws Up autoist. Big sky, open land, and majestic mountains are recurring themes.
"The Last Best Place on Earth" is a prodigious claim for any resort to make, but Paws Up delivers on its promise. It's an intimate, unfiltered connection with the natural beauty of Montana that incorporates all the high-end accoutrements of comfort. Guests stay in 28 ranch homes or 30 canvas-walled tents, and play like the fanciest cowboys on Earth.
The ranch homes—each with its own unique style—are a tapestry of rustic elegance. The great rooms have soaring vaulted ceilings, wood furnishings, leather seating, fully equipped kitchens, hot tubs, and the attention to detail that distinguishes a good resort from an impressive one. There's heated bathroom tiles and towel racks, pre-cut wood and kindling, and fireplaces with the inviting, lingering timber smell of a well-lived-in home.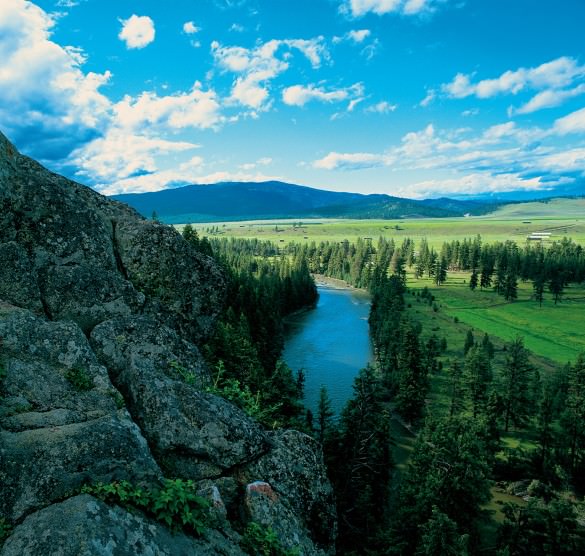 The Paws Up signature, however, is their tent enclaves: River Camp, Creekside Camp, Pinnacle Camp, Moonlight Camp, and, new for 2013, Cliffside Camp, where running water, linens, and butlers give new meaning to a night in the woods. This is glamour camping, with tents decked out in Western furnishings, king-sized beds, heated floors, and private baths. Here, butlers will fill your canteen, start a fire, bring you a silver platter with the fixings for s'mores—and, should your mood prefer idleness, prepare them for you.
Authenticity is paramount at Paws Up, and that's one of its best attributes. The cattle and horses are here to work. The cowboys are for real. The activities roster for guests to this ultimate playground reflects an adventure-bound Montanan approach. Fly-fishing is a must—and a religion, in the words of A River Runs Through It author Norman Maclean—but there is also almost anything else that an outdoor enthusiast would long for, including horseback riding, sporting clays, ATV riding, rafting, and mountain rappelling. An unforgettable four-hour cattle drive will have certain muscle groups aching for a sojourn at Spa Town, a colony of white tents situated past a babbling brook, although an excuse for a treatment is not a prerequisite. During the winter, Montana, enveloped in a blanket of snow, changes from rugged scenery to winter wonderland, which allows guests to enjoy ice-skating, snowmobiling, backcountry skiing, and dogsledding. When it's time to eat at Paws Up, meals at the camps' dining pavilions, Tank & Trough bar and grill, or at the handsome Pomp restaurant draw from the agricultural wealth of Montana.
In 1997, Dave and Nadine Lipson purchased the cattle-and-horse operation in Greenough. (The Lindbergh family, of both flight and stolen-baby fame, once owned a parcel of the land.) The Lipsons planned to raise black Angus cattle—but "life is never linear," says Nadine, a 25-year veteran cattle and horse rancher. After many of their friends started visiting, she says, "Someone dropped a seed that this would be a fabulous guest ranch." (Prior to purchasing Paws Up—named for a dog's welcome—the Lipsons owned a cattle ranch in Colorado and a horse ranch in Oklahoma.) It was Dave's son, Larry, who hatched "the glamping idea, but I said that nobody would want to do that. I didn't think it would work," recalls Nadine. "But…" She trails off, arms outstretched toward the surroundings. No need for her to continue. Paws Up works, and continues to top the best-of lists.
Things slow down a bit here. The noise of everyday life is absent, causing you to really appreciate this noble environment. At day's end, when the brilliant sun descends beyond the shadowed mountain range and the birds are still singing, you may find yourself standing still, staring out, and breathing deep. The intimate nature is so intoxicating, it will leave you wanting more.