Capri Without the Crowds: Why Fall Is the Best Time for a Trip to Italy's Most Glamorous Island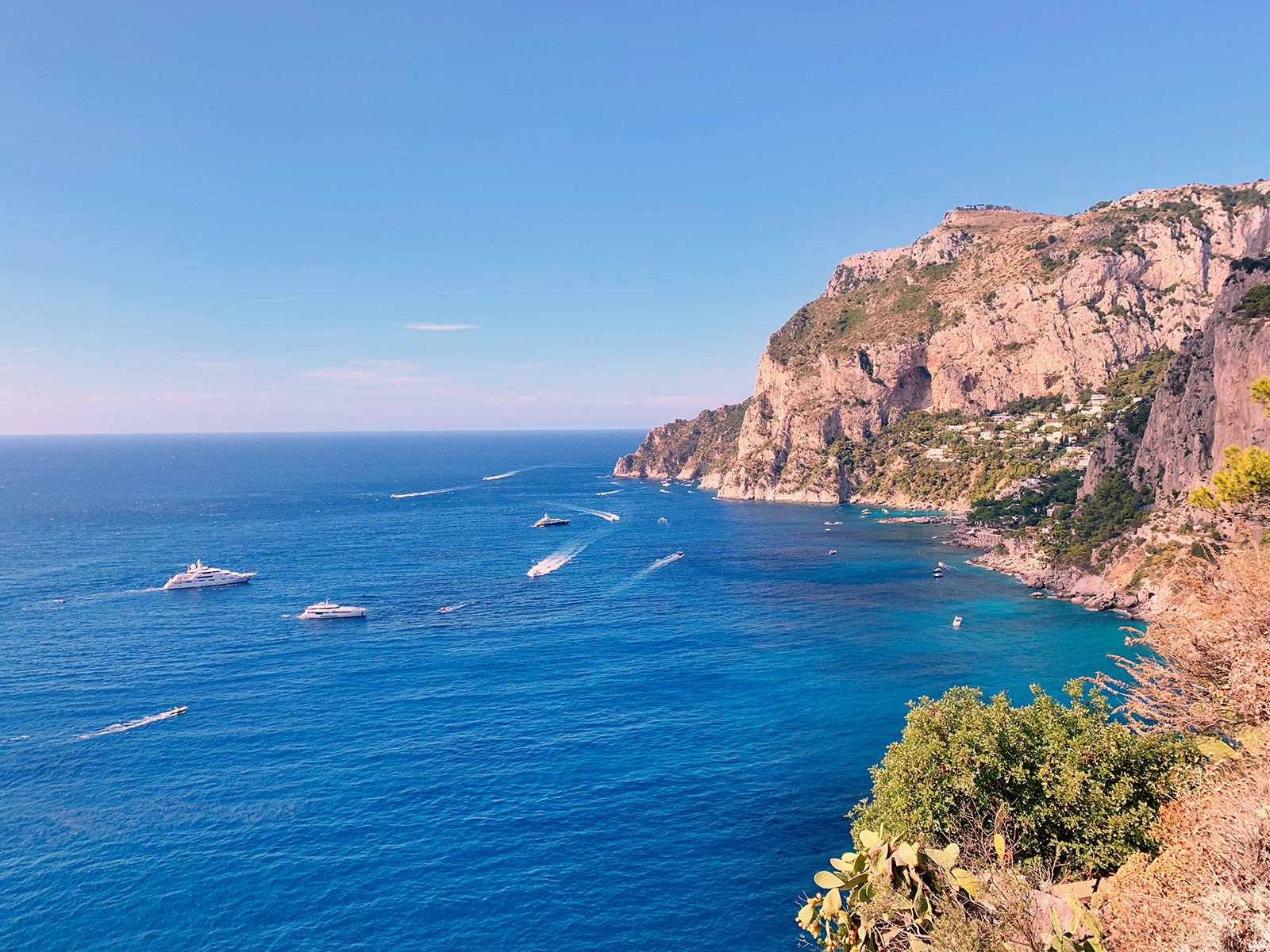 Few places in the world enjoy a reputation as glamorous as that of Capri. Brigitte Bardot, Jackie O., and Elizabeth Taylor have all strolled its streets, and they were hardly the first—or last—celebrities to do so. This 10.4-square-kilometre island has been a favourite vacation spot since the days of the Roman Empire, when Augustus and Tiberius found solace there. Yet its fame is both a blessing and a curse. This island of around 11,000 inhabitants welcomes an estimated 2.3 million tourists per year, according to the New York Times. Especially in summer, this results in long lines and crowded streets, making it difficult to get reservations at hotels and restaurants.
This isn't to say you shouldn't visit—you absolutely should.  I highly recommend going during the shoulder season for at least a couple of nights. In the evening, after the day-trippers have left on the last hydrofoil and the cruise ship crowds are gone, the island becomes much more relaxed.
When my boyfriend, Marco, and I arrived on the hydrofoil from Naples on a recent Monday around midday, a porter from our hotel was waiting for us at the dock. As he whisked our suitcase away, we navigated around the disembarking passengers and boarded the funicular that goes up to the famous Piazzetta (a small square). After a short walk through narrow lanes lined with shops selling jewellery, sandals, and chic linen clothing, we arrived at the Capri Tiberio Palace and were welcomed with a fresh lemonade in Jacky's Bar after we checked in.
Francesca Tozzi, the hotel's general manager, assured us that the best months to visit Capri are September and October because "there are fewer crowds and more possibilities to enjoy the little streets and the activities the island offers." She explained that although the property was built by the Morgano family in 1920, it has changed hands several times and recently became a member of Leading Hotels of the World. Redesigned by Giampiero Panepinto, the interiors channel mid-century glamour with cheerful colours and contemporary touches, such as pendant lights by Tom Dixon and hand-painted tile floors in a riot of shades and patterns. After lemonade, we went to relax by the pool, which boasts incredible views of the sea.
By the time we left the hotel, around 6:30 p.m., the streets had emptied out. Without the crowds of tourists milling about, we were able to enjoy an aperitivo on the terrace of the Grand Hotel Quisisana—the oldest and largest five-star hotel on Capri—followed by dinner at Ristorante Michel'angelo, a casual trattoria run by Gianluca D'Esposito and his Australian wife, Holly, who regaled us with the tale of how she and Gianluca began a whirlwind romance despite not speaking the same language. In a place as romantic as Capri, it's easy to understand how one could be swept off one's feet.
The next day, we strolled along Via Tragara, past private homes and small hotels, to the lookout point from which you can admire the Faraglioni, three towering rock formations that jut out from the sea. Yes, there were tourists photographing the views, but not so many that we were bothered. Nor were we bothered on Via Camerelle, the famous shopping street lined with boutiques belonging to Versace, Pucci, Missoni, Dolce & Gabbana, YSL, Gucci, and just about every other designer you can think of. But instead of lingering there, we hopped in one of the island's open-top taxis and hightailed it to Anacapri for a fantastic lunch at Il Riccio, which has a beach club with sun loungers available exclusively to guests of the Capri Palace (another member of Leading Hotels of the World).
The beauty of Il Riccio is in the air of a casual seaside terrace, complete with wooden tables and chairs painted Capri's signature shade of aquamarine. Must-order dishes include the spaghetti with sea urchin and whole fish baked in a salt crust, but whatever you do, make sure to leave room for dessert. Il Riccio has a whole dessert room, and diners are encouraged to sample sweets like the torta caprese, tiramisu, rum baba, fruit tarts, and miniature cannoli. Stuffed and happy, we eventually made our way back to the other side of the island for a peek at J.K. Place Capri, where we ended up having a long discussion about what hospitality means today with the hotel's operations manager, Stefano Sorrentino, who agreed that fall is the best time to visit.
Without a doubt, Capri is a feast for all the senses—you just have to know when to go.
_________
Never miss a story. Sign up for NUVO's weekly newsletter, here.