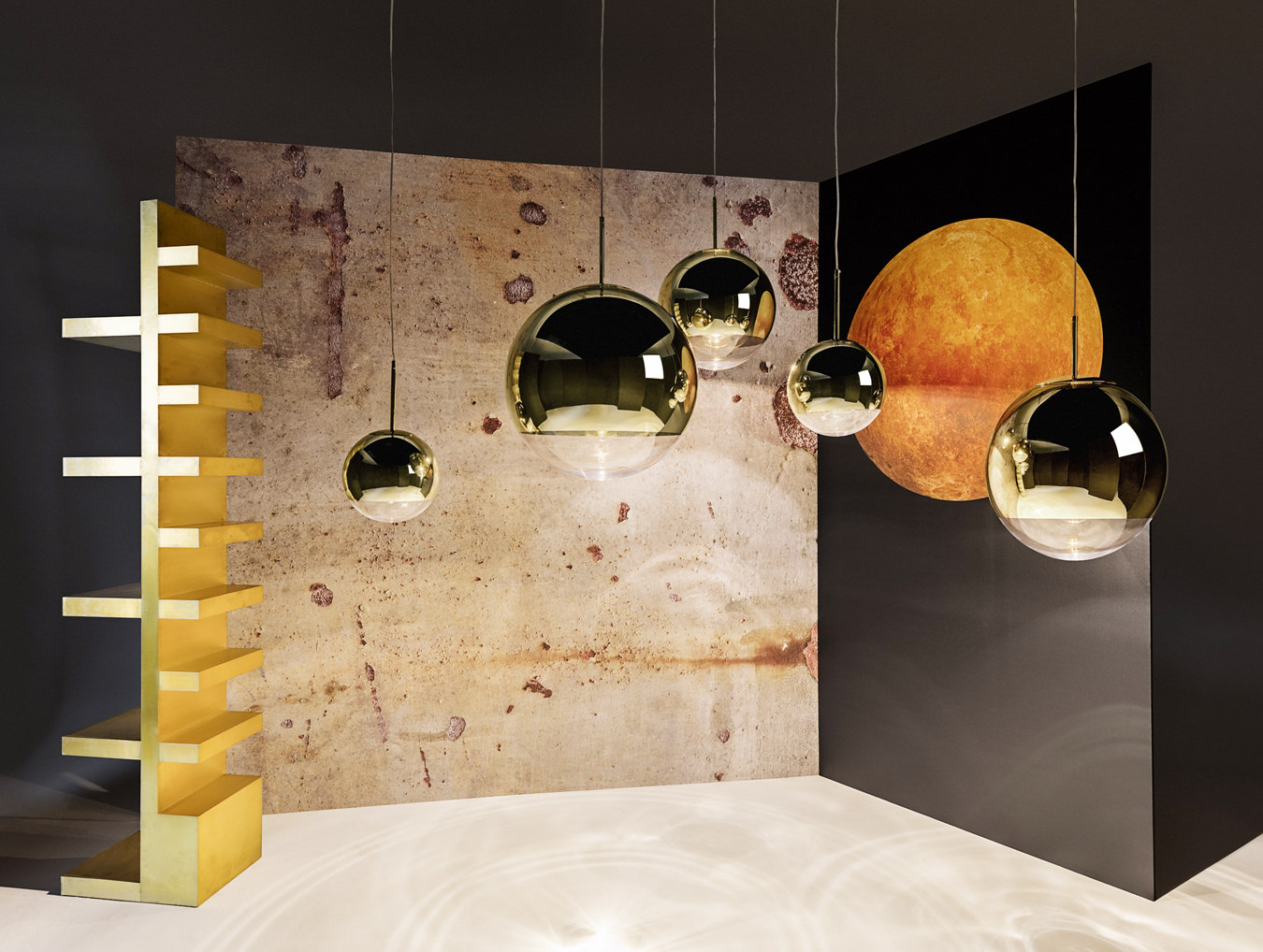 If one word were to sum up Tom Dixon, it would be maverick. He is the international design guru who never completed a formal design education; the retailer who likes to buy vintage; the entrepreneur who has twice pressed "buy" when the market screamed "sell"; the visionary who chose to give away 500 chairs for free when one of his contemporaries was earning a seven-figure sum for just one design at auction.
"A nice business for not getting bored" is how Dixon sums up what keeps him motivated after 30 years in the design industry. This is typical British understatement given the breadth and scale of Dixon's burgeoning empire, one that now includes a presence in 68 countries, ranging from the expected—the United States, Canada, China, France, Germany, and Japan—to not so obvious ones like Senegal, Lebanon, Peru, Slovakia, Colombia, and Iran. This year's highlights include staging his first exhibition in Korea; designing the interiors for the Alto restaurant in Hong Kong and the Bronte restaurant in London, as well as the Himitsu cocktail lounge in Atlanta; and opening a new dedicated Tom Dixon retail space in Los Angeles.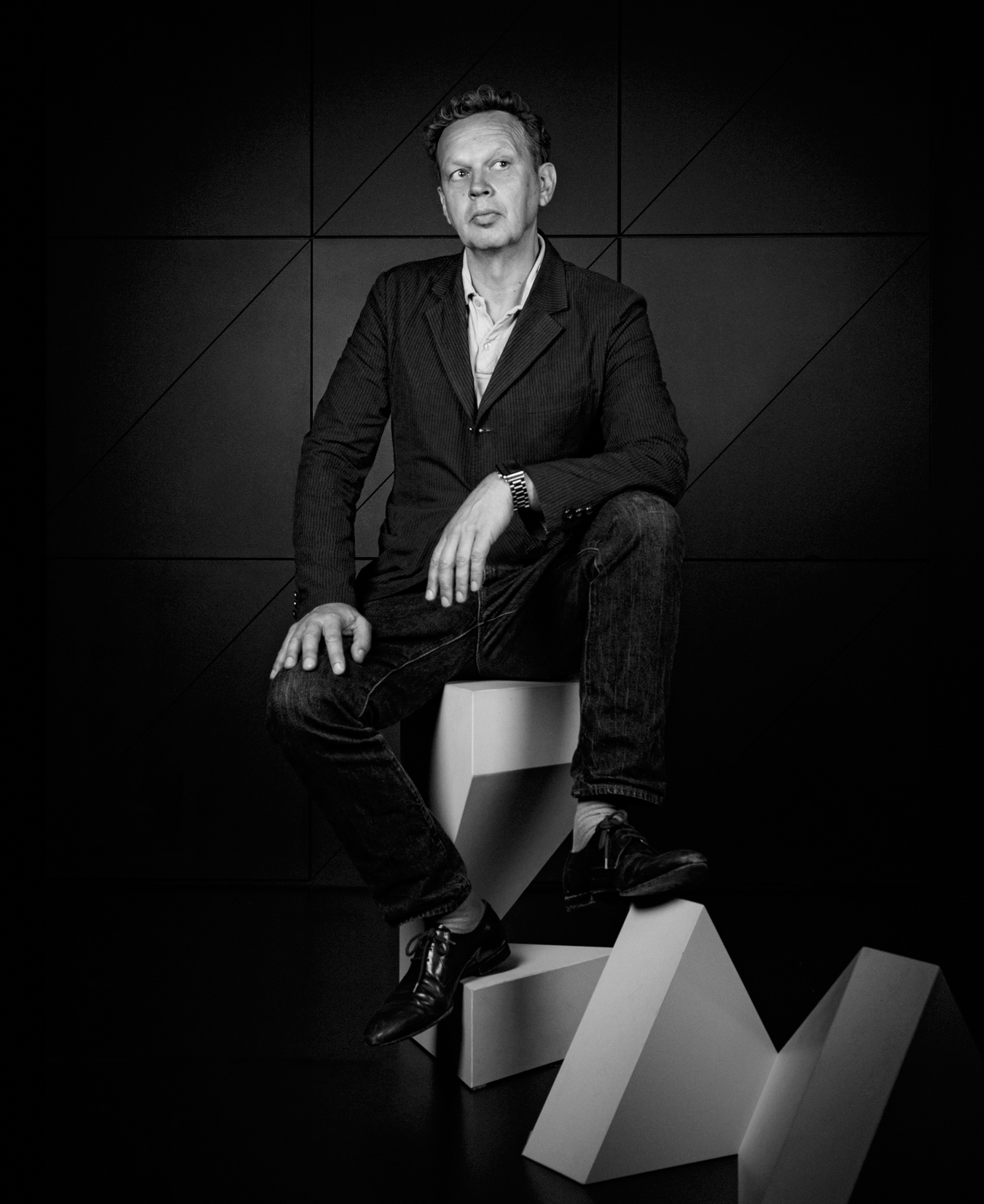 If that weren't dazzling enough, there was also the Caesarstone project, located in the monastic calm of Milan's 17th-century Rotonda della Besana during the annual Salone Internazionale del Mobile in Milan. For this, Dixon designed four multisensory kitchens, using a palette of Caesarstone materials, each one dedicated to an element: Earth, Fire, Air, and Water. Italian studio Arabeschi di Latte curated the food concept for each, resulting in a live cooking experience that far transcended the usual demonstration kitchen. For Dixon—himself a keen foodie—the four elements were not only a useful device for showing stone styled within different settings, they also allowed him to play with the idea of cooking methods reflecting the elements, such as the seared and smoked flavours of Fire, and the hay-perfumed delights of Earth. Says Dixon, "The idea was to create totally distinctive smells, tastes, and visual experiences within each room." For Caesarstone, it was an outstanding collaboration. Vice-president of marketing Elizabeth Margles says, "Tom has such a unique perspective, not just on the world, but on how design fits within the world. He has a deep understanding of how to make singular items stand out, and also how to make objects connect together. What was interesting for us was to see how each element's kitchen was a star in its own right—they literally had people stopping in their tracks."
If one word were to sum up Tom Dixon, it would be maverick.
For Dixon, such collaborations are a welcome diversion from his day job—particularly as he is now in the position of picking and choosing those opportunities that personally excite him. He is more than happy to extend his "platform for ideas", whether that means determining a new aesthetic for a restaurant or creating a bespoke banquette for a lobby. "But I am still busy building my own interiors world with all of the components that I can think of for that."
It's just as well, for it is his own brand that resonates worldwide. Putting aside the one-offs for the studio's many architectural and interiors projects, Dixon's business currently creates and distributes over 840 individual lines. Furniture and lighting account for about 35 per cent of the retail business, but categories are burgeoning—the first soft furnishings ranges will soon be in stock, for example—although interiors and brand collaborations together account for about 40 per cent of the studio's work.
To visit Portobello Dock in West London is to step into an entire Tom Dixon universe. This converted Victorian wharf overlooking the Grand Union Canal houses not only his office, design studio, and showroom, but the highly regarded Dock Kitchen restaurant, a co-venture with chef Stevie Parle (who trained at the legendary nearby River Café). Having founded his studio soon after 9/11, Dixon took the lease for the Portobello Dock just after the financial crash of 2008—a considerable risk, but it has proved to be a huge asset. "What it allows us to do is live the lifestyle that we are trying to project onto other people. It also gives us very direct contact with the customer. We now have similar versions in New York and L.A., and we have our sights on finding the right location in Paris too." A diehard West Londoner, Dixon long resisted the need to have a presence in East London, but that too is in the cards. "It can take two hours to cross London on a bad day. We have made a success of the Dock, but it is not an obvious location for our sort of business."
Today, Tom Dixon is one of the most recognizable design names, alongside Philippe Starck, Marc Newson, and Jonathan Ive. While he might not be mobbed by design groupies on the street, he does have them queuing up to take selfies when he is invited to speak at any of the 60-plus territories in which he sells his wares. Being famously private (questions about family are routinely ignored), he finds the idea of such shenanigans laughable. "They only line up for selfies because everyone else is doing it. I can assure you I walk the streets with no paparazzi interest or girls screaming outside of my hotel."
That last statement could be almost rueful. For the fact is that Dixon very nearly did choose a career route that could have resulted in fame with a capital F. Back in the early '80s, he was bass guitarist for a band called Funkapolitan (one album, three singles), before he began to express himself through another medium—what he describes as "tooling around" with metal. (Fittingly, Portobello Dock is the former headquarters of Virgin Records. Indeed, the shop was once a studio where bands as diverse as the Sex Pistols and the Spice Girls once cut their teeth.) It was the rusty rawness of his welded furniture, made from recycled metal objects, that began to attract the eye of collectors, including London gallerists David Gill and Giuliana Medda. Dixon's first-ever show, Creative Salvage, was held above a hairdressing salon in West London—a crazy medley of furniture made from nothing more than old pots and pans. Having gotten the attention of the capital's then-tiny design community, he sold enough work to finance the next pieces—and so on and so on. Looking back, he remembers it as "alchemy", the turning of base metals into cash. "The fact that people perceived a value in some old metal that I had welded together was what gave me the means and the confidence to continue," says Dixon. "I had also picked up a real can-do attitude from the music industry—and an awareness that it is attitude that really counts." As someone with a low boredom threshold, he also enjoyed the immediacy of cutting up metal and remaking it into another form so speedily.
Today, Tom Dixon is one of the most recognizable design names, alongside Philippe Starck, Marc Newson, and Jonathan Ive.
Part French, part Latvian, but the lion's share British, Dixon was born in Tunisia 57 years ago, but has lived in this part of London since the age of six. At age 20, he enrolled in the Chelsea College of Art and Design (now known as Chelsea College of Arts), but a motorbike accident brought his formal design education to an abrupt end—he still has the scars to prove it, including a gold tooth. Apart from brief forays into animation—and of course the music business—he has focused on design for the last 33 years.
The combination of raw talent and an appetite for hard work meant it didn't take Dixon long to begin making waves beyond London. Having first set up Space (a retail/mail order shop in Notting Hill) to provide a storefront for himself and other young designers, by the late 1980s, he was working with Cappellini (then about the same size of business as Tom Dixon is today). One of the results of that fortuitous partnership was the S-Chair (1991), a sensuous, slinky design that is often much sought after at international design auctions. In 1994, he founded his own company, Eurolounge, and by 1998 was in the sights of Terence Conran, who appointed him head of design (and later creative director) at Habitat.
It is natural that comparisons are often made between Dixon and Conran. Like Conran, Dixon believes in the democratization of design, which might explain why he famously gave away 500 chairs during the Great Chair Grab of 2006 in Trafalgar Square. The irony of doing this three years before Marc Newson's Lockheed Lounge sold for more than a million pounds (about $1.95-million Canadian) at Phillips in London is not lost on him. In 2012, he followed up with another giveaway, this time of 3-D printed Stamp Lamps at Salone. At the time, he described Stamp as "very basic and crude," but it allowed him to show the magic of designing, making, and distributing all in one place. It also offered a glimpse into his hopes for the future, a world where tailor-made objects could be produced locally at low cost.
After four years with Habitat, he broke away to found his own company in 2002, although he retained a consultancy with Habitat for a further six years (he was also creative director of Artek from 2004 to 2009). Under his own name, he launched a series of brilliant designs that would have gone platinum had they been albums. These include the Mirror Ball light (2003) and the Wingback Chair (2007).
"I like to think my work is about durability and permanence, rather than newness for the sake of it," explains Tom Dixon.
While Dixon is far from being an overt eco-warrior, he has done arguably more than most to create low-voltage lighting that is truly desirable. One of his lesser-known projects is a whole colony of undersea "accretion-process chairs", located in the Bahamas, that Dixon submerged in 2008. These are subjected to low-voltage charges of solar power, encouraging the growth of limestone on them to be accelerated. Dixon promises that once they have acquired a beautiful patina, he will fish them out and let us all enjoy the results. The process he has harnessed—mineral accretion—was developed by scientist Wolf Hilbertz and was originally intended to produce bio concrete. As Dixon says, "You could literally grow cities using accretion. I like to think my own work is about durability and permanence, rather than newness for the sake of it, so these ideas appeal at a deeper level."
Arguably a victim of his own considerable success, one thing Dixon does regret is not having enough time to just "tinker about". He has a workshop at the Dock, complete with welding gear, glue guns, and a wood shed, but his schedule is punishing. This year alone, he has visited Vancouver, Paris, Milan, New York, L.A., Tokyo, Hong Kong, Seoul, Venice, Peru, Colombia, Chile, Berlin, Cologne, and Madrid—and those are the places he can recall. As the empire expands, his "me time" declines proportionately. In an interview with designer Max Lamb for this magazine, Lamb recalled a happy period working for Dixon as "Tom's outlet for all the creativity he wanted to express … a way to get ideas out of his system … channelled them through me." When I relay this, Dixon laughs and says, "Well, he should have been paying me for that job!" but it hits a nerve. A moment later, he says more sombrely, "I am to blame for that. I need to say 'no' more often, but in many ways this business is a battle against my own fear of boredom. That's why I throw myself into new territories or challenges or objects I have not yet explored. I suppose I am always slightly dissatisfied."
That dissatisfaction is what keeps him going back to the drawing board. He describes his own aesthetic as "things that are oddly simple, but boldly expressed," but he most enjoys observing how customers bring their own point of view to a design. "People might look at an object such as Etch Web [a Tom Dixon pendant light] and describe it as 'very '60s' or 'very space age', but someone else will come along and say it is 'pure mathematics' or 'crystalline'. That means the product has the ability to morph according to the style of interior it is put in."
One more thing you need to know about Dixon: he still plays in a band—called Rough—and they are available for gigs. Indeed, MoMA in New York has booked them for an event in 2017. "They are paying us," he says laughing, "so technically I am still a professional musician."