Montreal's Unttld Makes Dressing Up Fun Again
Clothes that tell a story.
Now partners in life and work, José Manuel St-Jacques and Simon Bélanger met at a bar in Montreal in 2007. There was an instant romantic and creative connection between the two fashion students, but it was not until 2011 that they launched Unttld—in the intervening years, Bélanger completed a master's degree in Milan, and they later competed against each other on a Project Runway–inspired reality show called La Collection.
Bélanger won the televised competition, and the duo used his prize money to create their own fashion line. "We won $100,000, and we very naively started the business together," Bélanger says. "We ran out of all that money two years in, because our first collections were quite ambitious—there was leather and all of that."
A decade later, waxed denim and Tencel jersey have replaced leather in the collection, but Unttld's striking designs continue to make an impression. St-Jacques and Bélanger were nominated for Womenswear Designer of the Year three times at the Canadian Arts & Fashion Awards (CAFA), and the brand is currently carried by prominent retailers such as Neiman Marcus, Saks Fifth Avenue, and Holt Renfrew.
Unttld is developed at a studio in Montreal's Arsenal Contemporary Art space and produced entirely in the city. "We do a bit of the production [in our studio], the most complicated pieces, and then the rest of the production is done with partners here in Montreal," St-Jacques says. "It's really important for us to be close to the people that make the garments because we're very adamant about quality."
For fall/winter 2021, inspired in part by the 1934 version of Cleopatra that stars Claudette Colbert, St-Jacques and Bélanger introduced a drapey lounge capsule made with an eco-friendly Tencel lyocell fabric. Dramatically ruffled, pleated, and beribboned silhouettes—but rendered in more utilitarian fabrics like waxed denim and cotton poplin—make up the balance of the dreamy-but-modern collection.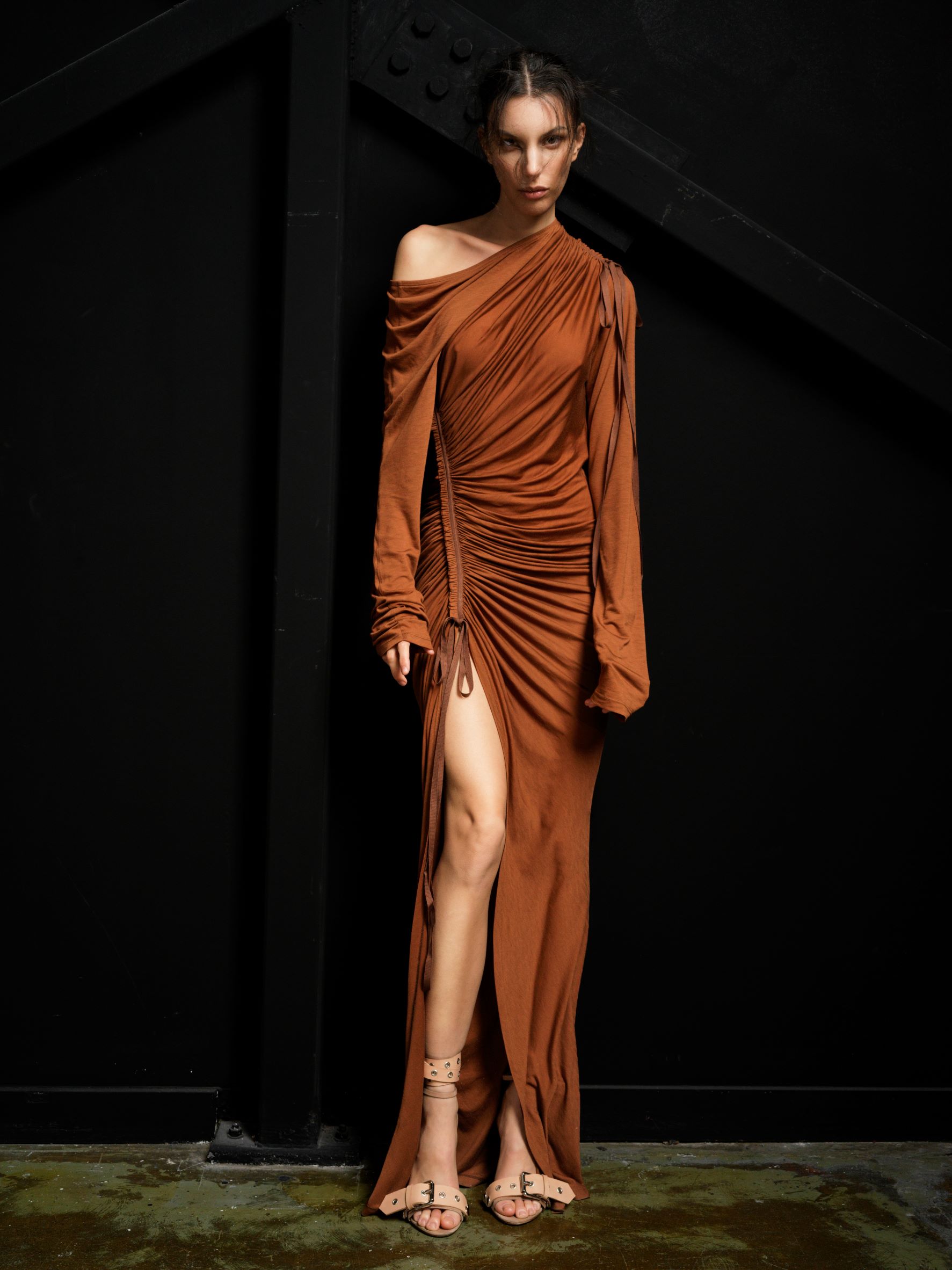 "We've concentrated on making things that are reminiscent of historic characters or periods, but cutting those ideas into fabrics that are more for everyday," Bélanger says.