Onboard Atlantico, the 27-metre Turkish Masterpiece
Sometimes, what starts out as a fairly simple idea just takes on a life of its own.
That's a fairly apt description of Atlantico, the 27-metre luxury speedster designed and created by Turkish boatbuilder Alia Yachts. Envisioned as a chase boat to complement the existing 55-metre luxury yacht Atlante, the smaller vessel quickly established its own special charms early in the design stage.
Built from 5083 marine aluminum to complement its mothership, Atlantico is powered by three Volvo Penta IPS 1350 engines that churn out a combined 3,000 horsepower. That's more than enough oomph to push the 130-tonne Atlantico to 30 knots, while delivering a level of crisp, precise handling that's far beyond what one might expect for a vessel that sleeps four guests and accommodates its own crew of four.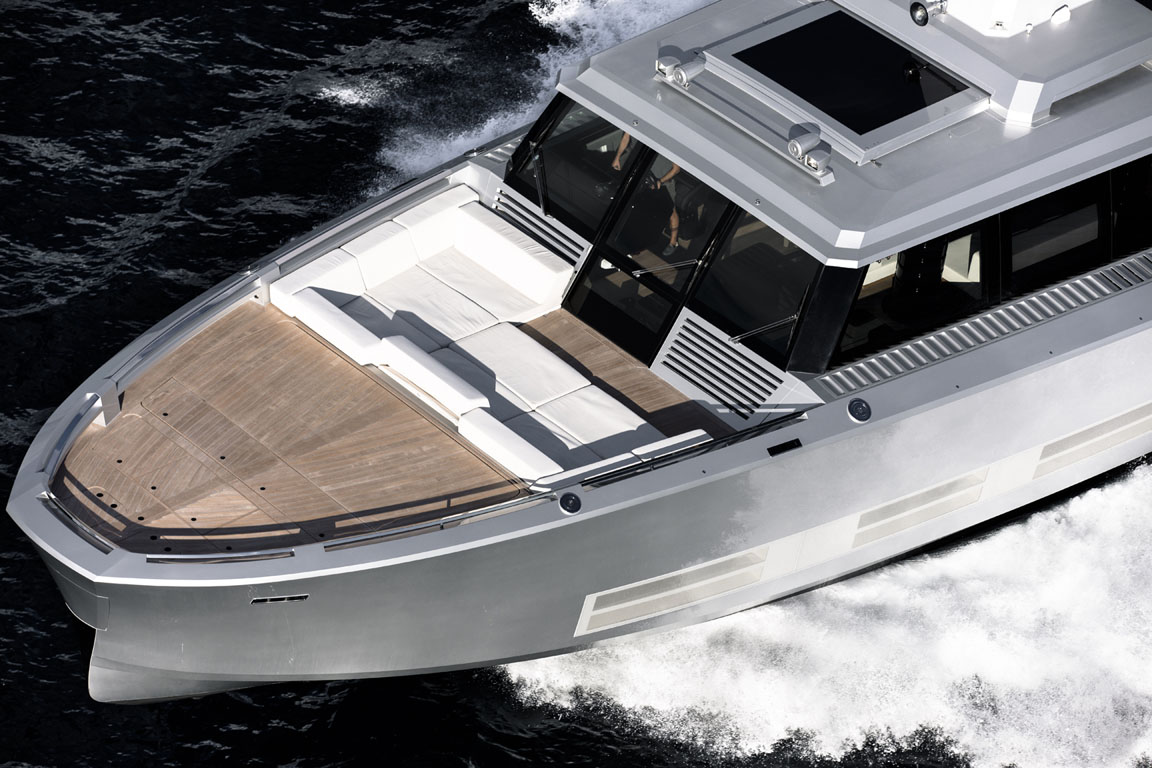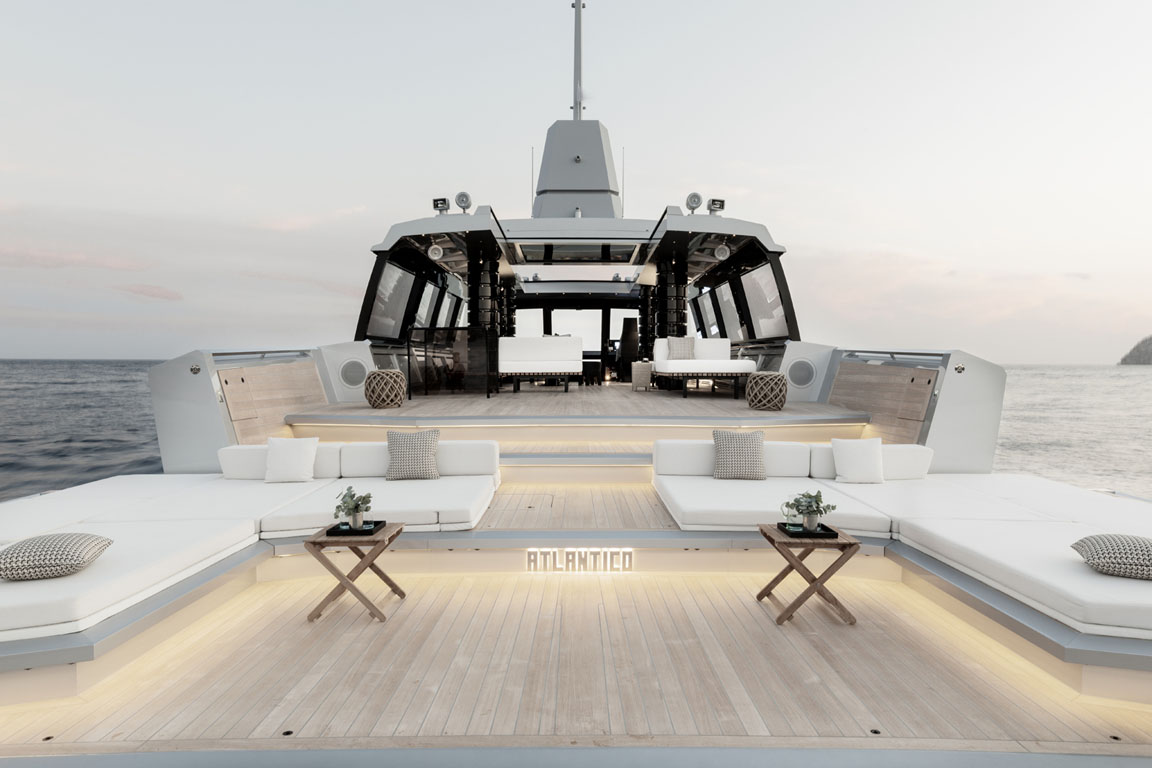 Designed by the renowned Pastrovich Studio, Atlantico is all about enjoying life in the fast lane. The yacht's exterior reflects the explorer yacht profile of its mothership, while also showing a bit of military flair in its low profile, central mast, and aggressive, raked bow.
Pastrovich designed Atlantico with a broad beam of 8.35 metres on a hull derived from a military patrol vessel to operate at sustained high speeds identified as a primary design objective. While the deep V hull profile eats up choppy water when underway, a pair of Seakeeper 26 gyro stabilizers keep the yacht stable while at rest. Talk about having your cake and eating it too.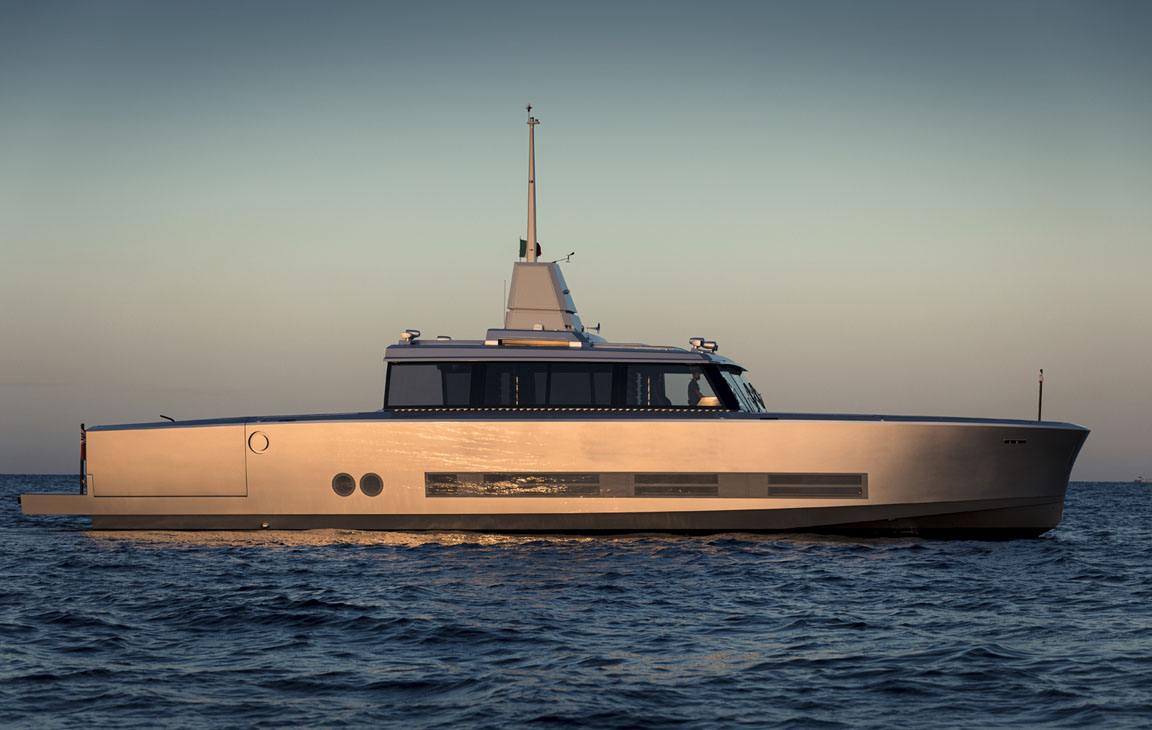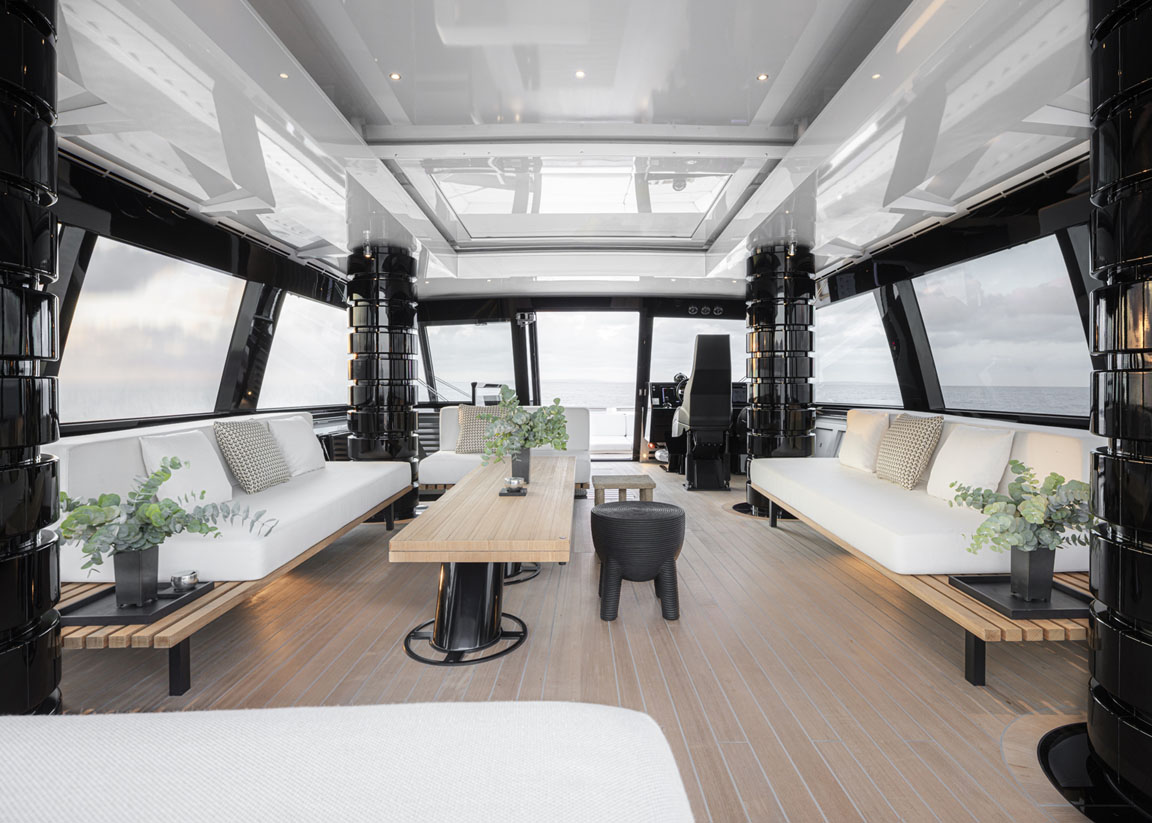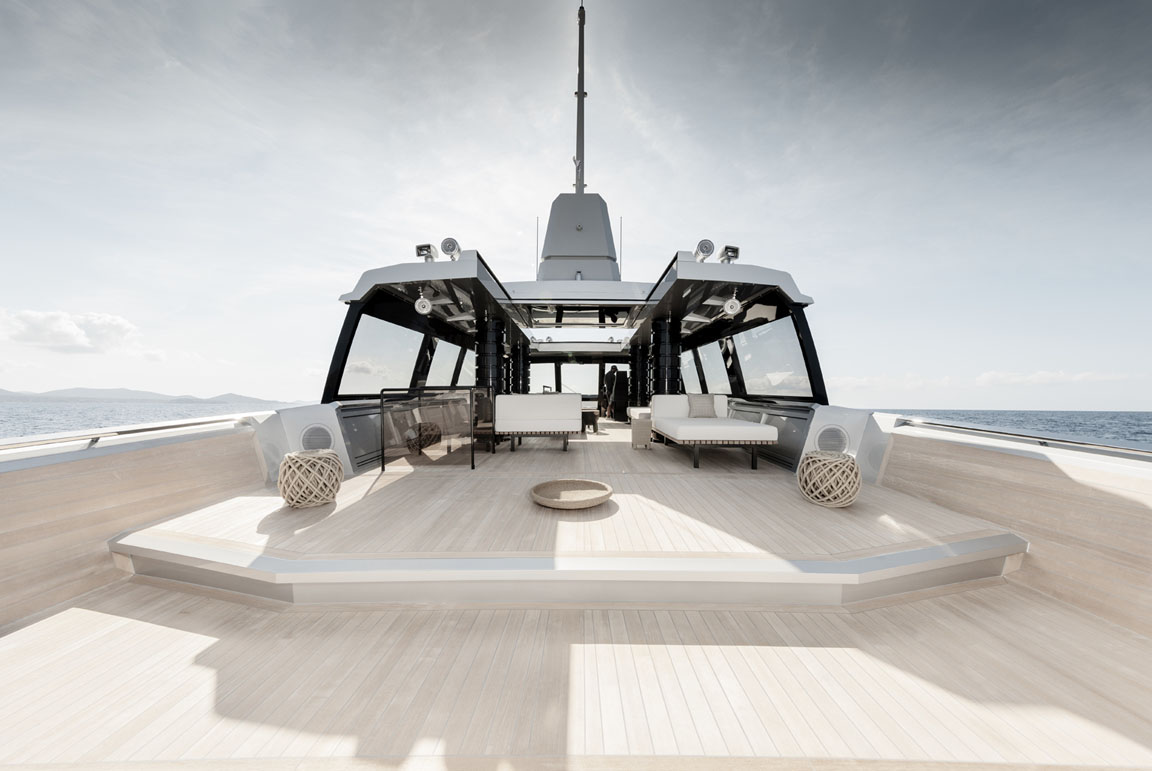 Step aboard, and the military look quickly gives way to luxury, with a light-caulked teak deck, pale-coloured sofas and sunpads, and dark, glossy vertical columns.
But yachts are all about enjoying the water, and aboard Atlantico, the stern beach club—complete with aft gunnels that neatly drop down like wings when the yacht is at rest to greatly extend the deck area—sets the bar. Further augmenting the space, a hydraulically powered drop-down swim platform extends down and aft, providing easy water access for swimming, taking a spin on a Seabob, or simply lounging the day away.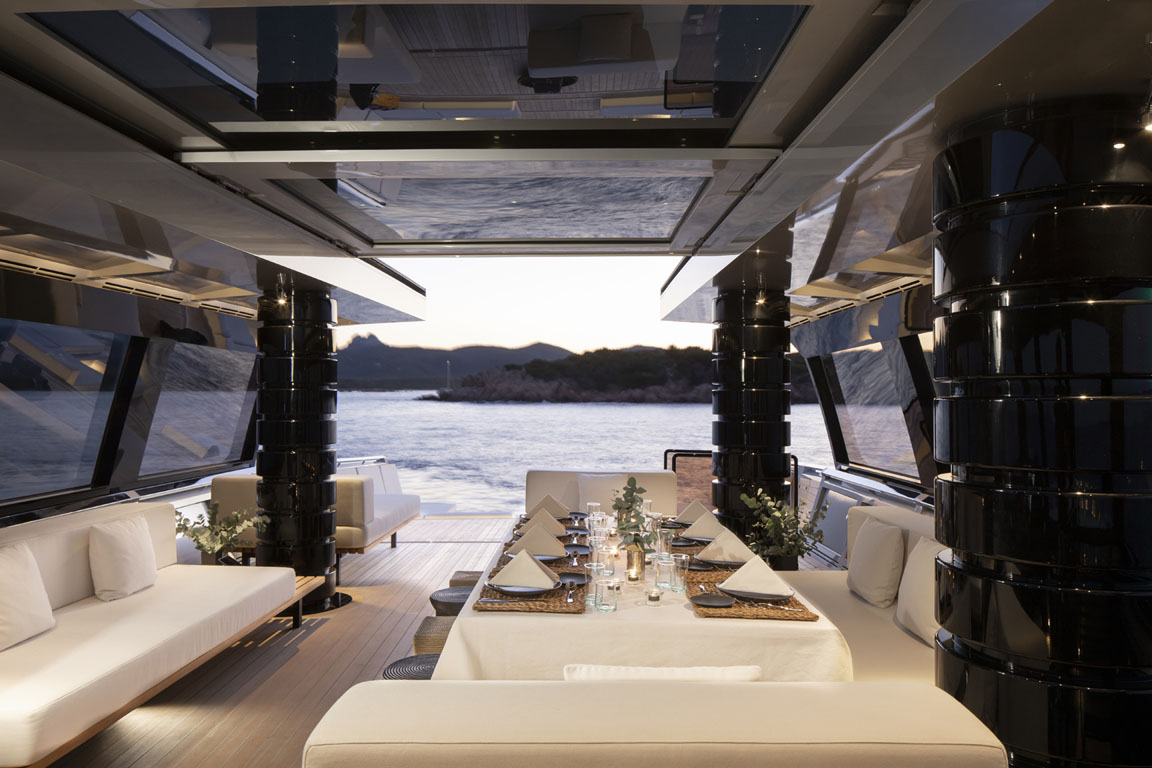 From the beach club, two low steps lead up and forward into the covered cockpit where one can lounge and escape the sun. Enormous side windows and protective curtains inboard provide a real sense of privacy.
The yacht's open flow leads forward into the salon, masterfully designed to yield maximum versatility, easily shifting from daytime living space to evening dining area to late-night cocktail lounge—and serving all three needs with equal aplomb.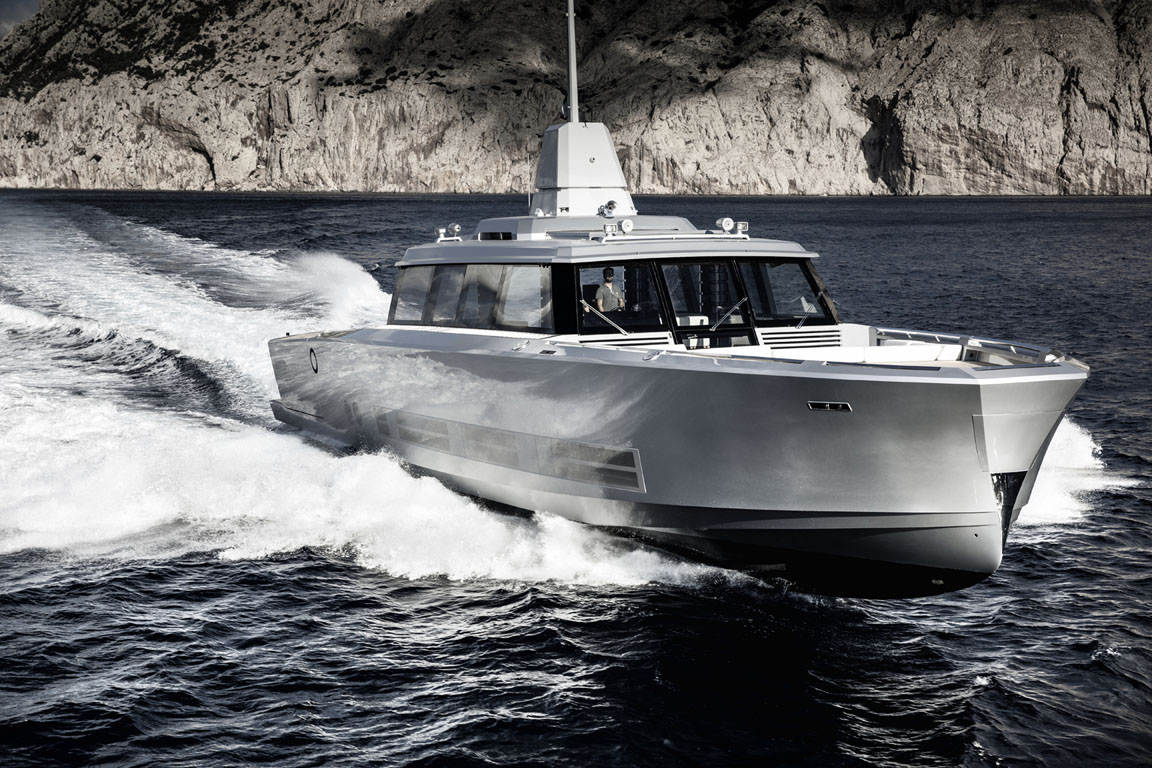 A discreet helm station featuring a multiscreen glass dash and dual shock-mitigating helm seats occupies the starboard forward corner of the salon. Beside it, a large door opens to allow direct access to the spacious bow seating and sunning area. There's no need to climb stairs or navigate narrow catwalks on Atlantico—the bow is a ocal point, so easy access was a prime design consideration
The blend of cool and comfort continues belowdecks, where two impressive double cabins with large free-standing beds pamper guests. Between them, the glossy white walls of the lower salon contrast with the dark wood furniture and bulkhead panelling, creating a fresh and inviting space that's further accentuated by clever indirect lighting.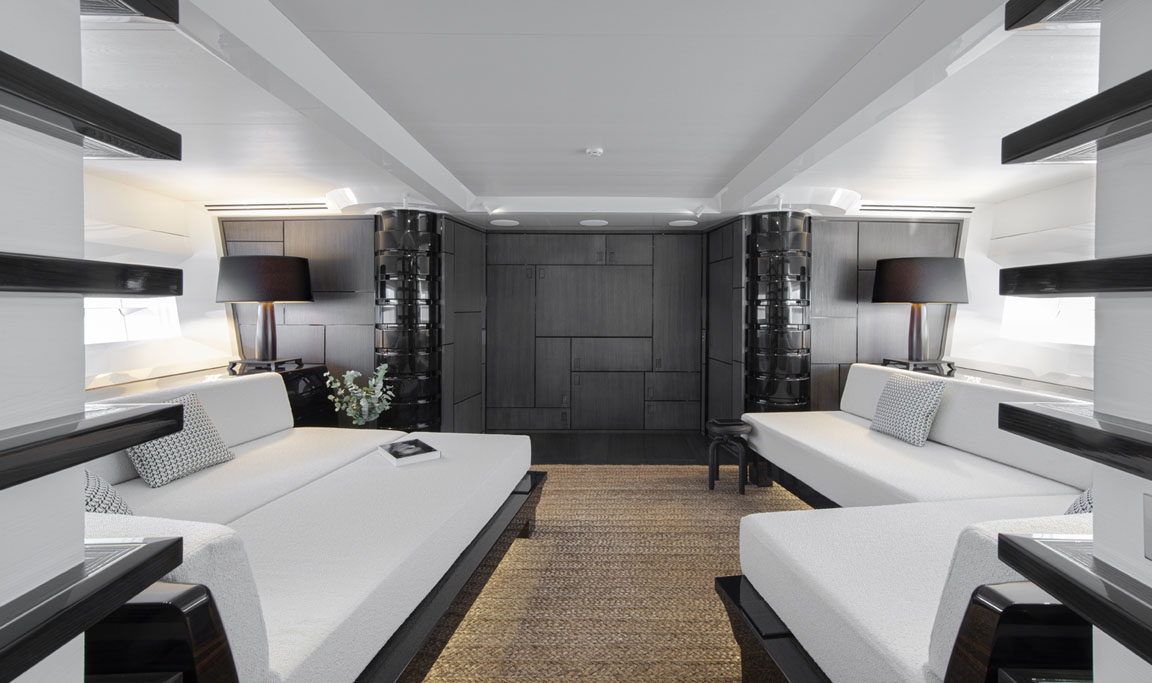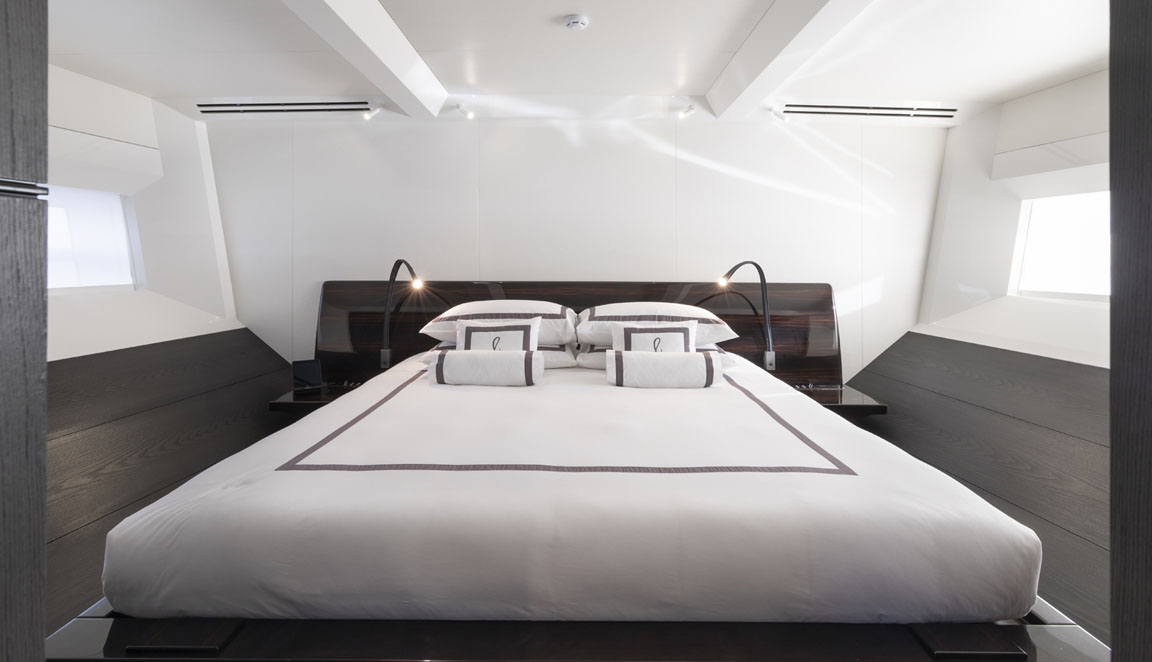 It's all quite spiffy for what was originally envisioned as a simple chase boat to run around with a larger yacht. Indeed, Atlantico puts a number of similarly sized yachts to shame. With its high speed and 600-nautical-mile range, Atlantico would make a brilliant weekender, perfect for exploring distant coves, bays, and islands where the big yachts can't go.