Designer Matteo Gottardi's utilitarian approach to his New York–based menswear label W.R.K is no fleeting ethos. In fact, it's a style philosophy he takes very seriously, to the point where every item he and his team have churned out since launching in the spring of 2011 is built around a very simple yet ambitious question: What will make this garment the most functional for this man? While his colleagues in the fashion world may be focusing on experimenting with silhouettes or looking to introduce new ways to wear classics or redefining how guys should dress altogether, Gottardi is most concerned with making sure the clothes he makes will service the man who wears them.
W.R.K isn't Gottardi's first go at the rodeo. He previously founded and was creative director of menswear and womenswear for Operations, which had two stores in downtown Manhattan and folded in 2010. With Operations, Gottardi sourced authentic workwear pieces, used their skeleton and construction, and then made them in modern-day fabrics that would appeal to the contemporary consumer. Years of researching workwear (from painters' jackets to construction garb) afforded the designer an encyclopedic understanding of this niche market, which informs his current work. But W.R.K isn't a continuation of Operations; rather, it's a new venture for Gottardi to unleash his creativity. It will debut in Canada this spring, and will be found at select boutiques including Nanni Couture and the Coop Ink in Toronto, Schad Blü in Ottawa, and Mountain Air Clothing in Jasper.
Gottardi designs with the knowledge that guys now look at clothing with a keener eye than ever before. And it's true; many brands rave about how well their men's businesses have blossomed in recent years. Gottardi provides his clients with what has true staying power: clothes that guys can rely on. "A man likes to wear something that he believes in," he says, and then pauses, "something that stands for something not because it saves whales, but because there's value in it."
For spring 2013, Gottardi was inspired by the Jeep Grand Wagoneer. (In fact, to fully get the vibe of the classic automobile, Gottardi took one on a road trip.) But the influence of this very specific theme is hardly obvious (except for the flywheel print on the pants) in his collection of coats, suits, Henleys, tees, and button-front shirts, all of which only really offer up subtle variations on the kinds of pieces guys have been wearing forever—at least as far as looks are concerned. Gottardi, after all, isn't in the business of reinventing the wheel, only adding layers to it. "I'm not trying to get a guy to start putting on crop tops tomorrow, because that's not what men wear. I'd rather put my money into ingenuity." For instance, a raglan-sleeve trench features both nylon, which makes it water repellent, and linen, which allows it to breathe. ("It's springtime—do you really want to wear an all-nylon jacket?" he asks rhetorically.) But the panelling creates a very eye-catching patchwork design that gives what many might consider a high-tech kind of clothing a clever yet fashionable touch.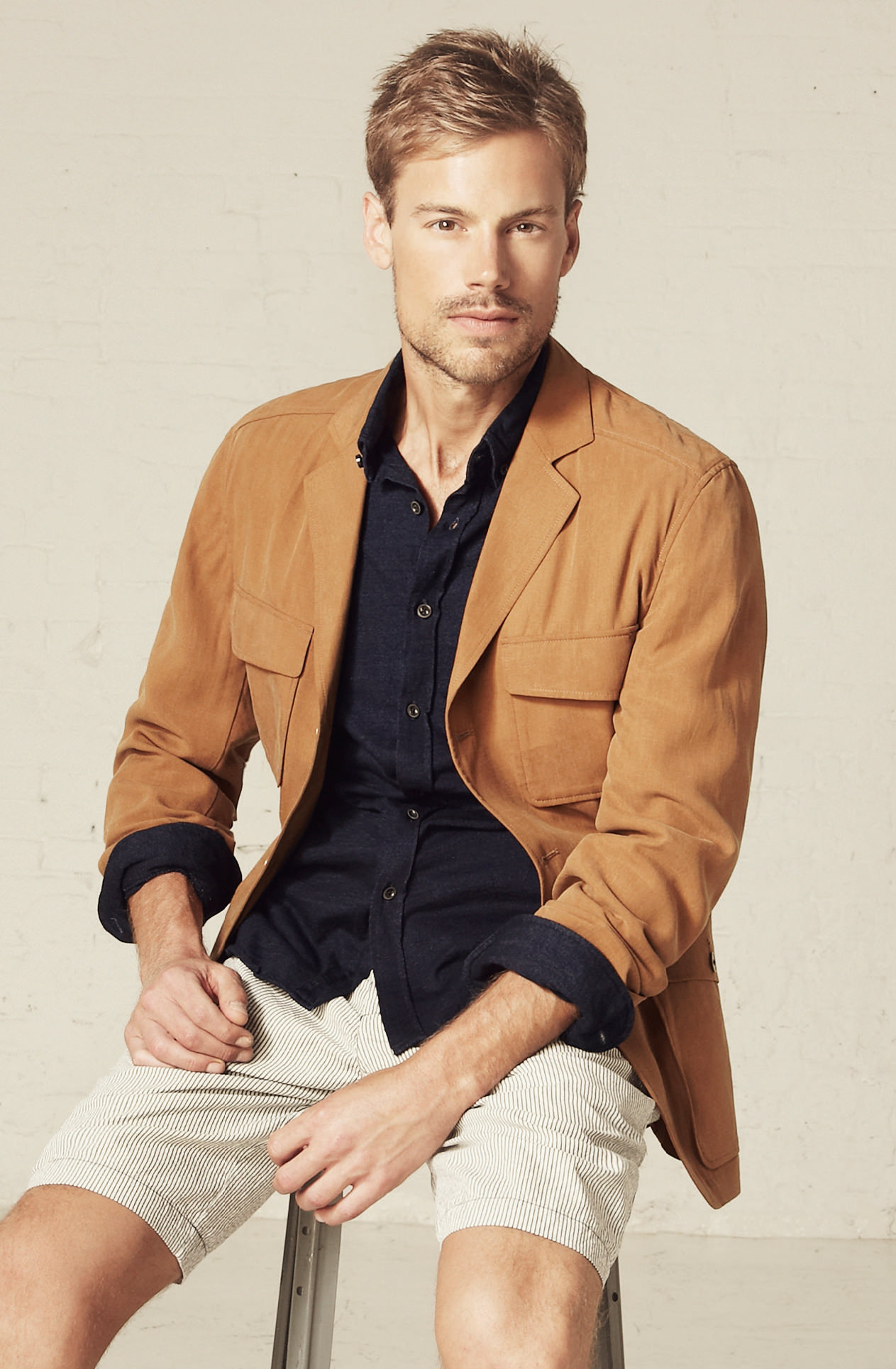 On some shorts and trousers, Gottardi extends the seaming on slant pockets all the way to the hem so that they'll sit properly on the leg instead of annoyingly puckering up the way most other bottoms do. On a short-sleeved button-down, patch pockets on the chest boast continuous horizontal seams that allow both pockets to stay flat on the chest instead of billowing when not in use. On a blazer, flap pockets are reinforced with a trim of leather to help with maintenance, because without it, "That's the first place it'll rip," Gottardi explains.
W.R.K stands for "work, rest, karma"—a mantra Gottardi came up with when he was on a bit of a soul-searching trip in South Africa just as the recession descended. Trying to figure out the next step in his career, the designer came to the realization that he should follow what he loves to do. "My whole thing is that work shouldn't be a negative thing, because you should do what you love doing, but that it needs to be balanced with rest," he says. "And from there, what's going to be is going to be."