By The Namesake's Journey to a Toronto Bricks-and-Mortar Studio
Rosa Halpern's oasis of leather and silk.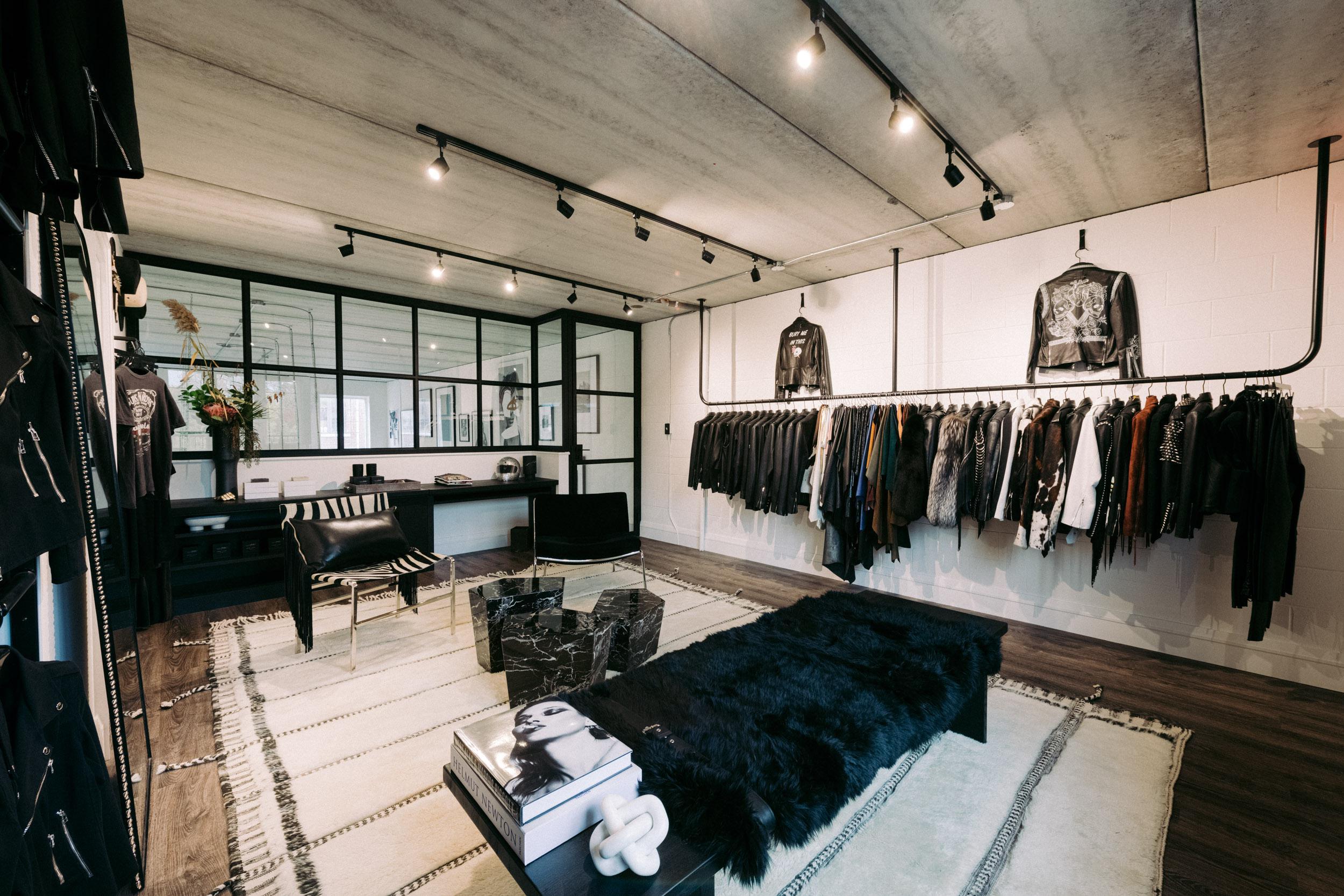 Rosa Halpern has become a bona fide expert in finding silver linings. The designer and founder of By The Namesake signed the lease for her Toronto industrial studio space on March 1, 2020, and two weeks later COVID forced the province into lockdown. A year later, the world outside the space hasn't changed much, lockdown is still in effect—but inside, Halpern has created an ultracool world of her own.
"We made a lot of leather furniture and did a lot of stuff that we normally would never have had time to do," Halpern says of building her bricks-and-mortar store during COVID. The converted garage is a split-level with art, furs, and hides anchoring the ready-to-wear leather jackets and pants hanging from wall-mounted pipe clothing racks mixed in with silk blouses and slip dresses. Interspersed throughout the showroom are chunky biker-inspired jewellery pieces, homewares, and the aforementioned leather furniture that Halpern made in collaboration with her carpenter fiancé, Ryan Gibson, owner of Against The Grain Remodelling.
Until last year, By The Namesake was an e-commerce custom-leather-jacket brand that specialized in honouring women (and occasionally men) from history. When the company planted concrete roots in Toronto, it not only expanded its offering but also caught the attention of locals who previously thought it was based in New York. "It forced me to reconnect with our Toronto customers and really develop that community," Halpern says over Zoom from the studio.
Namesake Studio still specializes in custom jackets, and its try-at-home program, which was in effect long before COVID, sustained it during lockdown. The branded kit consists of canvas jacket samples, leather swatches, a tape measure, tailor chalk, and pins. Customers then have a Zoom consultation and send the kit back for their custom jacket.
In the background of our call, occasional hammering and banging emanates from the lower level, maintaining the industrial feel of the studio. "It's because everything is being made right here below me," she explains. "We have a showroom on the top level and then a production facility on the bottom level."
The new offerings and launches that have been added since acquiring the studio also expand By The Namesake's portfolio. Each piece reflects another facet of Halpern's personality—an effortless edginess that is easy to want to emulate. "Most of what we do just comes from my own aesthetic and longing for things that I cannot find already on the market," she says of the new collections.
As a founder, Halpern says one of the hardest things she's had to do in recent years is delegate. There was a time when she was a one-woman show. A graduate from the School of the Art Institute of Chicago, Halpern was imparted with the knowledge that "there is already enough clothing out there to clothe the world 10 times over." That perspective means that any time she creates a piece, it has to be with a purpose in mind. After graduating, she worked in fashion in New York and as a buyer at Serpentine in Toronto, but it wasn't until a friend approached her to make a leather jacket that Halpern says there was a "divine explosion of forces."
"People would look these high-price-point garments and say, 'this would be perfect if it had a belt,' or 'I wish it had this kind of hardware instead.' "Everyone has their idea of what the perfect leather jacket is," Halpern says.
She had never worked with leather before but was fully versed in patterning and construction so she gave it a try for her friend. She fell in love with the medium, and it wasn't long before five more friends approached her to make them a jacket, too. "Before I knew it, I had a waitlist of like 25 people who wanted these custom jackets, and I was like, I might be onto something," she recalls.
"Every single leather jacket you make is going to be a little bit different. I love that, and there's also a certain degree of perfectionism with it. You can't make any mistakes—once you sew that sleeve in, you're not going to take it apart and reset it, so it's kind of like fashion but with high stakes. That's crazy to some but really thrilling to me."
Even though Halpern has stepped away from the sewing machine thanks to the growth of her business, the consultations and new studio space have allowed her to remain the face of the brand. "I still have my hand in every element of the jacket, but I'm not necessarily making it," she says. "I really enjoy the design part obviously and working on new designs, but I also really enjoy doing a lot of the customer-facing stuff, and specifically through COVID as so much of our business has been through digital consults and things like that I've gotten to know people all over the world." She is also excited to have the same connective experience when the studio can finally open its doors.