The Strange Story of the Montreal Melon
Canada's obscure fruit nonpareil.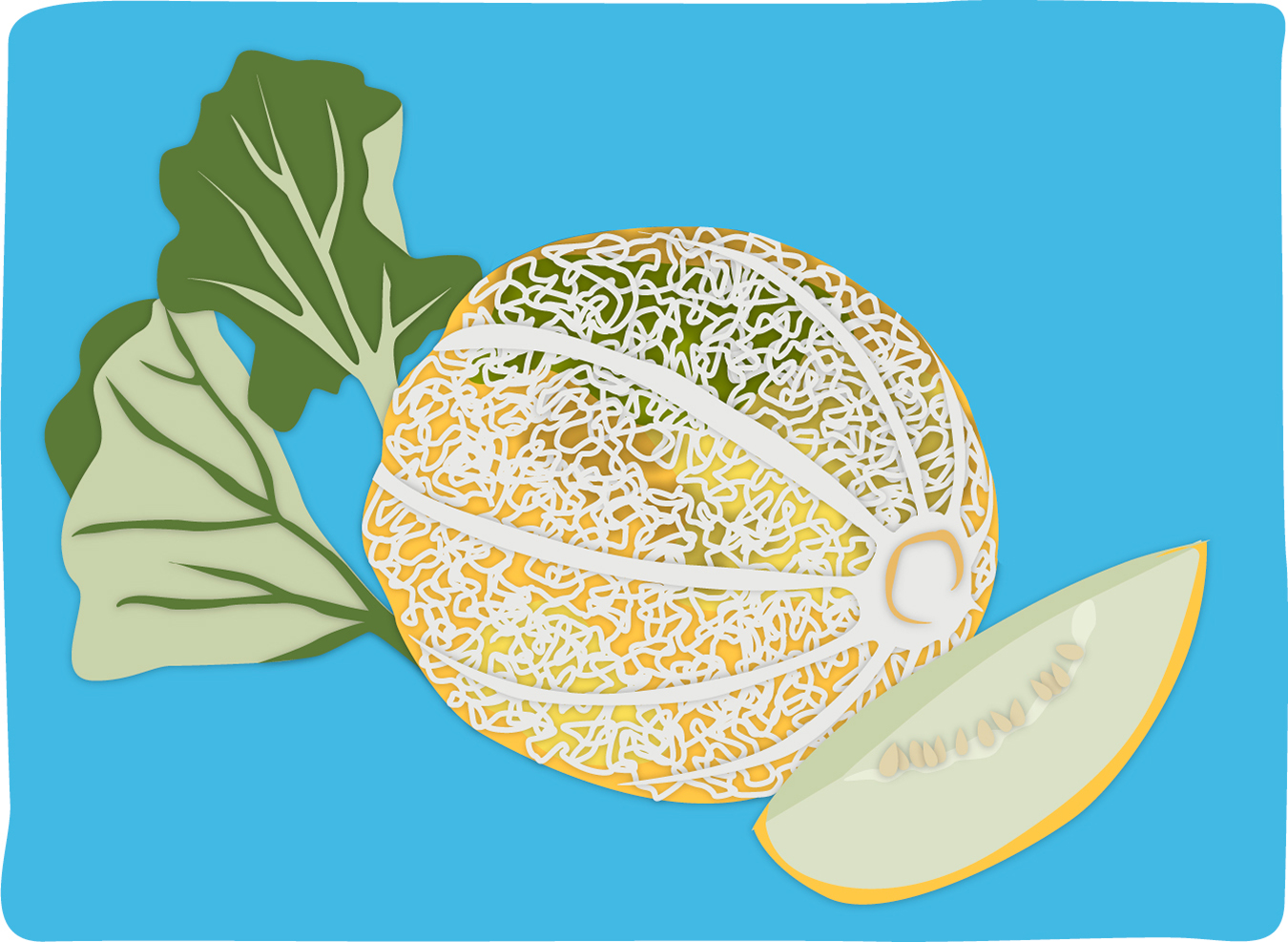 In 2015, Montreal-based journalist Sophie Lachapelle founded her own company—a textile printing business called Quelle Histoire!, selling cotton cloths decorated with illustrations of obscure Canadian farm animals and plants. One depicts the near-extinct Black Canadienne cow, another, the cold-resistant Chantecler chicken. And then there is the particular piece of produce that first sparked Lachapelle's fascination with Canada's forgotten agricultural heritage: the Montreal melon, a once-famous fruit with an enigmatic history.
"My interest in the melon started some 16 years ago," explains Lachapelle. "It was when I first moved to the Notre-Dame-de-Grâce neighbourhood, in Montreal. I had heard on the radio it was once famous for its melons, which used to be served at the Queen's table in England." Further research revealed that Notre-Dame-de-Grâce, positioned hillside for lush sun exposure and fertilized thoroughly with horse manure from four neighbouring race tracks, was once known as the "the fruit basket of Quebec." The area's choicest product was a green-fleshed, ribbed, grey-netted relation of the cantaloupe which grew to 20 lbs (13 kg) and sold for a steak's price per slice on the East Coast's daintiest menus from the late 19th to early 20th centuries. The melon was celebrated for its size (it was the biggest cultivated in North America at the time), its sweetness, and its flavour, said to be musky and reminiscent of nutmeg. Indeed, Lachapelle found the British throne received a specimen each year, carefully wrapped in a custom wicker basket, and that the 14th premier of Quebec, Louis-Alexandre Taschereau, seasonally purchased a melon onto which his initials had been engraved. Accompanied by a finger bowl and served atop a plate of ice, the delicacy was even offered in the fine dining cars of the Canadian Pacific Railway in its opulent prime.
The melon's status as a hyper-luxury food item begs the question—how was it allowed to fall into obscurity? (And: can we revive it?) To begin answering that, it's germane to note that the gourds are exceptionally hard to grow. Balanced on flat stones to protect their flesh from rotting against the ground and rotated a quarter turn each week to retain their shapeliness, they were always notoriously diva-ish—even before the land on which they grew since 1684 became abruptly inhospitable due to urbanization. By the 1930s, Notre-Dame-de-Grâce had converted into a residential neighbourhood, its population mushrooming from 5,000 to 50,000 in just over a decade. With its new inhabitants came subsequent buildings and roads in place of once arable soil (in fact, the Autoroute Décarie got its name from the family who once grew melons on the land it now covers). By the 1950s, the agricultural focus had shifted to reliable, high-yield crops, rendering fussy melon cultivation less attractive to farmers. Slowly, what was once Canada's most distinguished produce item was forgotten, more forgiving yet banal watermelons and honeydews sprouting up in its place.
A flurry of interest sparked around the melon in the late nineties, when about 40 kilometres west of Montreal in Île Perrot, farmer Ken Taylor successfully revived an heirloom fruit that looked and tasted like the original (its flavour was vouched for by Fred Aubin, who grew up on a melon farm in the region and sampled Taylor's product shortly before his death in 2003 at age 73). Seven seed companies in Canada now sell Montreal melon seeds, but the melon's delicacy combined with climate change since its heyday render it difficult for even the most experienced of farmers to grow. "Today we encourage our clients to cultivate the Oka melon instead—they are easier to grow and more uniform," says Marjorie-Audrey Lévesque of Quebec garden store Jardins de L'Écoumène. The Oka, a smaller cousin of the Montreal melon grown in a neighbouring region, is the only varietal Lachapelle herself has tasted, and her impression was just decent: "Unfortunately, it was not as sweet as one could expect," she says. "But it had, like I had read, a definite and surprising musk taste." For now, the prize of a true Montreal melon—large and sweet and served atop cracked ice at the end of summer—may only go to especially lucky hobby farmers gambling with fickle heirloom seeds. For the rest of us, there's cantaloupe.
_________
Never miss a story. Sign up for NUVO's weekly newsletter.