The Next Chapter of Jacques and Laurent Pourcel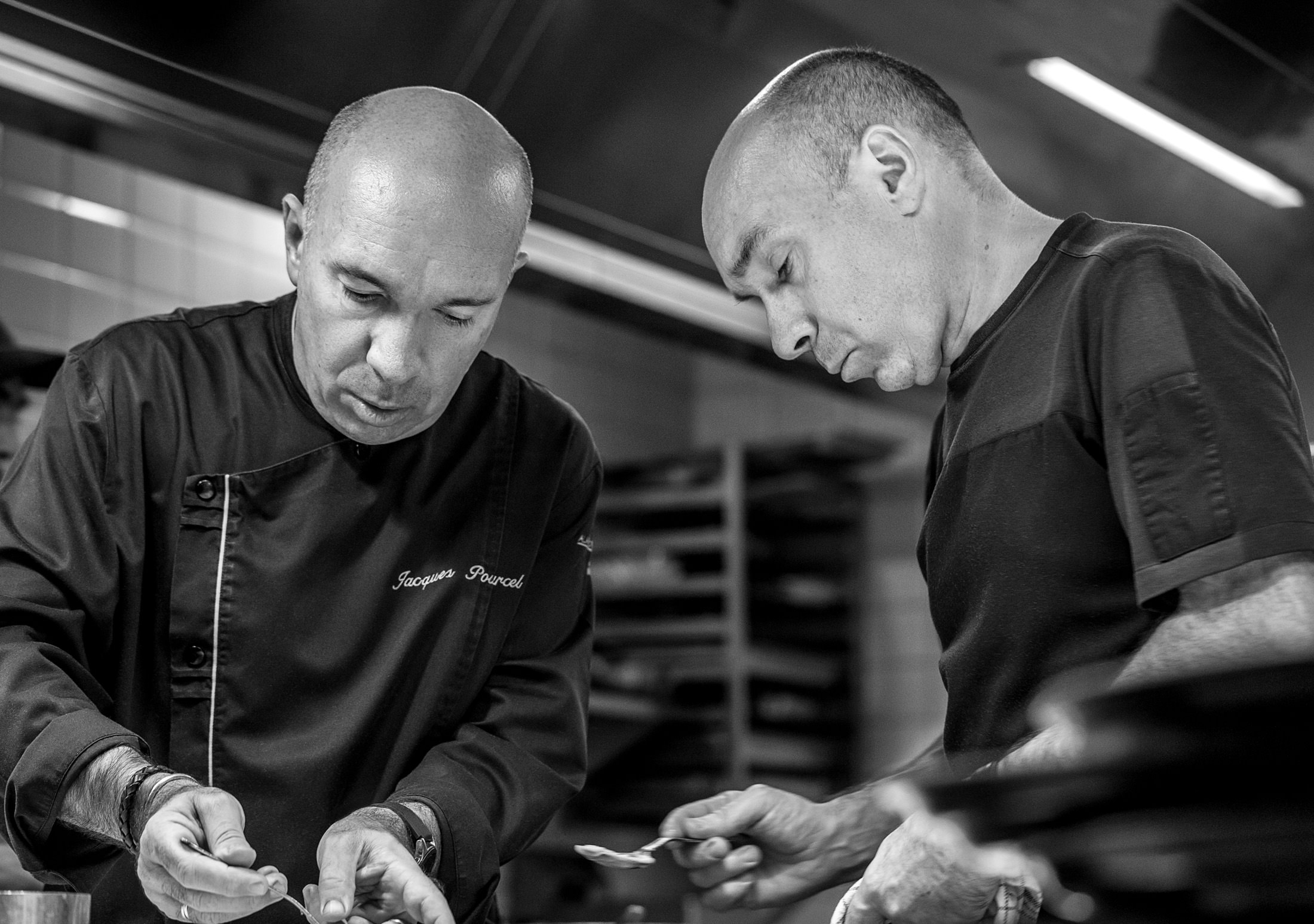 Twenty years ago, the name Pourcel was front-row centre on every foodie's top-chef list. There was not one but two Pourcels, brothers Jacques and Laurent, both chefs and identical twins at that. Their multi-starred restaurant, Le Jardin des Sens, was located in Montpellier, a city in southern France more known for its winding medieval streets and student population than as a culinary destination. Though situated in the heart of Languedoc, a wine-producing region near the Mediterranean coast, Montpellier had just one Michelin-starred restaurant when Le Jardin opened in 1988. In 1990, the Pourcels received their first Michelin star, followed by their second five years later. It took three more years to nail the third, which they held on to for the next eight years.
The rise of les frères Pourcel happened at a time when French chefs still ruled. Though El Bulli chef Ferran Adrià was already starting his meteoric rise in Roses, Spain, some 150 kilometres from Montpellier, no one had yet heard of René Redzepi or David Chang. Redzepi actually worked for the Pourcels, as did many up-and-coming chefs.
The Pourcels' style was local produce–driven, with cutting-edge techniques and an emphasis on vegetables, fish, and seafood, as well as Asian flavours and spices. Theirs was a luxury cuisine, epitomized by dishes like "Le duo de langoustines [Norway lobsters] aux caviar," tartare with sweet lemon and mango. Their plates were admired for their bright colours, diverse textures, and international flavour palate complete with foams, tuiles, and more. They wrote cookbooks, they designed tableware, and they went international. At the height of their empire, the Pourcels counted several restaurants in the south of France, as well as establishments in Paris, Tokyo, Marrakesh, Ho Chi Minh City, Singapore, Colombo, and Bangkok.
But in March 2016, after 28 years in operation, the Montpellier Le Jardin des Sens served its last sea bass with candied lemon. Restaurant operations had slowed down, and as Jacques Pourcel explains, the neighbourhood had lost its charm. Even so, the brothers haven't had much time to put up their feet. They still have six restaurants to their name, as well as Terminal #1, a tapas bar on the outskirts of Montpellier, and a new gastronomic restaurant slated to open in the same city in the coming year.
For Jacques, 55, the journey from cook's apprentice in his native village of Agde, in the Hérault region of southern France, to legendary chef ready to open yet another high-end restaurant appears to have gone by in a flash. "My brother and I were passionate about cooking since we were very young," Pourcel says. "We cooked with our mother, our grandmother, and at 13 we began working on weekends at the local Michelin-starred restaurant, 150 feet from our home. We then attended the École Hôtelière de Montpellier."
From there the twins, who not only were always together but dressed identically as children, went their separate ways, developing their cuisine according to the style of the chefs they worked for. And they worked for some of the best: Laurent with Michel Bras and Alain Chapel, and Jacques with Marc Meneau, Michel Trama, and Pierre Gagnaire.
By the age of 24, the brothers had already worked for six years at many of France's top restaurants, but they wanted to do something together. They brought in friend and business partner Olivier Château, and opened Le Jardin des Sens. "Right away, we had a loyal clientele who followed our every move," says Pourcel. "We rose quickly. Three Michelin stars by age 34. There was lots of media. Maybe we were too young. Maybe it was too fast. It became heavy, that responsibility."
But with that fame, Pourcel says, came a liberation of sorts as well. "Gaining those stars was like a contest for us. It was one, two, three stars, and when we got them, it was like—bof!—let's take advantage of that exposure to live a bit. We started to expand, to travel. I think it might have cost us our third star, but once we got them, it wasn't a fixation for us anymore. After three or four years, maintaining that level became a routine. We were Gault&Millau chefs of the year; we received all the highest ratings. But after that, where do you go?"
In 2011, Jacques suffered two aneurysms, one quite serious, requiring him to slow his pace significantly. With a clean bill of health, he and Laurent bought the Hôtel Richer de Belleval, the site of their new restaurant, which will also be named Le Jardin des Sens. "It's a 17th-century building—Montpellier's first town hall. We are giving this old building the new life it deserves."
Besides a 35-seat gastronomic restaurant, the new house of Pourcel will include reception rooms and a 20-room hotel. As for the cuisine, Pourcel says: "We will make quality food, and if the Michelin stars come, they come. We want to cook what we like: joyous cuisine with colour, taste, and pep!"
Is it still a 50–50 relationship behind the stoves? "We have different personalities but the same tastes in cuisine," says Pourcel. "We like and dislike the same ingredients. If you give us the same ingredients, we will probably come up with the same plate. But Laurent is more in the kitchen now because he doesn't really like to travel, whereas I like to get out, meet chefs."
But what the Pourcels enjoy most is encouraging the next generation. "We have another 10 or 12 years in the kitchen," says Pourcel, "but I'd like to find some young, talented chefs to take over. We work together as a family. And today it's the young people who push us."
_________
Never miss a story. Sign up for NUVO's weekly newsletter here.