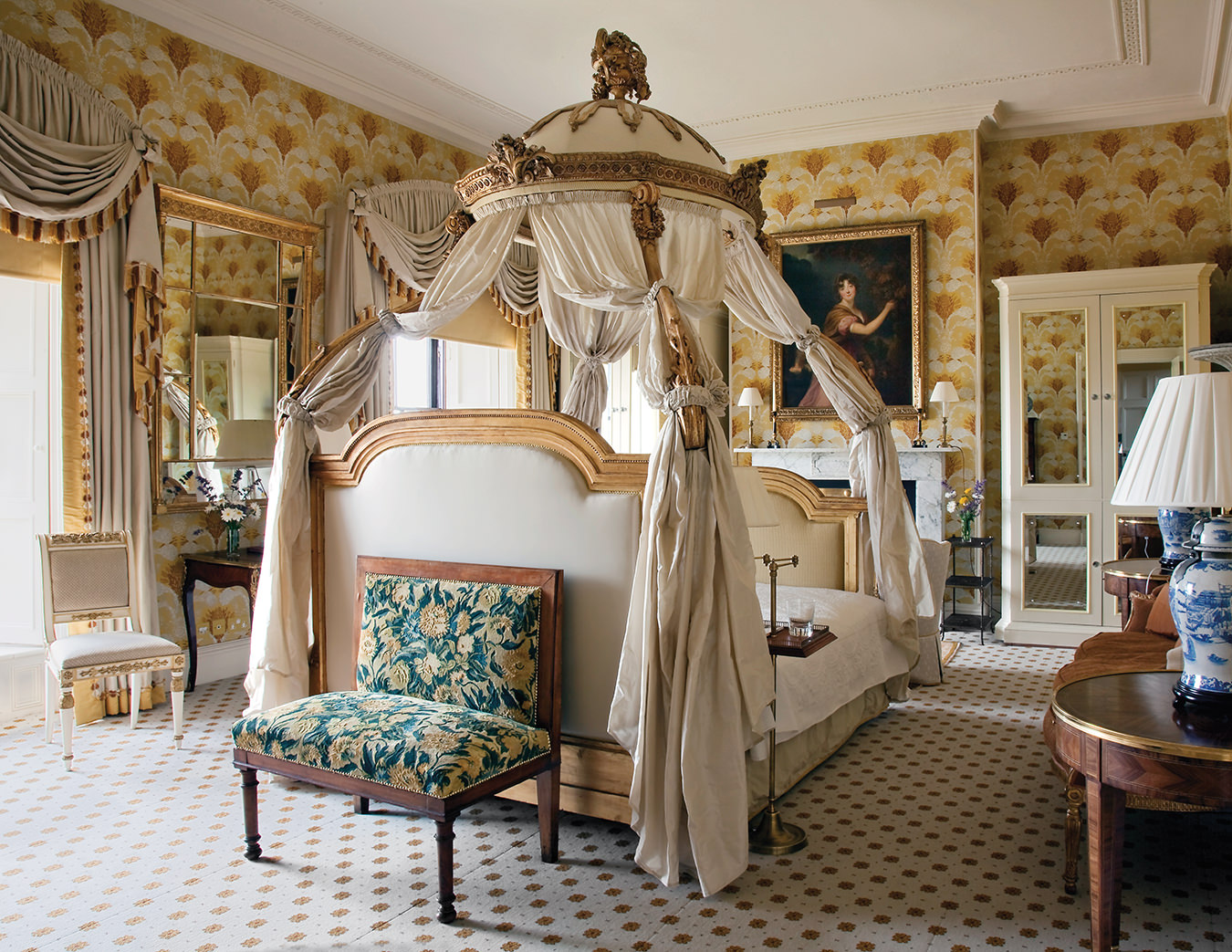 No more than a discreet brass plaque and a buzzer at the wrought-iron gate indicates the entrance to Ballyfin, an Irish country house hotel, secreted away from the world by tall stone walls. "Welcome; just drive on in and follow the road," an Irish voice says through the speaker as the gates open to a gravel path and meticulously kept grounds. After a short drive, a Downton Abbey–like façade comes into view, and a welcome party, waiting with umbrellas in hand to escort their newest guests inside.
In the heart of County Laois lies the peerless Ballyfin hotel and demesne—a common Irish designation for a "home farm", which in this case consists of 600 acres of park, woods, lakes, gardens, and farmyards. Dating back to the 1600s, this demesne has been the ancestral home to a succession of mighty lineages (including the Wellesley-Poles, the family of the Duke of Wellington). Its Regency-style mansion was originally built in the 1820s for Sir Charles and Lady Caroline Coote. A century later, it was sold and used as a school before undergoing a nine-year renovation; in May 2011, Ballyfin was opened. Its current iteration as one of Ireland's top hotels is a success story for its dedicated owner, Fred Krehbiel, and managing director Jim Reynolds, a renowned Irish archeologist and landscape architect who spearheaded the restoration. No expense was spared, and it could be considered a fitting tribute to one of the Coote family mottoes: "Cost What It May".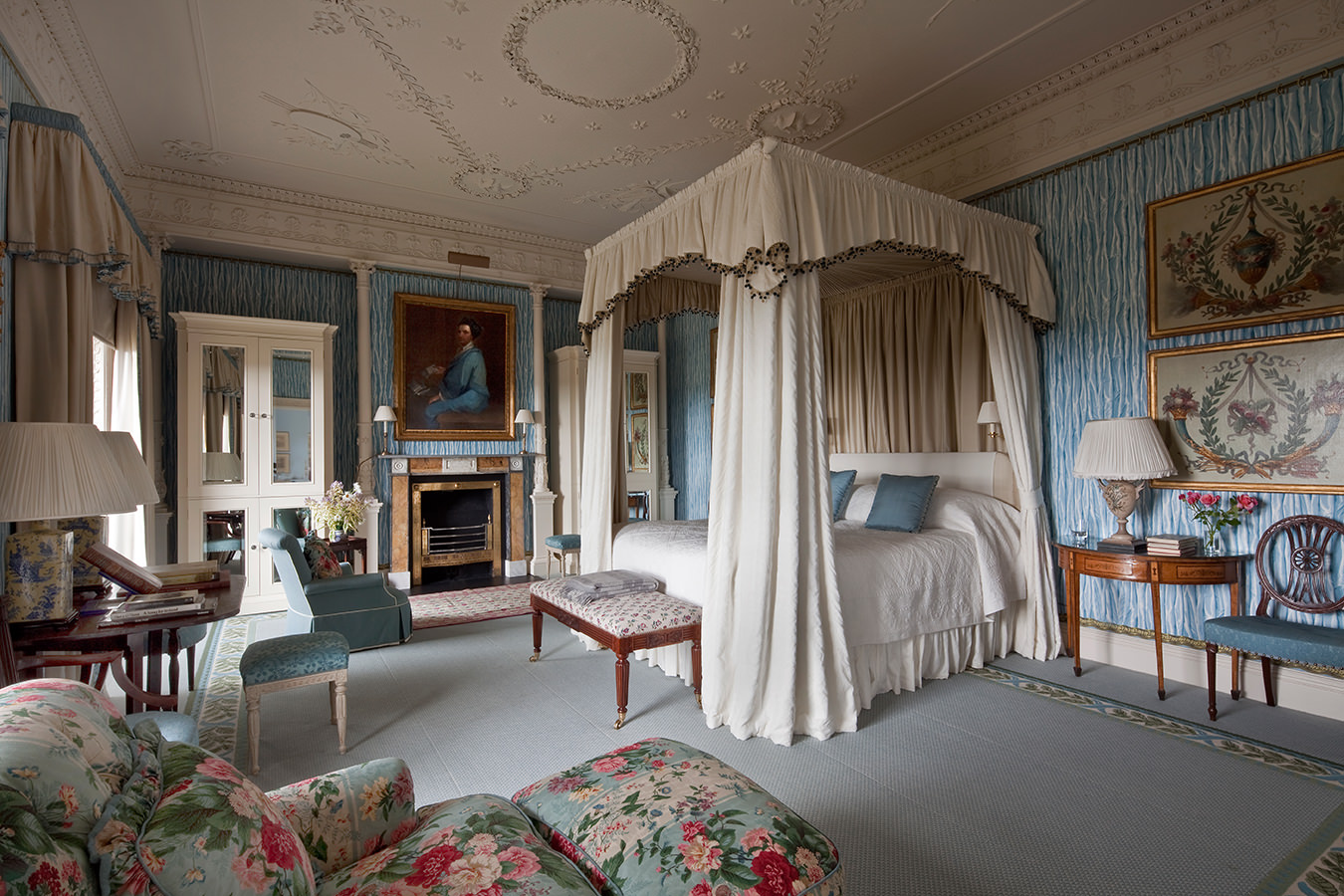 The decor at this Relais & Châteaux property is authentic, regal, and dignified—from the Roman tile mosaic entranceway to the antique Irish elk bust above guests' heads—but there is no need to tread carefully amongst its artifacts. "The estate is very much to be explored," urges head butler Lionel Chadwick. "We want people to feel comfortably at home." Throughout, the attention to detail is exquisite both historically and aesthetically. A parquet floor and behemoth columns catch the eye in one sitting room, while recessed bookcases in the literature-rich library are hewn from preserved bog oak. The Gold Drawing Room houses a chandelier that belonged to Napoleon's sister, and the grand sandstone staircase takes guests up to most of the 20 lavishly appointed guest-rooms—each unique—with highlights such as grand bathrooms, Chippendale furnishings, original antiques, and four-poster beds set gallantly down in the centre of the rooms.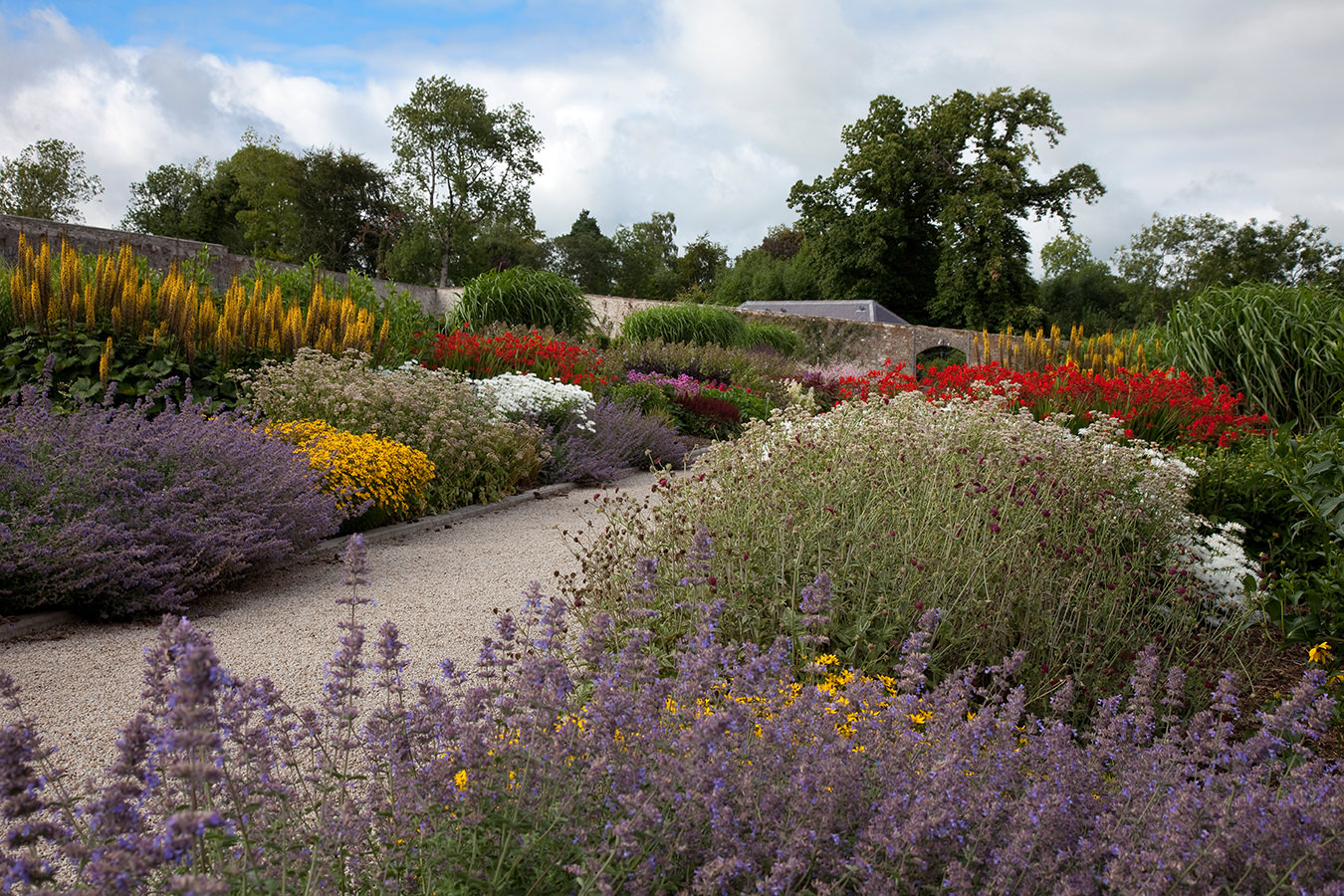 It may be difficult, but it is certainly worth tearing oneself away from house and hearth to experience Ballyfin's outdoor archery, clay pigeon shooting, tennis, fishing, horseback riding, and to meander around the grotto, ancient tower, or walled gardens. Indeed, the demesne becomes home quickly, but give it a few nights to really let the dream feel real. There could be, quite simply, no better place to stay on the Emerald Isle.