St. Regis Bal Harbour Resort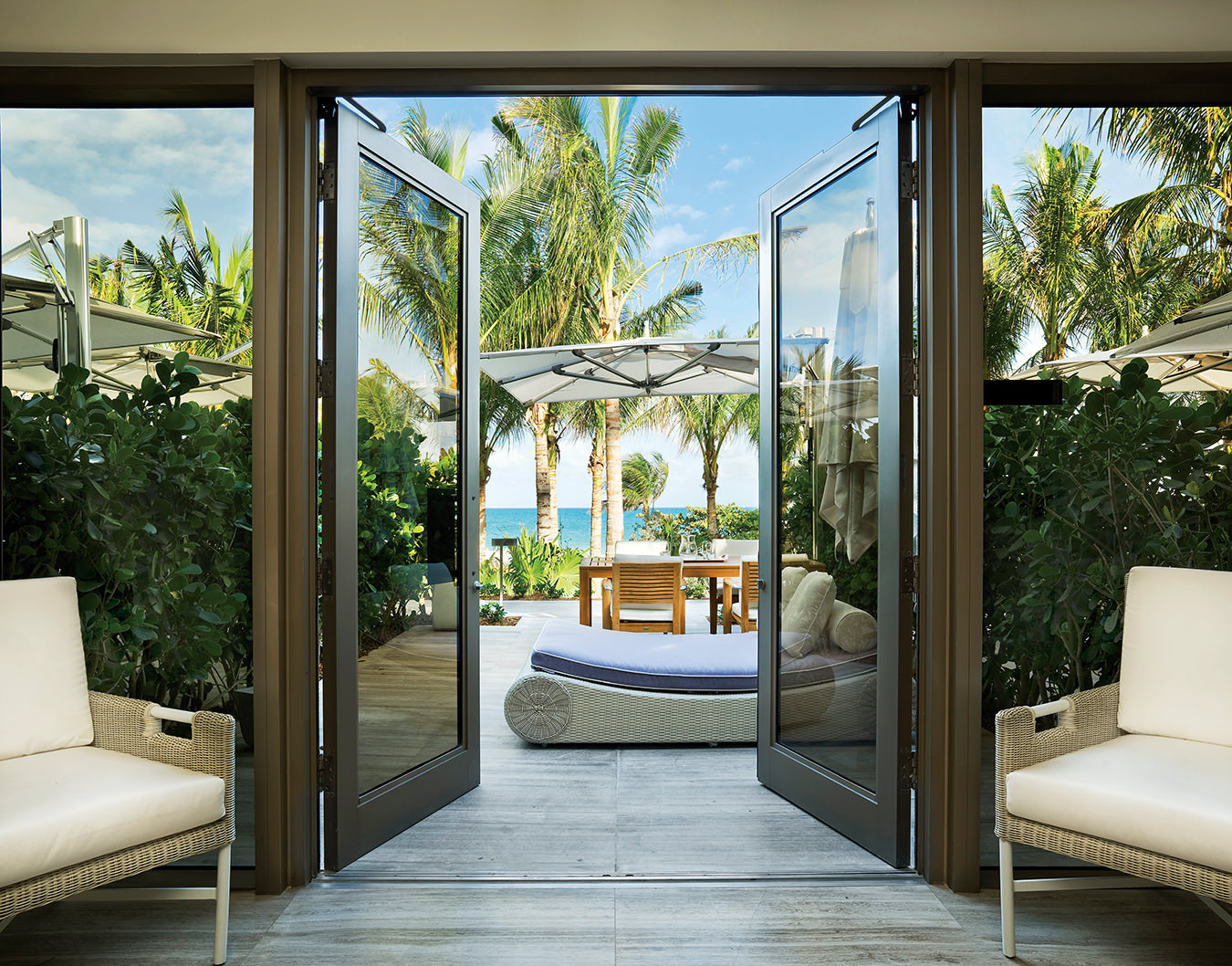 Location is everything, and at the world's best resorts a serendipitous setting puts them leagues ahead of the rest. Consider the St. Regis Bal Harbour Resort, situated on Miami Beach in South Florida's esteemed Bal Harbour enclave. To the east lies the ocean, mere metres beyond the resort's pool. To the west, a few footsteps away, is the highest-grossing mall per square foot in North America and one of the last family-owned shopping centres in the nation: Bal Harbour Shops. Sandwiched in between the pinnacle of beachfront and the finest of boutiques sits the St. Regis, where art, design, fashion, and tradition intersect.
Open since January 2012, the Bal Harbour property is a Starwood resort, and 28th in the long line of St. Regis establishments. It reached AAA Five Diamond designation within just three months of opening, the only hotel in Miami Beach to have done so within that time frame. Naturally, the general manager can be partly applauded for this, and here that is Marco Selva, a gentleman of pure style, a man who even "hiked a Mexican pyramid with me last year in Gucci driving shoes," according to public relations director Michelle Payer.
The resort comprises three towers, designed by Sieger Suarez Architectural Partnership so that every room (244 rooms and suites, and 255 residences) has an ocean view. Within, interiors are a melding of St. Regis tradition and contemporary slick, executed by Toronto-based firm Yabu Pushelberg with no expense spared. Interiors were seemingly created with a magic wand of silver and white, with art deco–inspired mirrored surfaces everywhere. A statement lobby sets the scene with walls of West African Movinque hardwood and rare God Flower stone marble for the floors. Yet, even among all this, it's the resort's art collection that stands out.
Throughout the property, abstract steel sculptures by Hirotoshi Sawada are joined by photographs by Jean-François Rauzier and graphite murals by Miami-based graffiti artist Santiago Rubino. Then there's a deer sculpture by Kohei Nawa, finished in ceramic silver and covered in crystal beads, that holds court over the reception area. The St. Regis Bal Harbour could almost be an interior design–driven art gallery; it even heralded in its first public art commission this past October when George Sánchez-Calderón's six-foot-tall stainless steel installation of the word Americana was placed in front of the resort.
Despite the contemporary thrust of the artwork, a sense of history reigns over all St. Regis properties, with traditions that date back to New York's Gilded Age of the early 20th century, instigated by the hand of Lady Caroline Astor. She created a group called "the 400" for the social elite, and elevated common notions of a hotel when the luxe St. Regis New York opened in 1904. Lady Astor insisted on entranceways with discreet lobbies to mirror the foyer of her home so that guests felt as though they were inside a private mansion. The matriarch also set in place four St. Regis pillars of distinction that endure today: a dedicated butler service, afternoon teas, a Bloody Mary ritual (a St. Regis bartender, Fernand Petiot, is credited with perfecting the recipe as we know it today), and nightly champagne sabring ceremonies in the Napoleonic tradition.
As royalty begets royal service, suite guests are privy to no less than that. Bal Harbour has 35 full-time butlers for 24-hour care of guests staying in the 70 suites. They act as liaisons to the rest of the resort, granting the ultimate luxury for visitors—that of time. They are for people who know what they want and when they want it, from a midnight cup of chamomile to a fully packed suitcase upon departure, which includes meticulously wrapping garments in tissue paper.
A coffee delivery requested for precisely 7:00 a.m. is not a minute late, the ideal motivator for an early-morning beachside Aeroga workout with husband-and-wife trainers Tracie Wright Vlaun and Christopher Vlaun of V Art of Wellness, the resort's on-staff workout squad. The St. Regis Bal Harbour butlers have already fielded a few strange requests, not least of which was procuring seven purebred white puppies to walk down the aisle in front of a very picky Russian bride—with just four hours' notice.
Resort cuisine is courtesy of J&G Grill, and at tables set with purple orchids (a nod to the hotel's signature colour), guests can refuel with a menu full of chef Jean-Georges Vongerichten favourites, along with two items crafted especially for Bal Harbour: peekytoe crab cakes and Florida heart of palm salad. Then, visitors can pop across the street for a shop unless, that is, they've opted to try the Neiman Marcus Closet program that curates a closetful of clothes for them upon arrival at the resort.
With everything within reach, guests are as good as royalty in this regal palace—just as Lady Astor intended.