Two Darling Valentine's Day Cocktail Recipes
Valentine's Day is tomorrow and what better way to impress your S/O than with a love-inspired cocktail from Chad Rivard, Straight and Marrow's bar manager. Rivard speaks to the inspiration behind each cocktail:
Modern Casanova:
"I'm always looking for new ideas for myself or our kitchen. I discovered that Salvador Dali released a cookbook in the '70s featuring recipes for dishes served at his dinner parties. What I didn't expect, is that there would be a cocktail recipe included. I love Dali's art and the drink (named the Casanova Cocktail) sounded pretty good! It is a brandy-based drink with an herbal French liqueur that is no longer produced, orange, ginger and cayenne pepper. To make a modern version, I've made a shrub (drinking vinegar) using ginger & cayenne for acid, swapped in Bénédictine as the herbal liqueur, and went with blood orange for juice. Modern Casanova: the romantic, the charmer, our feature for Valentine's Day."
Kiss From a Rose:
"The inspiration for this drink came from brainstorming symbols of romance in our culture. Roses fit the bill. To incorporate rose into the drink, I crafted a wild rose liqueur using dried wild rose and rose water. Mixing that with sparkling red wine (lambrusco rosso) and chocolate bitters gives the drink a richness with some pop from the bubbles. To top it off, I made a creamy foam from crème de cassis and more rose. The intention is that the drink resembles a rose when it's topped with foam in a coupe. Named after Seal's sexy song; I love how this one came together and am excited to serve it as our Valentine's feature."
Modern Casanova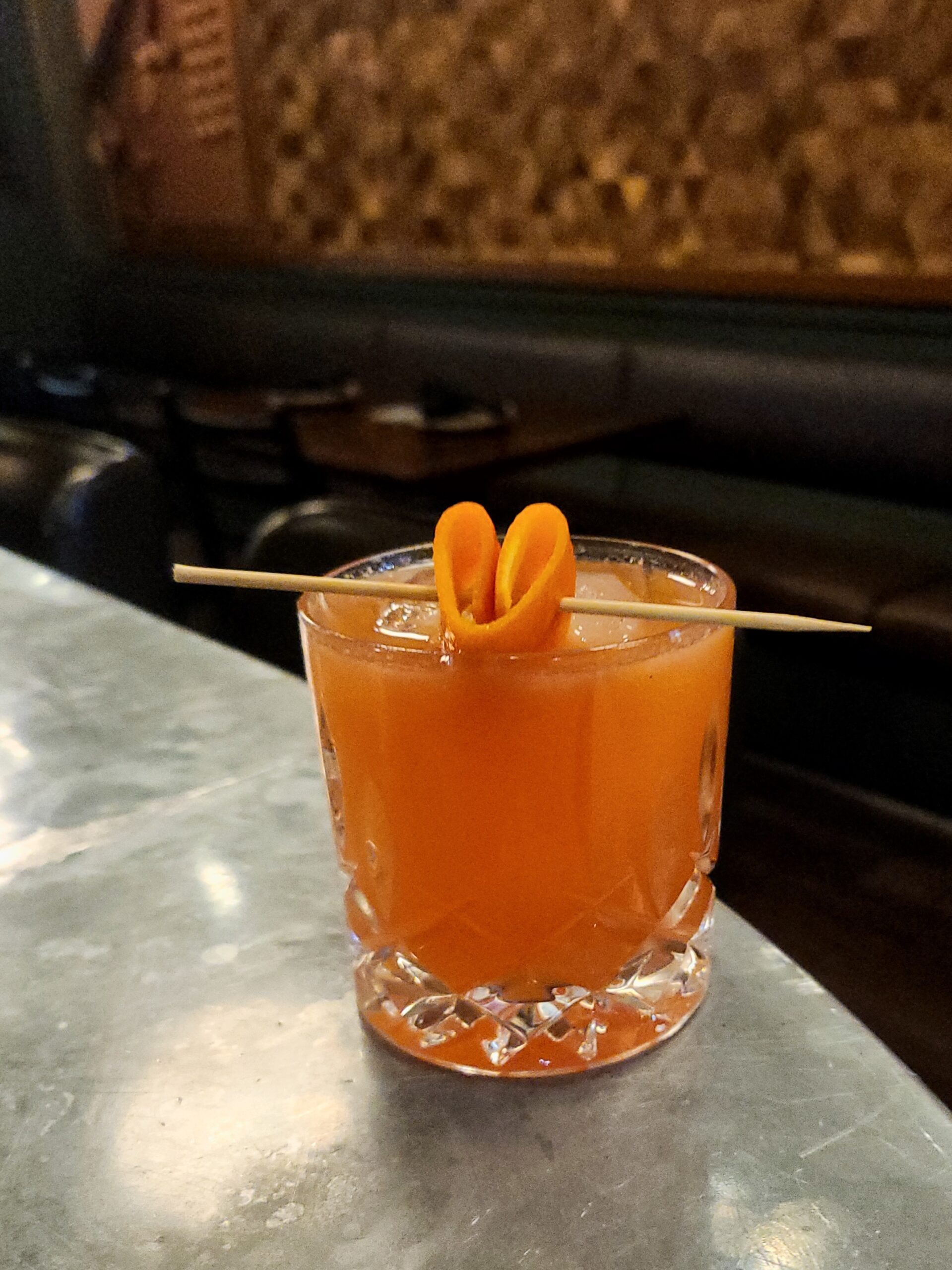 Ingredients
For the ginger-cayenne shrub:
1 cup white wine vinegar
½ cup peeled fresh ginger
2 dashes cayenne pepper
For the cocktail:
1.5 ounces French VSOP brandy or cognac
¾ ounce blood orange juice
½ ounce Bénédictine liqueur
½ ounce ginger-cayenne shrub
Method
For the ginger-cayenne shrub:
Add all ingredients to blender.
Do a quick 5 second blend on low.
Let ingredients sit in a cool shaded location for 12 days then strain off all solids.
Warm the liquid and dissolve the sugar into it to complete the shrub.
For the cocktail:
Add all ingredients to a cocktail shaker and shake with ice.
Double strain into a rocks glass over a king ice cube.
Garnish with orange zest (in a heart shape it you want to be cute).
Kiss From a Rose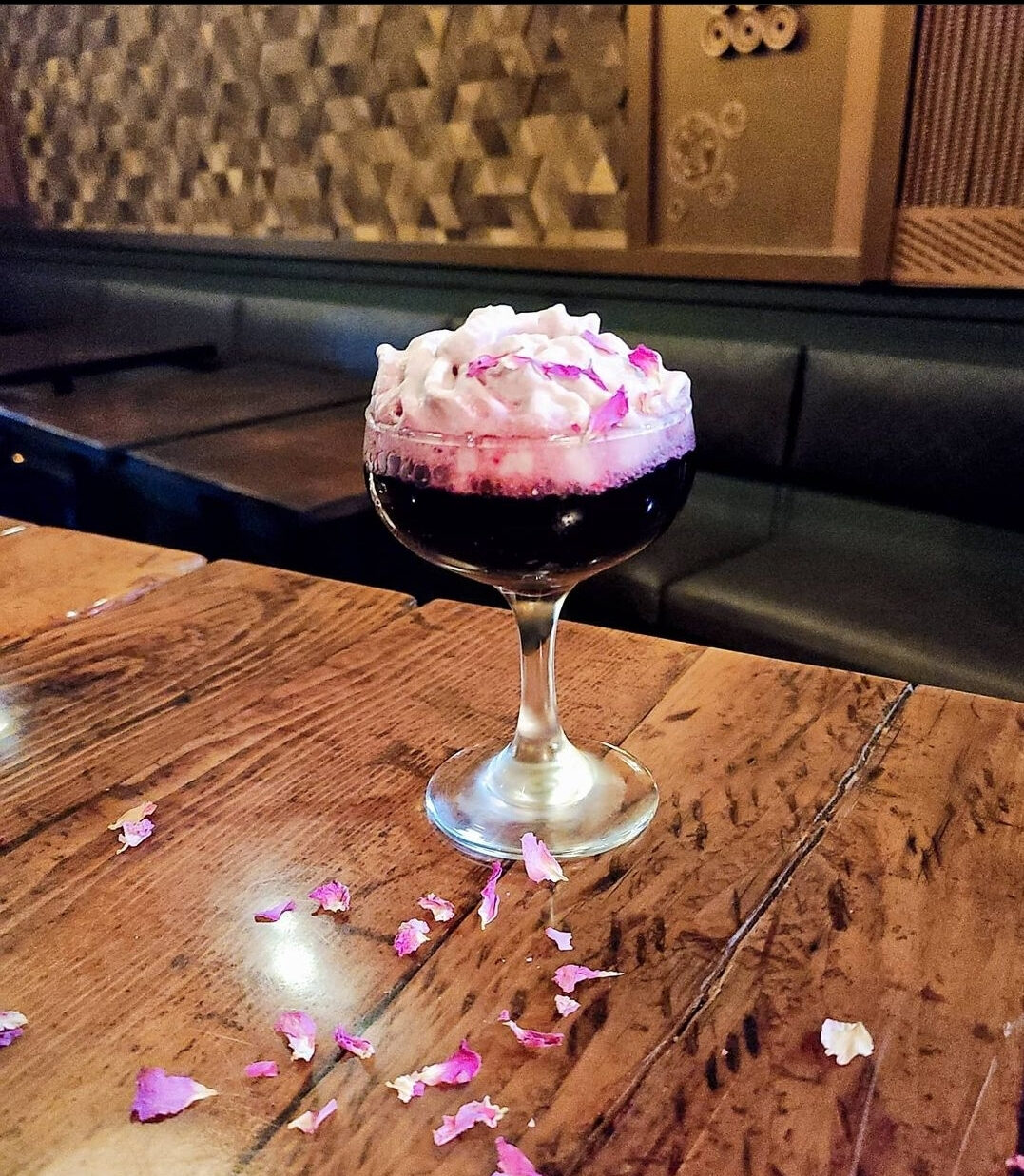 Ingredients
For the wild rose liqueur:
1 ounce of dried rose petals
½ cup water
½ ounce rose water
½ ounce vodka
For cassis-rose foam:
1 can (400 millilitres) of coconut cream, chilled
400 millilitres crème de cassis
1 ounce rose water
For the cocktail:
2.5 ounces lambrusco rosso
1 ounce wild rose liqueur
4 drops Ms. Better's chocolate bitters
Method
For the wild rose liqueur:
Simmer dried wild rose petals in water for 15 minutes.
Strain.
Combine with equal parts sugar while the liquid is still hot. Let cool.
Next, combine with equal parts vodka and rose water.
For the cassis-rose foam:
Combine all ingredients into a mixing bowl. Whisk thoroughly.
Set in fridge to cool and thicken.
Alternatively, all ingredients can be added to an iSi whipped cream cannister and charged with nitrogen.
For the cocktail:
Stir ingredients in a mixing glass.
Single strain into a cocktail coupe.
Top with cassis-rose foam