Schlotfeldt Residence by Omar Gandhi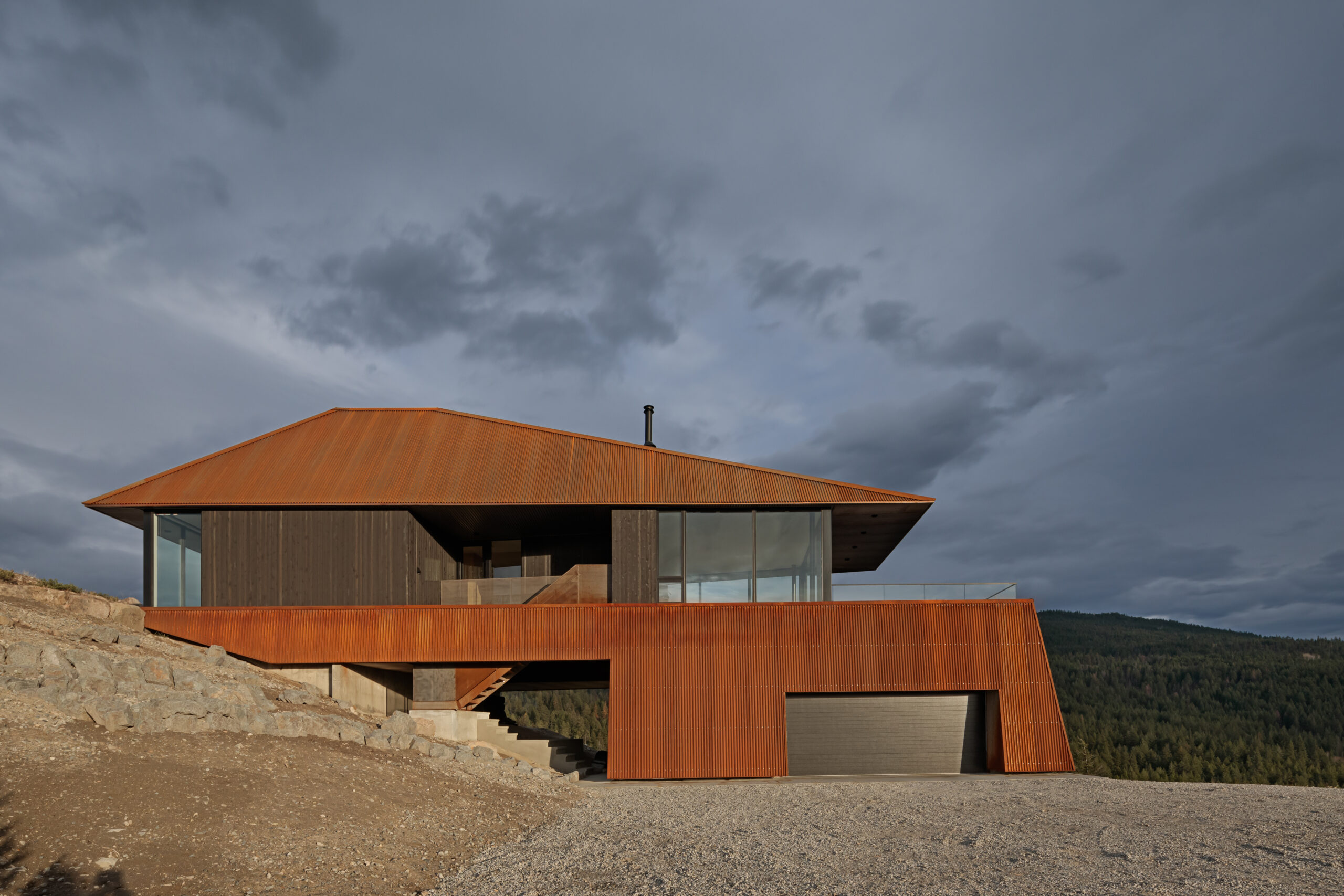 Follow a particular driveway up a series of curves and hairpins that wind up a mountain in the Okanagan Valley and you'll find an unexpected house that delivers mountain cabin charm in an avant garde exterior. Designed by Omar Gandhi Architect, which has offices in Halifax and Toronto, Schlotfeldt Residence is a compact contradiction that brings modernist luxury to rugged alpine living.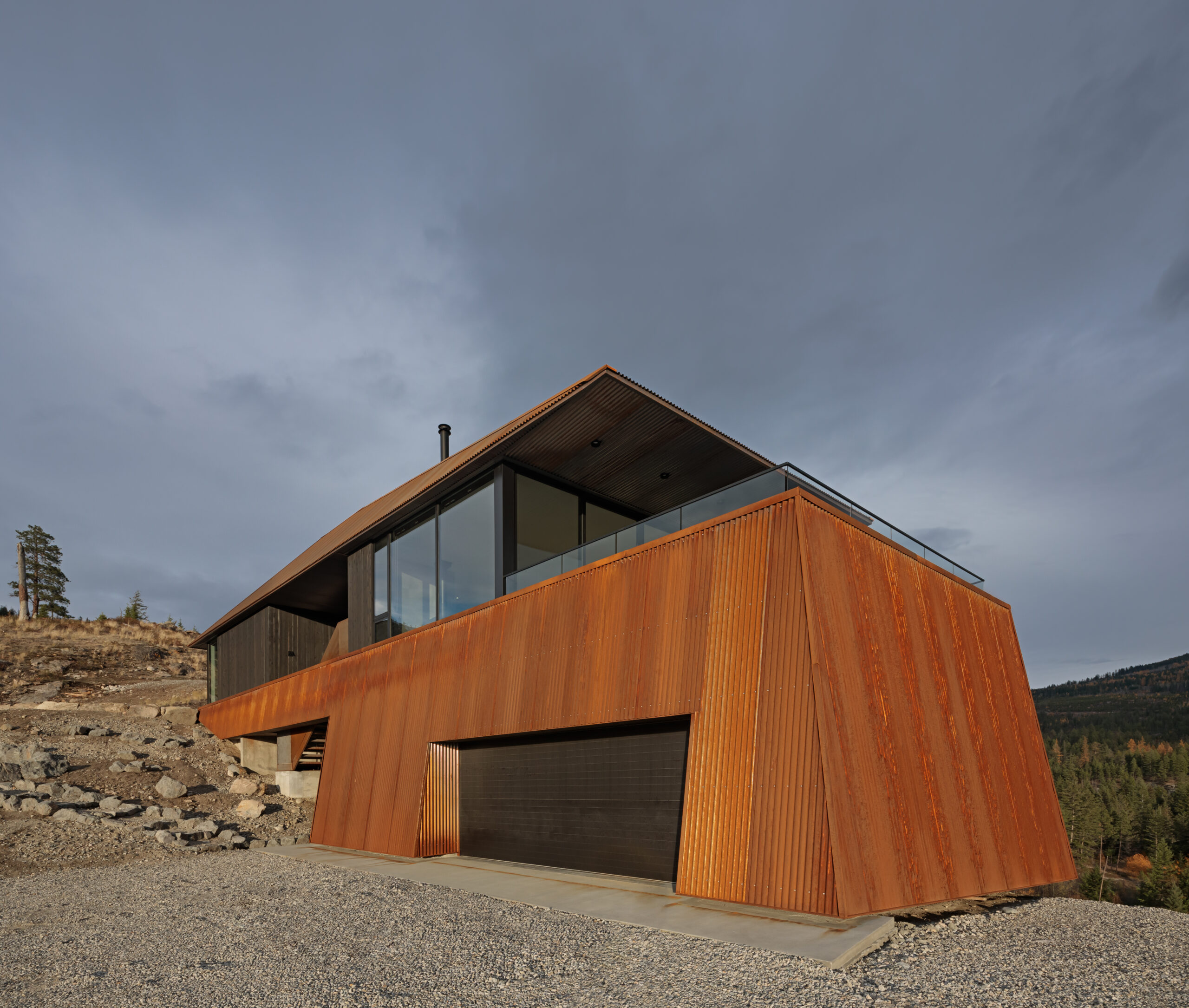 The base of the truncated pyramid structure contains the garage, which tucks neatly into the side of the hill with a bit of covered outdoor space underneath the house to spare. From there, covered steel perforated stairs lead up to the entrance. A skylight brings a shaft of light into the middle of the house, but the star of the show is the 270-degree vista from the main living area through floor-to-ceiling windows, which open onto a large balcony. Jutting into the landscape, the balcony could easily be the helm of a ship about to push off into the clouds, à la Woody Guthrie's Ship in the Sky. The views of the Okanagan Valley and surrounding mountain ranges are as immersive as they are impressive.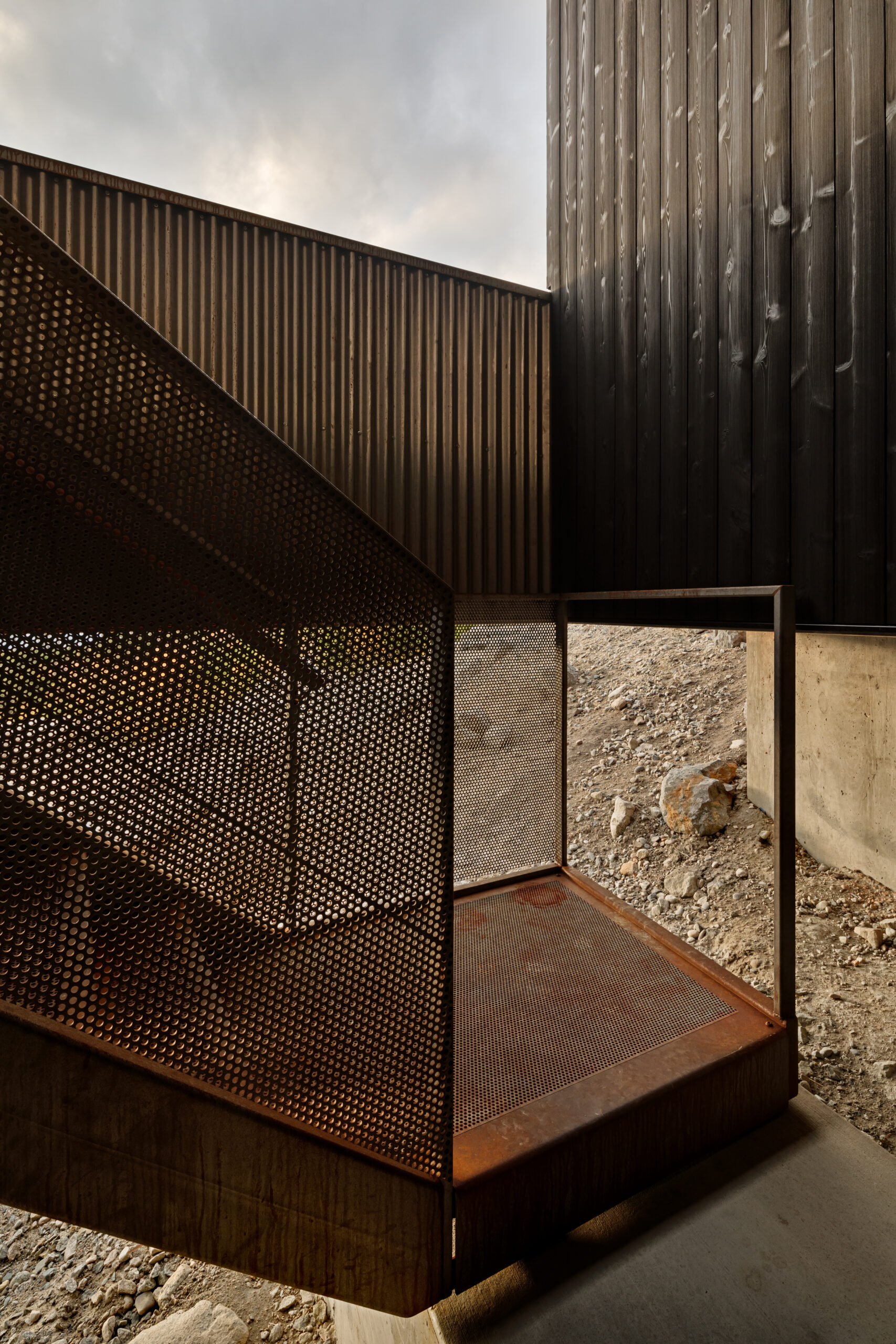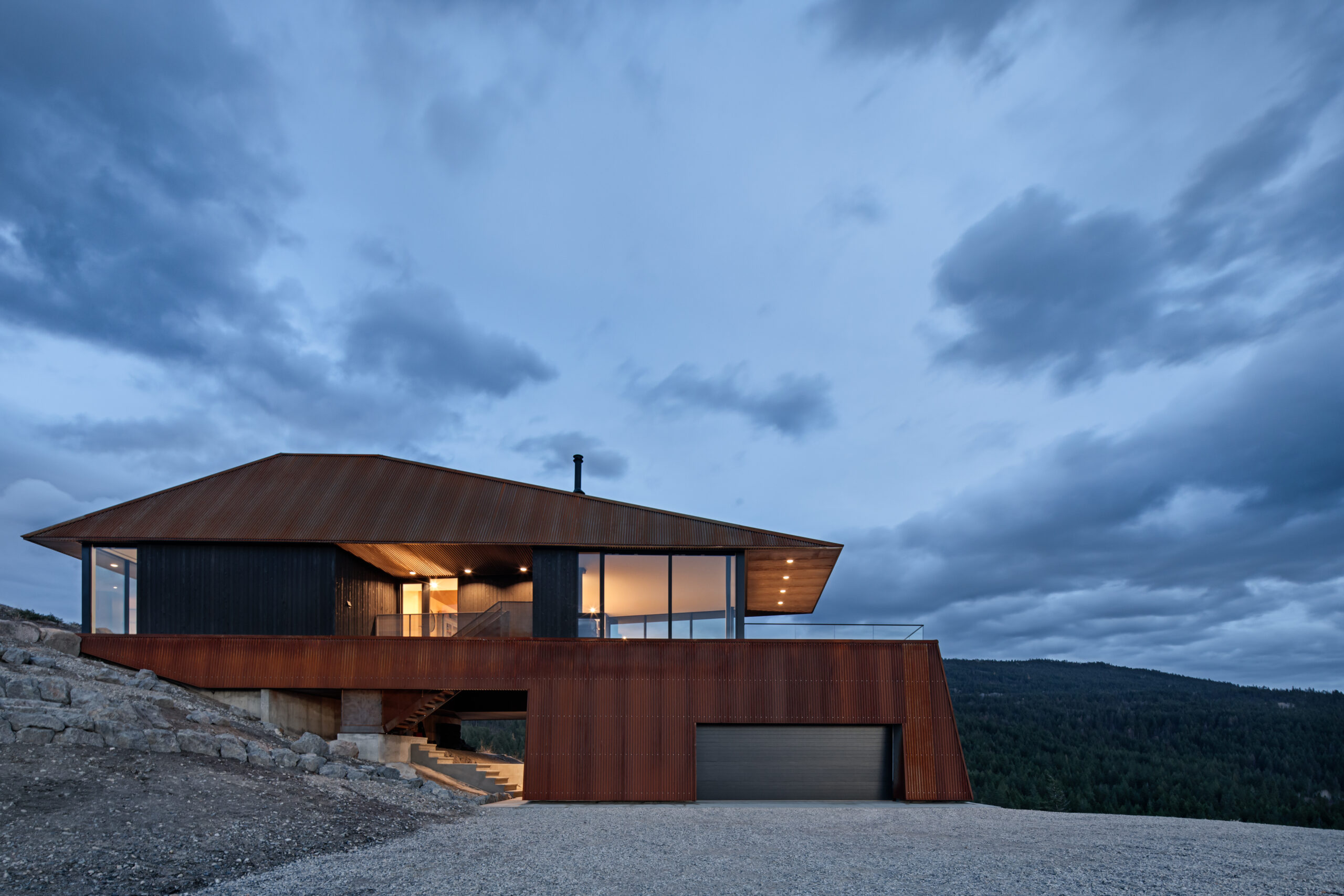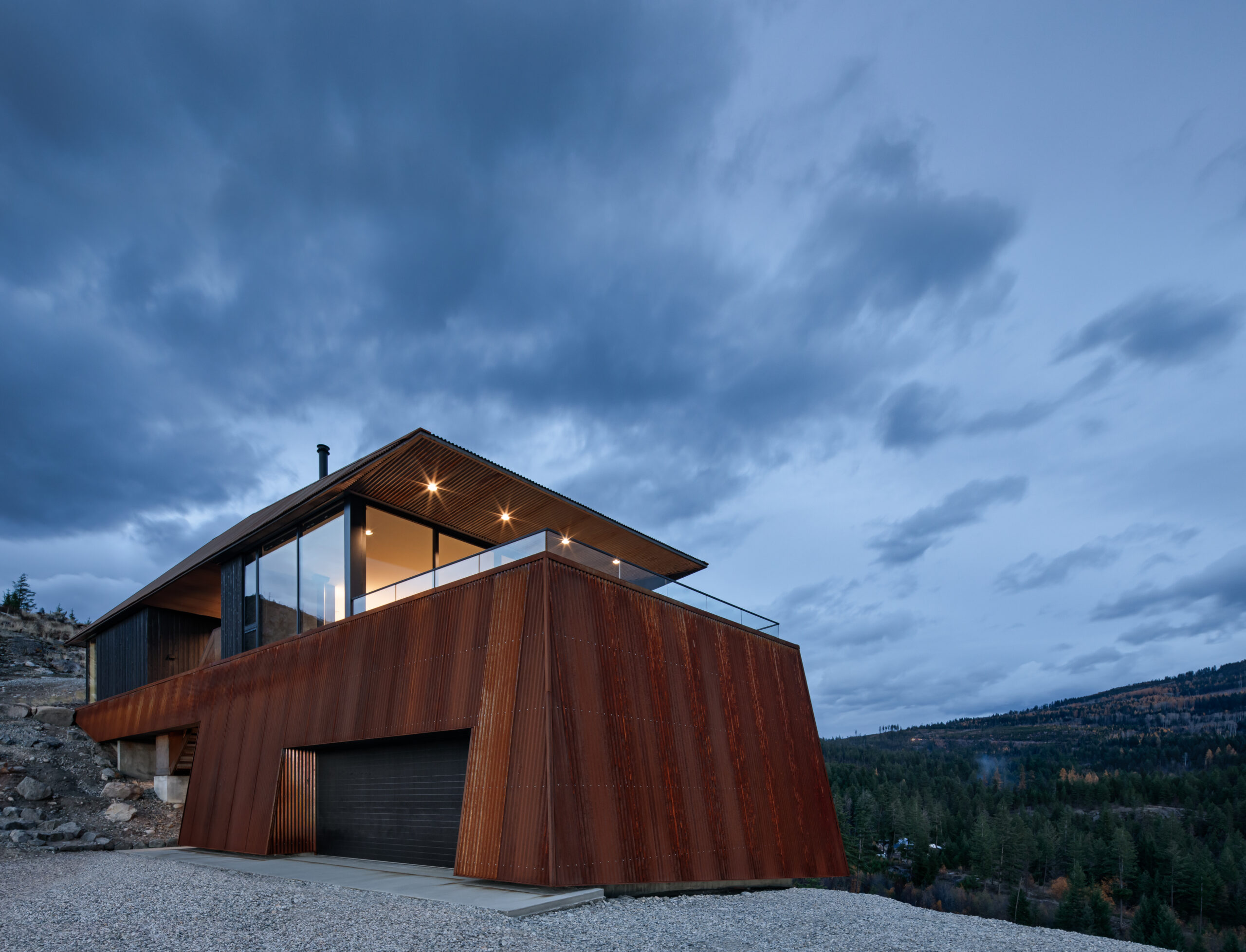 Such uninhibited sightlines come at a price. Sitting at a high altitude with little tree cover, Schlotfeldt Residence has no respite from the harsh elements—wind, snow, and fire are all plausible if not inevitable. The sturdy home takes these challenges in its stride. The Corten steel exterior is durable and practically weatherproof, and a notable lack of glazed openings on the base of the building protect it from ground fires.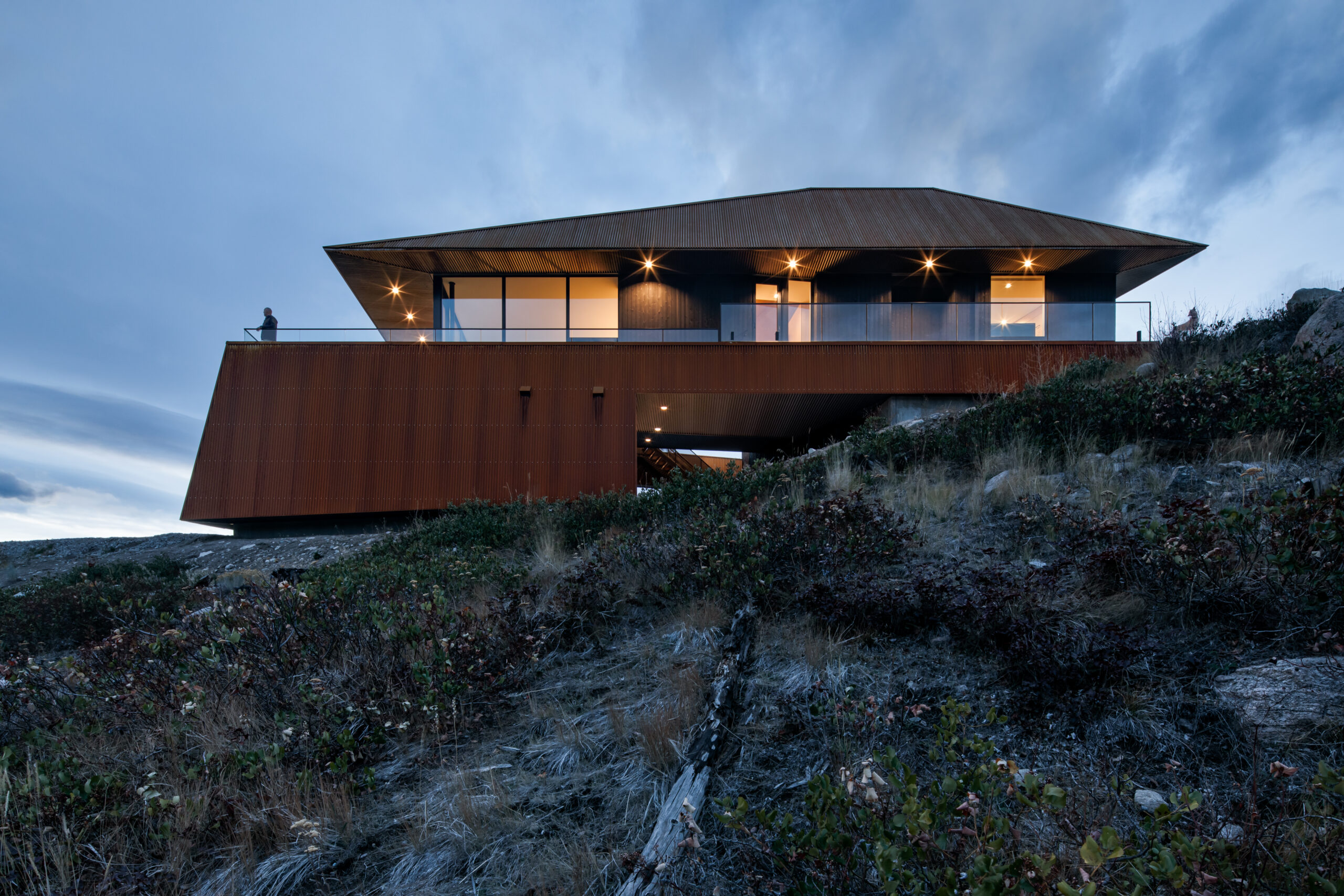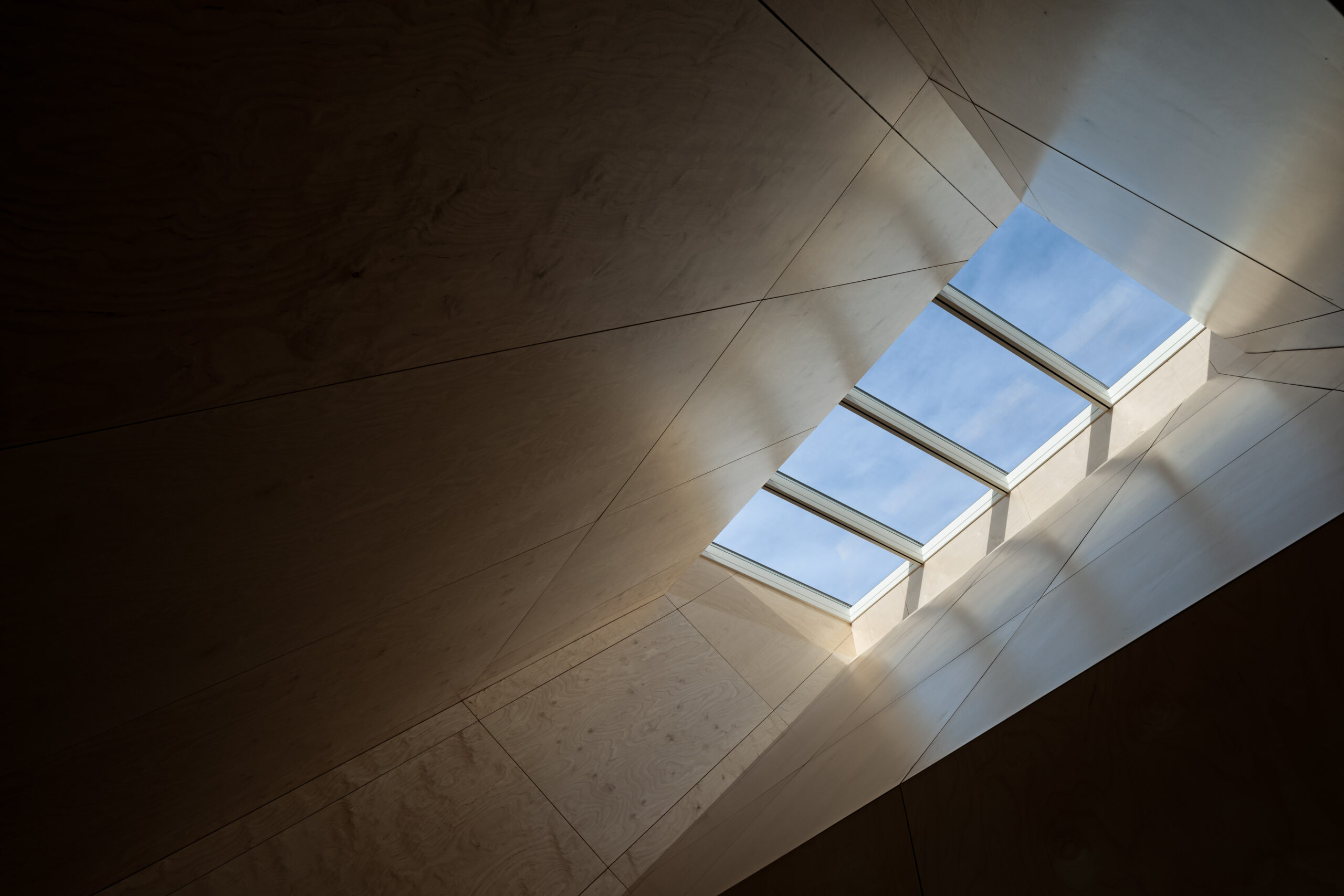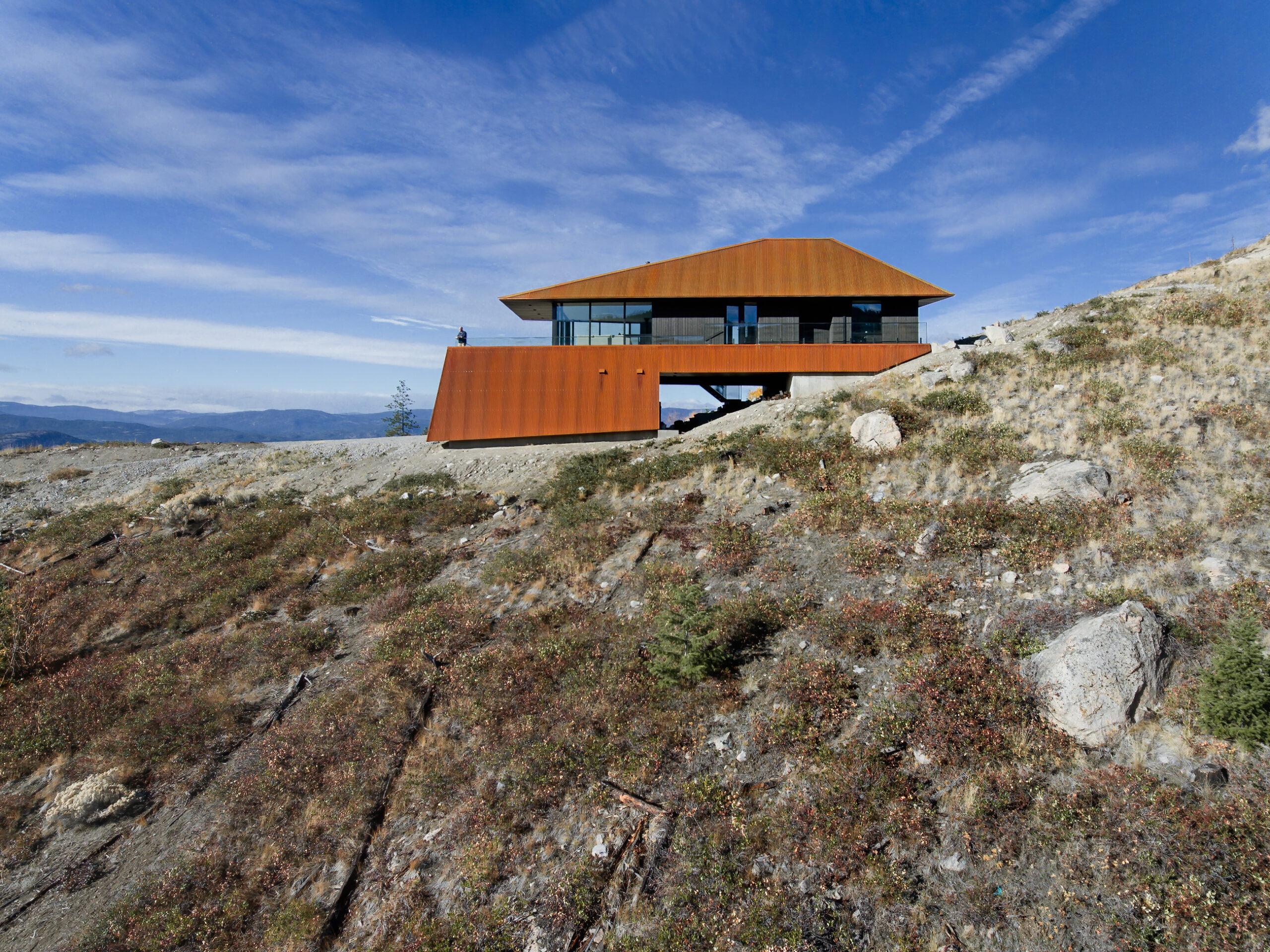 Designed by Omar Gandhi's Jeff Shaw, the home manages to be both alien and earthly, like a grounded spaceship that has been swallowed by the jungle to become part of the ecosystem. The prominent use of weathered steel plays tricks with time, creating a sense of permanence and a well-established history with the land, though it wasn't completed until last year. It's a feeling that's not uncommon in Omar Gandhi projects—stunning buildings that play with light, organic materials, and angular shapes. But while many embrace light wood and uniform lines, like Gandhi's own recently built home in Halifax, Schlotfeldt Residence is grittier, more severe. Yet there is unexpected equilibrium in the small but mighty structure: the impenetrable steel walls of the lower level harmonize with a light-filled main floor, the façade industrial but organic.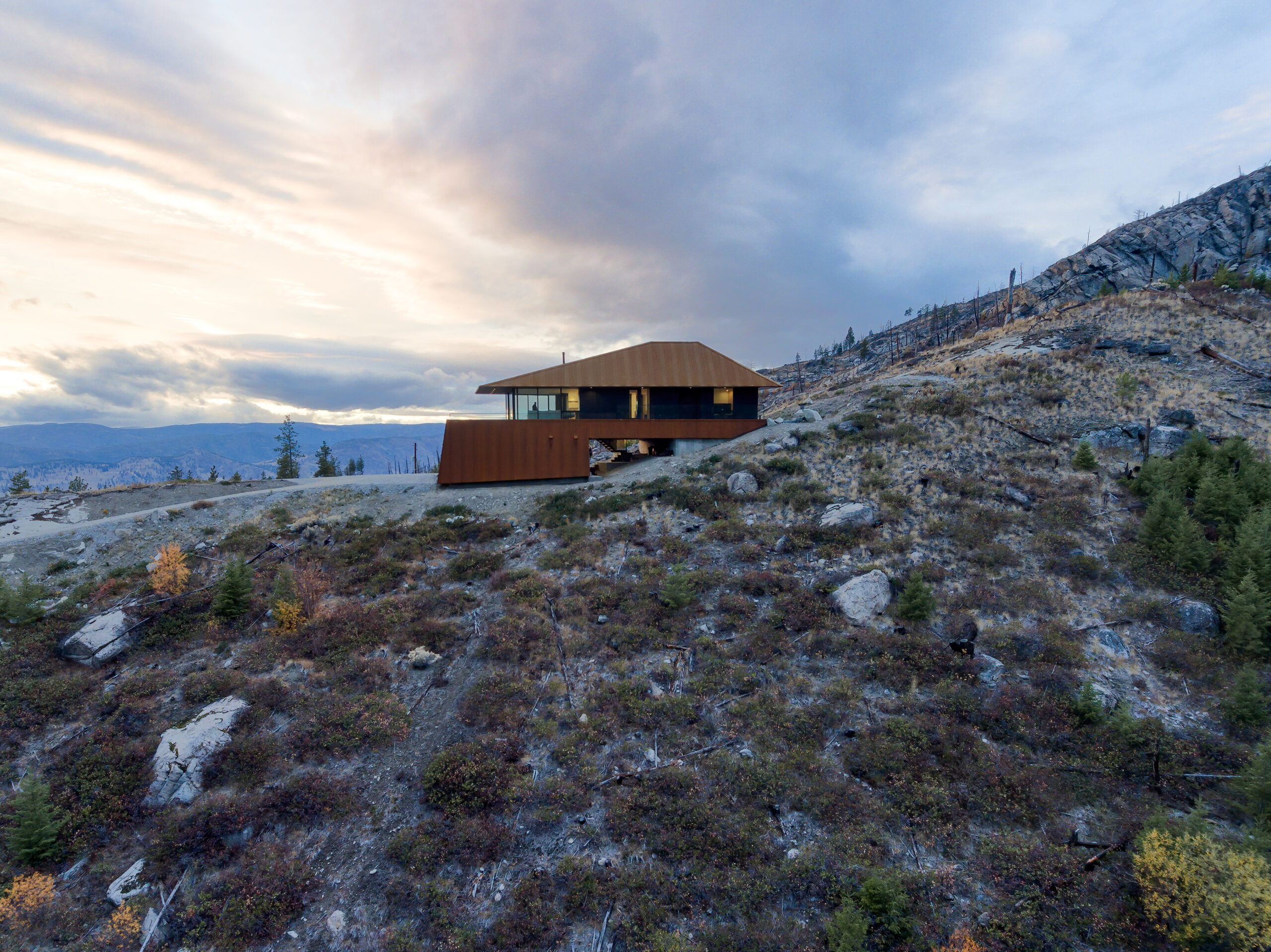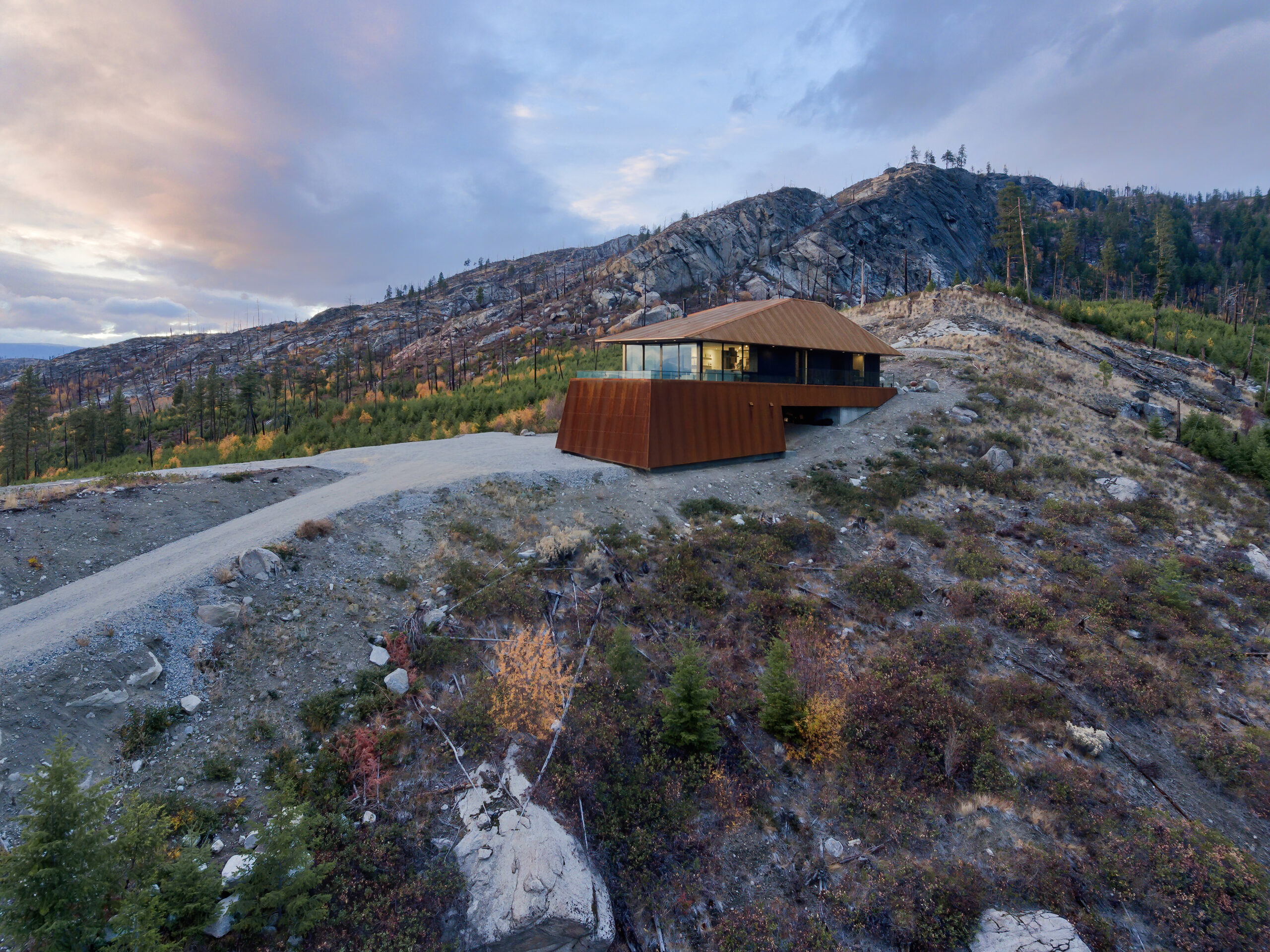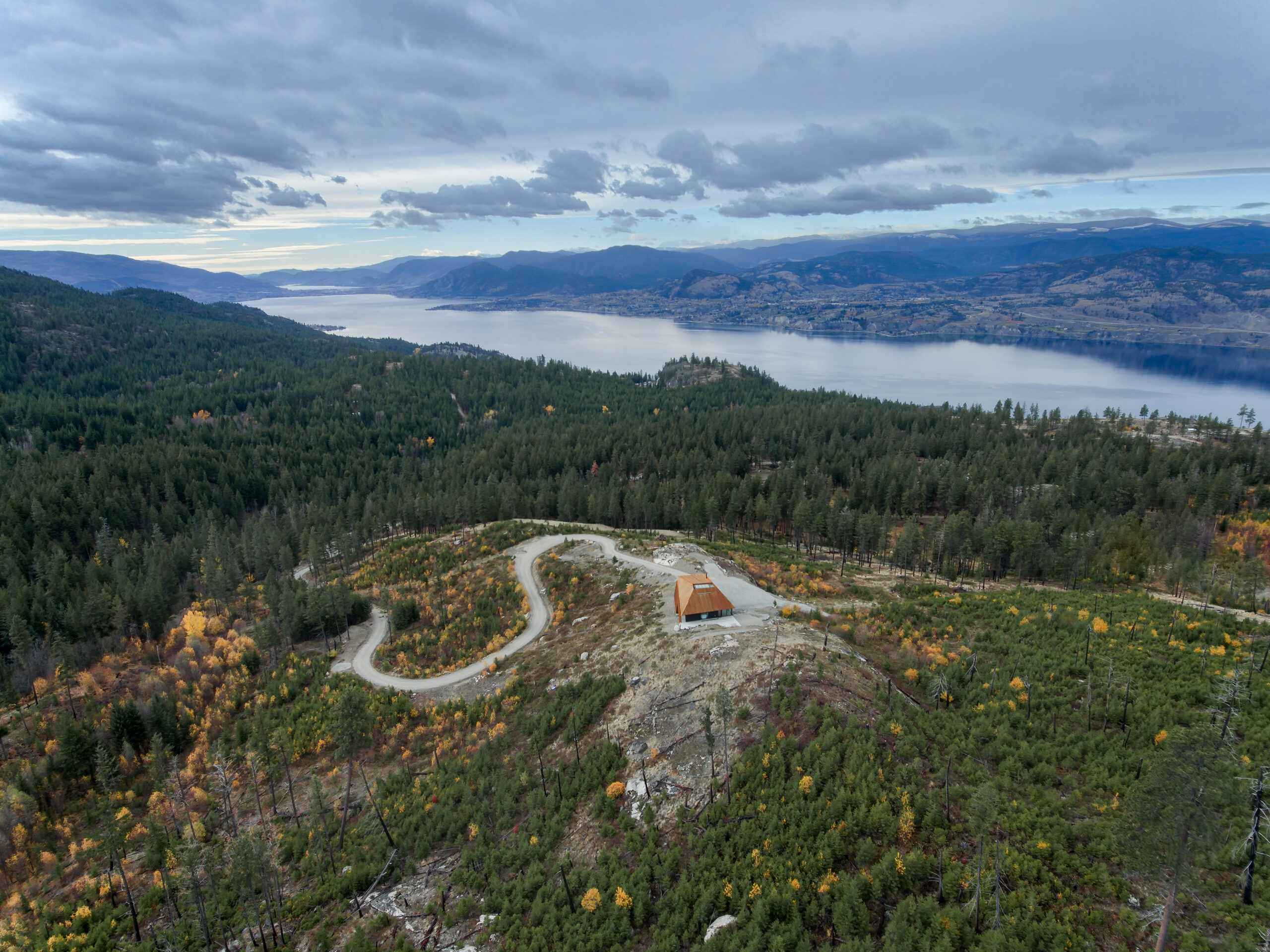 It's why the building looks at home in the extreme landscape of the Okanagan Valley, where the youthful, jagged peaks of the Rockies overlook crystalline waters below and expansive views humble the most egocentric. Here, contrast is ingrained in the terrain, and Schlotfeldt Residence is a celebration of the matrimony between nature's beauty and its ceaseless danger.
Photography by Ema Peter
Part of our Home of the Week series. Read more HERE.
Sign up for our newsletter for architecture news straight to your inbox.