The Gravlax Recipe Key to a Deli-Worthy Schmear
Chef Chris Lam takes you to New York in half a day with this easy cured salmon and its accompaniments.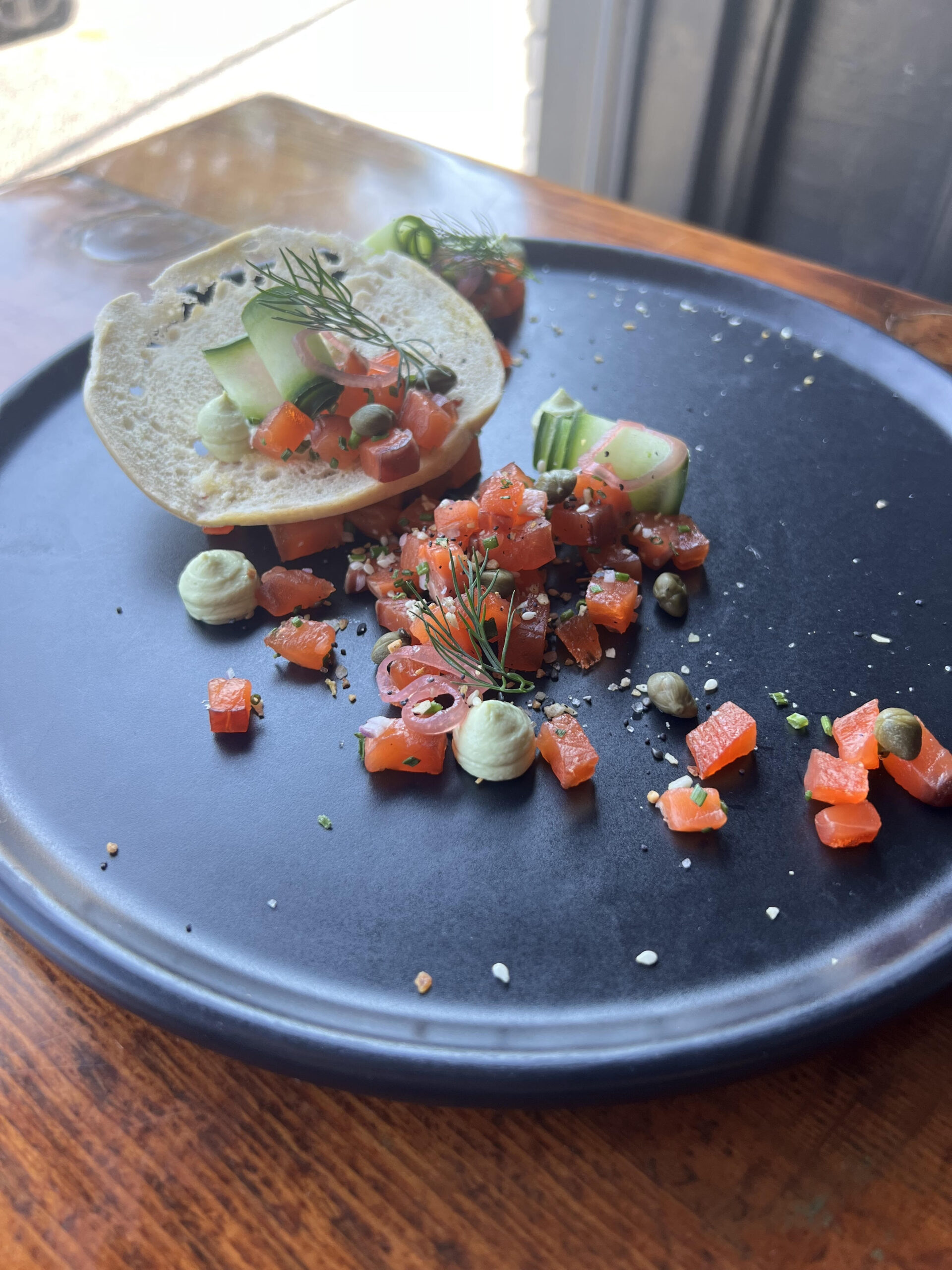 Twelve hours. Half a day. That's all it takes to make fantastic gravlax at home. This easy cured salmon from Straight and Marrow's chef/owner Chris Lam will have you whipping up deli-worthy schmears in no time. During the remaining 12 hours, NUVO readers can take advantage of Lam's recipe for avocado cream cheese and bring a hint of the West Coast to this Big Apple staple. The optional everything bagel spice recipe Lam provides is ideal with this gravlax recipe as well as other dishes—but a store-bought mix can also be used.
Ingredients
For the everything bagel spice (optional):
4 tablespoons white sesame seeds
3 tablespoons black sesame seeds
4 tablespoons garlic flakes
4 tablespoons onion flakes
3 teaspoons poppy seeds
For the salmon gravlax: 
1 1/2 cups fine salt
1 1/2 cups white sugar
¾ cup everything bagel spice
1 fillet of salmon (sushi grade or better), skin removed
1 ounce vodka
For the avocado cream cheese:
250 grams cream cheese
1 large avocado
2 tablespoons lemon juice
3 tablespoons grapeseed oil
1 teaspoon salt
For the garnish:
1 bunch fresh dill
1 red onion
½ cup capers
Method
For the everything bagel spice:
Combine all ingredients. Makes 1 cup.
For the gravlax:
In a mixing bowl, combine the salt, sugar, and everything bagel spice. Stir with a whisk until evenly mixed. Set curing mix aside until salmon is ready to use.
To prepare the salmon for curing, rinse with water and dry off any excess liquid with a paper towel. Cut the fillet in half crosswise so it will fit in a rimmed baking sheet. Go through the fillets for any pin bones and remove them. Using a brush, coat all sides of the fish with vodka.
Pour 1/3 of the curing mix evenly along the bottom of the baking pan. Place 1 of the pieces of salmon skin-side-down and sprinkle another 1/3 of the curing mix on the exposed side of the fillet. Sandwich the other half of the fillet on top of the original one and pour remaining curing mix on top. Cover with cling wrap. Place something heavy on top, such as cans, and refrigerate for 12 hours.
After 12 hours, remove the fillets from the pan and rinse with cold water to wash away any curing mix. Pat dry with paper towel.
For the avocado cream cheese:
Place all ingredients except the grapeseed oil in a blender or food processor. Mix and add the oil 1 tablespoon at a time until the desired consistency is reached.
To serve:
Slice or cube the gravlax, and garnish with capers, sliced red onion, dill, and avocado cream cheese. Bagels or bagel chips are a great accompaniment.