Recipe of the Week: Chef Alan Older's Pescadillas
A traditional Mexican favourite.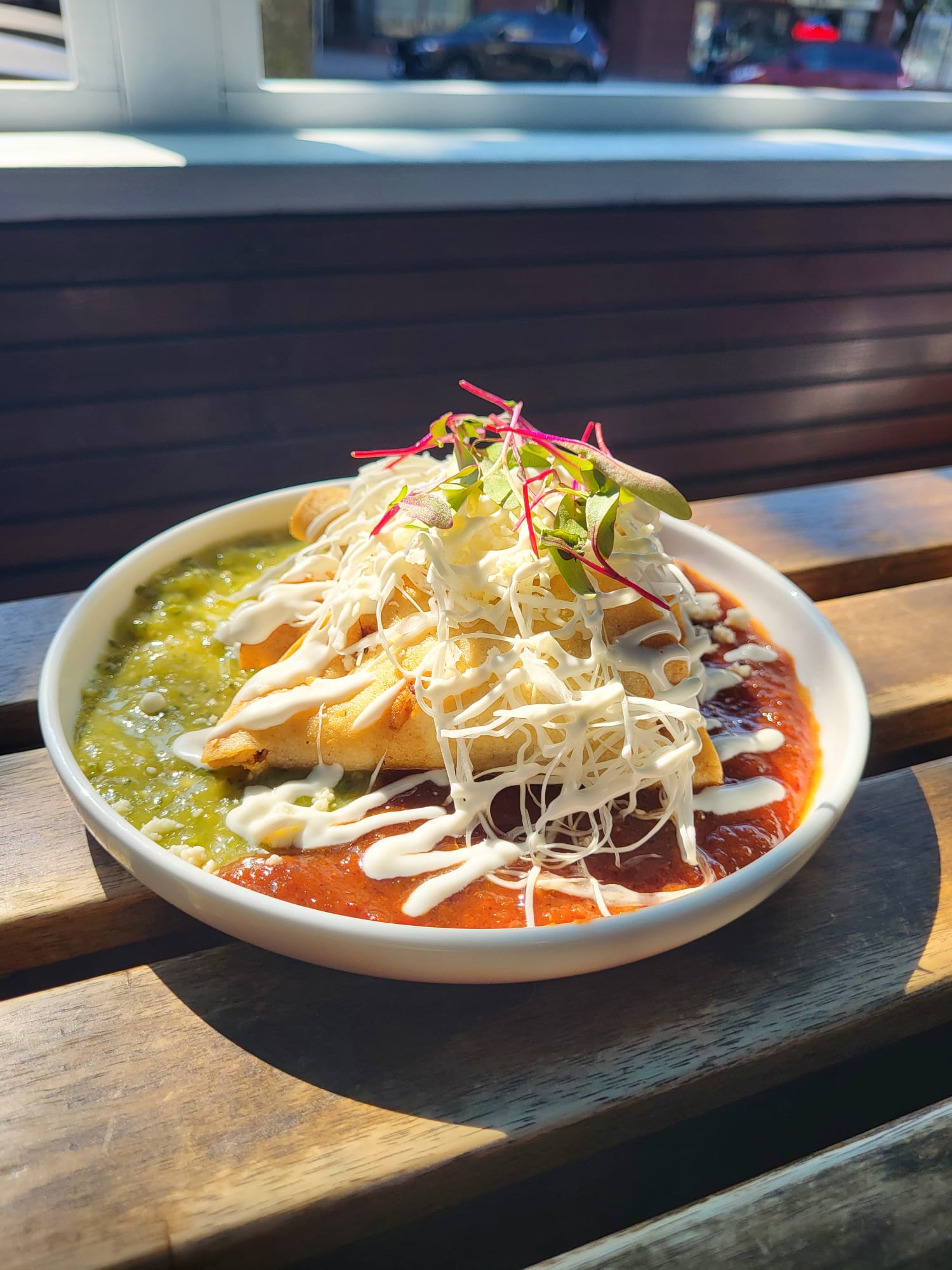 For some, autumn can mean pushing through the cold weather by cooking hearty dishes and comfort food. For others, it can be satisfying a craving for warmer weather by preparing summery vacation-inspired dishes at home. For those missing beach weather, chef Alan Older of Vancouver's Smitty Oyster House on Main Street has provided a traditional Mexican appetizer, pescadillas, inspired by his time living in Playa del Carmen.
Pescadillas are golden, cripsy corn tortillas filled with a spicy fish mixture. It is a popular dish in Guerrero, Oaxaca, and many other coastal states, where locals eat fish daily. Here is Older's take on this appetizer.
Pescadillas
Makes 2 servings.
Ingredients
6 tortillas (4-6 inches in diameter)
Oil for frying
For the filling:
1 tablespoon butter
1 tablespoon olive oil
2 tablespoons garlic
1 medium onion
2 jalapeño peppers
1 Roma tomato
1 halibut fillet, diced
5-7 prawns, diced
Thyme, to taste
Salt and pepper, to taste
60 millilitres whipping cream
For the smoky salsa roja:
1 can chipotle in adobo
1 tablespoon garlic
1 medium onion
Salt and pepper, to taste
For the salsa verde:
5-7 tomatillos
1-3 jalapeños (3 for hot)
1 tablespoon garlic
1 medium onion
½ bunch cilantro
Salt
For the toppings:
Green cabbage, sliced super thin
Red onion, sliced super thin
Sour cream
Cilantro
Method
For the filling:
Put the butter and olive oil in a saucepan on medium-high heat.
Add the garlic, onions, and jalapeños, and cook for 4-5 minutes .
Add the tomato and cook for another 2-3 minutes until the tomato releases its water.
Add the halibut and prawns. Turn the heat down and cook for 5 more minutes.
Add the thymy, salt. and pepper to taste. Finish with the whipping cream.
Set aside and let cool.
For the smoky salsa roja:
Using a cast iron or regular pan on medium-high heat, add the tomatoes, onions, and garlic. Let them basically burn until they are cooked.
Place all in a blender and add the chipotle.
Blend until smooth and set aside.
For the salsa verde:
In a pot, add enough water to cover the tomatoes, and all the ingredients except cilantro and salt.
Bring to a boil. As soon as it boils, turn off the heat.
Scoop out ingredients and place in a blender with the cilantro.
Blend until smooth, adding salt to taste.
Set aside and let cool.
To assemble:
Heat the tortillas in a little bit of oil, just enough to soften them and make them pliable.
Once the tortillas are soft, fill them with the halibut and prawn filling, just enough so they can close.
Using a toothpick, pinch them so they don't open when they are placed in the hot oil.
Carefully drop them in the hot oil until they are golden brown and crispy.
Remove the toothpicks.
On a medium-size plated, put smoky salsa roja and salsa verde on each half of the plate. Place the crispy pescadillas on top.
Garnish with cabbage and red onion, then top with sour cream and fresh cilantro.