Le Monastère's Nouveau Cirque Sets Its Stage in a Neo-Gothic Montreal Church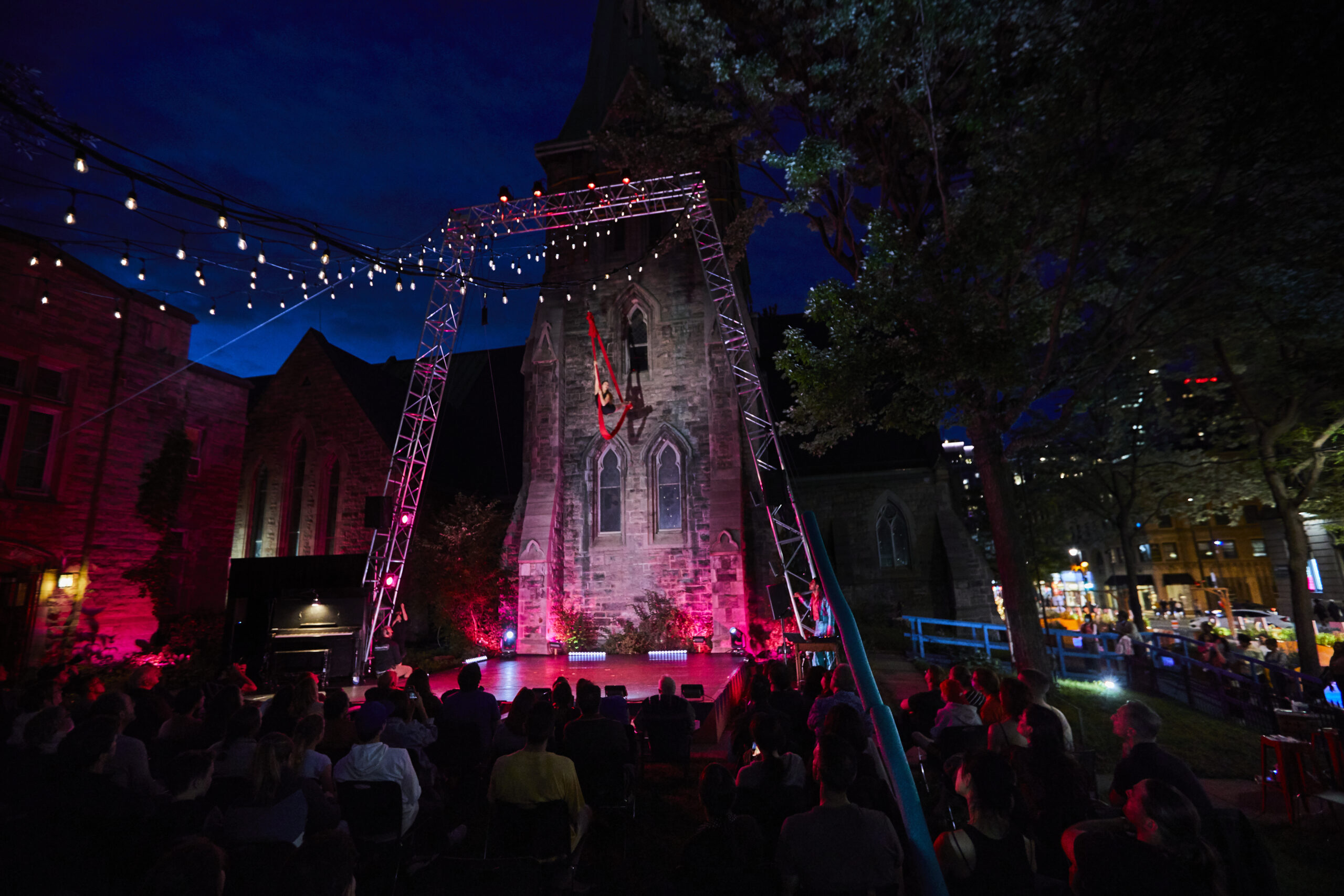 When the lights dim inside the 19th-century Anglican church in downtown Montreal, a master of ceremonies takes centre stage below its neo-Gothic catenary arches. Spectators share laughs and bottles of wine, applaud—and then the lights go out.
Le Monastère's show begins: 12 circus acts—including trapeze, contortion, aerial dancing, and more—form a storybook told in a kinesthetic language unique to the circus. Performers convey each narrative, whether tragic, comic, or something in between, with minimal equipment yet create a compelling evening unlike any other in the city. When selecting artists and assembling each show, "I want to be entertained, but I like to see a story behind it, to feel something through what the artist has to say," explains Le Monastère's co-general director  and co-artistic director Guillaume Blais.
Unlike big top circuses with wildlife and pyrotechnics, Le Monastère performs nouveau cirque, pioneered and popularized by troupes like Cirque du Soleil. "We're not only doing 'circus,' there's dance and theatre to it, standup, music, singing," Blais says. "When you come to see circus in Quebec, it's a full piece. It's not simply doing tricks for applause."
Compared to the pomp and circumstance of larger companies, Le Monastère produces a rawer show similar to cabarets found in Europe in the early 20th century. Although the architecture of the church provides an unusual stage for its shows, the emphasis on performers is what sets Le Monastère apart, with established local and international artists who have competed and performed on some of the world's biggest circus circuits.
Established in 2016 by Blais and Rosalie Beauchamp—circus performers with over 25 years' experience between them—Le Monastère has expanded to include outdoor shows in the church's garden and dinner shows in the winter, but its aim remains the same: to provide a venue to see circus performances in the city. "It's ironic. A lot of artists train in Montreal, but we don't perform because there is no opportunity," he says. "There's no platform where artists can present their own work instead of the artistic direction of another."
On paper, Le Monastère may not sound exceptional, especially considering it comes from the province that produced the most famous example of nouveau cirque, but Blais says it's surprisingly uncommon. "There's no doubt that Montreal is a circus capital. All kinds of performers and artists come from around the world to create and train with our schools and coaches, but the reality is that there are no jobs in town, so all those amazing artists come to create, and then they leave."
Le Monastère is not only a unique cultural presence but also distinctively Montreal: the church, the circus, an audience resembling a typical 5 à 7 crowd. But it presents a fresh opportunity to discover the city's talents in hundreds of different performance styles.
Le Monastère's upcoming outdoor summer shows take place from July 7 to 12, August 4 to 13, and September 1 to 10. Indoor shows will run from November 3 to 12, with dinner shows during the first and second week of December.