Treat Mom to Chef Chris Lam's Blood Orange Panna Cotta With Orange Oil Cake and Butter Roasted Grapes
Blood is thicker than water.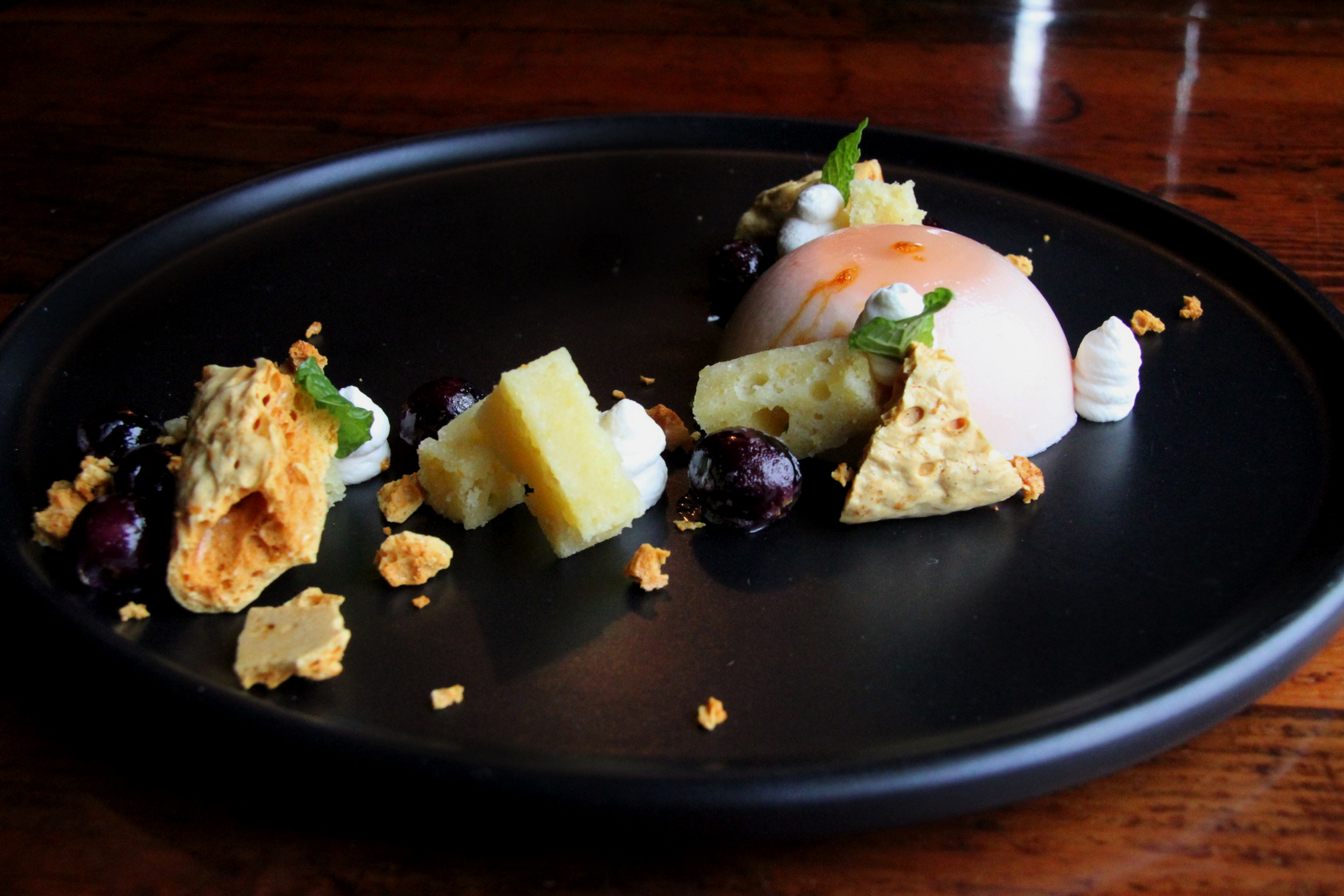 Moms rock. They have endless to-do lists and innumerable problems to solve while sharing a love that puts others to shame. Now it's your turn to show Mom a little love. Straight and Marrow's chef, Chris Lam, has the perfect recipe for you to convey how much you appreciate everything your mom has done for you. This blood orange panna cotta with orange-oil cake and butter-roasted grapes is a reminder that blood is thicker than water.
(Serves 4)
Ingredients
For the panna cotta:
250 millilitres blood orange juice
1 tablespoon powdered gelatin
200 millilitres whole milk
½ cup sour cream
½ cup white sugar
1 cup whipping cream
For the grapes:
85 black grapes
2 tablespoons butter
Pinch of salt
For the olive-oil cake:
4 oranges
3½ cups all-purpose flour
1½ teaspoons baking powder
5 large eggs
3 cups sugar
Pinch of salt
1½ cups olive oil
Method
To make the panna cotta:
In a heavy-bottomed pot, reduce the orange juice by half.
Bloom the gelatin by adding 2 1/2 tablespoons of ice water and letting it sit for 3 minutes.
Add all other ingredients to the pot and bring to a simmer, making sure to never let the mixture boil.
Strain the mixture through a fine-mesh strainer or cheesecloth. Pour the strained mixture into ramekins greased with cooking spray and let set in the refrigerator for 4 hours.
When ready to serve, cut around the ramekin with a small paring knife to unmould.
To make the butter-roasted grapes:
Preheat oven to 225°F.
Melt the butter. Mix the grapes with the melted butter and a pinch of salt.
Spread the grapes evenly on a lined baking tray. Place in the preheated oven and roast for 14 minutes.
To make the orange-oil cake:
Preheat oven to 350°F.
Juice the four oranges and zest one. Reserve the juice and zest.
In a mixing bowl, add the flour, baking powder, zest, 5 eggs, 3 cups of sugar, and a pinch of salt.
Add the olive oil to the reserved orange juice and stream this liquid into the mixing bowl while whisking thoroughly, ensuring there are no clumps. Add the liquid a little at a time until it is all incorporated evenly.
Pour this mixture into a greased loaf pan and bake in the preheated oven for 45 minutes or until a skewer comes out of the cake cleanly.
Assemble on a plate with panna cotta and grapes as desired.