A Wine Advent Calendar for 2019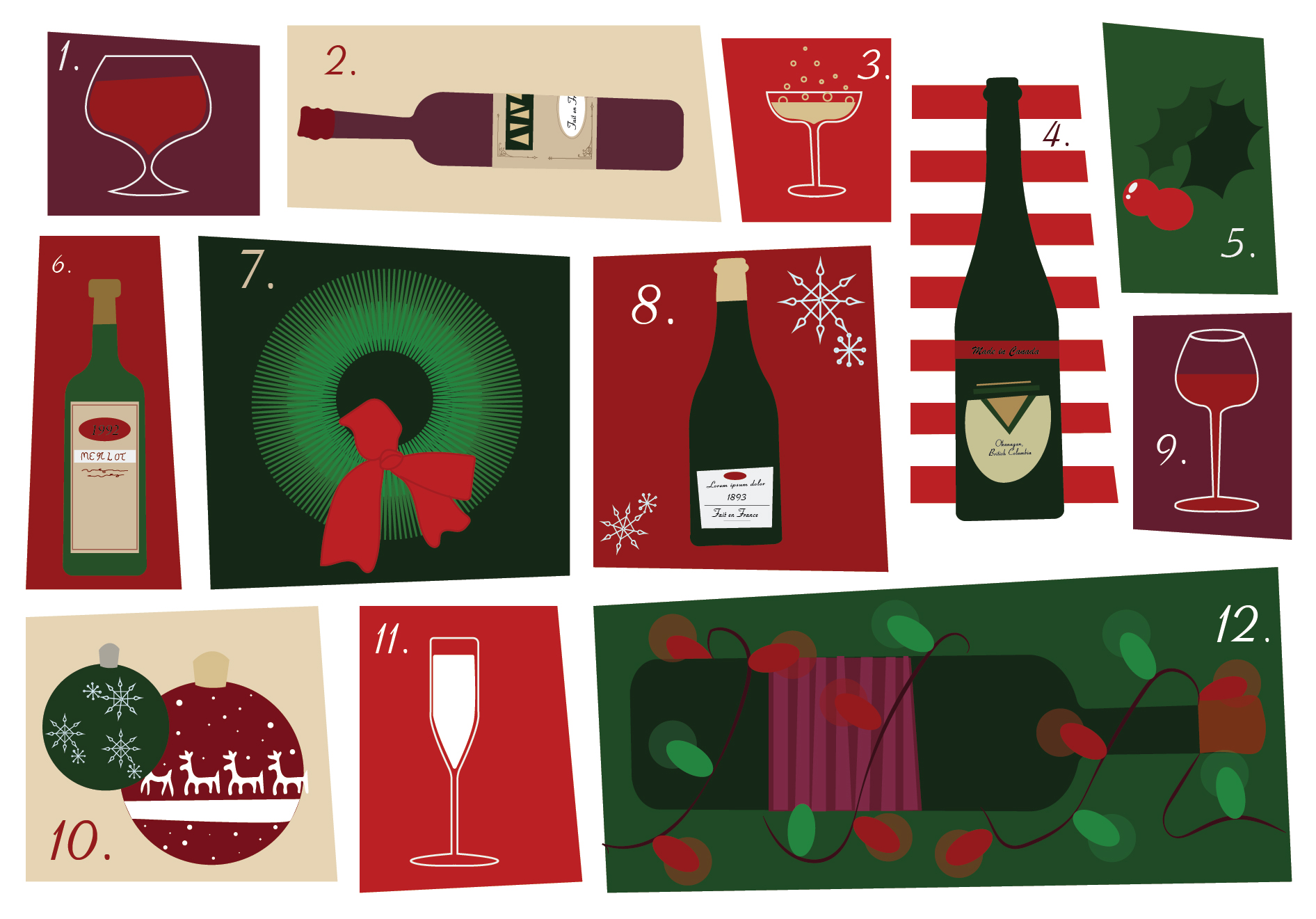 Whether you drink them in the lead up to the holidays or during, here are our 12 wines of Christmas. A wine advent calendar of sorts for all the thirsty and festive among us.
1. Lustau Almacenista Fino del Puerto Sherry.
This is an elegant, characteristically astringent, and eminently drinkable fino sherry that's perfect as an aperitif or an accompaniment to tapas-style foods.
2 . Ca' del Bosco Cuvée Prestige Franciacorta Brut.
Made from chardonnay and pinot bianco, this is a terrific sparkling wine from Italy's Franciacorta region. It's elegant and delicious, with focused fruit, vibrant and balanced acidity, and fine bubbles.
3. Phantom Creek Becker Vineyard Cuvée 2016.
From the Okanagan Valley's Black Sage Bench, this blend of merlot, cabernet franc, and cabernet sauvignon is a stunner that's just embarking on its lengthy career. Look for breadth and depth of flavour, as well as fine tannins.
4. Claudie Jobard Les Cloux Rully 1er Cru 2016.
From Burgundy's Rully appellation, this gorgeous white wine is quite full-bodied, with a slightly creamy texture that's attractively set off by fresh and clean acidity.
5. Château des Charmes Equuleus Red 2016.
This is the winery's icon wine, made from grapes grown on St. David's Bench. It's a fine, attractive, and harmonious blend of cabernet sauvignon, cabernet franc, and merlot.
6. Jean-Max Roger Cuvée Marnes et Caillottes Sancerre 2018.
This is a gorgeous, complex, and texturally intriguing Sancerre that shows what happens when skilled winemaking and optimally ripened sauvignon blanc grapes get together.
7. Stratus Decant Cabernet Franc 2017.
Not only is this a delicious and stylish, layered, and structured Niagara Peninsula cabernet franc, it's presented in a strikingly designed bottle.
8. Loveblock Orange Sauvignon Blanc 2018.
Iconic winemaker Kim Crawford makes Loveblock wines, and while sauvignon blanc might not seem like an obvious choice for an orange wine, Crawford has made a beauty that's flavourful, balanced, and very drinkable.
9. Martin's Lane Fritzi's Vineyard Riesling 2015.
Sourced from a vineyard in West Kelowna, this impressive Okanagan Valley riesling has notable textural complexity. Serious and age-worthy, it's a very drinkable riesling that shows its best in the company of food.
10. Robert Mondavi The Reserve Cabernet Sauvignon 2015.
Sourced entirely from Mondavi's To Kalon Vineyard, this is a rich, full-bodied, balanced, well-defined, and memorable cabernet sauvignon.
11. Taylor Fladgate Vintage Port 2016.
This delivers all that you would expect in a vintage port—density, complexity, and well-balanced sweetness—but it also offers excellent structure and perceptible but light tannins. It's perfect on its own or with "port-able" foods.
12. Mailly Les Échansons Grand Cru Champagne 2008.
This is a wonderful champagne that delivers a rich and really focused fruit flavour with a vibrant acidity that keeps champagne alive for years and years.
________
Never miss a story. Sign up for NUVO's weekly newsletter here.