Vancouver's James Coward on Staying Sustainable With Timeless Menswear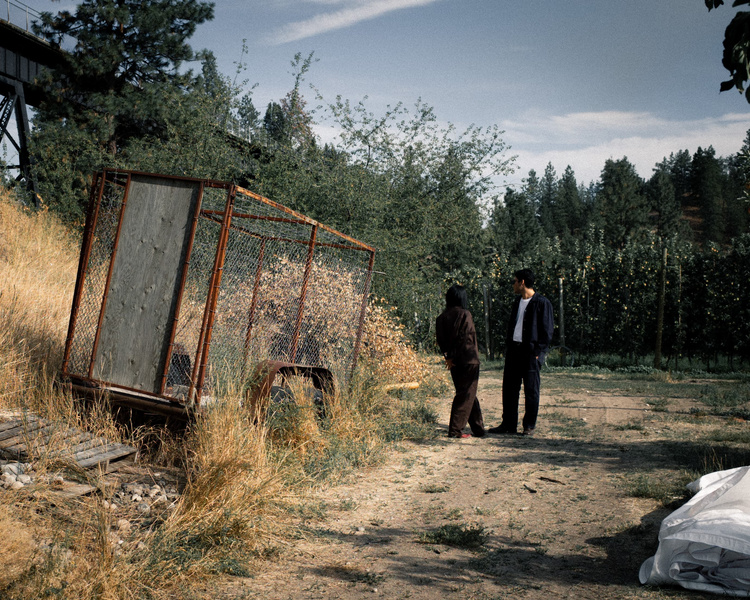 When it comes to sustainability, the conversation in the fashion world often draws more questions than answers. Typically, potential solutions to the industry's notorious carbon footprint are met with the same smattering of buzzwords: "upcycling," "organic," "carbon offset," "deadstock," and so on. At times, the efforts to evolve eco-friendly practices seem sincere. Other times, they ring hollow, as if the solutions were crafted by those in stuffy public relations offices rather than design studios.
For instance, the Council of Fashion Designers of America's guide to sustainability says "sustainability" provides the ability to "produce indefinitely," a distinction that seems to lend itself more to the consumptive philosophies of fast fashion than an eco-friendly evolution. Fortunately, there are those in the industry, like Vancouver-based menswear label James Coward, who oppose the ideology of indefinite production and are intent on making clothes that break this incessant manufacturing cycle.
When three friends, Patrick Bull, Daniel Garrod, and Aaron Gray, set out to reinvent the notion of sustainable menswear, they did so by simplifying an otherwise convoluted conversation into a single overarching principle: create clothes that transcend time not only in their construction but also through their design. Of course, it's a mantra easier said than executed, so for the label to help shape the future of sustainable fashion, they first looked to the past.
"Even before we came together and formed [James Coward], we didn't necessarily like what was codified as 'contemporary fashion,'" says co-founder Aaron Gray. "We almost always turned to vintage for ourselves. So when we were piecing together the identity of the label, we took far more inspiration from vintage pieces than anything we saw currently being produced. […] We have such an affinity both aesthetically and conceptually for the older Comme des Garçons and Yohji Yamamoto collections. Those were the labels that resonated with us, especially when we were first starting, because the styles transcended eras."
Like fellow labels that proudly adhere to sustainable production methods, Gray explains that James Coward has gravitated toward collaborating with mills that have rich, extensive histories of producing high-quality fabrics such as merino wool and cotton moleskin that are known to age particularly well. The philosophy behind the construction is simple: creating small capsules of clothes with methods and fabrics that have been used for generations is inherent proof of sustainability. But what makes James Coward distinct from competing labels is its commitment to relaying these principles into the aesthetic of its clothes.
Gray says James Coward creates interpretations of various menswear archetypes and silhouettes that are "rooted in a long lineage of history." Some of the label's flagship items such as its Monkey Shoe—a couth reinvention of the Czechoslovakian military monkey boot—and the Kurosawa hat modernized in "crispy Japanese cotton gaberdine" first emerged during the Second World War but have transcended generations.
Among James Coward's pieces, garments like its brown cotton sateen Workshop Shirt or black moleskin Squared Trouser evoke the functional fabrics, capacious tailoring, humble design, and tasteful utilitarianism that defined decades past, transported to brave the modern-day. The team's fascination with injecting their menswear with shades of vintage workwear and military uniforms stems from the timelessness of voluminous silhouettes and historically renowned fabrics.
As Gray explains, this reverence for historical uniforms and hardy vintage workwear is reflected through James Coward's "comfortable cuts, functional details, and pants you're not afraid to sit down on wet concrete with." Creating such designs requires rejecting the fashion world's incessantly consumptive model in lieu of something more befitting of clothes meant to last through generations. In an era of trend-driven clothing where labels are forced into a stringent seasonal consumption model, it's not simply a piece's construction that defines its timelessness, but its style.
"The most sustainable change brands can make is to produce something that lasts both in the sense of the material not degrading and in the sense of someone actually wanting to wear it over time, which we're seeing less with 'sustainable' clothing than I think most people realize," Garrod says. "You could make something out of recycled material, but if someone's going to stop using it in a year, and the energy consumed to reuse that material is greater than simply using new material, then that's not sustainable. It's just a great story to sell the next product."
By rejecting the industry's typical seasonal consumption model, James Coward has provided itself with the freedom to release clothing that doesn't compromise quality or style to ensure corollary consumption to rapid production. Not only does the team reject fast fashion models, it also refuses to adhere to the industry's traditional seasonal model, instead releasing clothes at a far more conservative pace.
"In the seasonal cycle, even sustainable products are rolled out and then still tend to go on sale three or four months later. I think it's a really odd model of consumption for almost any label to subscribe to," Garrod says, explaining the rationale behind James Coward's infrequent drops. "I just don't think that things should 'lose their value' in that way. What we're doing doesn't lose its value. I suppose that works for trend-driven clothing, but to me, that's not sustainable. […] It doesn't matter where it's made or what it's made of if its value falls after a few months."
Of course, notions of quality and sustainability are never stagnant. As the industry continues to evolve, so will our insights into environmental sustainability, but in the saturated world of menswear, labels such as James Coward offer a different blueprint. To the label, the idea of sustainable fashion goes far beyond the factory. It lies in a philosophy that garments whose designs are rooted in history and function don't degrade over time and that bowing to trend-driven consumption models does nothing but undermine their value.
It's an unpopular philosophy and certainly one that doesn't usher in Fashion Week invites, but comparing James Coward's jackets, pants, shirts, and accessories to archetypes of military gear and workwear still in circulation today, it would appear that few labels are more prepared to stand the test of time than the Vancouver-based label. Because, despite all the discussions and advancements over the years, for labels like James Coward that refuse to blindly follow the pack, the guiding principle remains: nothing is more sustainable than taste, nothing more timeless than functional style.