Vicem Recalls 1950s Motor Yachts With Its Modern and Magnificent 55 Classic Flybridge
One needn't be a boater to appreciate the classic design of flybridge yachts built in the U.S. during the 1950s. Like cars from the era with their distinctive fins and chrome, '50s yachts have their own characteristic design cues that make them instantly recognizable to even casual observers.
Unfortunately, they are equally well known for their wood construction, which is why so few remain afloat today. Even the most fastidious sailor would have a hard time keeping up with the endless maintenance required to keep one of these yachts truly Bristol. But for those who cherish the look, modern interpretations like Vicem Yachts' magnificent 55 Classic Flybridge provide all the joy of the originals while delivering vastly improved performance—and none of the maintenance headaches.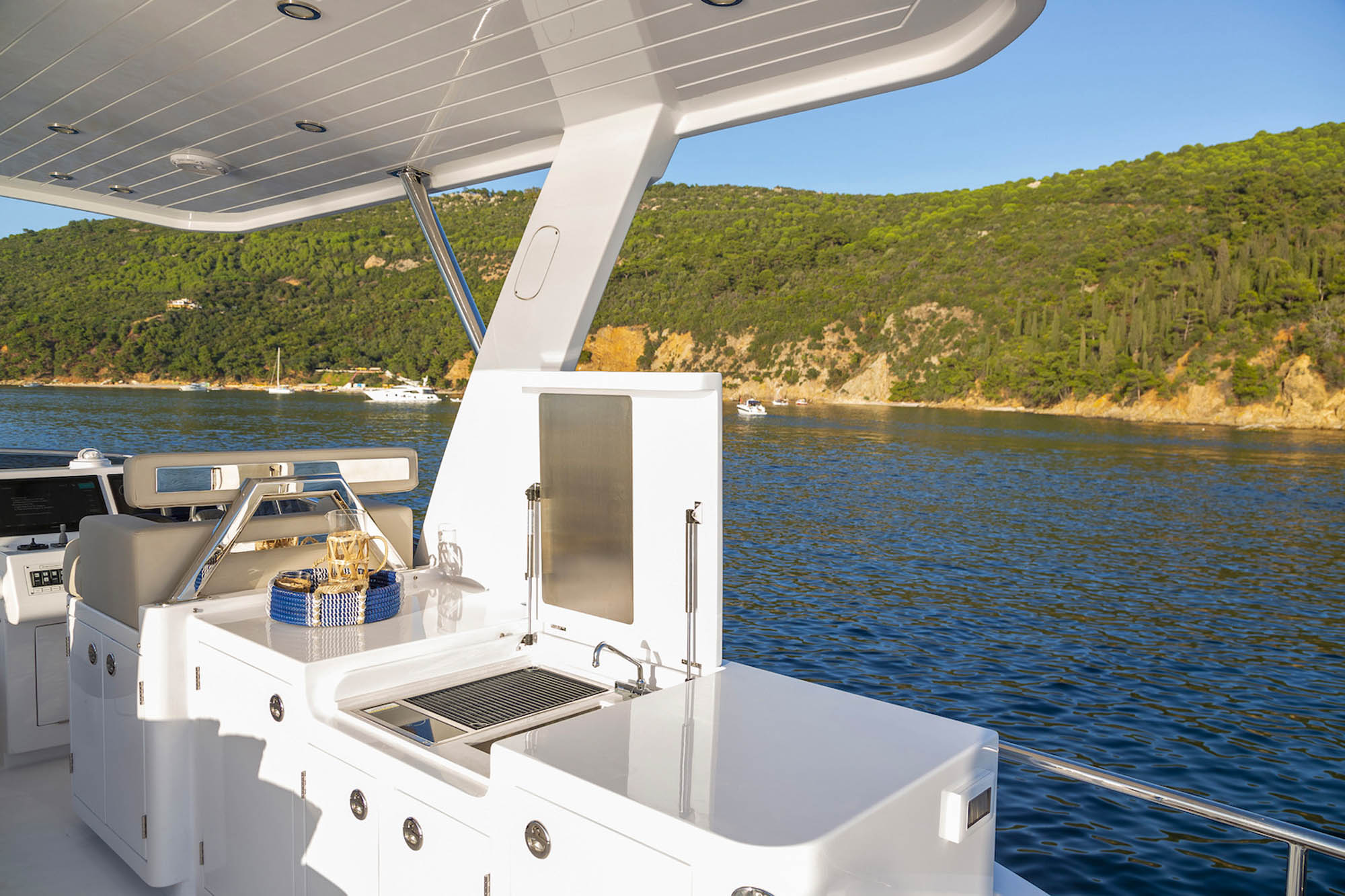 Stretching a generous 16.85 metres in overall length and built upon a 4.4-metre beam, the 55 Classic Flybridge respects the elegant proportions of '50s yachts and resists the urge to lay a wider beam. But that is about all the 55 Classic Flybridge shares with the original period yachts. It is made from composite fibreglass, an interesting decision by Vicem, a boatbuilder with a global reputation for its cold-moulded wooden yachts. But the company acknowledges that in this class of vessel, the low maintenance requirements of fibreglass hulls are essential, particularly in view of how well they work with today's high-performance propulsion systems.
Look more closely at its composite hull, and further modern refinements come to eye, including Humphree stabilizers and electric flaps that enable the yacht to hold steady in rougher seas. Bow and stern thrusters, unheard of in the 1950s, further bolster performance, allowing effortless, fingertip manoeuvring in tight spaces.
Get down low and look under the hull, and rather than the traditional shafts and rudder, the 55 Classic Flybridge sports a pair of state-of-the-art Volvo Penta IPS 700 pods, giving the yacht extraordinary manoeuvrability along with a cruising speed in the range of 20 knots and a top speed of 26 knots. Supporting this is an equally 21st-century 2,000-litre fuel tank, and a massive 757-litre water tank to match, giving this yacht the ability to venture far and wide without constant reprovisioning.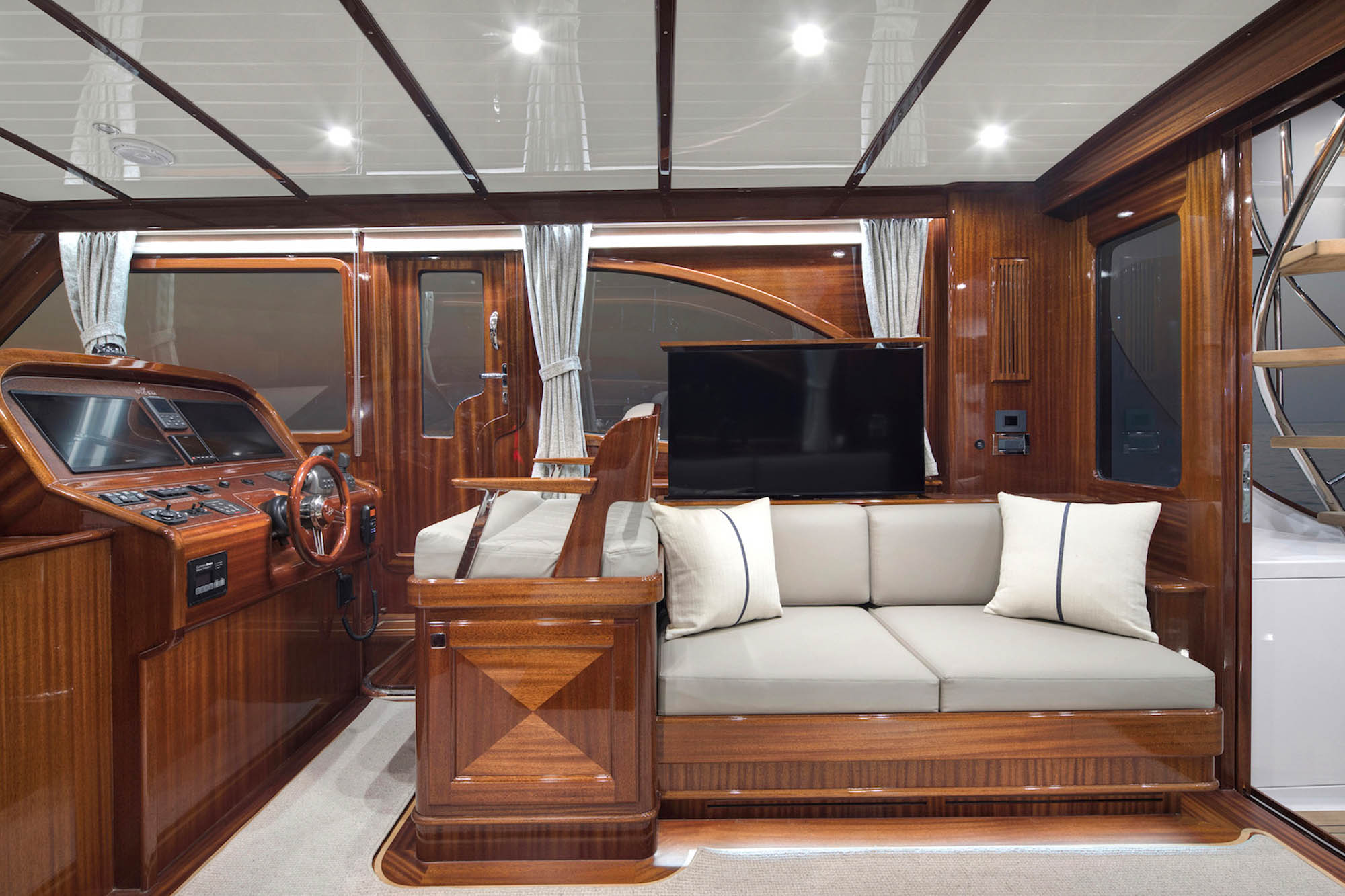 But the real genius in Vicem's modern take on an American icon lies in its remarkable interior amenities and superlative creature comforts. The core layout remains faithful to the midcentury design, but the fit, finish, and quality of fittings take a giant step forward in every imaginable way.
Step aboard via the yacht's broad, teak-lined aft swim platform, and a wide-open cockpit awaits. An incredibly plush L-shaped settee surrounds a rectangular cockpit table, creating a private zone for conversations, drinks, or meals under the stars. Flybridge access is to starboard via a quarter-turn curved staircase, while a wide-open aft bulkhead invites guests into the salon. Underfoot, in both the cockpit and on that lovely stairway, is a hand-fitted teak deck.
A wide, sliding mahogany-and-glass door leads indoors to a comfortable salon where twin settees sit either side of a coffee table, presenting the same distinctive onboard comfort that charmed buyers 75 years ago. Well, save for the TV that raises from behind the starboard settee on a motorized lift. That includes the continuation of its impeccable teak decking and magnificent hand-fit mahogany woodwork right through the interior, which really emphasizes that 1950s feel. A neatly designed helm station with a double-wide seat lies far forward to starboard, with a port-side pass-through leading below to the overnight accommodations.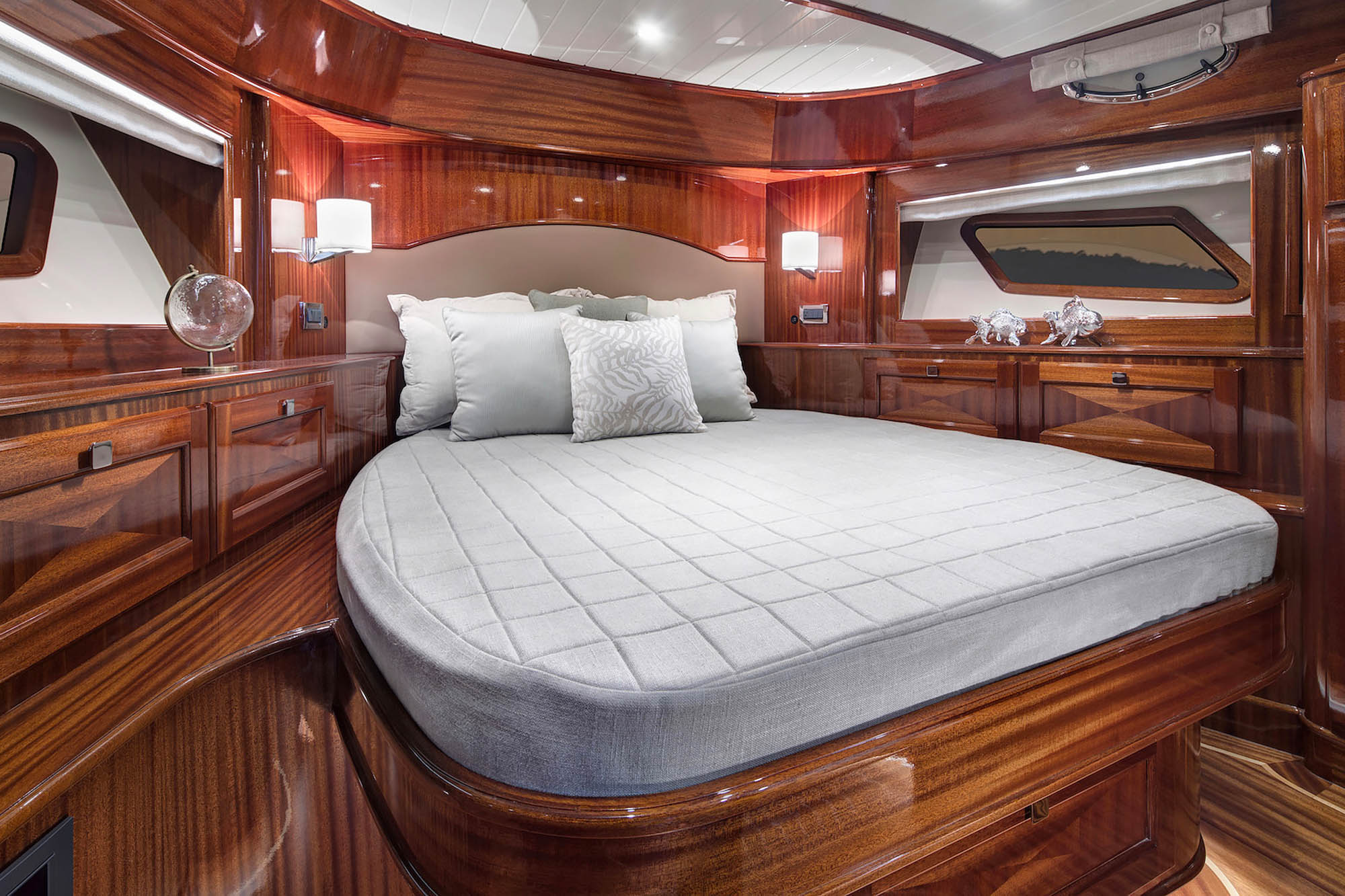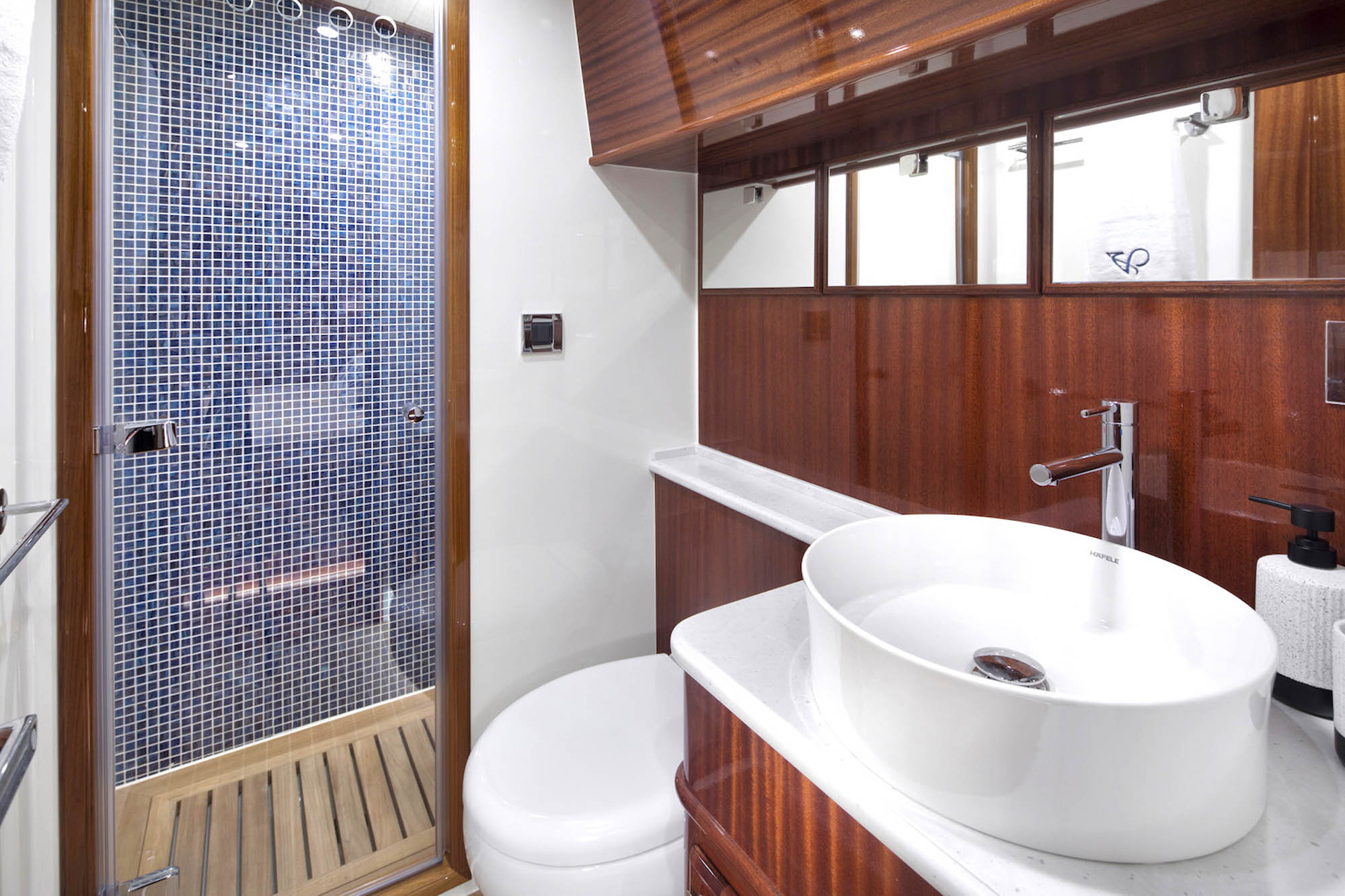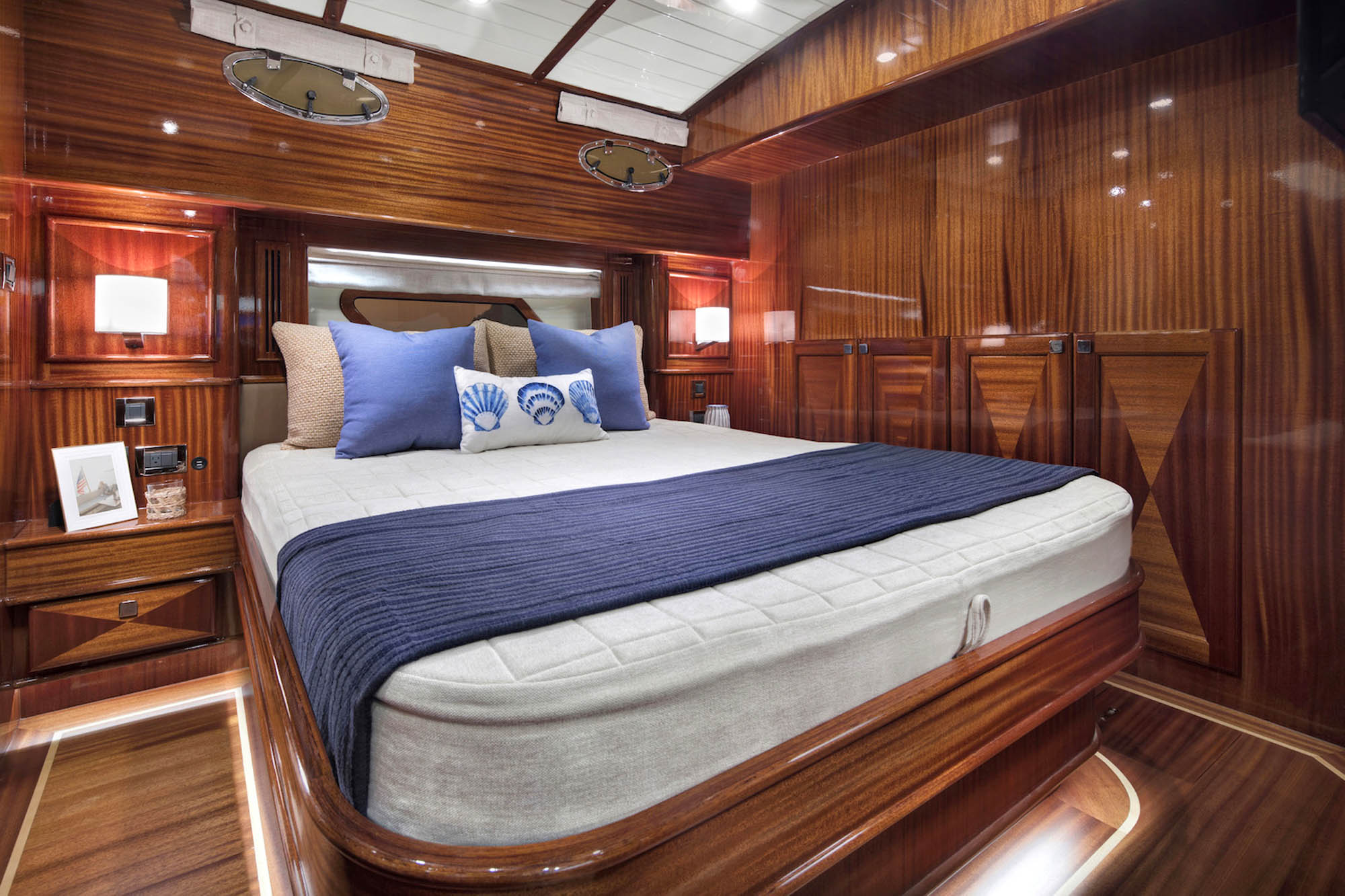 Vicem wisely maintained the traditional two-stateroom layout of classic '50s yachts, with an immaculate and spacious owner's suite with ensuite aft, on the lower level with an almost equally luxurious VIP suite forward with its own ensuite head. Sharing a neatly designed galley to port, both staterooms lavish occupants with a full queen bed—unusual in a yacht of this size—and provide an extraordinary amount of personal and storage space by today's standards.
Head up that cockpit staircase to the flybridge, with its forward-starboard helm position flanked by an enormous wraparound settee to port, facing two tables and a well-appointed wet bar and outdoor kitchen equipped with a standard refrigerator, icemaker, and barbecue grill to starboard.
Throughout, Vicem's attention to detail delivers a beautifully finished yacht with a level of detail not normally seen in vessels of this size.
Indeed, there are a lot of elements to Vicem's 55 Classic Flybridge that set this yacht apart in a very crowded market. For those who appreciate the effortless grace of classic designs but value modern performance and comfort, this is one yacht that's built without compromise.