Old World Craftsmanship Meets Modern Carbon Fibre With Castagnola's Heritage 9.9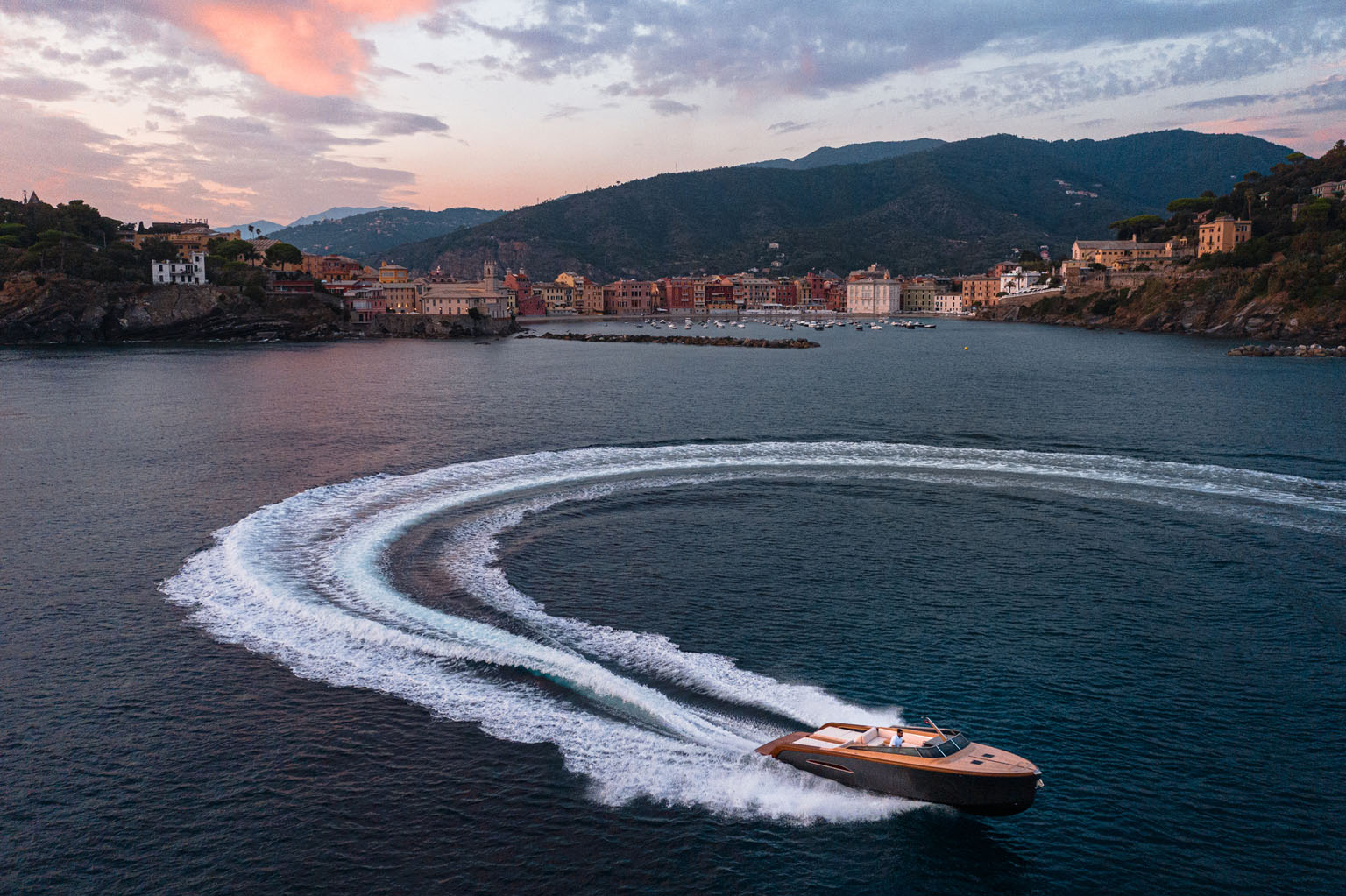 It's fun to think about going back in time, to a day when things were better made and old-world craftsmanship reigned. On the other hand, today's incredible technology is an advantage in the here and now.
The people at Castagnola Yacht would say you can have your cake and eat it too. The Lavagna, Italy-based luxury marque has been delighting its customers with the best of both worlds since 1974, when founder Giovanni Castagnola arched eyebrows worldwide upon pulling back the curtain on his first custom yacht.
Castagnola's enduring commitment to blending modern tech with traditional skill lives on in the newly launched Heritage 9.9. Sleek, graceful, elegant, the Heritage 9.9 embodies the Castagnola philosophy of blending the best of all times to impress on every level.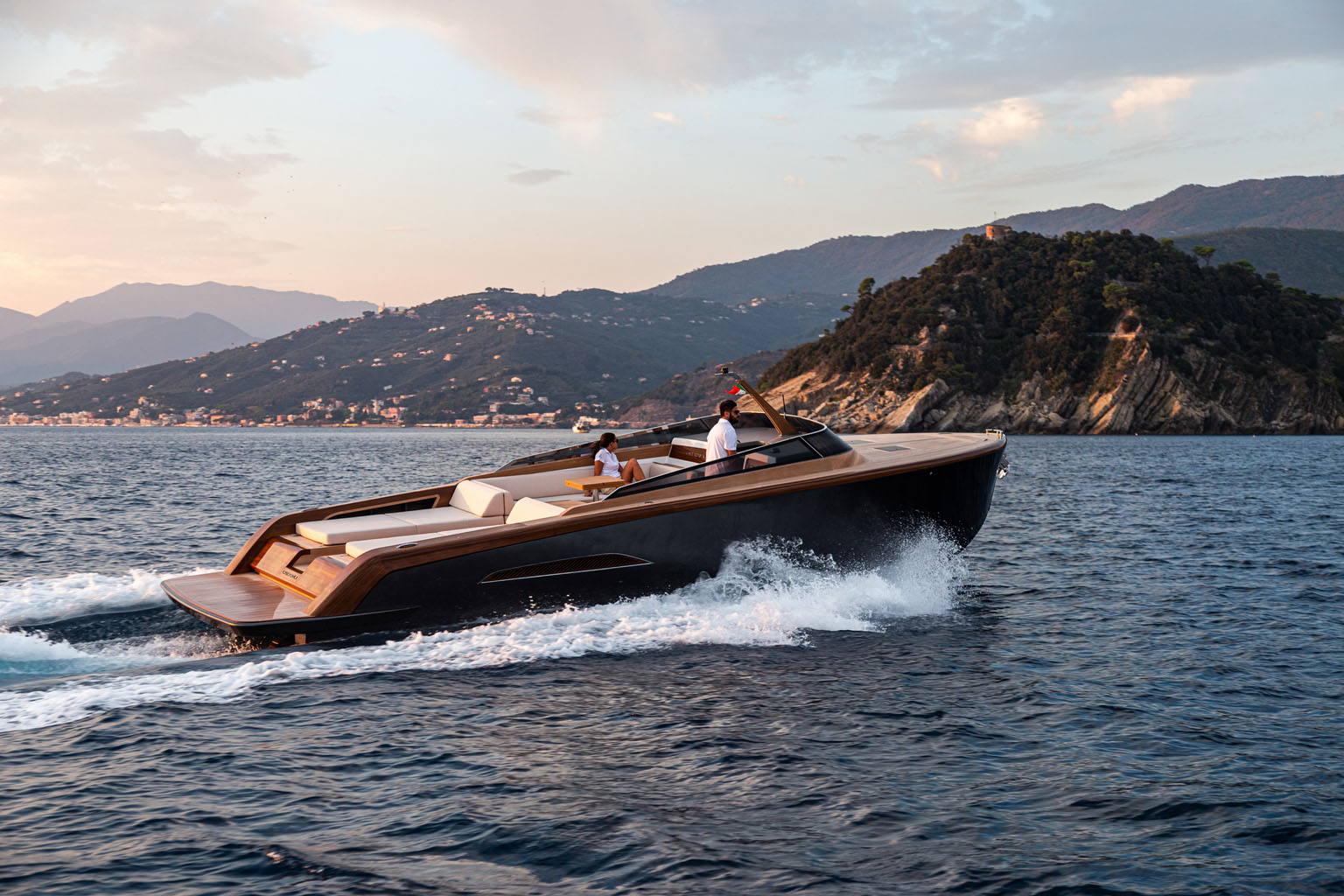 Envisioned as both a chase boat for big superyachts and as a weekend cruiser for short getaways, the Heritage 9.9 showcases the creative contributions of three of Italy's top nautical artisans. The graceful look and flowing layout reflect the talents of Nauta Design, while the work of fabled naval architect Francesco Rogantin is clearly seen in the yacht's engineering.
Offered in both open and hardtop variants, the Heritage 9.9 follows a unique "wood in tech skin" approach to its design and build. By combining traditional shipbuilding skills with modern technology, Castagnola bonds solid mahogany planks with thin layers of epoxy-infused carbon fibre to create intricate composite strips, which are in turn mated to epoxy-infused ash frames. The combination provides an interior structure that's strong, completely impervious to water, eco-friendly, and lightweight. It allows for durability and extremely easy maintenance, while preserving the luxurious feel and unmistakable character of a classic wooden boat.
That harmonious fusion of tech and tradition comes together in the brilliant clean hull and deck design, with its classic vertical bow, polished teak siding, and meticulous attention to fit and finish throughout.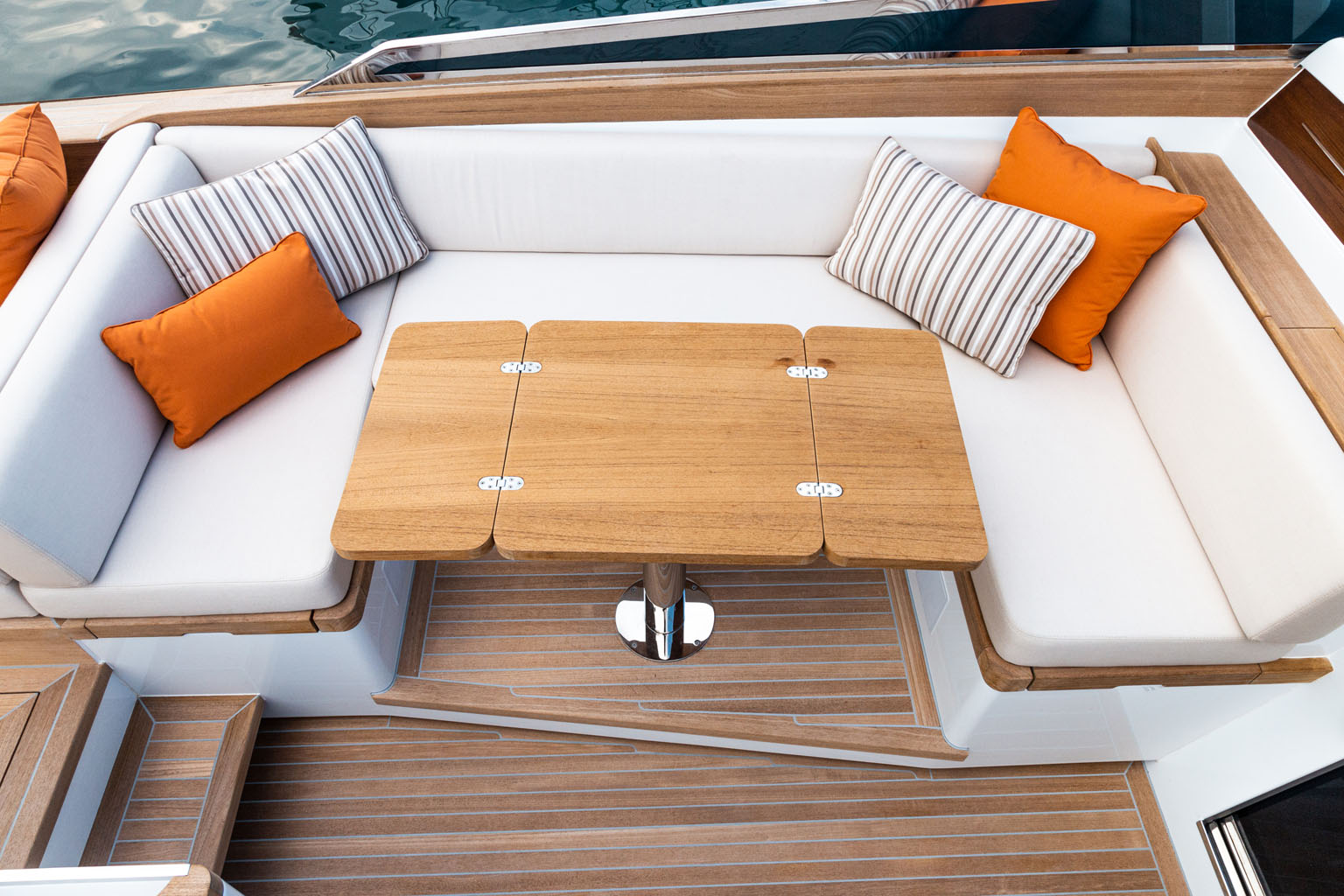 Step aboard via the boat's sweeping, fully integrated stern swim platform, and you're immediately greeted by twin aft-facing lounge seats that invite you to stretch out and get comfy.
A thoughtful passage between the loungers leads into the cockpit, where a sumptuous U-shaped sofa surrounds an elegant teak table on an adjustable pedestal mount. Facing it, to starboard, is a neatly arranged galley, with a stainless steel sink, a Kenyon induction cooktop, a cockpit refrigerator, and mountains of storage space in the stylish custom cabinetry. Discreet undercabinet LED lighting provides safety after dark without getting in one's eyes, while underwater lighting in adjustable hues turns any after-dark swim into a remarkable experience.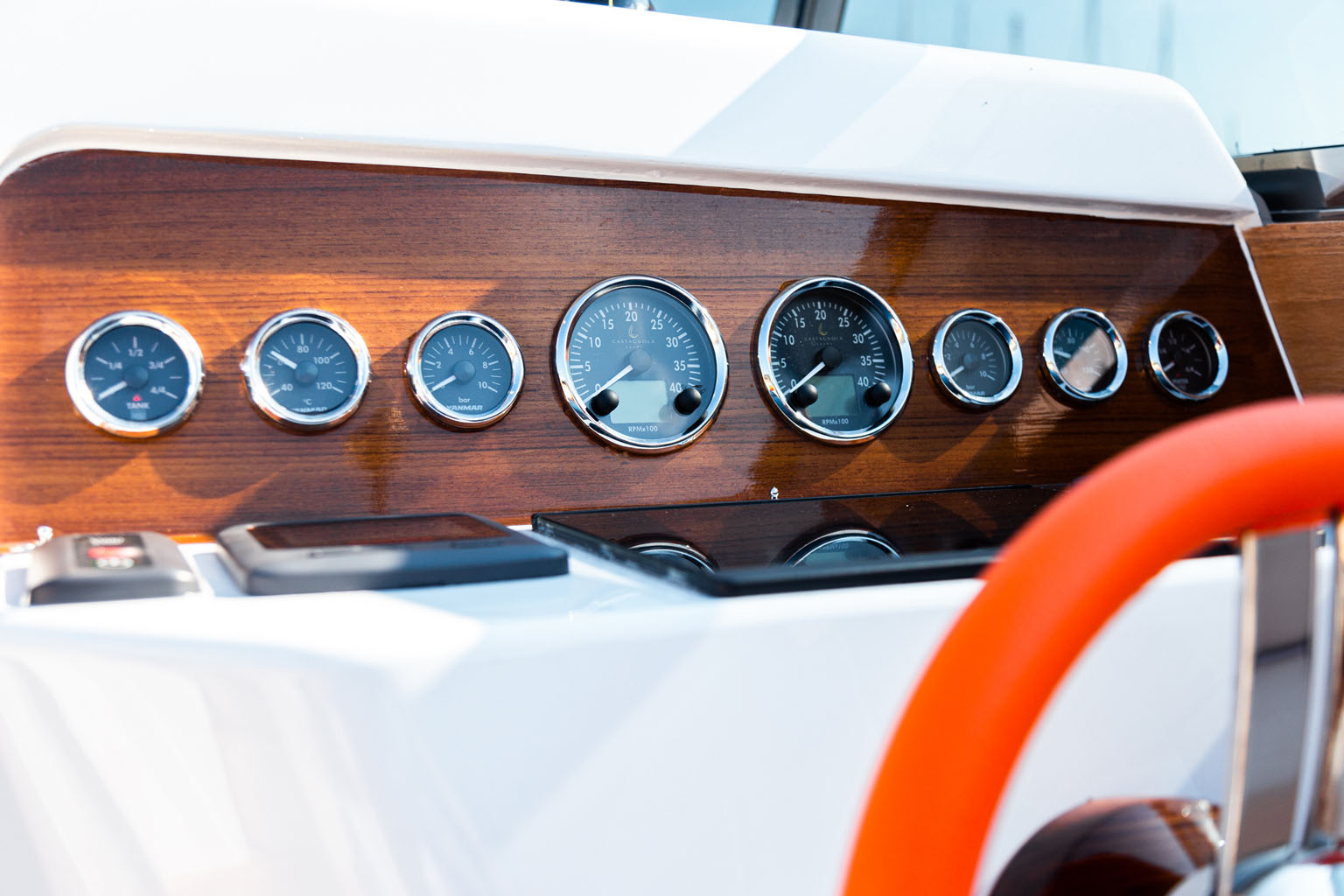 In keeping with the Heritage 9.9's timeless good looks, the helm is a charming blend of then and now, with a mahogany dashboard lined with classic white-on-black dial gauges set in stylish chrome bezels. Just below, a flat panel above the cheerful orange steering wheel provides the ideal spot to flush mount a large touch-screen multifunction display with GPS. The juxtaposition works brilliantly.
The boat's sleek, slender lines might suggest otherwise, but the Heritage 9.9 is every bit a weekender. Belowdecks there's a surprisingly bright and spacious forward V-berth, complete with a comfortable head featuring an attractive, residential-style vanity. It's not the kind of boat you would take away for weeks at a time, but used as intended—for weekend jaunts—it works extremely well.
Aft of the below deck accommodations, the engine room is easily accessible and has been laid out to allow for exceptionally efficient maintenance. If need be, the engines can be completely removed in less than 30 minutes, a capability unheard of in a boat of this size and style. And thanks to wood's natural sound-insulating qualities, the Heritage 9.9 is extremely quiet underway, even at top speed.
Standard power is a pair of 320-horsepower Yanmar diesels turning contemporary pod drives, giving the Heritage 9.9 a cruising speed of over 60 km/hr, a top speed of 74 km/hr, and a range of 315 kilometres. The pod drive arrangement gives this boat the ability to actually turn inside itself and cut snail-shell wakes. Power options include jet drives and traditional shafts with a rudder, but the performance of the pod drives puts the Heritage 9.9 in a class of its own.
By combining today's cutting-edge engineering with classic craftsmanship from days gone by, Castagnola's Heritage 9.9 is an exceptional weekender that represents  the best of all times.