Sailor Alex Thomson Walks the Mast for Hugo Boss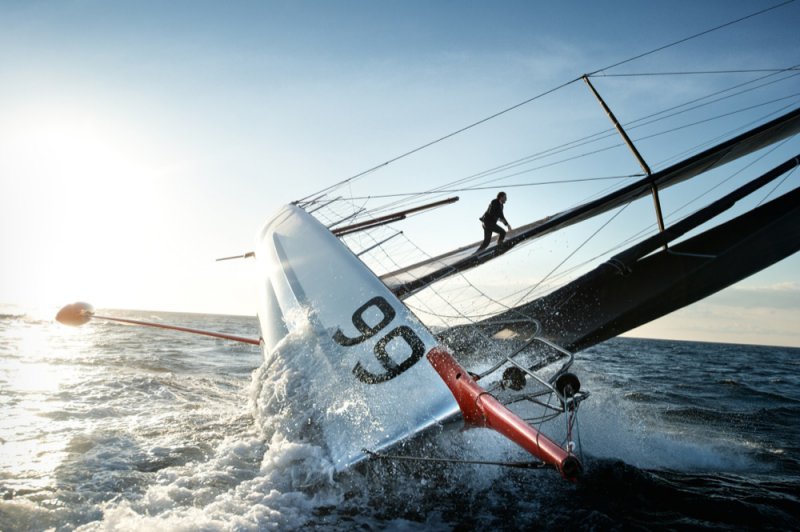 British skipper Alex Thomson cuts a sleek figure in a custom-tailored navy blue Hugo Boss suit. In a private suite on the second floor of Harry Rosen's flagship store in downtown Toronto, Thomson is the focal point of an elegant scene. Wearing a crisp tie and suit and sharp two-tone lace-ups, he sits cross-legged on a tufted sofa, chatting casually to a pair of colleagues and looking relaxed in his plush surroundings. You'd never guess this handsome gent with a warm smile and firm handshake is a champion athlete competing in the one of the toughest, most brutal sports practiced today—and has sailed around the world, in 80 days.
As a professional sailor, Thomson has accomplished a great deal in his 40 years, breaking records and pushing the limits of his sport. As a young boy growing up in Wales, his love of windsurfing led him to an internship with a sailing school, where he fell in love with the sport while cleaning the bilges and climbing the mast. He knew he was hooked. "Whenever you go out of sight of land, it doesn't matter how big the boat is, it makes you understand how small we are," says Thomson. "When you are part of a crew, it doesn't matter who you are—you can be the president of the United States or you could be a post boy—you become equal. It's a great leveler and a humbling experience."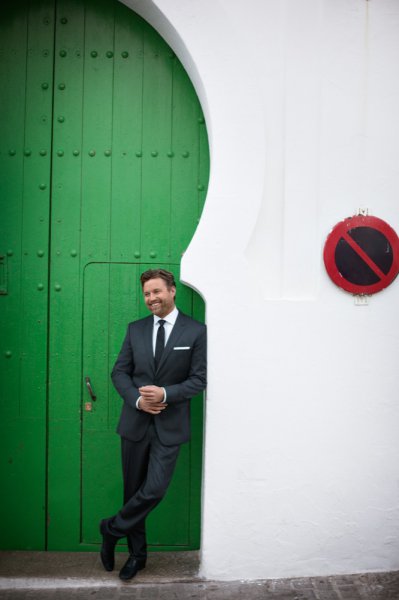 In 1998, Thomson was about to participate in the Clipper Round the World Yacht Race, where participants of all skill levels attempt to circumnavigate the globe in an 11-month-long race. Until then he hadn't committed to racing as anything more than a passion, but made a promise to himself before setting sail. "I said to myself, if I win this race I'll take it up as a career and if I don't I'll do something else. There were 16 individual races and we won 13 of them. So that was really the nail in the coffin."
Not only did the win decide Thomson's career path, it also set a world record, as he became the youngest skipper to ever win a round-the-world challenge. From there, it has been a steady onward-and-upward trajectory for Thomson—for the last 10 years he has been attempting to win the coveted Vendée Globe. Having participated in the single-handed non-stop race around the world three times already, and most recently placing third, Thomson is keen to nab a first-place finish in 2016. The grueling voyage requires the utmost physical, emotional, and psychological strength.
"To my mind it is the most difficult sporting challenge that exists today. You have to get every single tiny detail right, whether it's in the personal preparation, the boat preparation, everything has to be perfect," says Thomson. Roughly half of the people who start the race don't finish it. To put it in perspective, Thomson goes on to note that only 100 people have raced in the Vendée Globe, while more than 4,000 people have climbed Mount Everest.
Preparing for the race takes years, and each meticulous step is integral to ensure Thomson returns safely, from the design of the boat, to risk assessment, weather analysis, and even psychological, sleep, and medical training. Focused discipline and dedication help Thomson hone his craft. "It probably sounds a bit boring, but we have to get it right and if we don't there's a good chance I could risk my life," he says. "It's a marathon, not a sprint. It's relentless, and when you're on the race course there's nothing glamorous about it. We choose not to have beds or toilets because they're too heavy, and it's extremely violent—it's brutal."
Since 2003, Thomson has worked with Hugo Boss, helping to popularize the intense sport of sailing. "It's amazing when you get off the boat and get somewhere to put on a really well-fitted suit, it makes you feel good," says Thomson. "That's really the key—confidence to have the grunt to get out there and do it."
As for Thomson's most memorable experience? Without skipping a beat he recalls a truly meaningful moment: "When you start the Vendée Globe there's about a mile to the sea, and half a million people come out to line the banks of the canal. It's the most incredible thing. People turn out because they don't know if you'll come back. But they appreciate the challenge and many dream of one day sailing around the world, so they live it through what we do."
Images courtesy of Alex Thomson Racing.