Ocean Alexander's New 27E Is One of the Most Spacious to Date
Over the past couple of years, there's been a profound shift in the yacht market, with growing demand for explorer vessels that combine traditional yacht luxury with an ability to go places and do things that older yachts can't quite match. A big part of that is due to yacht buyers growing younger as millennials begin to displace boomers as the primary customer group.
Need more proof? Then take a gander at the remarkable styling and design behind Ocean Alexander's all-new 27E, due to make its world debut in October at the Fort Lauderdale International Boat Show.
Right from the start, it's clear this is not your parents' yacht. The overall styling—by Evan K. Marshall, who also created Ocean Alexander's acclaimed Revolution series—offers a fresh and modern feel throughout, and nowhere is that more apparent than on the massive stern swim platform. For starters, it's mainly dedicated as a parking space for a couple of personal watercraft, or perhaps a Sea-Doo and a tender. You can launch the toys using a crane that's neatly tucked into the port side of the boat, or just push a button to sink the hydraulic platform and off you go. With the mezzanine-like aft deck, you're looking at a massive 20.9 square metres of useful outside space, reflecting this boat's emphasis on exploring the world up close and personal.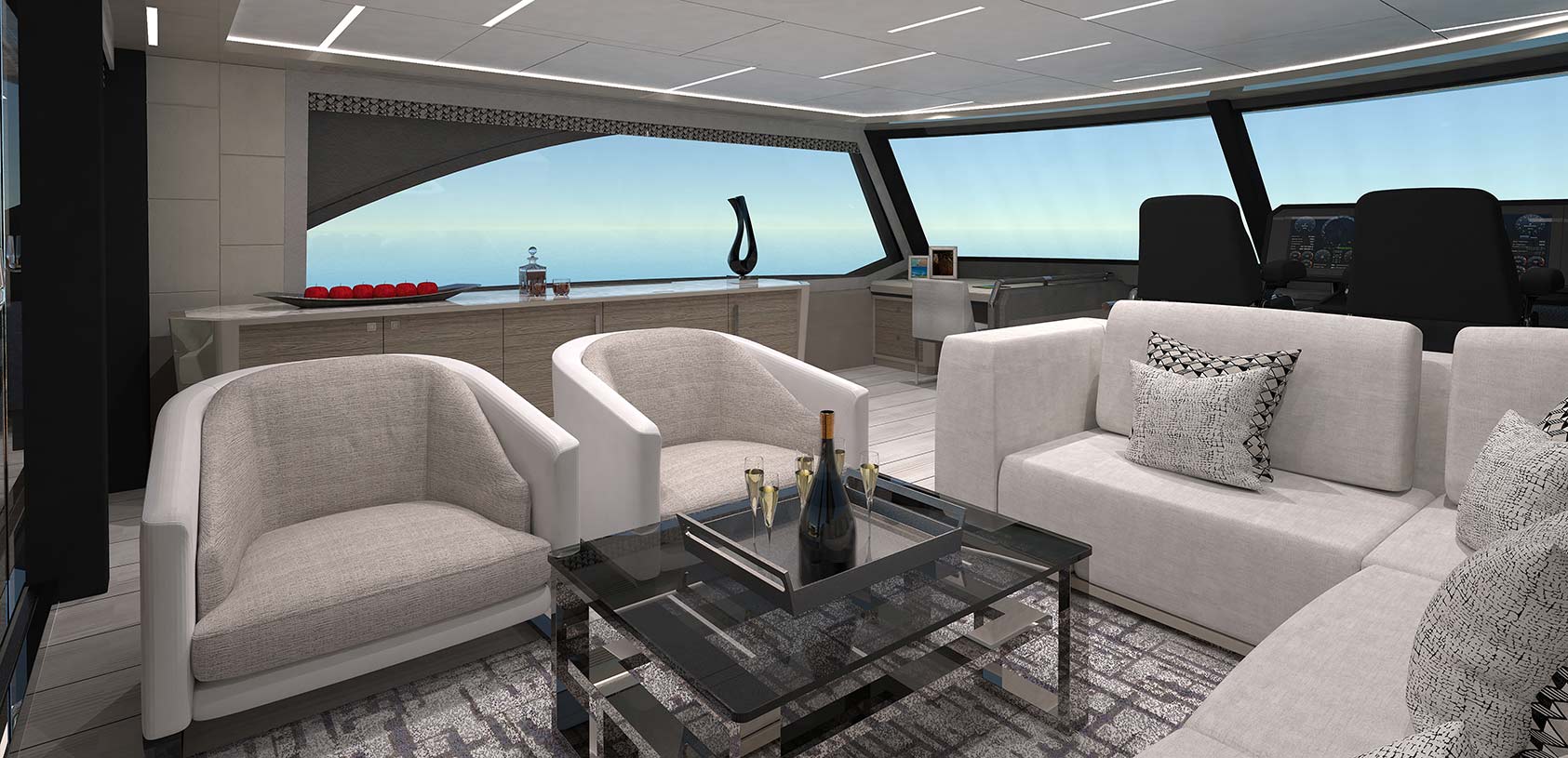 Step up the twin curved stairways leading to the main deck, and you're welcomed aboard by a spacious cockpit lounge that invites you to stop, have a drink, and refresh while still enjoying that million-dollar view. Wide passageways on either side of the cockpit lead forward where a huge bow sunpad awaits, or you can head up a wide set of stairs to the bridge deck with its enormous wraparound lounge, wet bar, and grill.
If the afternoon sun grows a little too much, pop inside the adjacent skylounge and enjoy its delightful L-shaped settee and facing club chairs while you hang out in air-conditioned comfort, or head back down to the main deck and tuck into the massive salon where you can kick back and watch the game.
For a 27-metre, or nearly 90-foot, yacht, the Ocean Alexander 27E has an unusual amount of interior space, thanks in large part to its generous 6.29m (or 20-foot) beam—the added space magnified by the glass walls enclosing its contemporary salon. Neat L-shaped seating, tasteful side tables, and an elegant, fresh decor with its emphasis on subtle hues and textures speak more of a luxury home overlooking the beach than a yacht. Tasteful lighting overhead enhances the experience.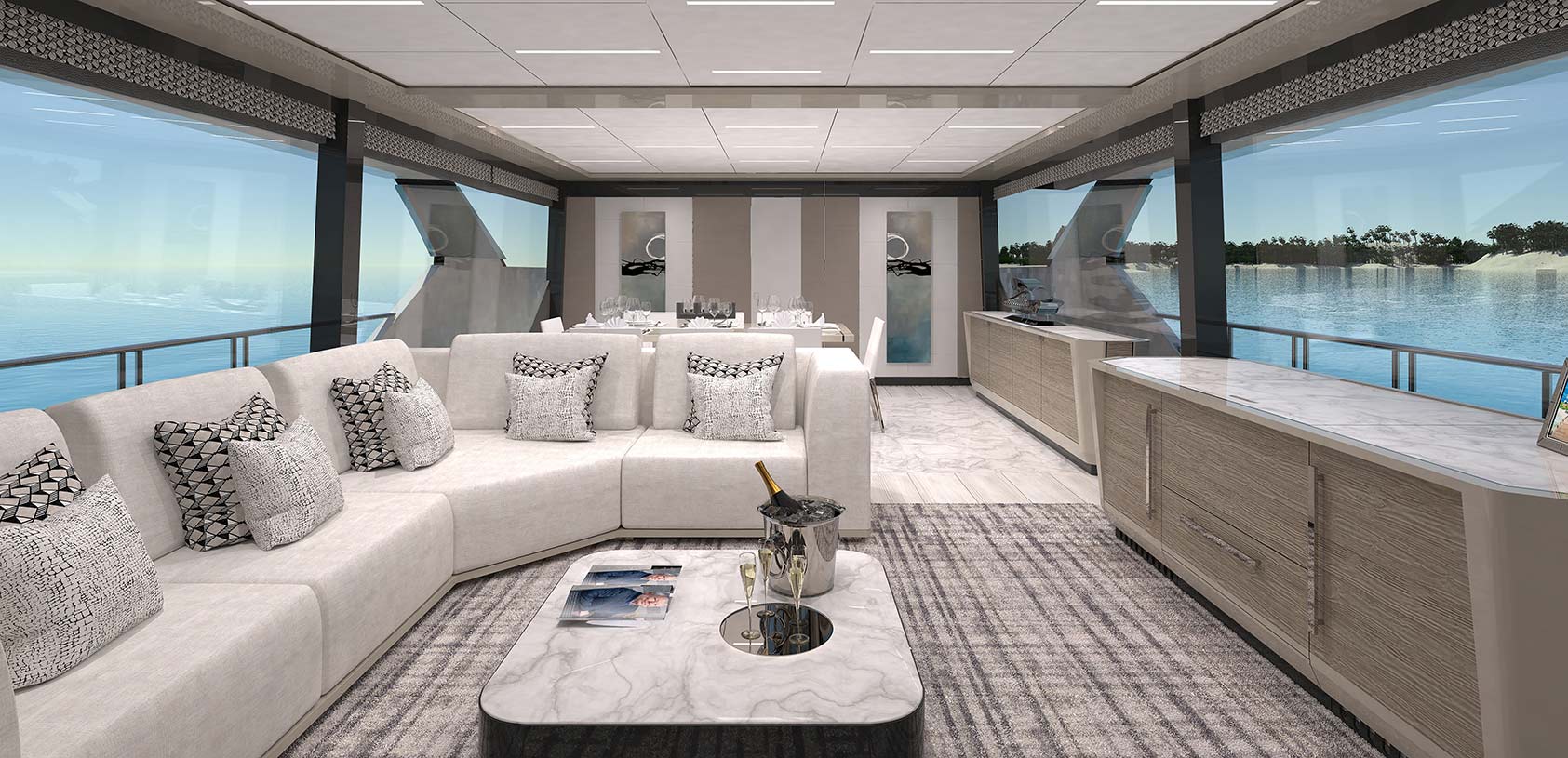 Farther forward, an equally fresh dining space accommodates a table for eight while making the most of eye-popping views. The galley, which sits forward of the dining room behind a discreet door, also offers direct access to the skylounge via port-side stairs.
Below, the 27E's beamy hull comes into play yet again with one of the most spacious cabin layouts ever seen in a vessel of this size. Hull No. 1 features a VIP cabin up front that accommodates guests in style with a queen bed, a tasteful sitting area, and a fully equipped ensuite. Dual twin cabins on either side of the main hallway accommodate an additional four guests in considerable comfort, each with its own ensuite.
The owner's suite, located amidship, offers a king bed, enormous closet spaces, and a spacious sitting area for enjoying that first wake-up coffee. There's also not just one, but two ensuites here, so he and she can dress for dinner without anyone having to wait for the shower.
Reflecting the shift toward younger buyers who demand more than a place to relax in comfort, Ocean Alexander's 27E comes equipped with significant electrical capacity based around twin Kohler 32-kilowatt generators, ensuring there's always more than enough juice to keep the Wi-Fi humming, satellite television streaming, and all manner of devices charges fully charged.
It also remains true to proper explorer yacht design principles. Built from fibreglass, the 27E draws only 1.25 metres of water, or a hair over four feet, allowing this boat to get into shallow coves and inviting bays that would be out of the question for deeper steel or aluminum yachts.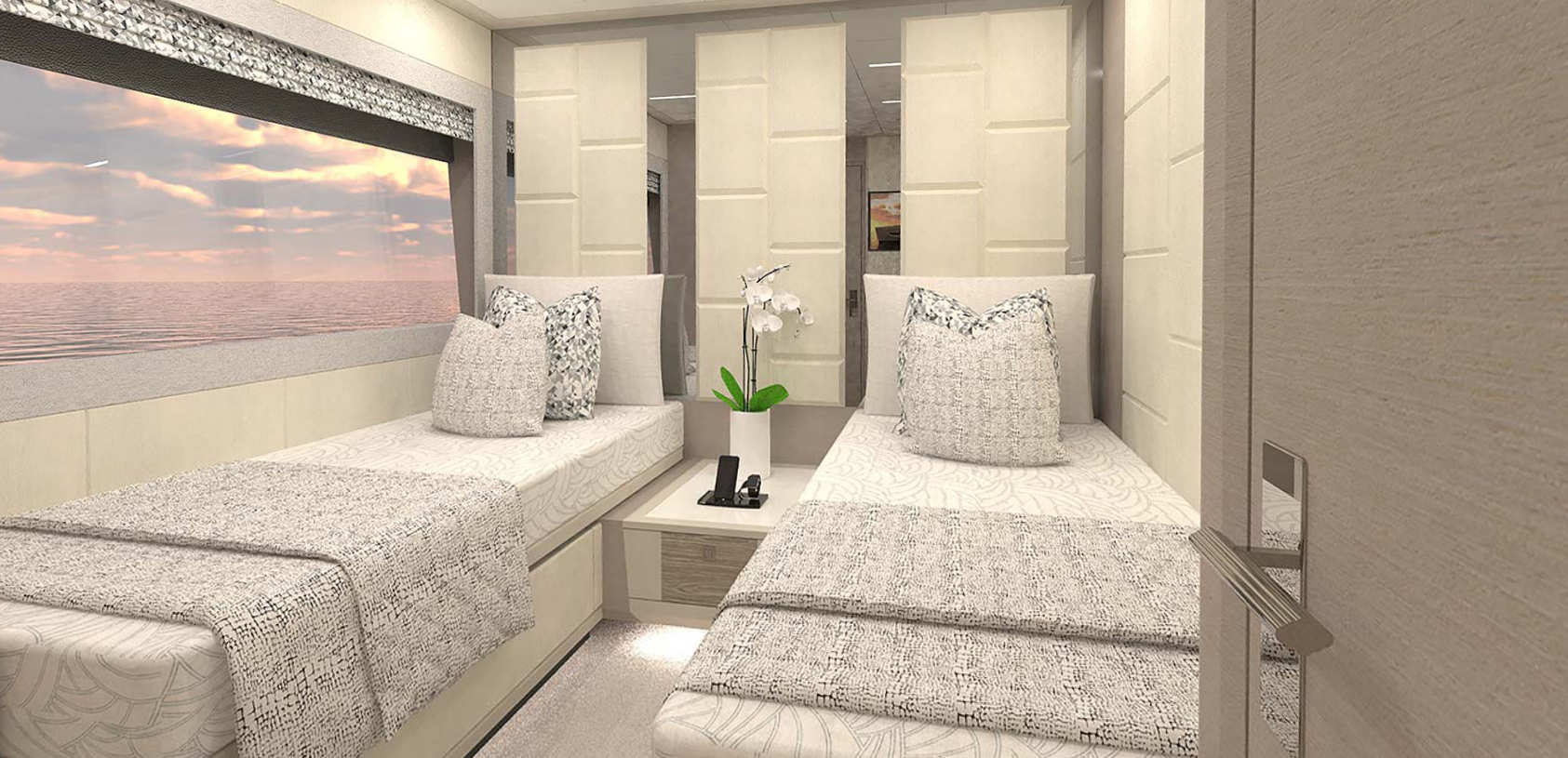 With its enormous 8,274-litre fuel capacity and twin MAN V12 diesels churning out 1,650 horsepower apiece, the 27E comes with an operating range of nearly 3,900 kilometres. While that's not quite enough to make it from Vancouver to Hawaii, it definitely gets you to Mexico without having to stop. Or, just as easily, from Toronto to the Gaspé on a single tank.
As the first model in the company's new Explorer yacht line, Ocean Alexander invested a lot of time and effort to ensure it got everything just right. From what we've seen in yacht No. 1, it has not only hit the mark but set an all-new standard for explorer yacht design.
_________
Never miss a story. Sign up for NUVO's weekly newsletter, here.