There's a lot More to EVO's R6 Than Meets the Eye
A wolf in sheep's clothing.
There are all sorts of ways to preface an introduction to EVO Yachts' remarkable new R6 sport yacht, yet none seems to really do the job.
Perhaps EVO itself comes closest with its Beyond the Unexpected tagline. However they phrase it, the sporty new R6 is completely different from anything yacht buyers have seen before.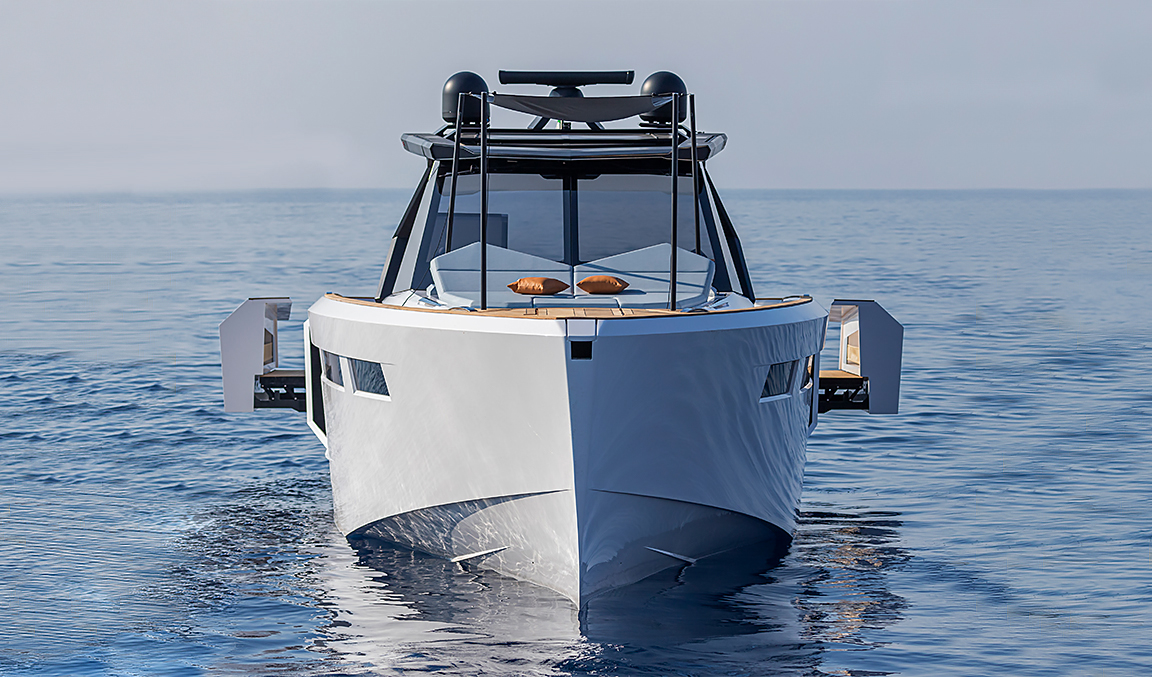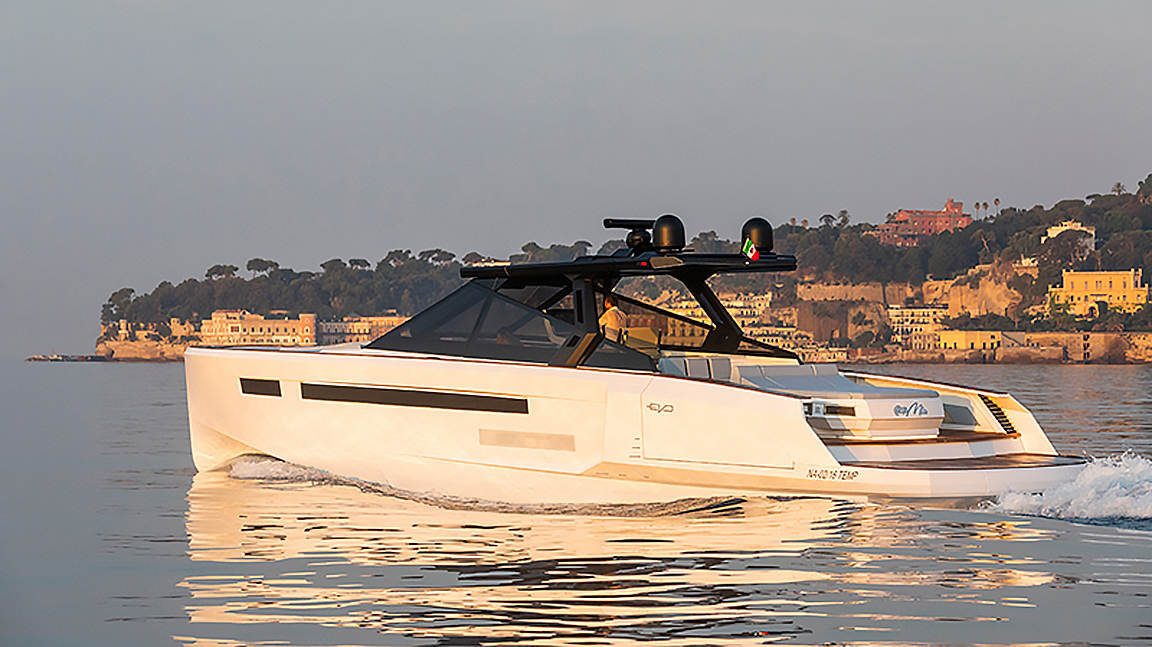 Let's begin with the obvious: the trim, 17.6-metre R6 mixes the sporty performance and sleek lines that typically define day boats and fast tenders with the interior space and refined appointments of a luxury yacht. It's the ingenious engineering that allows this yacht to expand its cockpit deck surface by more than 40 per cent, courtesy of slide-out aft gunnels. Pushing a small switch extends hydraulic bulwarks on each side of the cockpit, growing the space to a massive 270-square-foot sun terrace with built-in deck chairs. The bulwarks extend without leaving unsightly gaps in the deck surface that could represent a tripping hazard, extending the already spacious beach area.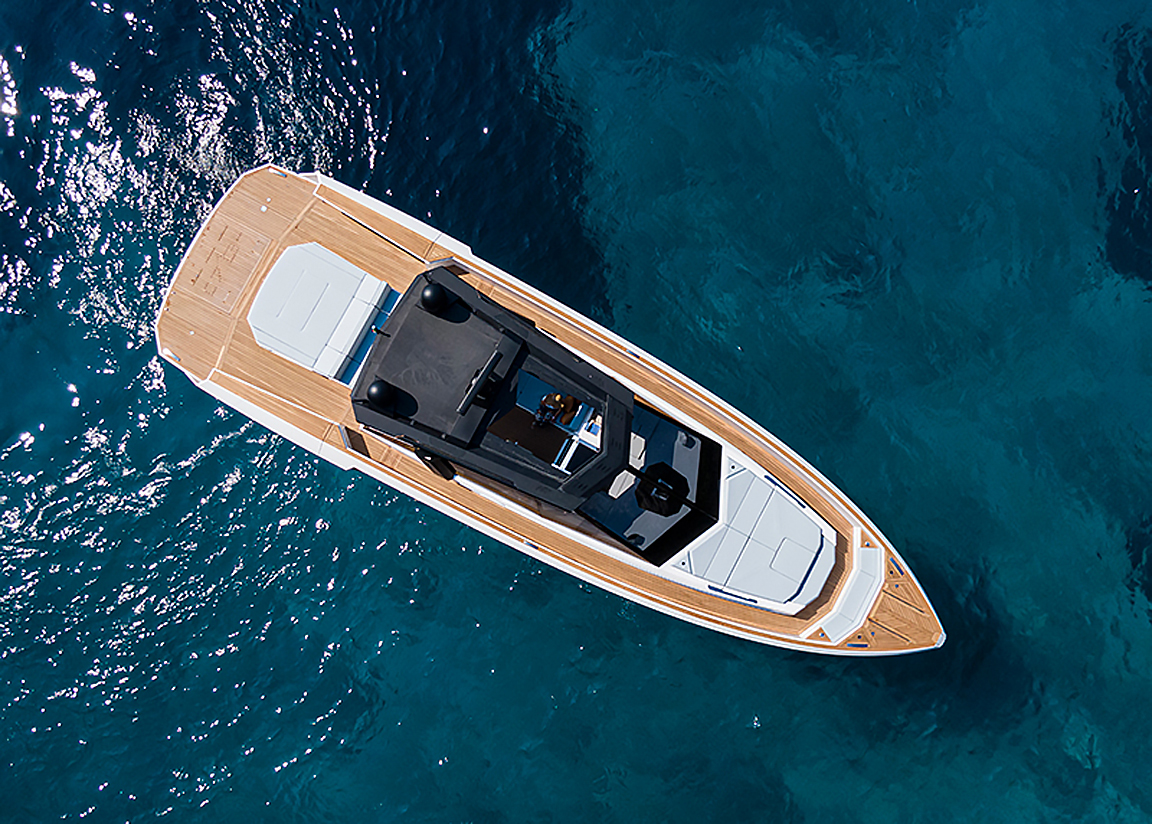 Even more magic awaits on the R6's expansive stern swim platform. Plenty of yachts have a platform than can lower hydraulically into the water to provide a submerged swim step. EVO goes one further, however, by providing an extending platform that can not only lower into the sea but also lie flat as an extended swim platform or extend skyward far above the deck level to facilitate boarding at ports where the dock is higher than the boat. Between the platform and the boat, a series of neat retracting steps provide safe and convenient access even for guests in high heels.
Standing on the swim platform, it's hard to imagine the trim and sporty R6 having room for a tender garage. But sure enough, pushing a discreet button reveals it tucked neatly under the sundeck. Further, it features a newly designed roller system that makes launching and retrieving the tender a cinch while requiring far less space inside the hull.
Wide passageways on either side of the boat lead forward to the bow seating area, where an equally large forward-facing lounge meets a wraparound, aft-facing sofa to create an ideal spot for quiet conversation over drinks. The sun lounge seat back can be adjusted to provide the ideal seating angle, while curious stainless steel discs on either end of the sofa yield yet another surprise. Touching the disc activates a lift mechanism, allowing the top to extend vertically and reveal a cylindrical LED light that illuminates the space. Touching the top again returns the light to its original position.
Step into the main deck salon, and a well-laid-out kitchenette unit to starboard, just behind the double-wide helm seat, faces an inviting L-shaped settee with a stylish pedestal-mount table. The warmth of the teak decking and the texture of the upholstery and abundant throw cushions make this a cozy spot to take in 360-degree views of the sea.
The helm itself is tidy and compact, with a central high-definition touch-screen panel displaying engine and operational information, GPS, radar, sonar, or whatever else the owner wants to see—simultaneously in split-screen mode, if desired. Joystick docking control makes manoeuvring in tight quarters a breeze, allowing even novice operators to look like pros.
With its standard power of twin Volvo Penta IPS 950s delivering a combined 1,500 horsepower, EVO's R6 will easily reach speeds of 35 knots at full throttle. What's more, with its 2,100-litre fuel capacity, it can maintain that speed for a long, long time or cruise economically at 28 knots for maximum range.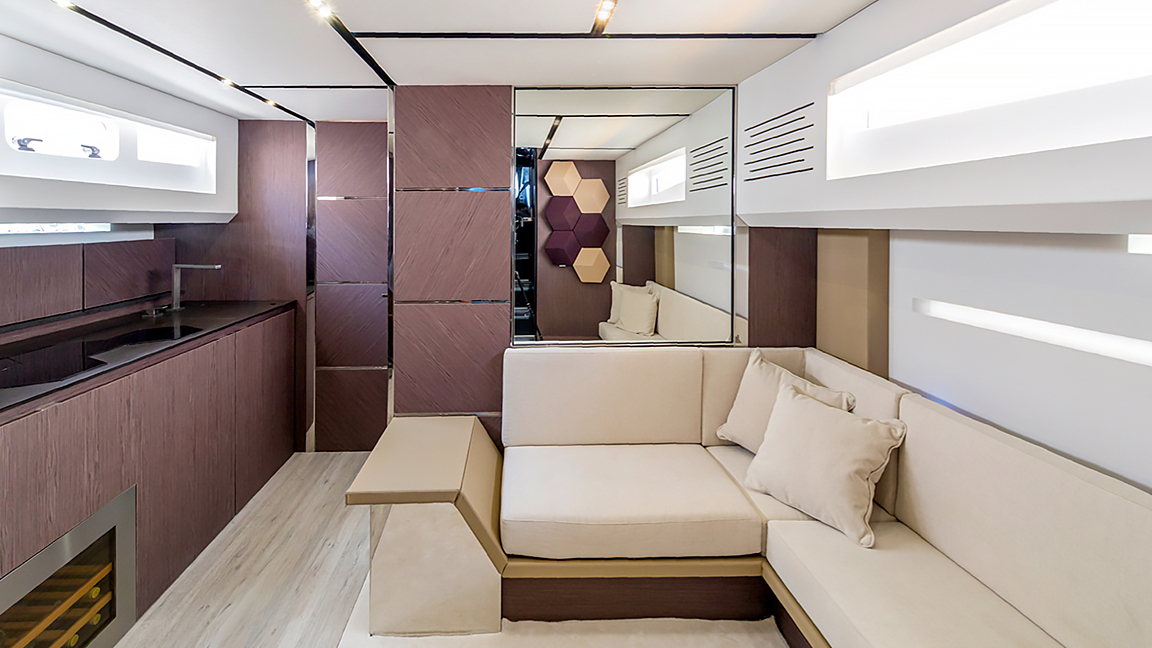 But we're not done yet, as a neat panel adjacent to the helm opens to provide access to the spacious lower-deck accommodations. Although it looks like a fast and sporty day yacht, the R6 can be configured to provide up to three bright and roomy double staterooms below, each offering top-level comforts and generous storage spaces for personal items.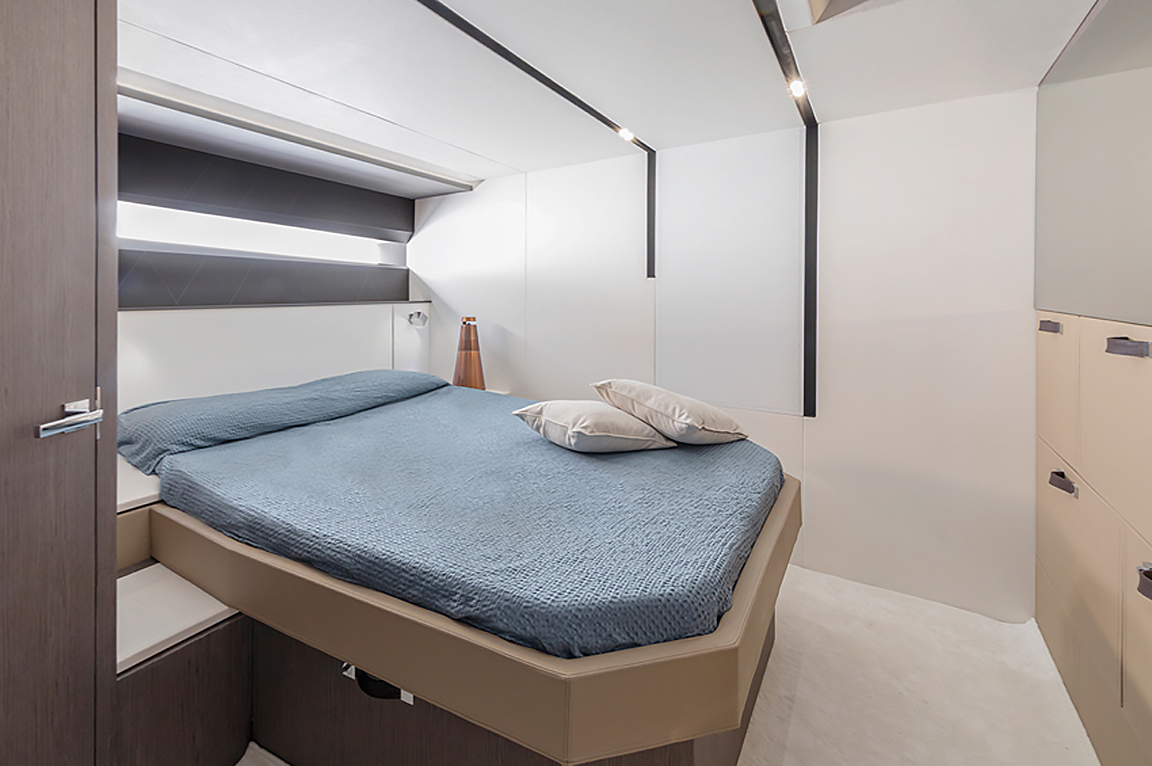 A full lower-deck kitchen with a facing salon and dining space is also possible, depending on the owner's requirements. Regardless of how the lower deck is configured, premium leathers, teak, stainless steel, and fabrics ensure total comfort—with, as always, a few more surprises thrown in.
More than meets the eye? Indeed. EVO's delightful R6 raises eyebrows at every step. Balancing the sporty profile and handling of a fast day yacht with the opulent comfort of a luxury cruiser, this is one brilliant design that's much more than it seems. But get on board quickly if you want one, since delivery slots for 2022 are almost gone.