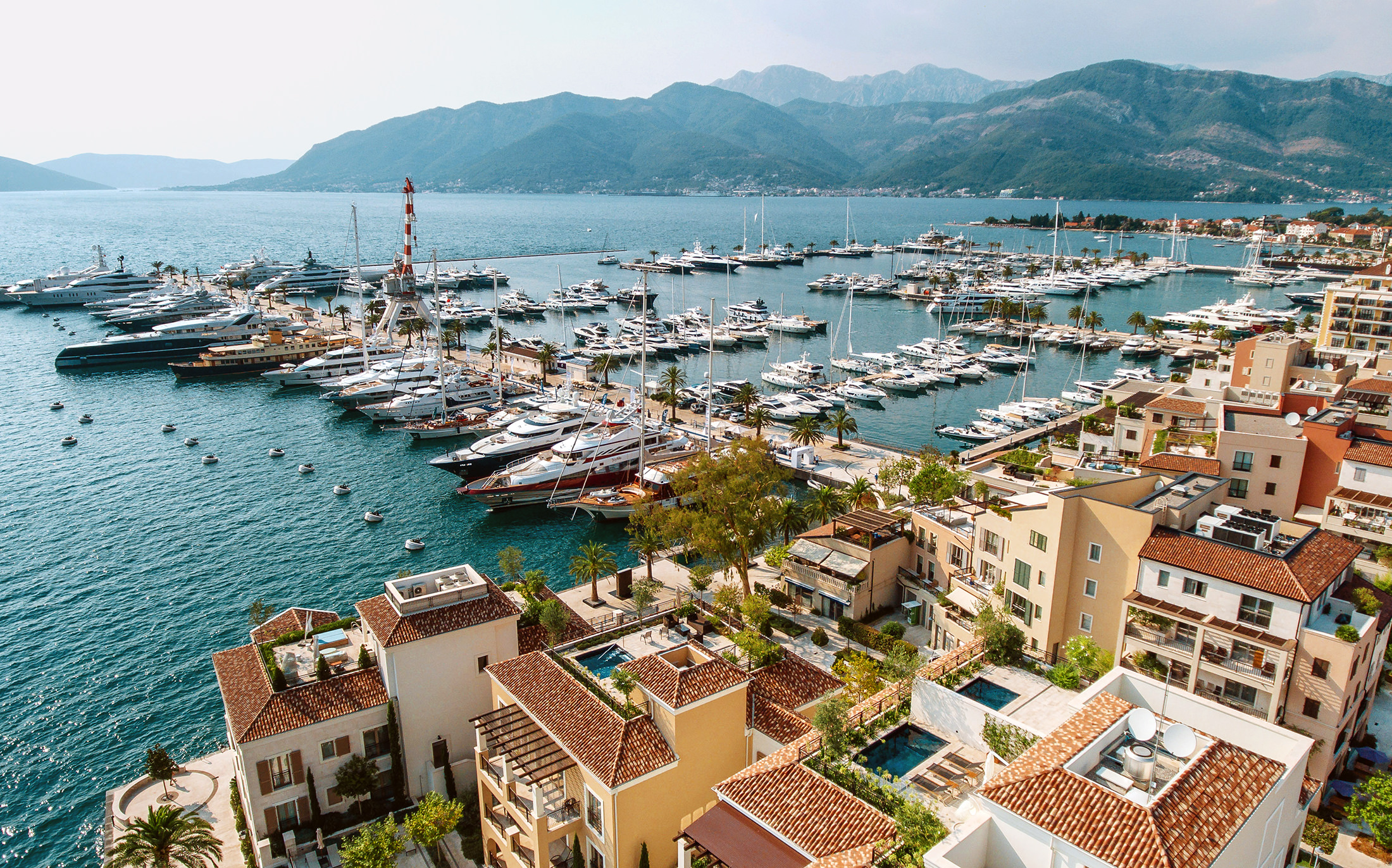 To arrive in the Bay of Kotor by boat for the first time is spellbinding. It is unlike anywhere else in the world, says Max Bulley, a broker at superyacht specialist Y.Co, who fell in love with Montenegro on his first visit and stayed for five years. "It's like entering a secret garden: you come in through the entrance, turn the corner, and suddenly you're in this magical place."
Last summer I, too, fell under its spell.
The entrance to the bay is bound on the left by a narrow finger of land that marks the southern tip of Croatia. To the right, the slopes of Luštica peninsula, covered in dark green foliage, plunge into the water, a series of small coves alternating with sun-bleached rocks and just a handful of houses. Straight ahead is the town of Herceg Novi, a jumble of red-tiled roofs and cream-coloured façades clinging to the hillside around an old fortress. Every gap between the buildings is filled with a lush mix of palm trees, parasol pines, cypress, and bougainvillea.
To call this a bay is misleading: it's many bays within one huge bay, and it reveals itself only in parts through a series of zigzags between the hills. We turn right, and suddenly a vast expanse of water opens up ahead, its surface lightly ruffled by the afternoon breeze. In the distance we see a cluster of superyachts at their berths in Tivat, the hub of "new" Montenegro. Looking back the way we came, the gap has closed, the entrance to the bay no longer visible. Looking ahead, the bay seems to go no farther. But to the left of Tivat, with the towering hills pressing together on either side, we can just discern a narrow channel.
To arrive in the Bay of Kotor by boat for the first time is spellbinding.
Through the channel lies the spectacular "fjord" of Kotor (in fact a submerged river canyon), its deep water hemmed in by sheer slopes. Straight ahead lies the village of Perast, a huddle of churches and small palaces dating back to the 17th and 18th centuries, when this coast was part of the Venetian republic. Just offshore are the impossibly romantic islets housing St. George's monastery and Our Lady of the Rocks church. Long arms of the bay stretch to the left and right—the latter ending at Kotor, with its medieval walled town. Above the tangle of stone houses and narrow alleyways, gravity-defying fortifications climb an almost vertical slope.
Perhaps the most surprising thing about such a singular and beautiful place is that until a decade ago, it scarcely registered in yachting circles. Before that, the action focused on Croatia, to the northwest, and Greece, farther southeast. Today, although Montenegro remains far less well known than its neighbours, word is spreading fast. It has not happened by chance. Following independence in 2006, the government began a major reinvention of the country, with high-end tourism being a core part of the plan. Enter gold-mining magnate Peter Munk, (who died in March of this year, aged 90). He came on his yacht, loved the place—and the business opportunity—and leased the site of a former Austro-Hungarian naval base in Tivat. (As the land is of a very large size, and located in the UNESCO-protected Boka Bay, it cannot be bought.) In 2009, with additional investment from Lord Rothschild and Bernard Arnault, construction began on Porto Montenegro, a low-rise complex of chic apartments, boutiques, and restaurants surrounding a marina that is making its mark as a world-class hub for superyachts.
"The facilities and services are outstanding," says Ben Murray-Brown, who first came to Boka (as locals call the bay) in 2013 as captain of a 42-metre sailing yacht. "The staff seem to really care about the boats, and they lay on a great welcome for the crews." Murray-Brown is still in Tivat: having swapped superyachts for day sailing, he runs Porto Montenegro's excellent sail-training program, helping racers hone their skills and teaching the basics to beginners.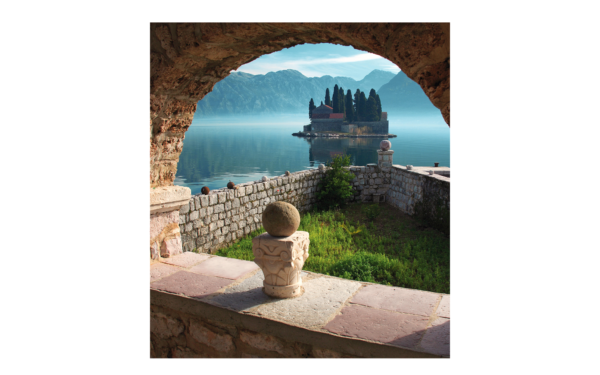 Many refer to Montenegro as the new Monaco. In terms of the country's business-friendly tax regime it may be, but there's no plan to emulate Monte Carlo's apartment towers; there are no conspicuous displays of extreme wealth in the streets; everything feels relaxed and personal. There is a fairly intense party scene in high summer, but you need to seek it out—it doesn't dominate, as in Ibiza, Saint-Tropez, or Mykonos. Celebrities do come, choosing Montenegro less for the social scene than because it's so easy not to be seen. When you pick a peaceful bay to anchor in for the night, it will remain peaceful. "You won't suddenly have 15 boats showing up—unlike Croatia and Greece, flotilla sailing doesn't exist here," says Murray-Brown.
It is, however, irresponsible to suggest that the entire coast is unspoiled. Cheap development and tourist hordes have blighted a few spots—Budva, in particular—and cruise ships overwhelm Kotor when they berth. But one of the great joys of yachting, of course, is the ability to escape the crowds.
You escape in pursuit of lazy days of sun and swimming in quiet coves with clear, turquoise water. In the least-frequented arm of the inner bay, you can drop anchor and take the tender in to Stari Mlini ("Old Mills") for lunch at a table beside the river. On the sea-facing side of Luštica Peninsula, you'll find Robinson Bay: inaccessible by road, its simple restaurant serving grilled fish pulled from the sea just a few hours earlier. Or go to the restaurant Ribarsko Selo for sea urchin and delicious carpaccio of any fish you choose. Along this coast the cuisine is simple, but such exceptional seafood needs no elaboration.
While there's more to Montenegro than Porto (habitués generally leave Montenegro out of its name), it has been both catalyst and benchmark for high-quality development. Portonovi—another luxurious marina-residential complex with a One&Only resort—is due to open this year. Nearby, residents have already moved into Luštica Bay, a (very) chic take on the traditional fishing village—also with its own marina and a Chedi hotel opening this summer. And so it goes, all along the coast. Sveti Stefan, a tiny island with a huddle of ancient stone fishermen's houses, has been transformed into the Aman Sveti Stefan resort; nearby on the mainland is a Nobu restaurant.
Yachtsmen who have been coming for several years say that it's getting noticeably busier, but "It's far from feeling crowded," says Y.Co's Bulley. "When I compare it with the south of France, where the hills are littered with houses, it's astonishing how green and empty Montenegro still is."
Header photo by Zoran Radonjic/Z®AN Photography.
_________
Never miss a story. Sign up for NUVO's weekly newsletter, here.