Vanilla-Bourbon Peach Profiteroles
A recipe by Vancouver chef Adam Chandler.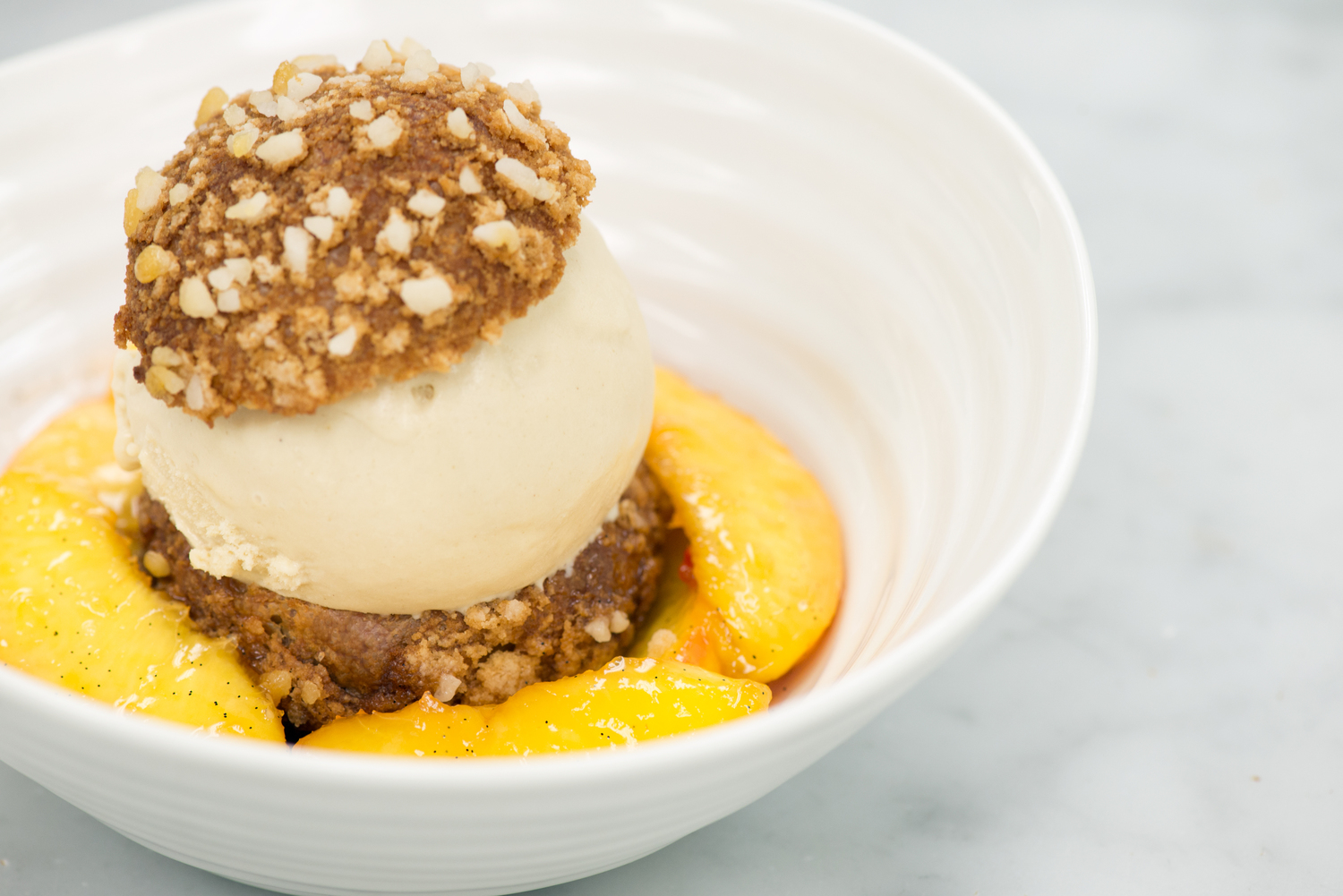 Adam Chandler of Vancouver's Beta5 is famous for his crisp, craquelin-topped profiteroles, for which a light choux dough is topped with a disk of butter-sugar mixture and baked, then served with a spiced, sautéed summer fruit (here, vanilla-bourbon peaches).
Makes 36 pieces.
Choux Pastry
Ingredients
130g whole milk
130g water
104g unsalted butter
2g kosher salt
12g granulated sugar
38g flour, pastry
38g flour, all purpose
76g flour, bread
260g eggs
Method
1. Sift together flours.
2. Combine milk, water, butter, sugar and salt in pot and bring to a boil.
3. Remove pot from heat, ad d sifted flours and stir to form a homogeneous dough.
4. Return pot to medium heat, and cook while stirring with a wooden spoon.
5. Transfer cooked dough to stand mixer fitted with paddle attachment, and stir on low speed to cool (2 minutes).
6. While cooling, whisk together eggs.
7. Once dough has cooled, slowly add eggs in 3 additions while mixing on medium speed, scraping down bowl between additions.
8. After all eggs have been incorporated, scrape down bowl and mix on high speed for 2 minutes.
9. Remove from mixer, transfer dough to piping bag and pipe onto parchment paper (1-1/2" mounds).
10. Top each mound of choux pastry with 1 piece of 'craquelin' (recipe follows).
11. Bake at 425°F for 10 minutes, then reduce oven temperature to 300°F and bake for an additional 30-40 minutes (fully baked pastries should be light and crisp).
Craquelin
Ingredients
146g unsalted butter
160g granulated sugar
2g kosher salt
160g flour, bread
Method
1. Paddle room temperature butter with sugar in stand mixer to soften.
2. Add flour and salt, mix until combined.
3. Wrap finished dough in plastic wrap and chill for 2 hours.
4. Once chilled, roll dough to 3mm thickness between 2 sheets of parchment paper.
5. After rolling, freeze (20 min) then cut out 50mm rounds.
Sautéed Peaches
Ingredients
75g granulated sugar
75g unsalted butter
6pc ripe peaches
25g bourbon
1pc vanilla bean
Method
1. Melt butter in a sauté pan.
2. Add sugar and vanilla bean, then cook over medium heat to melt sugar.
3. Add sliced peaches, and cook 2-3 minutes to gently soften.
4. Finish by adding bourbon, toss to combine and remove from heat.
Final Assembly
1. Take baked choux pastries, and slice in half with a serrated knife.
2. Place the bottom halves in serving bowls.
3. Place a generous scoop of your favorite ice cream in each choux pastry shell.
4. Spoon over warm sautéed fruits, and cover with top half of choux pastry.
Notes
• Substitute peaches for a variety of other fresh, seasonal fruits (berries, stone fruits, apples, pears, etc.).
• Cooking time for fruits will vary–soft fruits don't require much cooking time, where firmer fruits will cook for 10-15 minutes (the goal is to achieve pieces of fruit that are tender but still hold their shape).
• Have fun with pairing fruits with different ice creams–we've paired peaches with our oatmeal–muscovado ice cream, but cherries and pistachio would be great, apples with butterscotch, or pears with vanilla.
• Different alcohols and spices can be used for different fruits as well–cherries would go nicely with a rich port and vanilla, apples with cinnamon and calvados, or pears with spiced red wine (cinnamon, cloves, cardamon, nutmeg, ginger).
_________
Never miss a story. Sign up for NUVO's weekly newsletter, here.