A recipe by Toronto chef Nadège Nourian.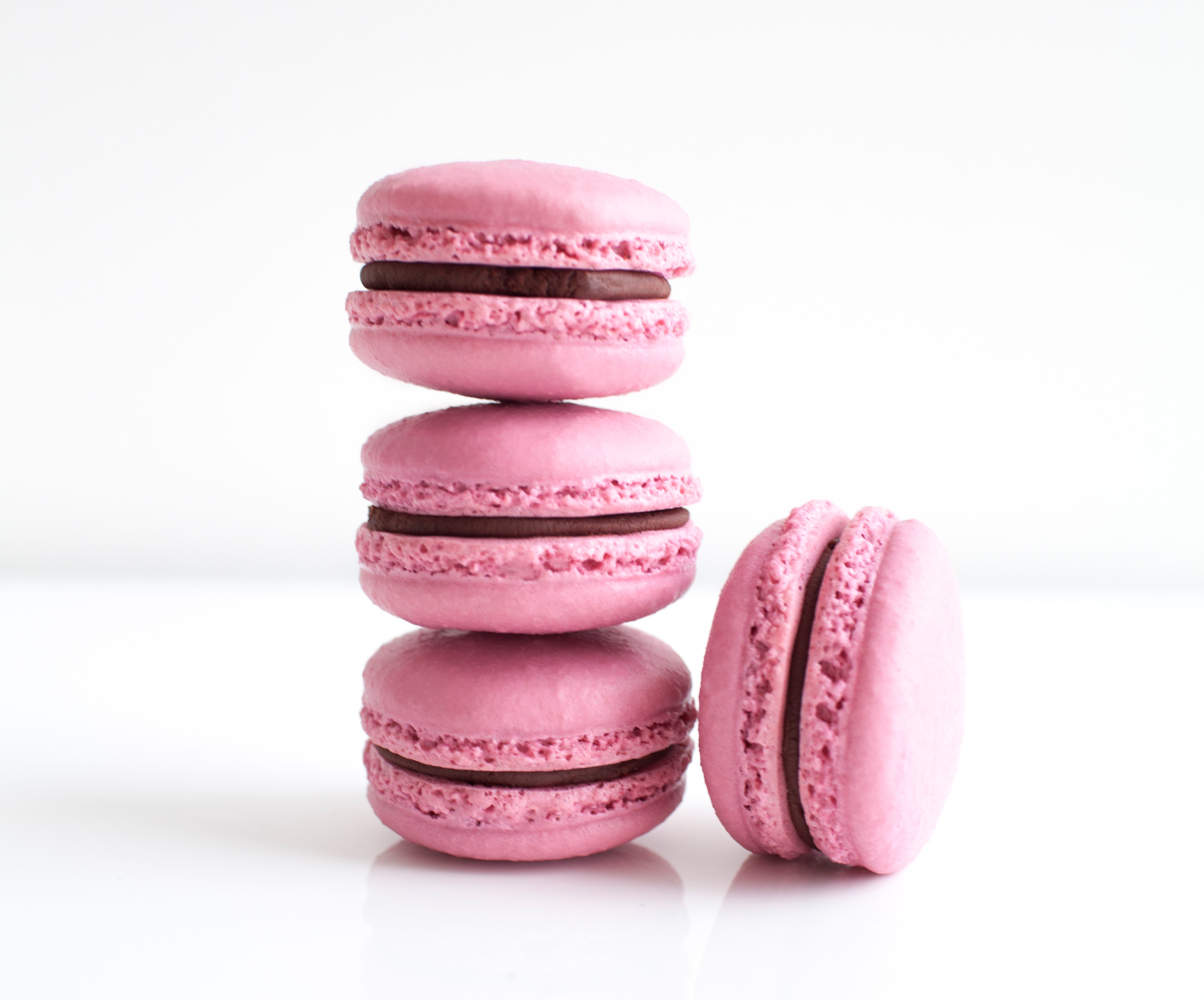 Nadège Nourian of Toronto's Nadège Patisserie says the blackberry macaron is one of her staple flavours. "The acidity of the blackberry is offset by the sweetness of the macaron shell which create a perfect balance." We imagine the chocolate blackberry ganache would pair well sandwiched with shortbread cookies, layer nicely inside a cake, or make for delicious dipped truffles, too.
Macaron Shell
Ingredients
3 cup lanched almond
3 cup icing (confectioners) sugar
4.5 (135g) egg whites (1)
3 drops wine (purple) natural food colouring
4.5 (135g) egg whites (2)
3.2 fl oz water
1 cup and 6oz caster sugar
Method
1. Sift almond meal and icing (confectioner's) sugar together.
2. Add egg whites (1) and food colouring. Mix until the texture becomes smooth, then reserve.
3. Put egg whites (2) into the bowl of a stand mixer.
4. Put the water and the caster(superfine) sugar into a small pan and heat.
5. When the syrup reaches 115°C (239°F), start to whisk egg whites (2).
6. When the syrup reaches 118°C (244°F), pour it onto the fluffy egg whites.
7. Keep mixing until the meringue holds and cools to 50°C (122°F).
8. Fold the first mix into the meringue until it is smooth and shiny.
9. Pipe the resulting macaron mixture into 4cm (1 5/8 in.) circles: this will make approximately 150 macaron shell.
10. Allow to dry at room temperature for 20 minutes.
11. Bake at 140°C (284°F) for 10-12 minutes. Reserve.
Blackberry Chocolate Ganache
Ingredients
1 cup cream 35%
6 oz blackberry puree or juice 6 oz- 165g
2 5/8 cup 70% Dark Chocolate (Valrhona)
½ cup butter
Method
1. Bring the cream and the blackberry puree to the boil.
2. Melt the dark chocolate to 45°C (113°F).
3. Pour the cream and the blackberry puree onto the dark chocolate.
4. Add the butter and blend.
5. Reserve in a cool place until set.
Assembling
Pipe the set ganache onto half the macaron shells. Cover with the remaining macaron shells. Put the filled macarons into a container in the fridge for a day before consuming to experience the best texture.
Tips
• Attempt your first batch of macaron during a sunny day so they are not affected by excess humidity during the drying time.
• Take macarons out of the fridge for 30 minutes before eating.
_________
Never miss a story. Sign up for NUVO's weekly newsletter, here.