Robert Clark, Chief Culinary Officer of Organic Ocean, Shares the Best Way to Enjoy BC Spot Prawn Season
A recipe straight from the chef's table.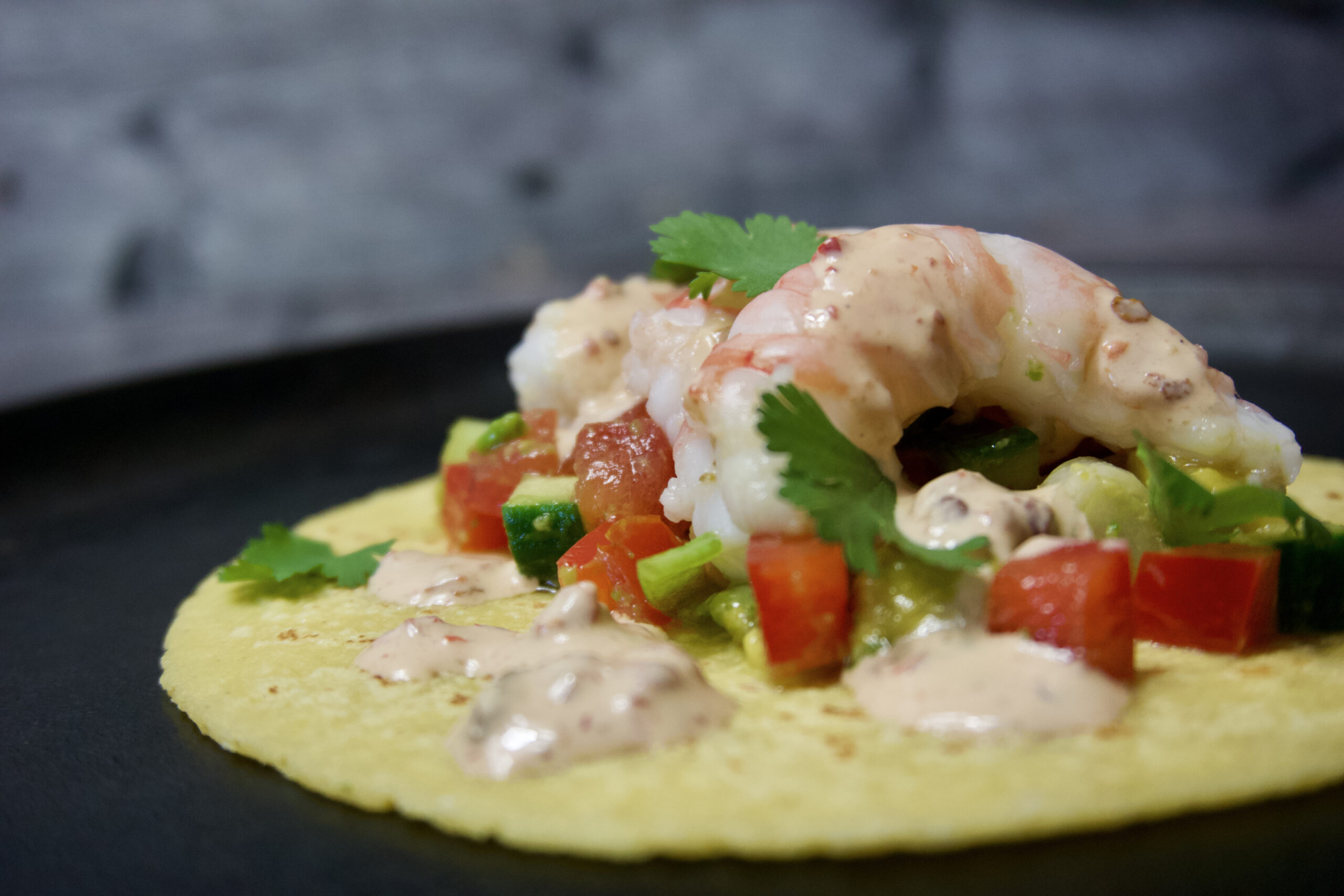 In Vancouver, once the cherry blossoms have run their course, our collective attention turns to the darling of the shrimp world, our local Spot Prawn. A two-week frenzy of anticipation erupts before Vancouverites get the opportunity to line up in the hundreds to get the first taste of this very seasonal culinary delight.
Below is a very simple but extremely tasty way to enjoy what is the pride of the sustainable seafood world—and what I hold dear to my heart: wild B.C. spot prawns.
Spot Prawn Tacos
Serves 4 people
Ingredients
1 pound spot prawn tails, cooked and peeled
16 corn tortillas (medium size)
2 tablespoons chopped cilantro
2 whole limes, juice
For the garnish:
½ cup diced red pepper
½ cup diced cucumber
½ cup diced tomato
1 whole avocado, diced
¼ cup sliced green onions
2 tablespoons olive oil
2 whole limes, zest and juice
Salt and pepper
For the sauce:
2 tablespoons chipotle in adobo, purée or finely minced
5 tablespoons sour cream
2 tablespoons mayonnaise
Salt and freshly cracked pepper
Method
Add the spot prawn tails to boiling salted water and cook for 30 seconds; remove from the hot liquid and peel while still warm.
For the garnish:
Meanwhile, in a large bowl, mix the red pepper, cucumber, tomato, avocado, and green onions.
Toss with the olive oil, zest, and juice from the 2 limes. Season to taste.
For the sauce:
Whisk the chipotle purée, sour cream, and mayonnaise. Adjust seasoning with salt and pepper.
To assemble:
Separate the tortillas into sets of 2. Keeping them together like a sandwich, oil the 2 exposed sides of the 8 sets and heat in a cast-iron pan or on a grill, flipping a couple of times until hot, soft, and pliable.
Divide the cooked prawns between the 8 sets of hot tortillas and add as much or as little garnish as you like.
Top with the sour cream sauce. Sprinkle with chopped cilantro and a squeeze of lime juice.
Serve while the tortillas are still warm.
A bit about Organic Ocean:
Organic Ocean was created to foster a sustainable, vibrant, healthy seafood industry in which fishermen are fairly rewarded for their investment, effort, and personal risk. Consumers benefit from an uncompromising commitment to sourcing and distributing the seafood. Organic Ocean partners with artisanal harvesters, responsible mariculturists, and Indigenous fisheries, all of whom are committed to solving the ocean's greatest environmental challenges and protecting its productive capacity. A Certified B Corporation, Organic Ocean embeds its social and ecosystem stewardship in its core values along with radical transparency.