Cantina Mercatto, Toronto
Mercatto's new Italian comfort-food flagship.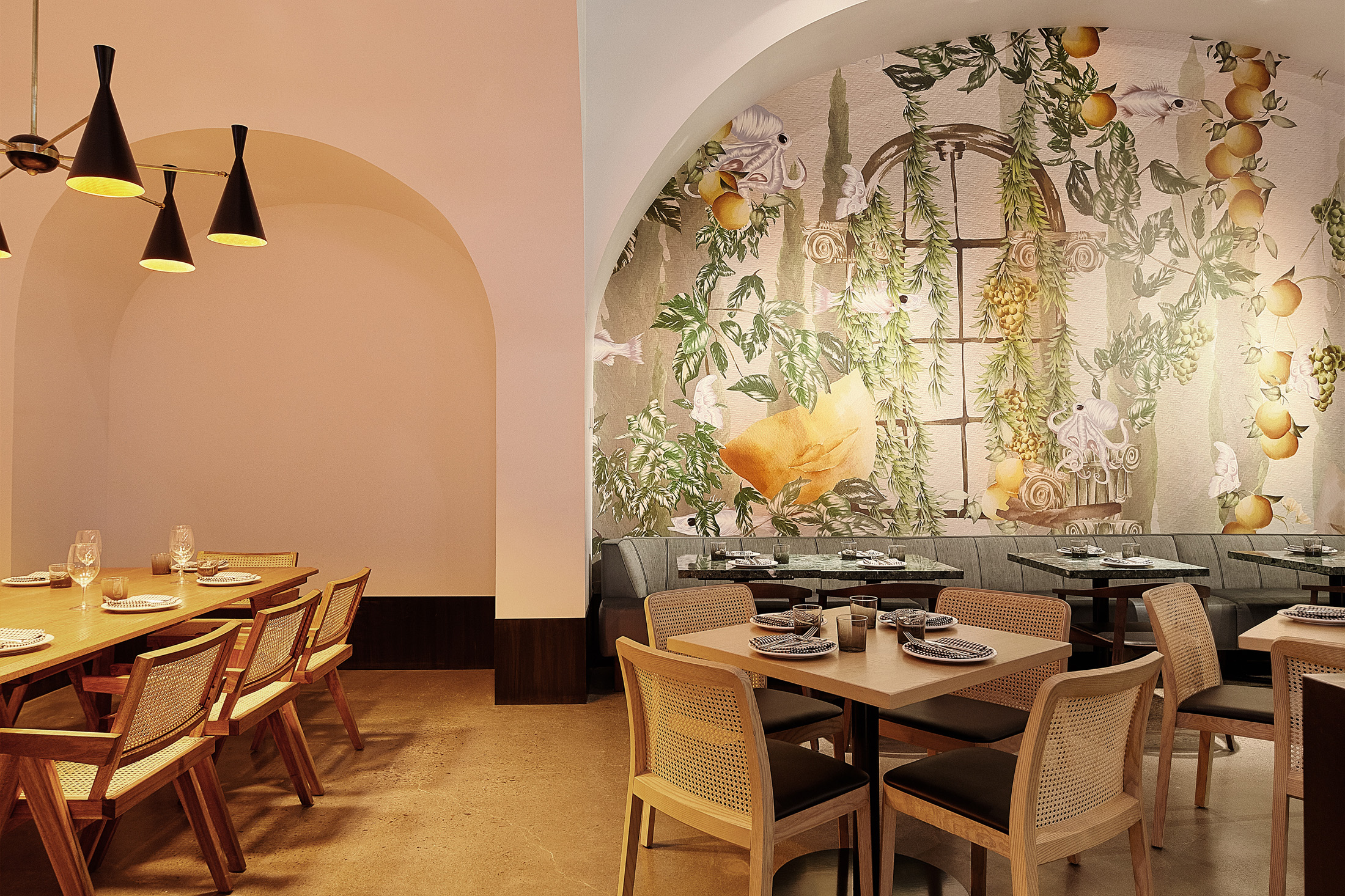 On the edge of Toronto's St. Lawrence neighbourhood, below a 58-storey condominium, sits a brand-new build with old-school Italian soul. Edible comfort flows from the kitchen in the form of house-made cavatelli with smoked rabbit, eggplant parmesan reimagined as small-bite involtini floating in spicy tomato sauce, and thin-crust pizza topped with cremini mushrooms and buttery fontina cheese.
Open since early December, the 200-seat Cantina Mercatto on Wellington Street East is the fifth Mercatto venture from brothers Jack and Domenic Scarangella and their business partner Steve Christian. "This location is really an evolution of our first restaurant, which we opened one block north of here, 20 years ago," says Jack, a first-generation Italian-Canadian whose parents moved here from Puglia. "Cantina really came about because our lease was expiring on [our first location] Toronto Street, and as much as it broke our hearts to leave, we knew it was the right decision to make." Considered the company flagship, with head offices tucked downstairs, the new Cantina Mercatto has a special focus on wine and is tall-ceilinged with lofty arches and a striking green marble bar. The Instagram-worthy wallcoverings (a playful octopus, an ethereal vineyard) are by GZ Art Co. and textile designer Candice Kaye, who hand-painted scenes that were then printed on wallpaper. The overall aesthetic is a very different vision than the tiny, 25-seat venture that started it all.
Rewind two decades and you'll find Jack, then a produce buyer at Loblaws, craving change. When a banker friend suggested opening a little take-out counter in the financial district, "We just kind of jumped in," he explains. They found a location on Toronto Street, a landlord that took a chance on two young entrepreneurs, and asked a good friend to design the space—Alessandro Munge, now of Studio Munge.
Licensed as a delicatessen and a market, Mercatto quickly became a family affair with Jack's wife Marcia expediting and his mother helping in the kitchen. A menu of Italian classics like soup and panini kept a line-up forming every day at lunch hour. "You know what's funny?" says Jack. "It picked up right off the bat. So, we increased the seating from 25 to 30 and then eventually got rid of the market altogether." With that, a restaurant was born, and four siblings would follow: Locale Mercatto on Bay Street (when Jack's brother, Domenic, got involved); Mercatto on College Street (when partner Steve Christian came on board); Trattoria Mercatto at Eaton Centre; and Taverna Mercatto on Bremner Boulevard.
"Cantina really came about because our lease was expiring on [our first location] Toronto Street, and as much as it broke our hearts to leave, we knew it was the right decision to make."
It is still very much a friends-and-family affair. Jack's wife, Marcia, designed all the aprons worn by the staff; his 16-year-old daughter, Bella, hosts at the Eaton Centre location during her school breaks. "You see those light fixtures?" says Jack. "Sandro [Alessandro Munge] designed them on a napkin, over a glass of wine." The well-connected Scarangella brothers also have another restaurant group called AlterEgo, with chef Craig Harding and his wife, interior designer Alexandra Hutchison. (Projects include La Palma restaurant and Constantine inside the Anndore House hotel.) Harding himself once cooked for Mercatto, and a handful of other Toronto-based talents got their starts there too, such as Giulietta's chef Rob Rossi and Alo's sommelier Christopher Sealy.
These days it is executive chef Doug Neigel who oversees the cuisine at all Mercatto locations. "When I came on board seven years ago, I realized pretty quickly that you can't, nor should you, reverse many years of foundation," says Neigel. "That would be foolish. You just continue on the path and forge some new ground as well." About half of Cantina's menu is made up of dishes unique to that location, and the other half are deemed Mercatto Classics, the heart and soul of all Mercatto menus. "Our most popular dish since the beginning of time is the orecchiette pugliese. For that, we did a pine nut and rapini pesto on the bottom of the plate and deglazed with a little fresh lemon juice." Mixed with some spicy fennel sausage, it's uniquely delicious and demonstrative of small tweaks taken on classics in both plating and ingredients.
"I'm not Italian," admits Neigel, "But I think that gives me the license to put capers on something that would never have capers on it, or to fill a cannoli with mascarpone instead of ricotta. My respect to the Italian tradition is quality of ingredients. And at Mercatto, we just use really good stuff." That includes Ocean Wise–certified seafood, salume from local producers Niagara Fine Foods, and cheeses from Stratford-based Monforte Dairy. Occasionally ingredients are sourced further afield because they are, quite simply, better, such as Icelandic arctic char and Grana Padano cheese from Northern Italy. And as far as breaking tradition goes, dietary restrictions are smoothly catered to upon request and new twists on Italian favourites are constantly brainstormed in the kitchen. Currently, Neidel is working on a gluten-free pizza dough and a vegan Bolognese sauce using mushrooms and chickpeas for the base. "But I won't release them until I am 100 per cent happy with them," he says. "You know, it's so important for us to remember that even with Italian classics, there is always room for modernization."
_________
Never miss a story. Sign up for NUVO's weekly newsletter.