Veuve Clicquot x Yayoi Kusama: A New Cuvée With Artistic Flare
Veuve Clicquot has collaborated with renowned Japanese artist Yayoi Kusama on the design of the bottle and case for La Grande Dame 2012. The colourful, flamboyant flower featured in the design symbolizes vital energy, love, and celebration of life, while Kusama's signature effervescent polka dots represent champagne bubbles.
Kusama has also designed a sculptural flower to hold the magnum bottle in an artistic grasp. Each of the 100 numbered limited-edition pieces, titled My Heart That Blooms in the Darkness of The Night, took over 250 hours to craft.
The new cuvée is 90 per cent pinot noir using the finest black grapes and 10 per cent chardonnay. La Grande Dame 2012 follows the ethos of Madame Clicquot, who believed pinot noir has the broadest range of expression and potential to make the best champagne.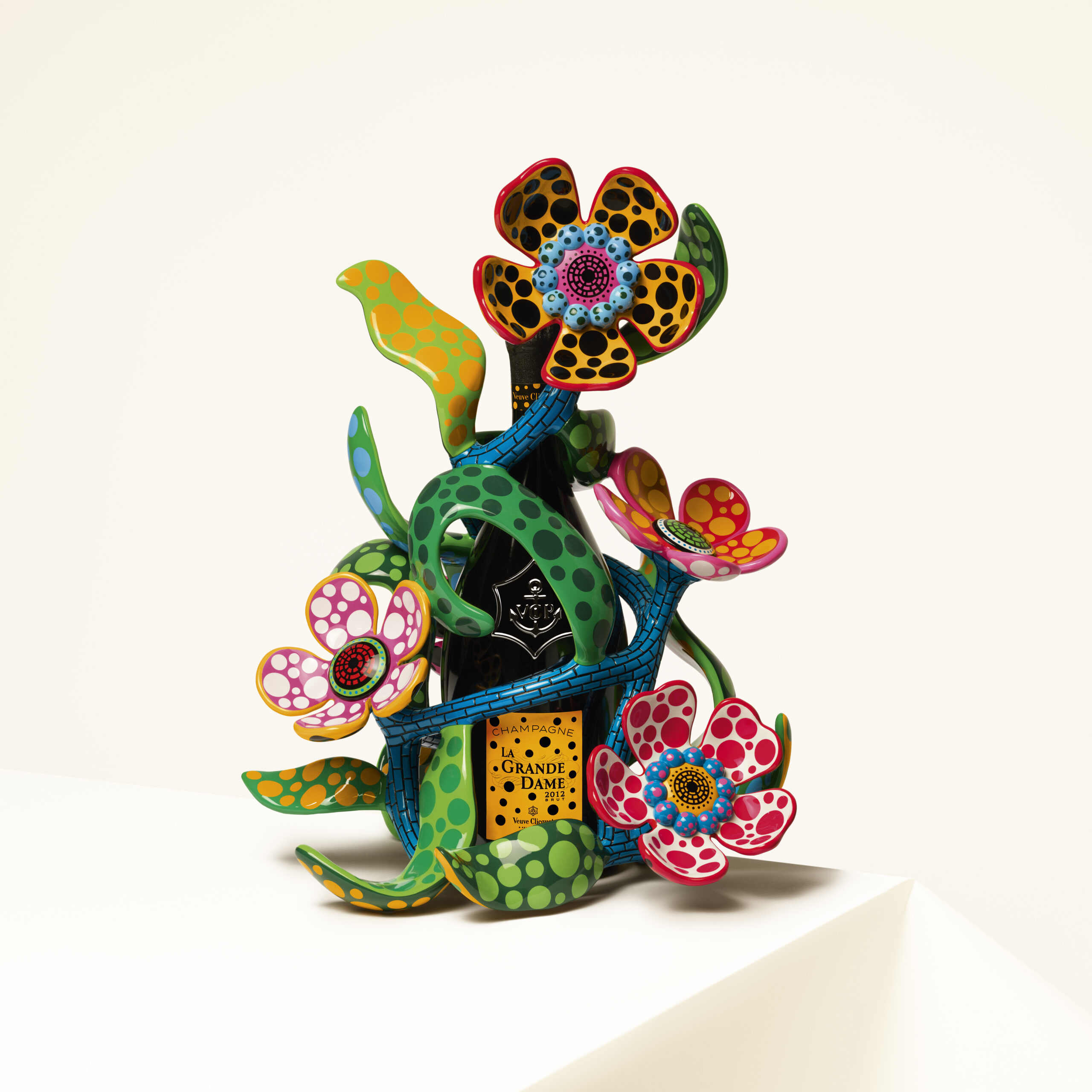 Primarily installation and sculpture, Kusama's works are autobiographical as well as conceptual. Many of her pieces mimic and reflect her experiences growing up in Matsumoto, Nagano, as well as her battle with mental health struggles throughout her life. She incorporates elements of surrealism and abstract expressionism into her creations, while paying homage to pop art. This can be observed through her intentional use of vibrant colour schemes and repetitive designs, such as the recurring polka dots. Kusama has been acknowledged as one of the most important artists to come out of Japan, and at 92 years young, she continues to revolutionize the art scene through radical self-expression and collaborations such as this.
In 2006, Kusama used polka dots in one of her pieces which featured an original portrait of Madame Clicquot for a charity auction in Tokyo. The piece titled Twist with Madame Clicquot! offered an organic segue toward an ongoing collaborative relationship.
Ever since, the discourse between Kusama and the maison has blossomed into what might be called an uncanny yet destined partnership—or a serendipitous fate worthy of raising a glass.