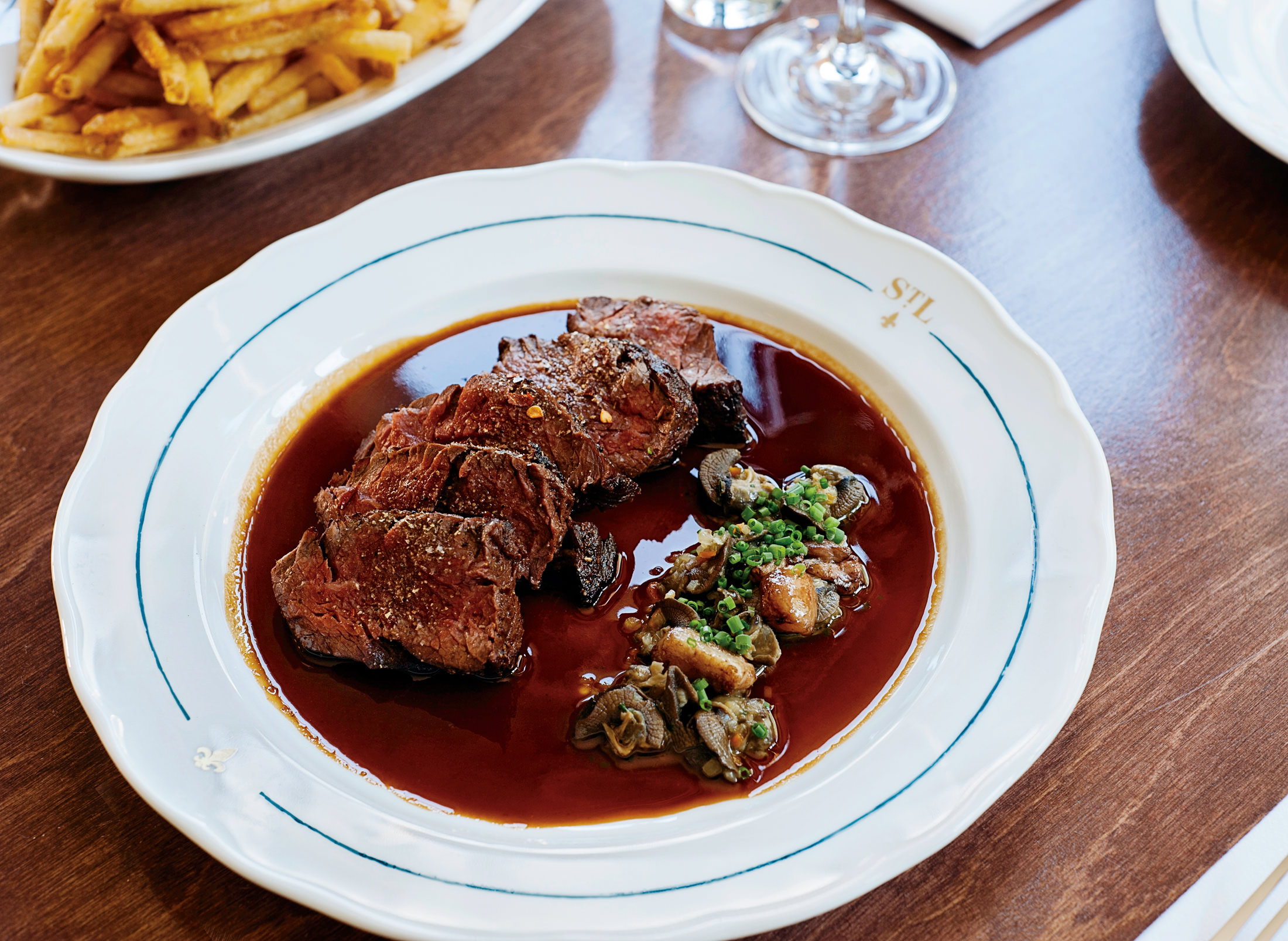 It's 1:00 p.m. on a Friday, and the kitchen brigade of St. Lawrence restaurant is a study in quiet efficiency. Chef J.C. (Jean-Christophe) Poirier cleans endive leaves for a salad with apples, pecans, and blue cheese. His chef de cuisine Ashley Kurtz works on foie gras mousse to be sandwiched between choux pastry for the show-stopping Paris-Brest while his sous-chef Colin Johnson butchers lamb for braising with gnocchi à la Parisienne. There are herbs being picked into tubs, sauces gently simmering, and waffle-cut potatoes being fried. A heroic amount of mise en place goes into preparing Poirier's elegant interpretations of classical French and elevated regional Québécois fare at St. Lawrence, but the five cooks work together in a loose, easy rhythm; this same synchronicity carries them through dinner service for a fully booked restaurant five nights a week. It's a beautiful dance, the kitchen team working as a cohesive unit toward a delicious goal.
Poirier's initial forays into cooking were born out of his love of eating. As an 11-year-old in Saint-Jérôme, Quebec, he'd come home from school and fix himself something to eat. "My favourite snack was escargots with garlic butter on toast. But there was no one at home to cook it for me because Mom was still at work, and there was no Food Network or YouTube to teach me how to do it. So I had to figure it out by myself."
A year of culinary school at age 19 was his next step, though he demurs on that route in hindsight. "If I had to do it again, I'd choose more wisely and go directly to working at a good restaurant with a solid chef, starting at the bottom … I'd have learned so much more than I did by going to school."
Les Remparts in Old Montreal was Poirier's first stint in a professional kitchen, in an utterly classical French restaurant. "Sweetbreads with peeled grapes, venison with huckleberry sauce—the old-school dishes really resonated with me." Two years later, he transitioned to Toqué! under the expert tutelage of Normand Laprise. He progressed through the brigade from commis to chef de partie, learning every aspect of Laprise's playful, ingredient-driven expression of Québécois haute cuisine, firmly rooted in seasonality and terroir.
Poirier's initial forays into cooking were born out of his love of eating.
A chance to cook with Rob Feenie and Marc-André Choquette in Lumière's newly renovated kitchen spurred his move to the West Coast in 2004, but opening Chow is what vaulted Poirier into Vancouver's culinary spotlight. "We did a lot of great things in terms of translating local ingredients and doing butchery in-house. The food was lighter and vegetable-focused," he explains. The young chef's debut as a restaurant owner garnered critical acclaim, with the restaurant being named one of the 20 best new restaurants in Canada by enRoute magazine.
Chow shut its doors in 2009, falling victim to the global recession. Poirier travelled through South America for over a year to regroup. He reflects on the loss pragmatically. "Looking back on it, the food wasn't truly me. It was just me trying to prove to myself and everybody else that I was a good chef. I may not have understood it then, but I see it now. Failure is part of the journey."
In the wake of Chow's closure and his soul-searching travels, Poirier's mind was racing in a number of different directions. He accepted an executive chef role at Pourhouse in 2011 that was more of a consulting gig, but it introduced him to his current business partners, a move that would swiftly turn the tide of his career. Together, they opened pocket-sized Pizzeria Farina late that summer, followed by Ask for Luigi in late 2013.
Poirier earned many plaudits for Ask for Luigi, his casual, intimate pasta restaurant. Yet despite all this success, a yearning still tugged at him. "Chefs are always trying different things, always searching for a definition of themselves, of their food. But at the end of all that wandering, you have to come back home. And for me, home is Quebec."
Childhood memories of winters in Saint-Jérôme were both a touchstone and an emotional catalyst. Poirier's huge family—his father has seven sisters and two brothers—would visit his grandfather's sugar shack in the woods each year. "Together with all my cousins, there were at least 40 of us running around in the forest, laughing and screaming from the sugar rush of tire sur la neige. The experience of being outside in nature with all the other kids, helping my family with the tradition of making maple syrup, was the most happy I've ever felt in my life. I was truly free. And I realized that if I can cook with the same feeling that I had in that moment, then I'll be where I need to be."
Faced with a tough choice, he handed the reins of Ask for Luigi to his chef de cuisine, Letitia Wan, and wholeheartedly threw himself into realizing his vision. "I wanted to mesh old-school French cooking techniques with the Québécois cuisine I grew up with, the food that's closest to my heart." It was an opportunity to carve out a unique niche in Vancouver's dining landscape, and it became Poirier's all-consuming purpose.
"When people ask me what Quebec's food is, I say that it reflects the Québécois people: excessive, bold, and full of personality."
Unforeseen construction and permit delays gave him two years to hone every facet of his restaurant concept. Whether he was combing through thrift shops looking for decorative antiques, painting walls, or compiling songs into playlists, no task was too small for Poirier, as all the minutiae contributed to the end goal of transporting his diners to Quebec. "Our menu is in French, the music we play is French, all our front-of-house staff can speak French, and I speak French to diners at our kitchen bar. I know we've hit the mark if our guests don't feel like they're in Vancouver anymore."
Poirier refined the St. Lawrence menu through a series of collaborative pop-up dinners, eschewing the formality of fine dining in favour of high-end bistro fare. "When people ask me what Quebec's food is, I say that it reflects the Québécois people: excessive, bold, and full of personality. I have the freedom to not play by the rules in terms of French cuisine, adding my own little twists to make it fun and approachable."
Oreilles de crisse are presented in a maple syrup can, recalling his childhood sugar-shack days: deep-fried pork rinds dusted with Montreal steak spices and drizzled with maple syrup for an irresistible confluence of crunchy, salty, sweet, and savoury with a spicy finish. Cailles en sarcophage beautifully echoes a quail dish from Babette's Feast. It is stuffed with sweetbreads and nestled inside a puff-pastry crust atop rich, glossy jus, the peeled-grape garnish a nod to his start at Les Remparts. And, for dessert, tarte au sucre is made using Poirier's grandmother's recipe. "I don't know how to bake it any other way," he explains. "It's all about telling a culinary story, but it's also my story at the same time."
Though Poirier once struggled with finding his balance, the meticulous preparation for St. Lawrence has paid off in spades. "All the things I've learned in the kitchen over the past 20 years finally started to fall into place—everything meshed so easily."
Poirier smiles when asked what's next on the horizon. "There's no need for me to open another restaurant. I'm closing in on 40 and, with luck, I'll have another 10 or 15 years of doing what I do. All those years of working hard had to mean something, and I'd like St. Lawrence to be the end of my legacy. This is perfect for me."
_________
Never miss a story. Sign up for NUVO's weekly newsletter, here.